Author: Stanley Bolten
This time, the Clerk, Scott S. Harris actually filed everything in an envelope which was received in the U.S. Supreme Court. Good deal not violating 18 U.S. Code § 2071 this time. Brian D. Hill, formerly USWGO Alternative News had filed three Petitions for Rehearing requesting reopening of his trio Supreme Court petitions requesting relief from his wrongful conviction on the basis of Actual Innocence, Fraud on the Court, and Judicial corruption aka the Judicial rebellion going on by the inferior Court Judges.
Brian is pushing to reopen his three filed cases in the U.S. Supreme Court on the main and only ground of it's Clerk Scott S. Harris making critical errors in all three cases. Errors such as refusing or failing to file Brian's emergency motions and his Rule 15.5 letters requesting delay which they did receive attempting to rightfully delay the Conference making a final disposition in his cases. Because the Justices' never got to review over those pleadings and the Clerk never returned Brian's pleadings requesting that they comply with any particular Rule of the Supreme Court, argued that the Clerk had purposefully neglected his duty to file proper pleadings and return pleadings which did not comply with the rules of the Court. So Brian argued that this officer of the court, Clerk Scott S. Harris, had violated 18 U.S. Code § 2071. Brian also argued that he has the forensic evidence proving his claims made in his three Petitions for Rehearing. As much as the Clerk probably hates those filings and wishes he could trash them all, he legally cannot as U.S. Senator Rand Paul, U.S. Senator Ted Cruz, U.S. Senator Tom Cotton, and U.S. Senator Kennedy all were notified by emergency emails to watch Brian's case closely in the Supreme Court to prevent the Clerk from disappearing Brian's petitions for rehearing.
See the results of Brian's persistence and sending emails to or phone calling the right people in positions of power. It can pay off whether Brian wins or loses. His fighting prevented the cover up of his three Petitions for Rehearing blaming the Clerk for the cover ups and concealment of filings which were supposed to be filed in November, 2021, before the Conference date scheduled for November 12, 2021. Here are the screenshots proving that they were filed today but marked as being filed on December 1, 2021, in the day it was mailed out which is part of the proper procedure.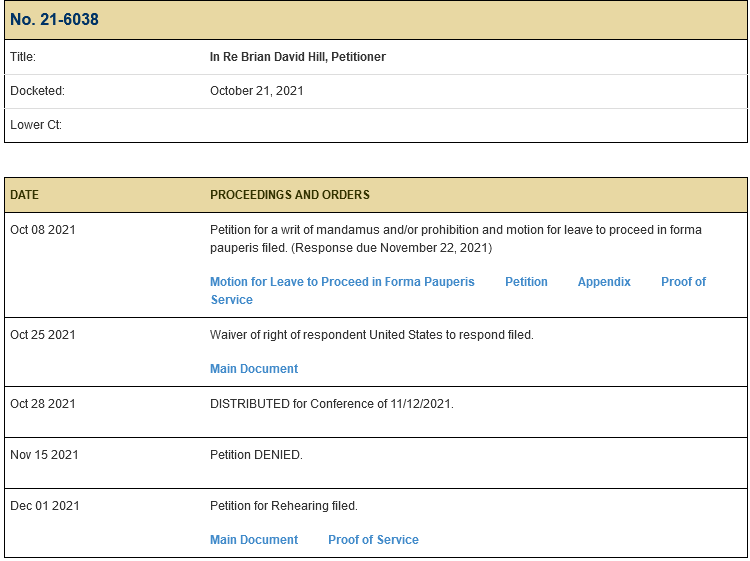 https://www.supremecourt.gov/search.aspx?filename=/docket/DocketFiles/html/Public/21-6038.html
http://web.archive.org/web/20211208183757/https://www.supremecourt.gov/search.aspx?filename=%2Fdocket%2Fdocketfiles%2Fhtml%2Fpublic%2F21-6038.html
Petition for Rehearing – Proof of Service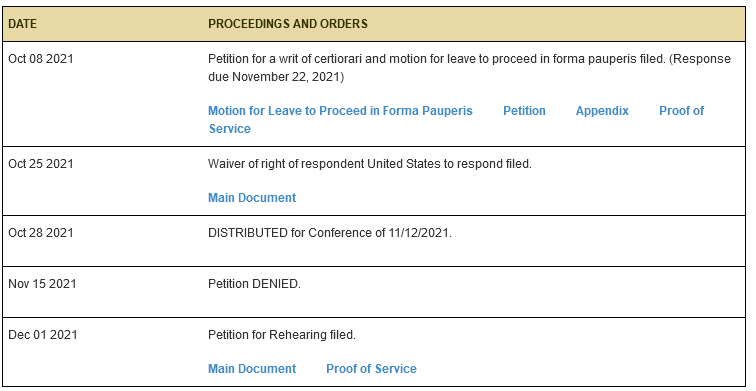 http://web.archive.org/web/20211208191433/https://www.supremecourt.gov/search.aspx?filename=%2Fdocket%2FDocketFiles%2Fhtml%2FPublic%2F21-6037.html
Petition for Rehearing – Proof of Service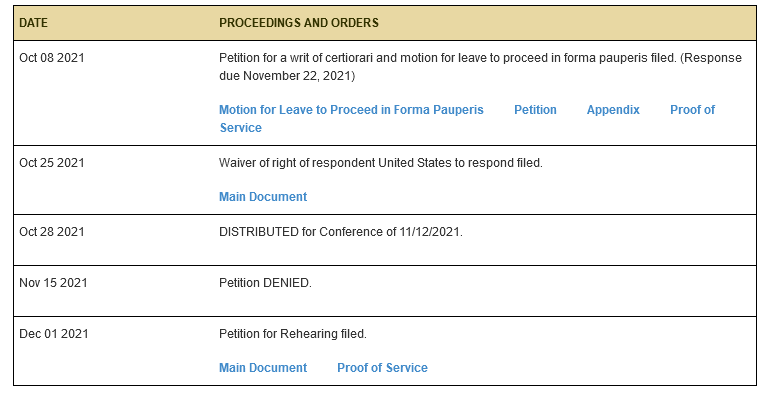 http://web.archive.org/web/20211208191625/https://www.supremecourt.gov/search.aspx?filename=%2Fdocket%2FDocketFiles%2Fhtml%2FPublic%2F21-6036.html
Petition for Rehearing – Proof of Service
If Brian wins any of the rehearing petitions, then this will allow Brian D. Hill to push for vacatur of his wrongful conviction including the erroneous Supervised Release Violation (SRV) charges. Meaning that Brian would no longer be convicted of a federal crime and would no longer be required to serve his remaining sentence of supervised release. He would have no felony in his criminal record. His criminal record would diminish only to a single misdemeanor in his life which can also more easily be overturned without his felony conviction being used against him. Brian may end up purged of all criminal record and there will be nothing left. With his felony conviction vacated, Brian could push for a new trial for his state misdemeanor case and can finally be allowed to testify in his own defense. With no criminal record, it won't be difficult to persuade a jury that Brian Hill was a victim of carbon monoxide poisoning, that his Autism Spectrum Disorder had played a role in what had happened, and had caused his bazaar behavior on September 21, 2018. That behavior had never repeated and Brian was never arrested again afterwards. Nevertheless, even if the corrupt Giles Carter Greer the judge of the City of Martinsville tried to block Brian's defense on carbon monoxide and/or his Autism, Brian would still have the defense that he had no intent at all and the Commonwealth would be unable to prove intent since even the corrupt U.S. Attorney Assistant Anand Prakash Ramaswamy had failed to prove intent using the exact same evidence and witness as in his state misdemeanor case. It would all fail and they will lose, only if Brian's federal conviction was overturned. That is all it takes. If Brian is found innocent by the Governor of Virginia by filing an Absolute Pardon then this can greatly impact Brian's proof of innocence in his Federal case in attempting to overturn it all and have no criminal record afterwards. It would all be nullified and void.