Author: Stanley Bolten
Stewart Rhodes of Oath Keepers is reportedly being given not just 18 years of imprisonment over January 6, but he has also been given EXTREME supervised release conditions where if he violates at least one condition by the U.S. Probation Office, he can receive possibly up to a year or more of additional imprisonment depending on the factors of the alleged probation violation charge. In fact the conditions given to Stewart Rhodes is far worse than the conditions given to child porn frame up victim Brian D. Hill (See We Are Change article published here; revived back from the censorship grave), formerly of USWGO Alternative News. These conditions are what is dubbed as: "SPECIAL CONDITIONS OF SUPERVISION" which this corrupt federal court had violated the U.S. Constitutional rights of Stewart Rhodes. They don't care. We have documented these "SPECIAL" conditions of supervised release to the general public here for discussion, debate, and research.
NOTE: It should be noted that if Stewart Rhodes does ever face a supervised release violation charge, the U.S. Supreme Court did rule in 2019 that supervised release violators do have a constitutional right to TRIAL BY JURY. If a probation violation charge violates Rhodes first amendment rights, his lawyer or lawyers could argue in a future jury trial about a first amendment defense. The right to view political propaganda without fear of imprisonment like what you would witness in third world despotic dictatorships. See United States v. Haymond, 139 S. Ct. 2369, 204 L. Ed. 2d 897 (2019), "holding a different subsection of 3583 unconstitutional because it too "closely resemble[d] the punishment of new criminal offenses, but without granting a defendant the rights, including the jury right, that attend a new criminal prosecution". He can even attempt to legally push for changing his supervised release conditions, but if the federal judge is corrupt then it is likely not going to work out easily if at all.
Stewart Rhodes was given special probation conditions barring him from possessing, accessing or viewing, or using any "extremist media" aka propaganda. That itself runs afoul of the First Amendment as the U.S. Government could dub ANYTHING as "extremist media", including any materials protected under the First Amendment of the U.S. Constitution. Arguably, for example, you may be researching the communist manifesto and even conducting research on that can violate such probation conditions, and can mean up to a year or more of federal imprisonment.
The probation conditions even bar him from accessing SMS (text messaging by cell phone), MMS (multi-media messaging by cell phone), email aka electronic mail (anything you do online may usually require email addresses such as online banking, social networks, online shopping, doctors offices, hospitals, bill paying, electronic filing in federal or state courts, emailing lawyers, etc etc), any social networking/media website, digital photos (So if Rhodes possess or views any digital photo then this technically violates his probation), video sharing websites (which include YouTube, Rumble, Internet Archive, Brighteon, Bitchute, etc etc.), chat services, forums, instant messages. He is even barred from being allowed to use or access TOR, I2P, Freenet, VPN, or any encryption system to give him any privacy. How ironic as somebody tried to frame Stewart Rhodes with child porn using a TORMAIL (TOR). If Stewart Rhodes accesses any of that without approval from the DEMOCRAT U.S. Probation Office under the orders of the democrat operated Federal Court in Washington, DC, Rhodes faces up to a year or more of federal imprisonment for each probation violation. He cannot even be allowed to text message or even send a photo by using a cell phone without approval from the DEMOCRAT U.S. Probation Office under the orders of the democrat operated Federal Court in Washington, DC.
Pretty much the probation conditions are much more stricter than what was given to Brian D. Hill. Brian has been barred from using the internet without approval from the U.S. Probation Office and can also face mandatory monitoring of internet activities if he ever receives permission (just like Rhodes), BUT Brian is not barred from possessing any political propaganda. HOWEVER, Brian is not barred from text messaging, and he is not barred from sending MMS messages, especially to his lawyer or lawyers. Brian is considered a low risk offender, well because he is innocent, but is being held captive in the corrupt system. Brian had reportedly had no victims which is interesting since Brian D. Hill was framed with a child porn charge. So the conditions for Brian are not as severe as Stewart Rhodes. Brian cannot use the internet without permission, but he can possess and view propaganda materials, since propaganda is usually protected under the First Amendment in times of peace. Brian can create truthful propaganda materials and have other people such as friends or family upload it to the internet. There are technical loopholes to the probation conditions. They know about these technical loopholes from Brian's case and that is why the probation conditions are a lot more stricter on Stewart Rhodes than with Brian in 2014.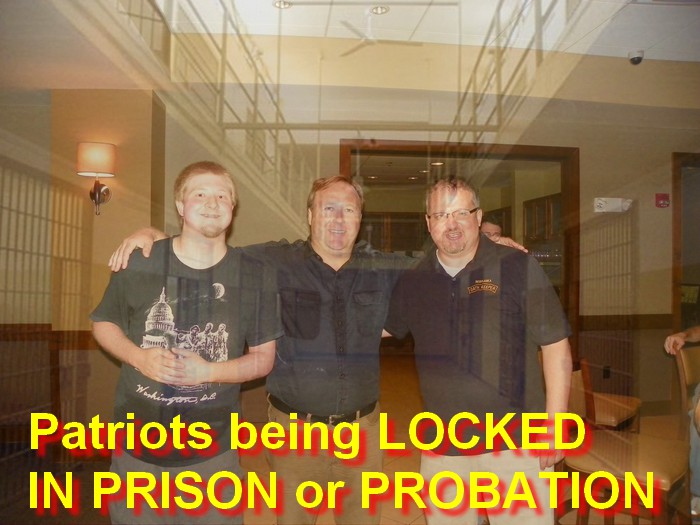 Propaganda can be good and bad, depending on the level. White propaganda means truthful propaganda being published and propagated to the masses, grey propaganda means propagating materials to the masses with falsehoods/lies and truth, and black propaganda means publishing straight up falsehoods/lies against an enemy force.
Here is the link to the CourtListener website where it lists the criminal judgment against the Oath Keepers founder Rhodes. See https://www.courtlistener.com/docket/62601653/667/united-states-v-rhodes-iii/ and https://storage.courtlistener.com/recap/gov.uscourts.dcd.239208/gov.uscourts.dcd.239208.667.0.pdf

PDF File of "SPECIAL CONDITIONS OF SUPERVISION" (546.79 KB).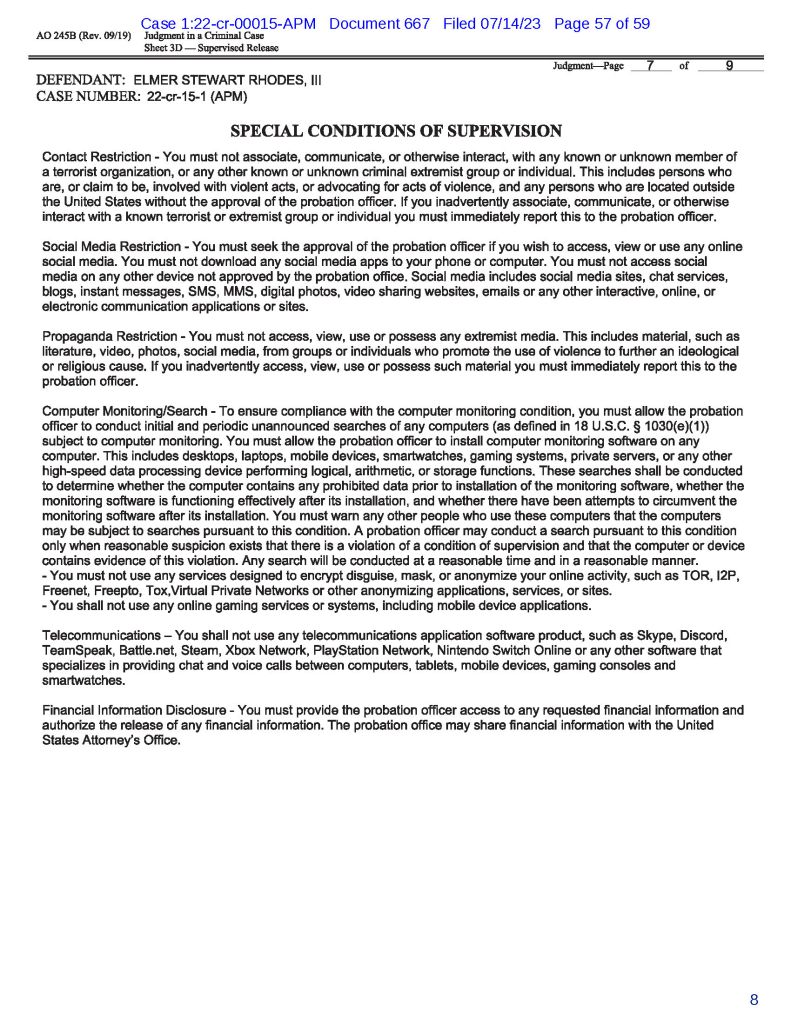 Certain conditions are similar to the probation conditions placed on Brian D. Hill. However, the conditions on Stewart Rhodes are more far reaching into possibly violating First Amendment Constitutional territory. Like not being allowed to possess, view, or use any propaganda. The corrupt U.S. Government can designate anything as unlawful propaganda and throw Rhodes in federal prison, then extend his term of supervised release to force him to serve even more time of federal supervised probation, possibly even worse conditions, and make Rhodes a higher risk offender in tier.
Then of course Stewart Rhodes was not even convicted of possessing online child pornography, though he was almost set up with that filth. He was not convicted of computer hacking. Yet the U.S. Probation Office can and will install monitoring software and/or devices to monitor his internet activities if he gets permission to use internet services such as email and text messaging. It is the same as the supervised release conditions imposed on Brian Hill, however text messages and MMS messaging is not a listed condition in Brian Hill's case. Possessing propaganda is not a listed condition in Brian Hill's case. See Brian Hill's special probation conditions here: https://www.courtlistener.com/docket/4304407/54/united-states-v-hill/ and https://storage.courtlistener.com/recap/gov.uscourts.ncmd.64541.54.0.pdf.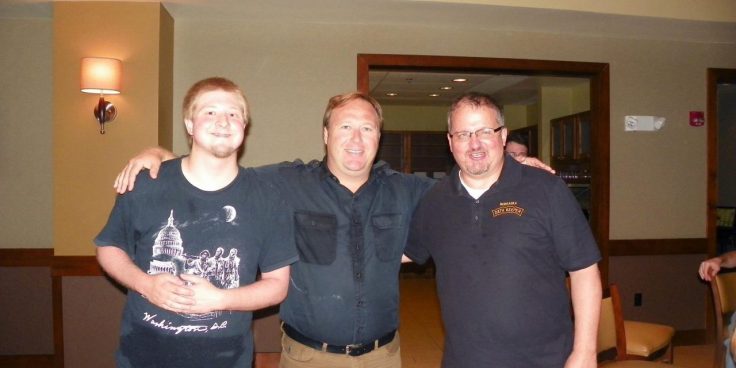 There are three people in the above photo. Two have been arrested, imprisoned, and wrongfully convicted. The ones wrongfully convicted were Brian D. Hill (left) and Stewart Rhodes (right) but Alex Jones has yet to be wrongfully convicted of any felony. This is strange considering patriots are being targeted right and left right now, but yet Alex Jones of Infowars.com never faces a grand jury indictment for any felony in over 20 years of him being alternative media. Kind of strange for Alex Jones to skirt any kind of federal police raid or arrest, yet both Brian Hill and Stewart Rhodes have been raided and arrested.