Stanley Bolten,
I have had the chance to go through Brian D. Hill's (USWGO Alternative News) response to the Government's motion to dismiss his 2255 motion to vacate his entire criminal conviction on the ground of mainly (1)actual innocence and other misc. constitutional grounds including prosecutorial misconduct.
Read the new entries below:
RESPONSE in Opposition to 141 MOTION to Dismiss Motion to Vacate, Set Aside, or Correct Sentence filed by BRIAN DAVID HILL. Replies due by 2/9/2018. (Attachments: # 1 Exhibit 1, # 2 Exhibit 2, # 3 Exhibit 3, # 4 Envelope – Front and Back) (Civil Case number: 17CV1036) (Garland, Leah) (Entered: 01/26/2018)
https://www.courtlistener.com/docket/4304407/united-states-v-hill/?page=2#entry-143
Docket list – updated as of: January 29, 2018 – Internet Archive or WordPress (mirror from this blog)
Document #143 – Main Doc­ument – Internet Archive or WordPress (mirror from this blog) (Not in RECAP Archive due to transmittal issues between server and PACER account so alternate PDF location and mirror are provided)
Document #143-1 – Main Doc­ument – Internet Archive or CourtListener
Document #143-2 – Main Doc­ument – Internet Archive or CourtListener
Document #143-3 – Autism Research Study report – Internet Archive or CourtListener
Document #143-4 – Envelope – Internet Archive or CourtListener
According to what I have read, to keep this blog entry short and brief, I discovered that a color picture/photograph of the North Carolina (NC) State Bureau of Investigation (SBI) case file report stating that "from this analysis, the program showed that 454 files had been downloaded with the eMule program between July 20, 2012, and July 28, 2013". That same laptop was seized on August 28, 2012, which shows possible evidence tampering, evidence planting, or gross negligence of allowing a seized computer to be hacked by a group of computer hackers while supposedly in the secure custody of law enforcement. Definitely smells like a set up to me on its face, prima facie evidence.
If the Federal Court refuses to permit an evidentiary hearing and dismiss Brian's 2255 motion to vacate his criminal conviction (and mandatory sex registry registration) on the ground of actual innocence, then he needs to file a special "Writ of Mandamus", "Writ of Habeas Corpus", or even a "Extraordinary Writ" asking the Supreme Court to acquit Brian due to the facts and evidence he had provided regarding his actual innocence including multitudes of Affidavits and yet the Court is refusing to let an innocent man have an opportunity to prove his innocence in Federal Court.
His family has done a group Affidavit/Declaration in support of his actual innocence claims.
Brian has done a Affidavit/Declaration explaining why he has justifiable excuses to permit either allowing him to prove his actual innocence by disregarding the statute of limitations (1 year after conviction aka final Judgment) or permit him to prove his actual innocence by asserting equitable tolling permitting him an opportunity to at least demonstrate that he has enough facts of innocence with evidence to demonstrate that no reasonable Juror will ever find him guilty beyond a reasonable doubt due to the facts of innocence.
He also describes in there about his his court appointed liar..I mean lawyer John Scott Coalter didn't advise him to appeal the Judgment timely thus his ability to file a 2255 motion timely was not extended to 1 year after the appeal since it was untimely. So he is using ineffective counsel as the first excuse of filing timely. The second excuse was that he had been filing timely but defective (2255) pleadings (2255 pleadings that have no statutory basis and cannot legally be granted since there is no statutory basis). Third excuse was that the U.S. Attorney had unlawfully impeded his ability to file a 2255 motion timely by using the liar named Kristy L. Burton of the the United States Probation Office (Danville, Virginia) to openly commit perjury against him and acted as though she feared for her life when all Brian did was have an Autistic meltdown on a chair and was throwing stuff down on the ground backwards and not even towards her from what I have read in the transcript. She lied about being scared, she lied about the Clerk's office contacting her when the Clerk said that they weren't behind the certain events that led to Brian being arrested but that the order that Brian file pleadings properly came from the Judge (formerly Chief Judge William Lindsey Osteen Junior). Brian had even text messaged the Clerk's office that he will fully comply with their proper rules and procedures. USPO Burton lied and openly committed perjury and enabling subornation of perjury by USPO Supervisory Officer Edward R. Cameron (Greensboro, North Carolina) to try to throw Brian in prison or in alternative he had received six months of home detention while he was still not allowed to use the internet. Therefore Brian had no means to gather evidence and he wasn't able to come up with an effective 2255 pleading as he did on the month of November, 2017. Even stated that his court appointed lawyer Renorda E. Pryor (Raleigh, North Carolina) refused or failed to file a motion for reconsideration to stop Brian's mandatory home detention and mandatory GPS tracking bracelet forced on his ankle for the six months till December 30, 2015, which was over a month after the deadline to file the 2255 motion. So Brian is asking the Court to permit his valid excuses since the corrupt U.S. Attorney had used a perjurer to illegally and unconstitutionally impede his ability to timely file the 2255 motion.
Brian has a very well thought out arguments and has also listed various authorities (aka case law) backing his claims. Question is, as to whether the Court will actually permit him to prove his claims of actual innocence.
He had also stated in his court filings that Brian had past encrypted DVD discs that were password protected by a encryption software, and likely due to his need for pirated software and windows activation cracks as he had admitted to using cracks and activators for his legally purchased version of Windows, as he claims his computer kept getting hacker attacks so he had to keep restoring his computer then activating Windows over and over again, causing him to have to call some guy in India at some Microsoft call center. He has stated over and over again under Oath that he has no "child porn" in any of his encrypted DVDs and has raised that this fact is yet another fact of actual innocence, because some of the claimed alleged CP number of files had downloaded while 11 months in law enforcement custody around the same time period that he received tow tormail.org messages similar to ones directed at Luke Rudkowski and Stewart Rhodes, as well as Melissa Melton.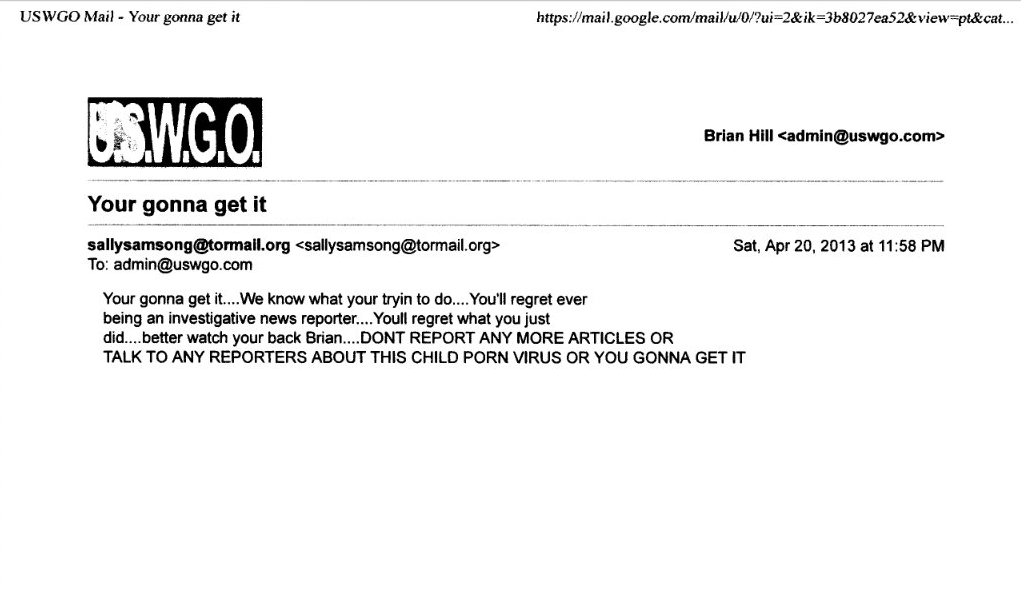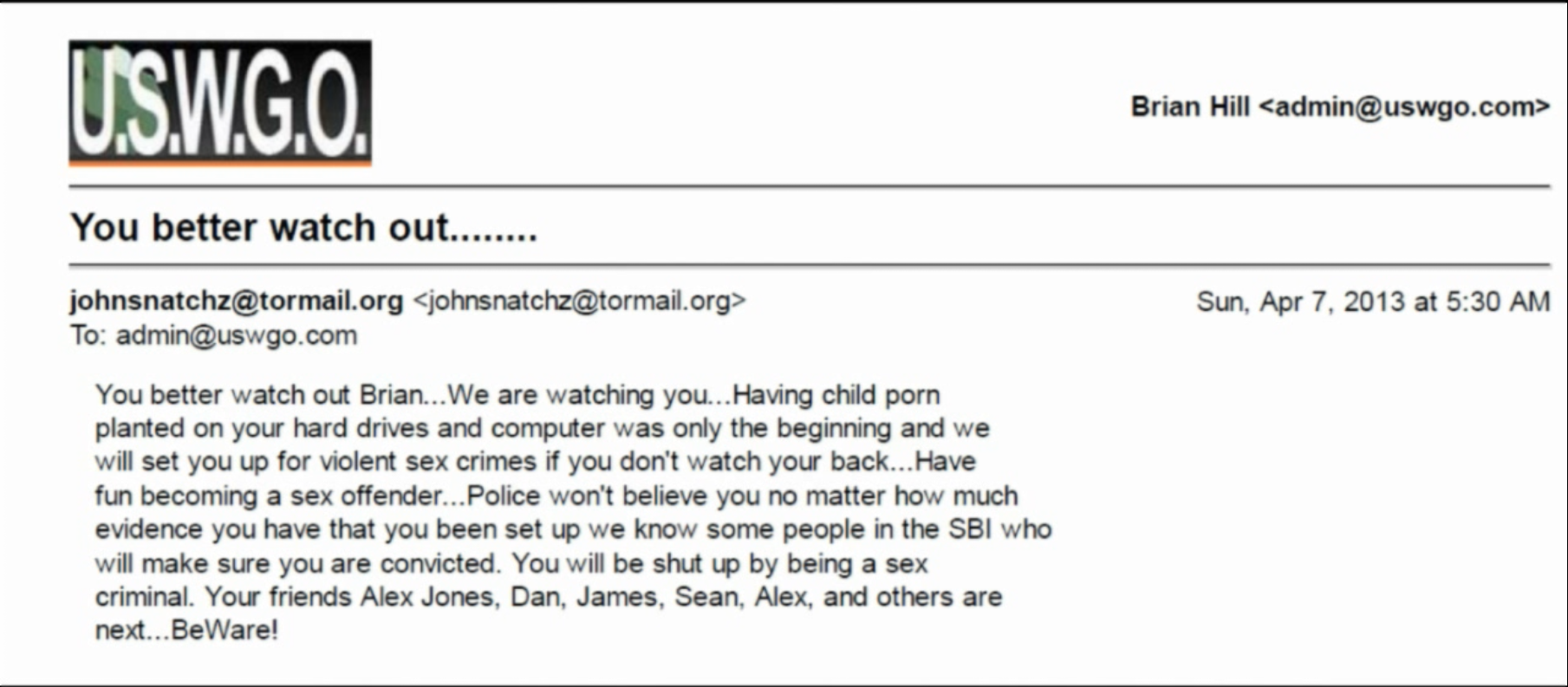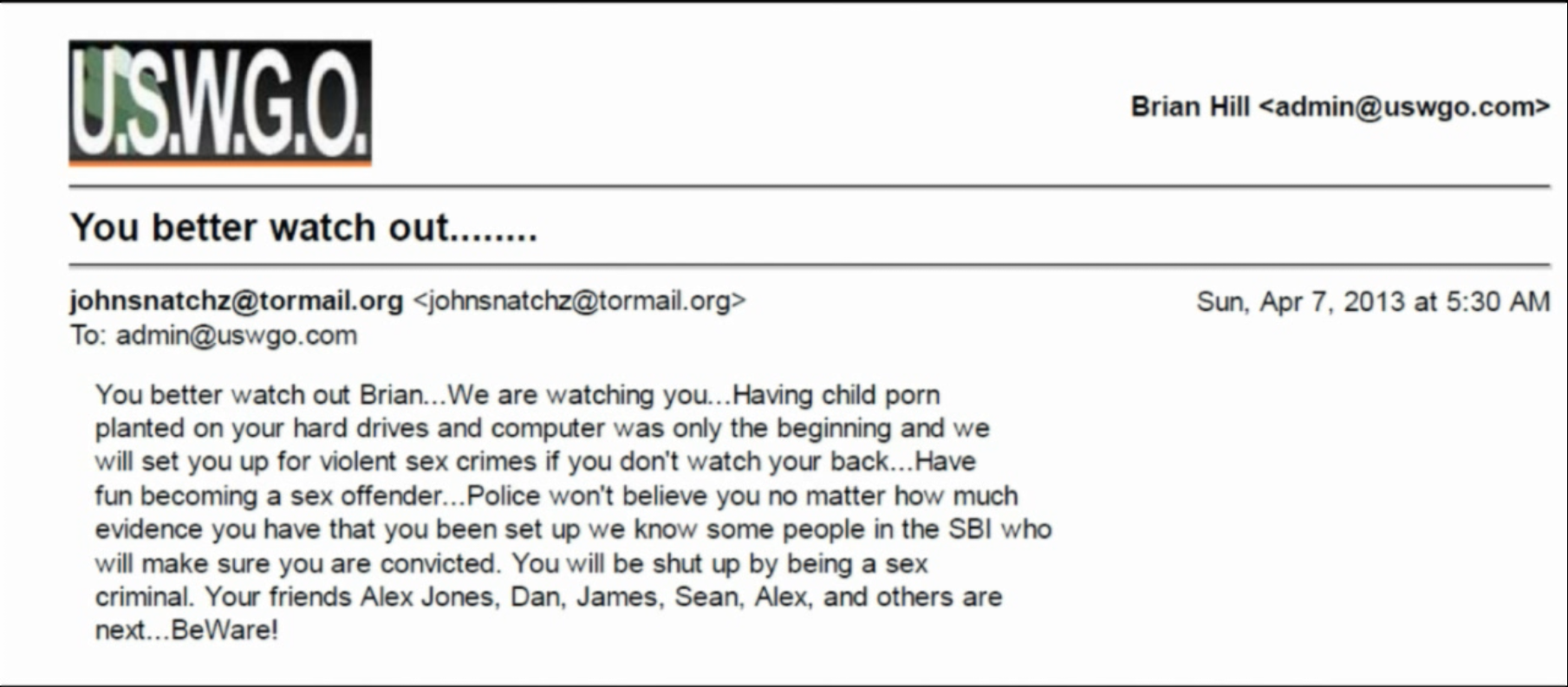 So he uses encryption, yet he is willing to give up his encryption password through secure channels to prove that he has no child porn on his encrypted DVD discs. Yet all of the alleged files that were claimed by the State Bureau of Investigation (SBI) were all found in locations that were easily vulnerable to computer hackers and were connected to the internet. I also remember at one point that Brian admitted in the past that he left his computer on all day and all night, did not have a working Anti-Virus due to his pirated software downloading via BitTorrent, and he also did not keep up with the automatic updates and permanently disabled updates due to it circumventing the Activators that crack the product activation BS. If all his arguments have merit in Federal Court, then I believe this man should be found innocent.
It was in his 2255 and the Presentence Investigation Report that there are no victims, and the only victim reported was the State of North Carolina, after Brian had typed up articles against Senator Philip Edward Berger of the General Assembly in North Carolina. Senator Berger is the President Pro Tempore of the Senate down there. He would have authority and power over influencing the State Bureau of Investigation if he wanted to. The signs all point towards red flags and possible frame up of this man.
I was trying to focus on presenting all brief facts of what he had presented but my blog had recently been mysteriously shut down (January 31, 2018) due to a false spam report so WordPress suspended my blog. I am aware that censorship trolls will file false claims to attempt to censor my blog or anybodies blog that they disagree with as Freedom of Speech is under major assault right now. I am working on mining enough Bitcoins to pay for a darknet web host that will also show my website on the public internet and not just on some TOR .onion website. I will eventually move my blog and all files to that dedicated server hosting but the costs will be up to $400 for an entire dedicated server with a domain name registration included, a custom .onion registration, high CPU and quad core or more cores of CPU usage. I will make sure that it is hack-resistant and that it is also censorship-resistant. They are a legal web host and they suspend sites that share illegal contents. So my blog will eventually be hosted on both the darknet and on a domain name. That way no jerk or censorship-tard can have any means to demand censorship of this blog and falsely file spam reports or any kind of reports on my blog.
I swear the Federal Bureau of Investigation needs to get off of their ass and start investigating the wrongful conviction of Brian David Hill. If he is willing to admit under multiple Affidavits and/or Declarations then this needs to be thoroughly investigated.
I believe he explained well that he has well established excuses as to why he should receive equitable tolling of the 1-year statute of limitations enforced on all Habeas Corpus Petitioners due to the Anti-Terrorism and Effective Death Penalty Act (AEDPA). So he has explained that he gave a false confession, that it was all a set up, that his encrypted DVD discs contain nothing involve children but they may contain pirated material which of course is not CP and is willing to give up his encryption password to prove that. He received two tormail.org messages threatening him, threatening his friends, and maybe even his family (Quoting: "and others are next….BeWare!"). They claimed to have framed him with child porn and that others were next. They also pulled similar stunts to Luke Rudkowski, Stewart Rhodes, Melissa Melton, Dan Johnson, and others.
The evidence is weighing heavily in his favor. That is why the Federal Prosecution aka AUSA Anand Prakash Ramaswamy (Greensboro, North Carolina) is trying as hard as they can to prevent him from getting access to his own criminal case discovery material pursuant to case laws of Brady and Giglio, and they are trying to dismiss his 2255 motion.
Hey, if Brian weren't innocent, put him in prison for a very long time and file multiple perjury charges for pursuing a fraudulent case against the state. If Brian is innocent, then give him a chance to prove it. Give him a chance to prove that he is actually innocent via affirmative defense of frame up. Blocking and barring Brian from proving his innocence is detrimental to the democracy of America. It also makes innocent people into sex offenders and felons. That is the total opposite of what John Walsh had originally pushed for when he had lobbied Congress to passing the Adam Walsh Act (AWA) and the Sex Offender Registration and Notification Act (SORNA).
If Brian is innocent and did not go for child porn, let him prove it!
If Brian was set up, let him prove it!
If Brian wants an independent computer forensic expert to examine his seized laptop computer to prove his innocence, let him prove it!
If Brian really is telling the truth about his claims, let him prove it!
If he can at least prove 75% to 80% of factual innocence, he should just be acquitted as the evidence weighs more heavily in favor of his innocence.
He is 27 years old from his reported date of birth, and has never committed a sexual assault. Brian has Autism. Brian is dependent on Social Security benefits since he was a kid. Brian is as much of a danger to children as a hamster or as as dangerous as a bunny rabbit. Let him prove his innocence or we are all in danger of injustice in future Federal Court cases and proceedings.
You can also donate in BTC (Bitcoin) to my wallet if you want to contribute to paying for my server cost to get the word out about the wrongful conviction of Brian David Hill: Bitcoin Wallet: 1AdAT2g8cU3aXHRE4dtWzGYx5uS42y9kbg
Stanley Bolten is the BitCoin wallet owner and all donations and proceeds go towards keeping this website from being censored again, and to share the story of Brian David Hill. If you aren't too sure and don't trust donating in BTC, then you can purchase a copy of his official book on Amazon to help support his legal fund to help him successfully prove his actual innocence.
The Frame Up of Journalist Brian D. Hill Paperback – December 29, 2016
Here are the YouTube videos of Luke Rudkowski and others being victims of child porn frame up cyber attacks:
https://www.youtube.com/watch?v=EchVDHHcw1o