Stanley Bolten,
I have heard from BlackListed News which mirrored the article from Boing Boing said that a former CIA employee who was suspected of being the whistleblower of the CIA hacking tool also known as 'Vault-7' that was leaked onto Wikileaks, has now been accused of child pornography. This is very suspicious and the timing is odd. There needs to be private investigators looking into this very deeply before considering whether he truly is guilty or innocent.
Considering that just last month Alex Jones admittedly received a child pornography set up attempt during the time of the National Press Club event in Washington, that Ian Freeman of Free Talk Live had also received a FBI raid in 2016 which stems from a set up attempt after receiving a threatening email (that article linked contains both the threatening email that Ian Freeman of FTL had received and stuff regarding a lying Probation Officer) similar to the tormail.org attack campaign, it isn't farfetched to have reasonable doubts whether Joshua Schulte was set up with child pornography.
So Joshua Schulte, a man who had worked for the CIA in the past, just like Edward Snowden had done before he had became a Whistleblower on the Government mass surveillance of law abiding American citizens, may have been the source for Wikileaks in regards to leaking out the Vault-7 hacking tool program which was developed by the Central Intelligence Agency (CIA).
Vault7: 'CIA malware plants Gremlins' on Microsoft machines – RT.com
New WikiLeaks Vault 7 Dump Shows the CIA's Mac Firmware Attacks | WIRED
Wikileaks Vault7 Exposes CIA Deep State Hacking Capabilities – Hackernoon
So Vault-7 is a very complex set of programming tools that can exploit possibly all Operating Systems that have access to the internet, and files can be deleted, files can be planted, or files can be tampered with. The Vault-7 tools could even execute computer programs which can frame a person with downloading, distributing, and storing child pornography. As long as the program has the capability to download files and then execute the programs it downloads, it can operate open source programs like BitTorrent, eMule/eDonkey, and any other Peer-To-Peer (P2P) file sharing programs. So if somebody at the CIA who was pissed off at somebody had wanted or desired to frame somebody with possession of child pornography without getting caught, they do so with ease. As long as such backdoors exist, and that not even Anti-Virus programs and not forensics can even identify such program and block it from our computers, then they can technically plant forensic evidence, fabricate chat logs, or even engage in activities on the computer as if they were the original computer user, then after being raided by law enforcement, it would appear that the suspect was guilty of the crime even though actually innocent but impossible to prove factually.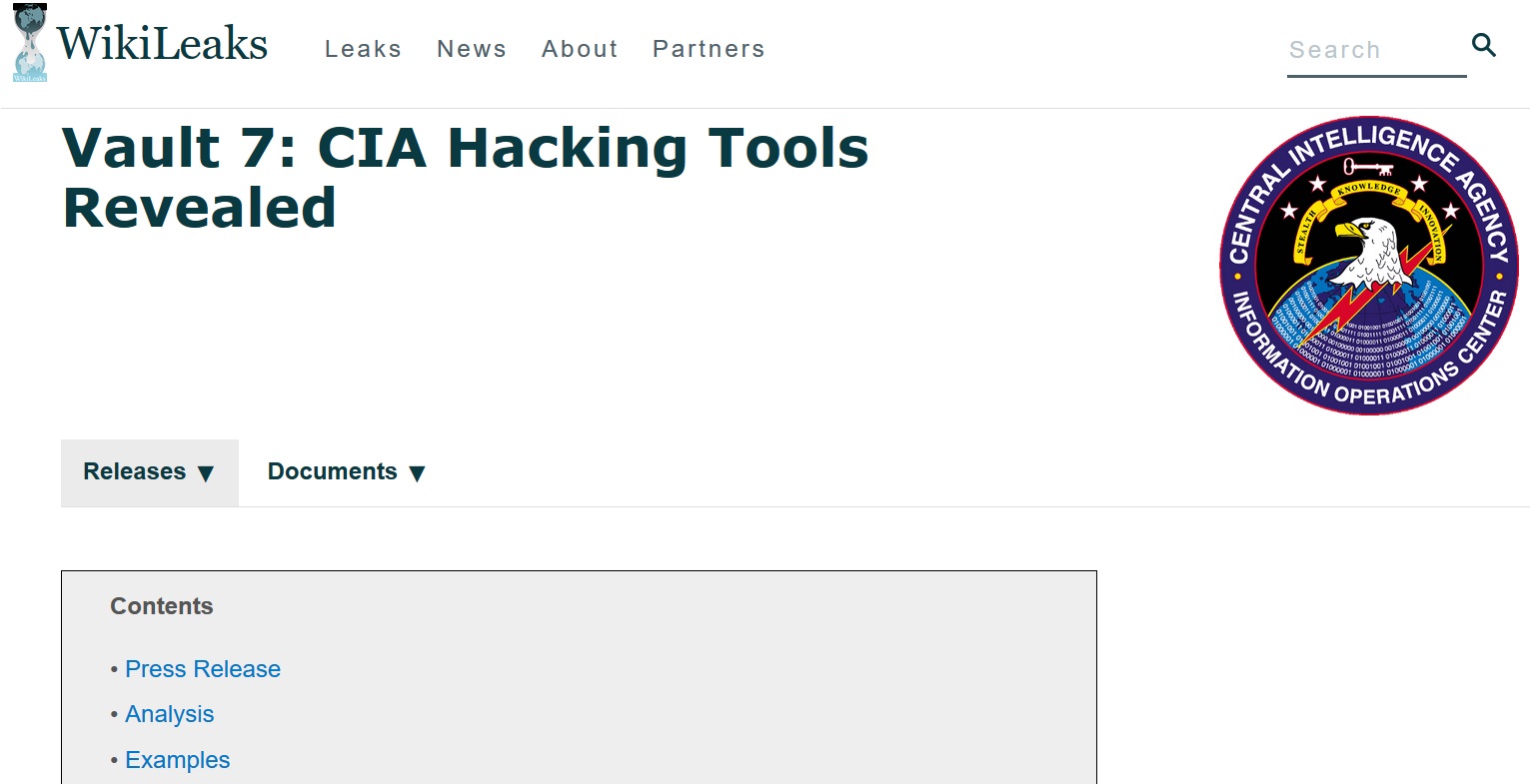 "The suspect has been named as Joshua Adam Schulte, 29, who lived in New York, and is now in federal jail in Manhattan–not for the hack, but on child pornography charges."
This is definitely very suspicious because if they had charged him for leaking the CIA hacking tools such as "Vault-7" then it would have raised a lot of public outcry and people would have been demanding that the CIA stop such hacking tools and release every single federal prisoner that they have set up with a computer related criminal offense. There would be a lot of fear over the Windows and Macintosh Operating Systems, maybe even Linux. People would start disconnecting their computers from the internet and many would start having a computer off of the internet to store anything sensitive and a computer on the internet that has a kill switch or even automatic erasing tools to try to erase and restore the computer at intervals to stop any kind of possible child pornography set up. Many would consider using programs like VeraCrypt (formerly from the source code of TrueCrypt) to encrypt the entire hard disk drive and a encryption password would have to be entered everytime the computer booted up into the encrypted Operating System. The amount of fear would spiral out of control if the CIA even admitted to Vault-7 being a true program that can infiltrate everything on the internet. Servers, personal computers, cell phones, smart meters, smart televisions, washers and drivers that have onboard computer systems, and anything else could be hacked into by hackers that is aware of the CIA created backdoors. Nope, they can't give credibility to this guy, they cannot give credibility to the whole 'Vault-7′ hacking tools because whistleblower Edward Snowden had already screwed things up for them in 2014 by revealing of the massive worldwide internet surveillance system that can even cover webcams. So if a teenage boy or girl is undressing in front of a webcam that they believe is not even active, WATCH OUT, a pedophile hacker is likely peeping through the webcam.
No, they cannot give credibility to the Vault-7 hacking tools because it will cause many federal courts to possibly allow Jurors to find people not guilty on computer crimes because the defense attorneys would argue that theoretically they could have been targeted by the CIA for political purposes and that Vault-7 would create reasonable doubts on computer crime cases.
No, they cannot give credibility to the Vault-7 hacking tools because it will instill fear and panic all over the world. Other countries Governments' would get angry and start threatening war or sanctions to the CIA. It would become an international political Public Relations Debacle NIGHTMARE. Other countries would start demanding the source code from the CIA's hacking tools. Journalists all over the world may abort using computers altogether and use flash drives, paper mailings, encrypted discs, who knows. Many would start instantly findings ways to thwart the Government hacking tools and surveillance.
So they had only one option, they could hack into his cell phone, his computer, likely evidence from any other criminal case that had been investigated in the past by any federal agency, and the Government could then decide to plant evidence including chat logs, encryption, and make it convenient for a child pornography case.
I don't have factual evidence that Joshua Adam Schulte is innocent, but the facts of his charge are very suspicious. The only thing that could hold up to make him look guilty beyond a reasonable doubt is the encryption of the child pornography. On the other hand, it was reported that the encryption password was recorded on his cell phone and that in his chat log he talked about "kiddie porn". First of all, a guy who had worked for the CIA, the Central Intelligence Agency, who probably knows a lot of classified and top secret stuff that people would kill anybody to keep such classified secrets a "Top Secret". He highly likely new about such hacking programs. It is common sense that ever since Edward Snowden revealed the CIA and National Security Agency was conducting surveillance dragnet of American citizens and people all over the world, that computers can be hacked into including webcams, that computers and cell phones can easily be hacked into by certain Government intelligence agencies.
It is VERY STUPID to leave a written encryption password on some note or even on an electronic cell phone. Especially if it contains something as illegal as child pornography or anything for that matter including blackmail materials such as compromising sex photos that some wife or husband took in a marital relationship but kept the photos secret out of embarrassment or loss of respect. Whatever is inside an encrypted disc or container or file, it is very stupid and lack of common sense to put an encryption password on a cell phone, especially if a cell phone was lost, stolen, gets water damage, or even is accidentally formatted. The risk of losing an encryption password if stored on a note or cell phone is very high. Then an encryption container would be virtually impossible to open immediately and would require super computers at the CIA to even take the resources necessary to decrypt a very strong encryption key with a very strong passphrase.
It doesn't make sense that he would store an encryption key on a cell phone, which of course the CIA would know that all cell phones could easily be tapped into by the Government, and yet somehow he decided to store an encryption key to his supposed so-called "child porn stash" on a easily tapped into cell phone. Doesn't use any common sense tactics to protect his stash from prying eyes.
This story does not add up at all. With the allegations stemming from 2009, it would be impossible for him and his defense attorney to even subpoena the Internet Service Provider (ISP) records to prove whether he did or did not engage in sexual chats regarding the so-called "kiddie porn". So he would be unable to prove that he didn't do it from any possibly ISP network activity or IP Address logs if any exist because of the timeframe being so long ago.
"Therefore, in cases involving sexual abuse of a minor, the statute of limitations may be subject to an extension based on the child reaching the age of majority. For many non-capital offenses, the federal statute of limitations is five years from the date when the crime was committed." – Statute of Limitations for Child Pornography – HG.org – https://www.hg.org/article.asp?id=38165

The reason why child pornography cases have such a statute of limitations is so that criminal defense would have an opportunity to subpoena online logs or records that may disappear within a lot of years. So if a charge was brought 10 or 15 years in the future, it may be impossible for a criminal defendant who may claim innocence to a child pornography charge to subpoena ISP or IP Address activity logs that may be retained to show actual innocence.
The statute of limitations is set to prevent somebody from making a farfetched child pornography claim from so many years ago that witnesses cannot be interviewed or may not even remember what had happened back then which would deprive a criminal defendant of the Constitutional due process right to cross examination and cross examining the Government's witnesses and be able to provide witnesses for the Defendant's defense at trial.
Chat log found on Joshua Schulte's computer – feds say he's discussing how to keep child porn secret. I'm more interested in the CIA coder's comment about how encryption can be broken. Feds didn't need to break the encryption on his computer. They found password on his cellphone pic.twitter.com/eoRuQAnPhm

— Kim Zetter (@KimZetter) May 15, 2018
"Feds didn't need to break the encryption on his computer. They found password on his cellphone" – Now that is very suspicious in my opinion. Cell phones are virtually a way to easily get caught with anything, yet a former CIA employee decides to do something that utterly stupid. It doesn't click right with me, it is very suspicious and needs to be thoroughly investigated. "If the glove doesn't fit, the Jury must acquit."
The government has filed no charges against Schulte in connection with the CIA leak. It's not clear why.

In court, Schulte's lawyer Jacob Kaplan said the FBI suspects his client was behind the leak of some 8,000 CIA documents to WikiLeaks in March, 2017.

"The FBI believed that Mr. Schulte was involved in that leak," said Kaplan, according to a transcript of a Jan. 8, 2018 hearing published by NBC News.
It makes sense that they would charge him with something so odd, so bazaar, when it is quite clear that any credible private investigator or Juror would have reservations about convicting this man when not facing emotional stigmatization, because they couldn't charge him with leaking CIA hacking tool material because that would make the leak very credible and cause panic, world countries would threaten to go to war with the United States or ask for sanctions. It would lead to people not trusting computers anymore. It would lead to an ONLINE ARMAGEDDON. People would massively boycott computers out of fear of being hacked into and set up with a computer crime. It would also cause hackers to create programs to block the CIA from hacking into a computer by thwarting the security backdoors and loopholes. It would make the original purpose and intent of such Vault-7 program obsolete and void of any usefulness. They have to assassinate the character of the Vault-7 leak on Wikileaks.
I may be wrong on this, but it is too suspicious to be a regular child porn bust or sing operation. Private eyes, and forensic experts should examine this case very carefully from top the bottom, and they need to check every file, and see what they can do to prove this guy's innocence if he is actually innocent.
Could Joshua Adam Schulte be actually innocent? Give me your thoughts and expertise below.