by Laurie Azgard
Brian D. Hill [USWGO alternative news] had filed a recent request asking the federal court and the dishonorable judge Thomas. D. Schroeder of Winston-Salem, North Carolina to reverse the fraudulent begotten judgments and consider them VOID, null and void.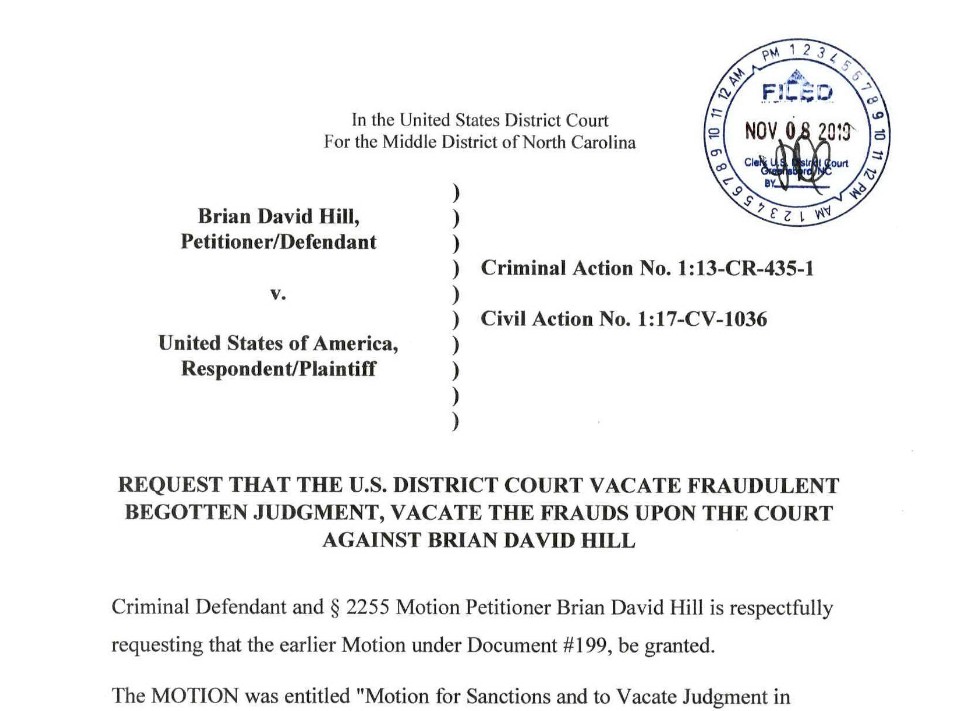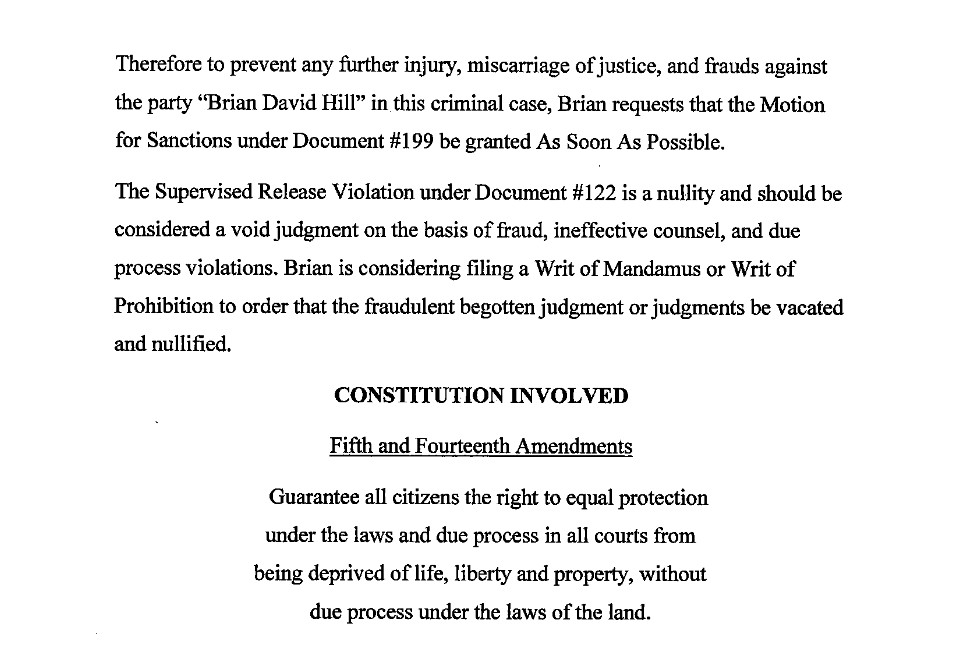 Brian has submitted a request to the court that the fraudulent begotten supervised release violations against Brian on his federal criminal record be vacated for fraud upon the court. Brian had proven perjury of both petitions by the U.S. probation office to revoke Brian's supervised release in the Feds.
The Government did not object to Brian's first motion requesting sanctions and his second motion requesting sanctions. Despite that as fact, the federal court is giving the U.S. attorney office three additional weeks to respond to this request, even though the request was on the basis of asking earlier motions for sanctions to be granted because they were already unopposed motions after given three weeks to respond.
Brian had warned the Feds that he plans on filing another writ of mandamus (writ of mandate) with a higher court to force the lower court to vacate the fraudulent begotten judgments signed and filed by the Dishonorable judge Thomas D. Schroeder. The corrupt U.S. attorney office in Greensboro of North Carolina do not care about the frauds that they perpetuate on federal prisoners, probationers, and political prisoners.
It is time for a full investigation on all staff of the United States attorney office for the middle district of North Carolina. Criminal investigations, inspector general investigations. The criminal activity by federal prosecutors should come to an end. DRAIN THE SWAMP!
They are giving the Government counsel until December 2, 2019, to respond to Brian's request to vacate both fraudulent supervised release violations which include that Brian will have to self report to the federal prison in Kentucky by December 6, 2019. They are willing to give a lot of time for the Government to respond while giving Brian hardly any time to fight and win his appeal before requiring him to report to a federal prison run by the corrupt Department of Justice. Now is time to arrest people in the Feds.
They are trying to railroad Roger Stone and are doing corrupt things to Roger Stone, they can do it to us ALL. We are all Brian Hill, Julian Assange, and Roger Stone. We are all going through HELL in the federal courts run by corrupt judges that are above the law and can commit whatever crimes that they please.
MOTION entitled "Request that the U.S. District Court Vacate Fraudulent Begotten Judgment, Vacate the Frauds upon the Court against Brian David Hill", filed by BRIAN DAVID HILL. Response to Motion due by 12/2/2019 (Attachments: # (1) Envelope – Front and Back) (Civil Case number: 17CV1036) (Garland, Leah)
Main Doc. – Motion for Miscellaneous Relief
Attachment 1 – Envelope – Front and Back