by Laurie Azgard
Brian D. Hill [USWGO alternative news] had filed an emergency motion for staying judgment or staying his imprisonment pending his writ of mandamus [Writ of mandate and prohibition] appeal in the fourth circuit U.S. federal court of appeals in Richmond, Virginia. Brian is asking the supervisory court to temporary mandate that the U.S. district court's judgment of imprisonment be stayed until the appeal has concluded. This is the only chance for Brian not to be forced to self report to the federal prison at FMC Lexington.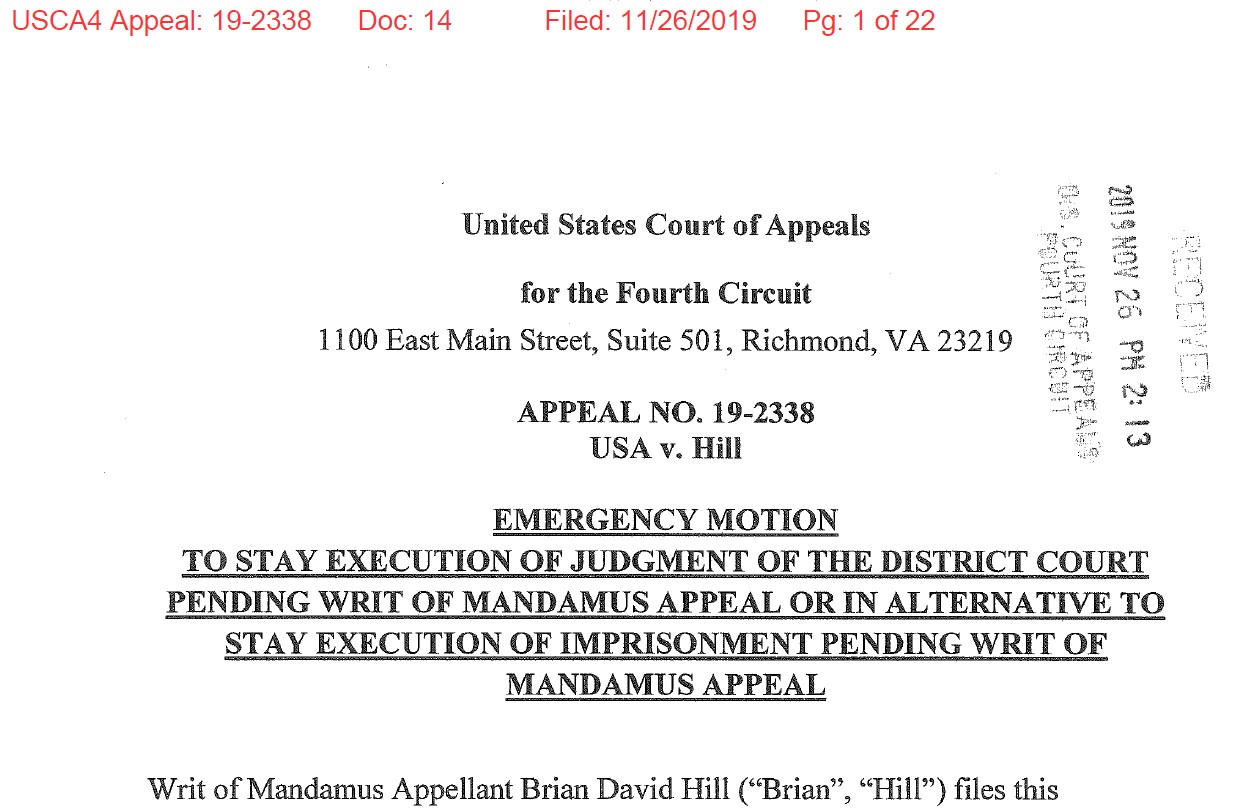 Appeal-19-2338-Docket-Dec-1-2019 – Docket
Appeal-19-2338-Document-14.pdf – Emergency motion for staying judgment and staying imprisonment
Brian is trying desperately to stop his wrongful imprisonment. He had filed a motion for stay of judgment and in alternative a stay of imprisonment, while the U.S. court of appeals decides the issue of the ignored fraud upon the court in the U.S. district court in Greensboro and Winston-Salem, North Carolina. It is dereliction of duty and the DisHonorable Judge Thomas D. Schroeder doesn't want to rule on any sanctions motions and neither of any motions on a basis of fraud upon the court.
The judge doesn't want to touch those fraud motions, because the corrupt assistant U.S. attorney Anand Prakash Ramaswamy will lose all favorable rulings as they can be vacated as void judgments if not voidable judgments.
A void judgment is an illegal order entered by a state or federal judge. There are a number of different factors that can lead to an order becoming an illegal order. One is deprivation of due process, another is an order procured by fraud by an officer of the court [attorney], that the order entered violates the U.S. constitution, and the last biggest issues for voidable judgments are lack of jurisdiction.
Brian D. Hill is accusing the DisHonorable judge Schroeder of entering in illegal judgments on the basis of fraud perpetuated by the corrupt assistant U.S. attorney Anand Prakash Ramaswamy.