by Laurie Azgard
Brian D. Hill [USWGO alternative news] has filed a federal lawsuit in Virginia. Details posted on courtlistener.com. The federal lawsuit alleges that Martinsville circuit court judge Giles Carter Greer has demanded over $1,000 worth of legal fees since November 15, 2019, and that Brian's SSI disability money will be garnished or Brian could face 60 days in jail for failure to pay the attorney fees. That was reportedly after Matthew Clark, an attorney in Martinsville had represented Brian in his state criminal case and had reportedly coerced Brian and his family to falsely plead guilty or lose the jury trial. That sounds familiar to the federal criminal case where Brian falsely plead guilty on June 10, 2014 or he would reportedly lose the jury trial according to Asst. public defender Eric David Placke.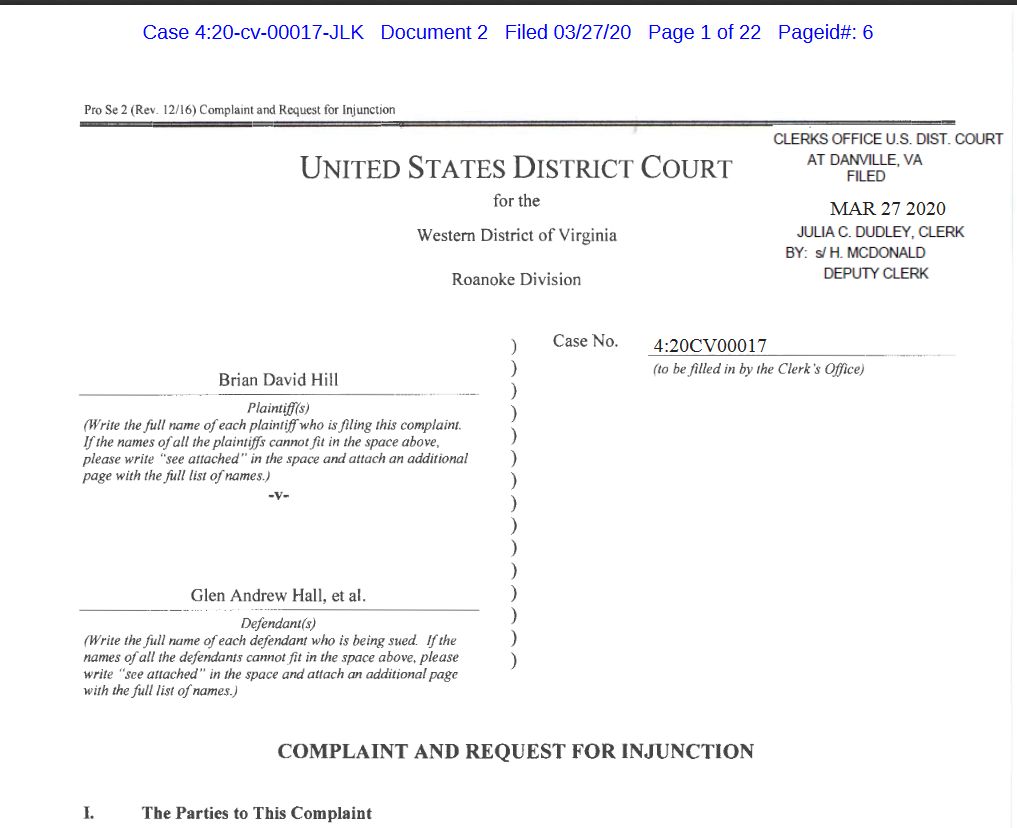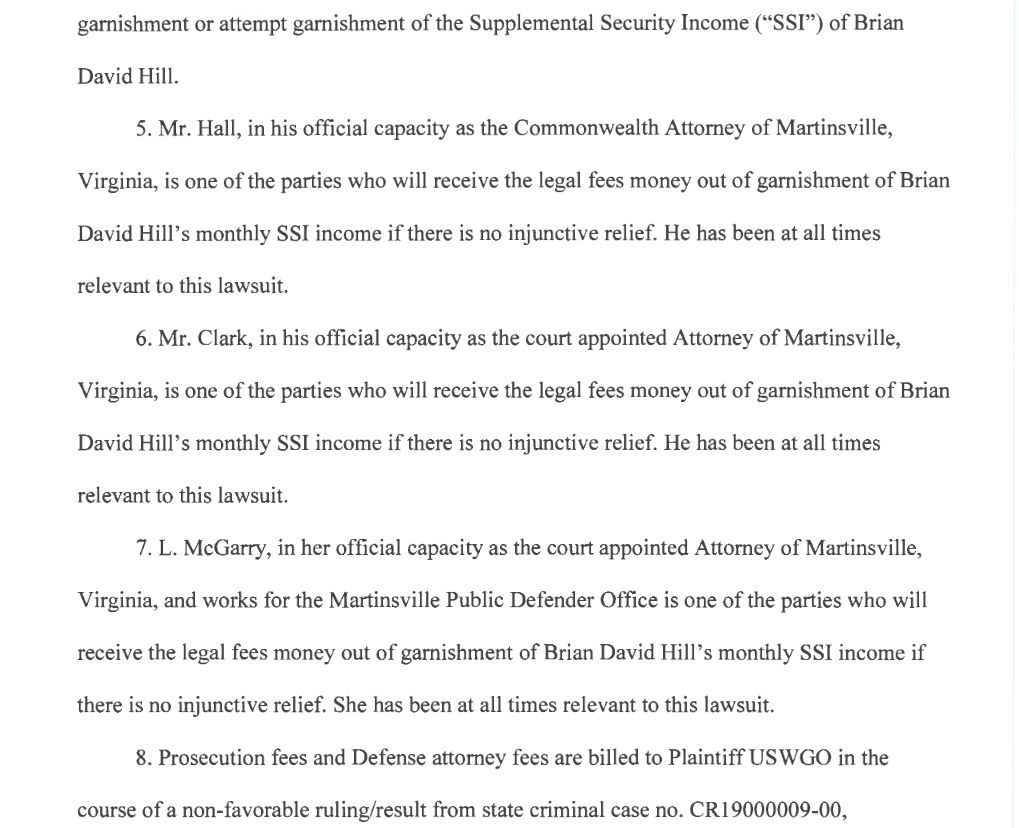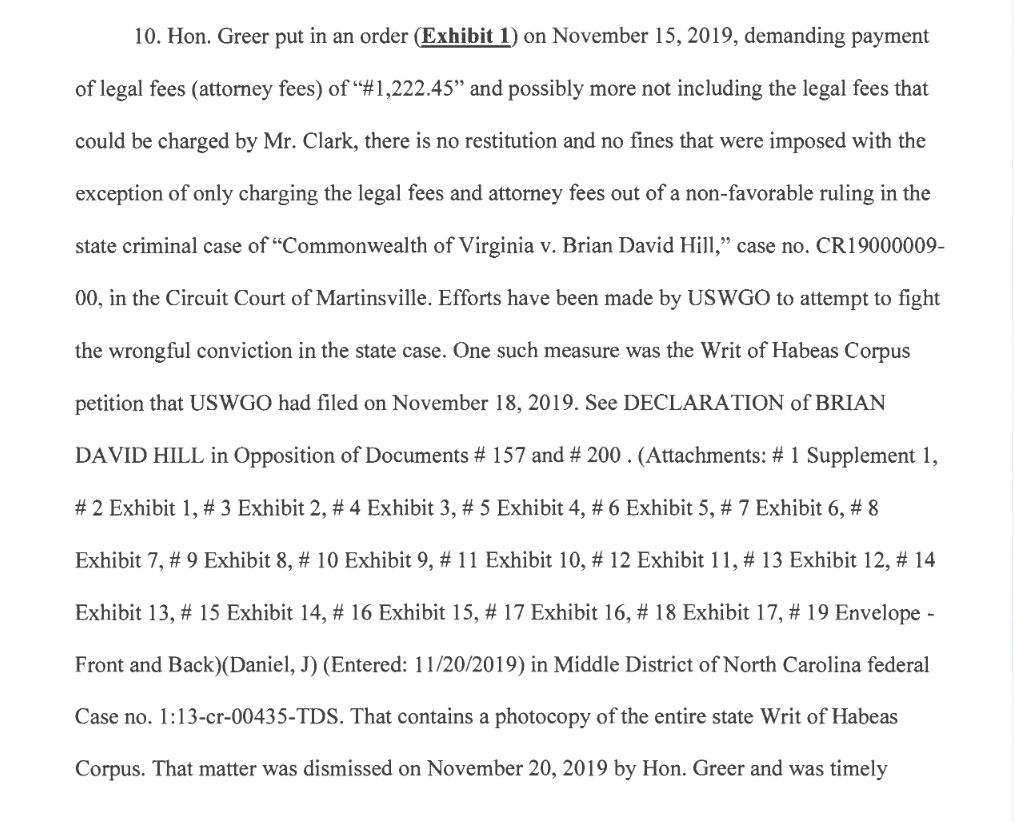 Glen Andrew Hall is the attorney for the Commonwealth of Virginia. The Commonwealth is another term for state, but the state of Virginia prefers to be referred to as a "commonwealth". Brian has "autism spectrum disorder" and type one brittle diabetes. He is mentally/physically disabled. Brian is clearly being bullied by the Virginia legal system to paying money that will make it difficult for Brian to live off of his only source of income, his SSI disability money.
According to the federal court documented filed today, Brian has to pay $500 rent, his social security disability income is at $783 a month. The "Circuit Court" of Martinsville, Virginia, has ordered Brian to reportedly pay over $1,000 or by failure to pay would forward his non-compliance to the "collection enforcement" department or agency or whatever, and he would face interest or up to 60 days in jail as well as possibly another federal probation violation where he could face up to 10 years in federal prison for the next possible violation.
Brian has also stated in his complaint that he had filed a state writ of habeas corpus on the ground of actual innocence and case law that demonstrates that Brian is legally innocent of his state charge and conviction but legal counsel failed or refused to truly represent him. Another failure of the court appointed lawyers, the public defenders, the whole judicial system is a travesty of miscarriages of justice. Brian also filed a "Writ of Error Coram Vobis" that has been filed as the second exhibit in his suit. The third exhibit shows that Brian had apparently asked the court in a typed motion to waive the legal fees and Brian explaining the circumstances of not being able to pay the state mandated legal fees. That motion had been ignored according to the allegations in the complaint as well as his other motion asking to proceed pro se in his state criminal case without a lawyer.
Quickly sifting through the pages, I found some interesting information. There was a picture of a envelope that appeared to have evidence in its contents that was never opened by Martinsville Police Department. Brian had argued in the "Coram Vobis" filing that the police were incompetent and never conducted an investigation into any of his claims when he told police that a guy in a hoodie threatened him to get naked on the hiking trail at night and take photos of himself or his mother would be murdered.
That does also lead to an older post which supports this claim, as it had mentioned "Snow White" which is a CIA term. A threatening greeting card was filed on federal court record that was sourced from his mother. It said that sickness isn't fun. The greeting card stated that him or his mother were sick, but not alluding to what the supposed sickness actually was. Carbon monoxide poisoning can be a form of sickness. It appears that Brian and his mother may be victims of a gang-stalking operation where somebody loony sends demeaning anonymous greeting cards through the mail and then the last card threatens that if his mother doesn't stop posting YouTube videos that a controlled action would be commenced against her. Funny how that was the last greeting card before Brian was arrested on September 21, 2018.
Brian also did file a petition for a pardon of innocence from Governor Ralph Northam of Virginia in 2019.
The allegations are compelling overall, and demonstrate that Sovah Hospital of Martinsville, had deleted the laboratory tests which were ordered on September 21, 2018, which Brian argues was exculpatory evidence that was destroyed [spoliation of evidence] by the hospital. Because the reported blood drawn vials were destroyed, according to what he has alleged, Brian will never be able to show factual proof that he has carbon monoxide poisoning. He can only show evidence that carbon monoxide gas was present in his home and his mother's home around the time that Brian wandered off and got himself arrested at night for indecent exposure. It appears that his defense attorney Matthew Clark failed to even bring up any reasonable doubts which appears to why be why Brian withdrawn his appeal and accepted the guilty verdict in the district court. A false guilty plea was entered as a result on November 15, 2019. His defense lawyer never informed his family nor him of the $1,000 attorney fees from his complaint. We will see how this goes.
COMPLAINT AND REQUEST FOR INJUNCTION against Matthew Scott Thomas Clark, Esq., Giles Carter Greer, Esq., Glen Andrew Hall, Esq., Lauren McGarry, Esq. filed by Brian David Hill. (Attachments: # 1 Exhibit 1, # 2 Exhibit 2, # 3 Exhibit 3, # 4 Envelope, # 5 Civil Cover Sheet)(ham):
Complaint – courtlistener, this site
Exhibit 1 – courtlistener, this site
Exhibit 2 – courtlistener, this site
Exhibit 3 – courtlistener, this site
Envelope – courtlistener, this site
Civil Cover Sheet – courtlistener, this site
The last time garnishment was attempted was during the Righthaven LLC lawsuit against Brian back in 2011.