by Laurie Azgard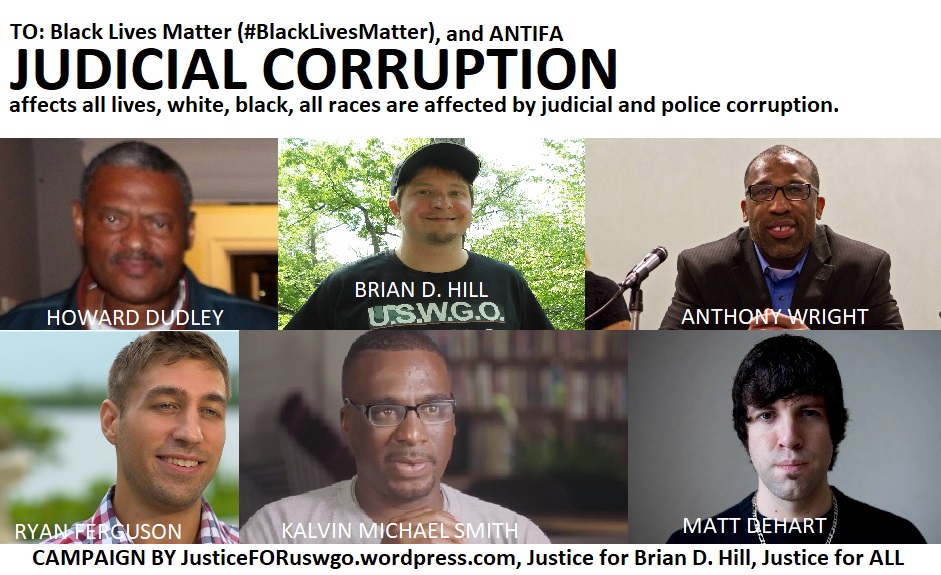 All of the #BlackLivesMatter and #ANTIFA protesters need to understand something. The corruption in our federal and state courts, the corrupt in our federal and state and local law enforcement, is not a race issue but a CORRUPTION ISSUE. #AllLIVESmatter here. Wrongful convictions encompasses white people, black people and even Asian people. It encompasses all races, all genders. Amadna Knox was not included in the image but she is a woman who was wrongfully convicted, verbally abused by the corrupt police and treated as though she were a sex demon. She was also found innocent later on, so she was wrongfully convicted and she was a woman. Men, women, black, white, all can be wrongfully convicted by corrupt law enforcement police, convicted by corrupt judges in state or federal or in another country. Black lives matter needs to understand this issue before pitting us off against each other, brother against brother, sister against sister like in the civil war of the 1860s. All of the riots and looting for George Floyd.
This is not just about George Floyd who was indeed wrongfully murdered by law enforcement police. It is about all of us who were treated bad by judges and police and prosecutors. Judicial corruption affects us all, not just what happened to George Floyd. Remember that next time more protests and riots may happen in the future!!!!!!!!!!! It ain't just black people who are victims of judicial corruption, it is all races. All races are slaves to judicial corruption.
Here are the names other than George Floyd who are and were victims of police corruption and judicial corruption:
Ryan Ferguson
Howard Dudley
Anthony Wright
Brian D. Hill
Matt Dehart
Kalvin Michael Smith
Jeremy Lee
Amanda Knox
The Hurricane – Rubin Carter
A list of black and white people who were victims of police misconduct, police abuse, and police obstructions of justice. Think about it before inciting any more racism over George Floyd. Thank You.
See: https://justiceforuswgo.wordpress.com/2020/06/07/the-blacklivesmatter-antifa-protests-should-focus-on-all-judicial-corruption/ – The #BlackLivesMatter ANTIFA protests should focus on all judicial corruption, which affects all colors of skin