by Laurie Azgard
The official website of the Supreme Court of Virginia confirms oral argument for Brian D. Hill formerly of USWGO alternative news. He will bring forth arguments as to why he should be found actually innocent of his original Virginia criminal charge after Brian was reportedly poisoned with carbon monoxide.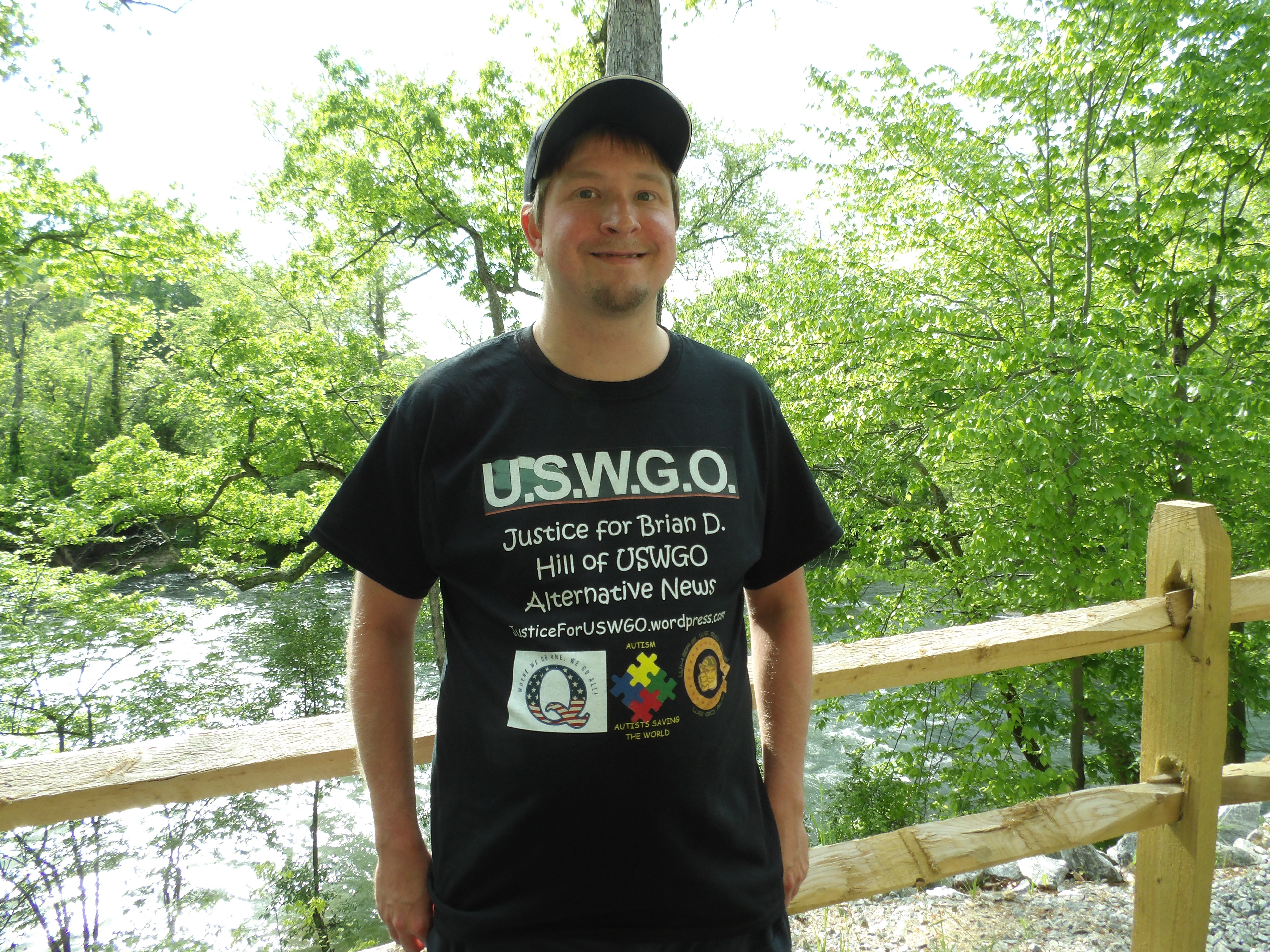 The good news about this in the docket sheet of the SCV confirms that his petition may be considered and thus action may be taken by the Supreme Court of Virginia to overturn a judgment of the Circuit Court of Martinsville dismissing his writ in just two days after filing, and thus will allow Brian's state writ of habeas corpus to go forward. This will give Brian a chance to show the defects in the arrest warrant by sergeant officer Robert Jones of Martinsville Police Department.
Brian plans on bringing up actual innocence arguments and will show the the arrest of Brian on September 21, 2018, for indecent exposure was erroneous.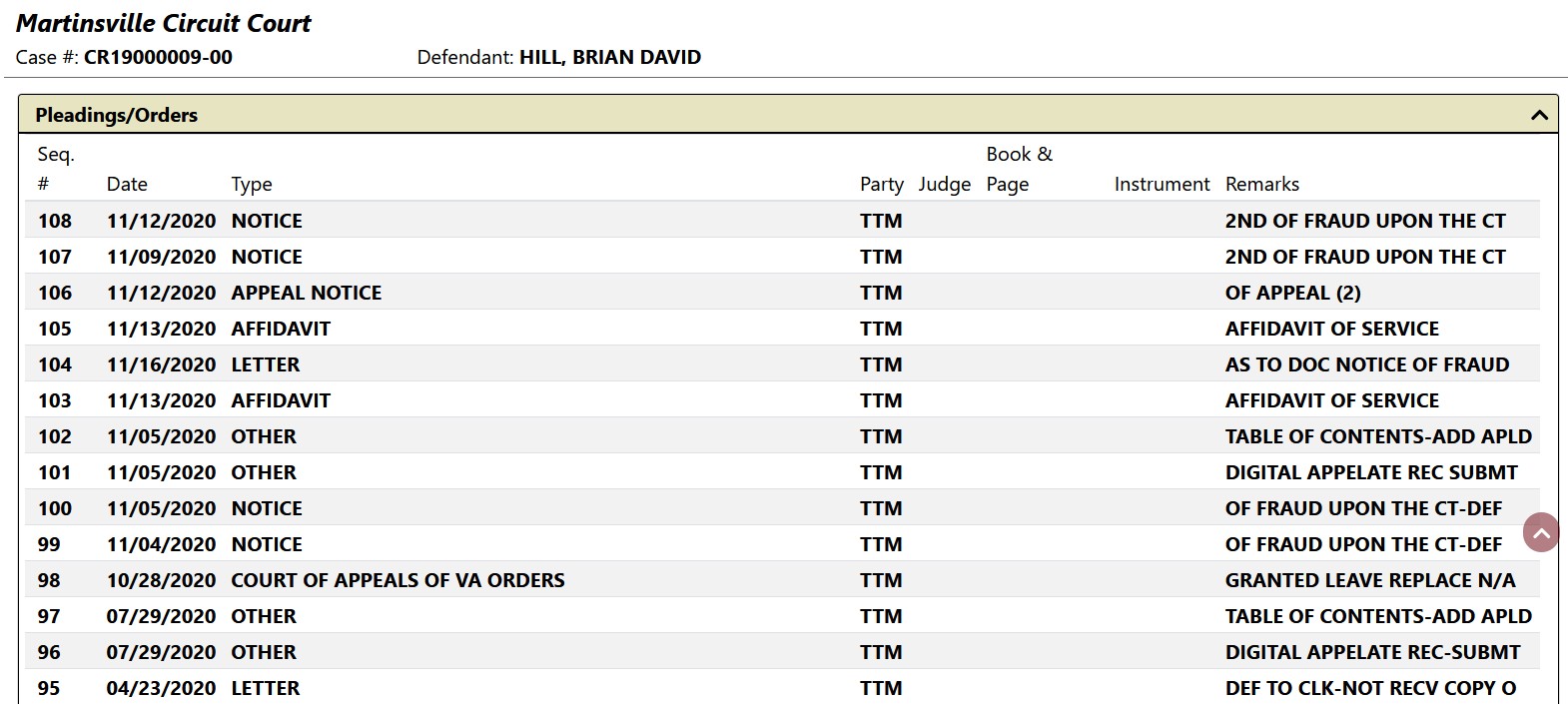 It was erroneous because the police officer Robert Jones of Martinsville PD was assuming that laboratory testing was done and Brian was discharged from the Hospital and thus medically cleared to face indecent exposure charge when the medical records show the opposite. They show from Sovah Hospital on September 21, 2018, that they discharged Brian to "Police/Jail while he had a resting blood pulse of over 100 two different times in "Vital signs" which is tachycardia. They discharged him to "Police/Jail" while Brian was not tested for his diabetic blood glucose. They discharged him to "Police/Jail" while ordering lab results and then later cancelling them and deleting them from the chart of his medical record, and no lab results were ever found when requesting the lab work. So Brian was not in fact medically cleared and did not have a clean bill of health. His attorney Renorda Pryor at the hearing dated September 12, 2019, did ask the police officer about Brian's blood alcohol level and the officer responded that he did not subpoena his medical records and did not even know. So they arrested Brian for indecent exposure without ever knowing whether Brian was on DRUGS, ALCOHOL, or GAS poisoning. They just let him go to jail and said that he should see his doctor the next day, BUT BRIAN WAS IN JAIL THE NEXT DAY. So Sovah Hospital did a terrible job and his indecent exposure charge should be nullified as faulty. Sovah Hospital should face lawsuits or loss of professional licenses for their misconduct and medical neglect. They threw a guy in jail without confirming for a fact that Brian was medically cleared and made out to Martinsville PD officer Robert Jones that he was being discharged and thus gave him the impression that Brian was medically cleared and thus should be held culpable for indecent exposure. In fact I may report Sovah Hospital's misconduct myself to the medical board of Virginia and this blog should push for a campaign Sovah Hospital's staffs licenses to be revoked with prejudice. They were the reason why Brian was criminally charged in 2018 and his federal probation revoked last year.
See article: Federal filings show Martinsville Police or Hospital neglecting Brian D. Hill, victim of carbon monoxide – Justice for Brian D. Hill of USWGO Alternative News
The way the police and prosecutor had described Brian's behavior in the photographs sounds like the behavior of somebody who was given a drug syringe, alcohol or beer by somebody and enough to make the person have a buzz, or gas poisoning or fumes that have been enough to distort the reasonable thought and common sense. The whole entire state criminal case was without merit, they did not even prove the intent of Brian D. Hill. There was no plans found, no medical equipment or even prescriptions found by the police and they didn't even know that Brian was even diabetic. Brian had nothing to treat his diabetes while out there on a remote hiking trail that goes through the city of Martinsville, and Brian clearly could have died if the police had not even came to arrest him and taken him to that neglectful Hospital, and then the Jail would have to had medically treated him since the Hospital clearly did not do their jobs.
Whether you believe me or not, read the case files, read the petition for rehearing which will soon be published on this blog once his family emails me his petition to the Supreme Court of Virginia. It is time for the American people to know the truth about Brian's original federal charge being based upon fraud and spoliation of evidence, and the indecent exposure charge based upon lack of evidence of medical clearing. The police assumed things that were not the truth, they were misled and misled they indeed were. They were ignorant and incompetent. Martinsville Police was incompetent, idiotic, and warrants new leadership there. That is because of their corrupt commonwealth attorney Glen Andrew Hall who does not give a rats @$$ about medical records or the truth. It is time to drain the swamp in Martinsville and Sovah Hospital, and then Governor Ralph Northam needs to get off his butt and pardon Brian David Hill with an absolute pardon of innocence. Do the right thing Governor Northam!