See Article: Brian D. Hill of USWGO news asks U.S. Defense Secretary for TREASON CHARGES on FEDERAL JUDGES!!!!!!!!!!!!! #DigitalSoldiers #SidneyPowell #GenFlynn #SecDefense #Pentagon #ChrisMiller @GenFlynn @SidneyPowell1 @LLinWood
by Laurie Azgard
The corruption of the U.S. Post Offices and the ability of the Deep State to blackmail U.S. Postal employees is very concerning. The letters asking for Pentagon involvement have been INTERCEPTED in transit. Brian D. Hill of formerly USWGO alternative news had written a letter to the U.S. Defense Secretary Chris Miller regarding his evidence of Federal Judicial Corruption, and asked for arresting these corrupt Federal Judges for corruption, HIGH TREASON.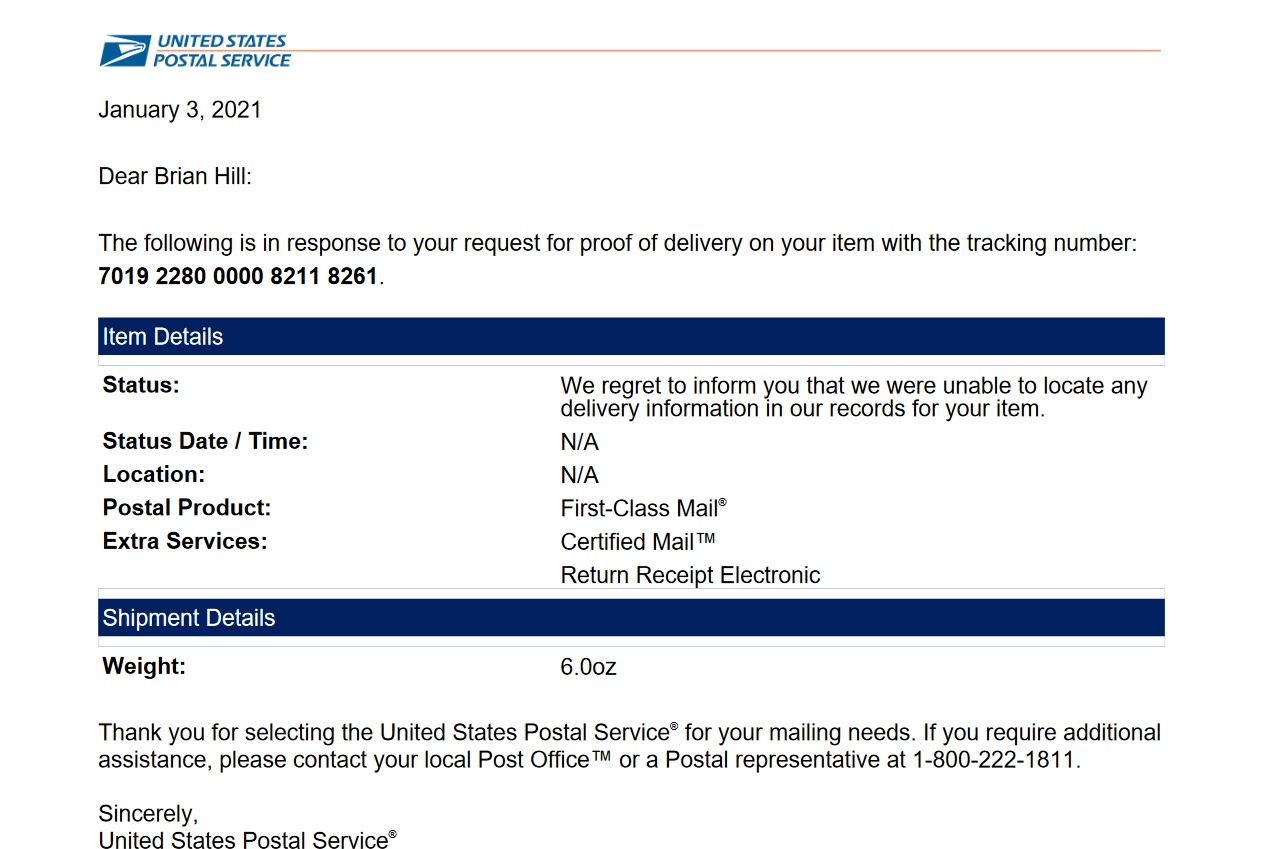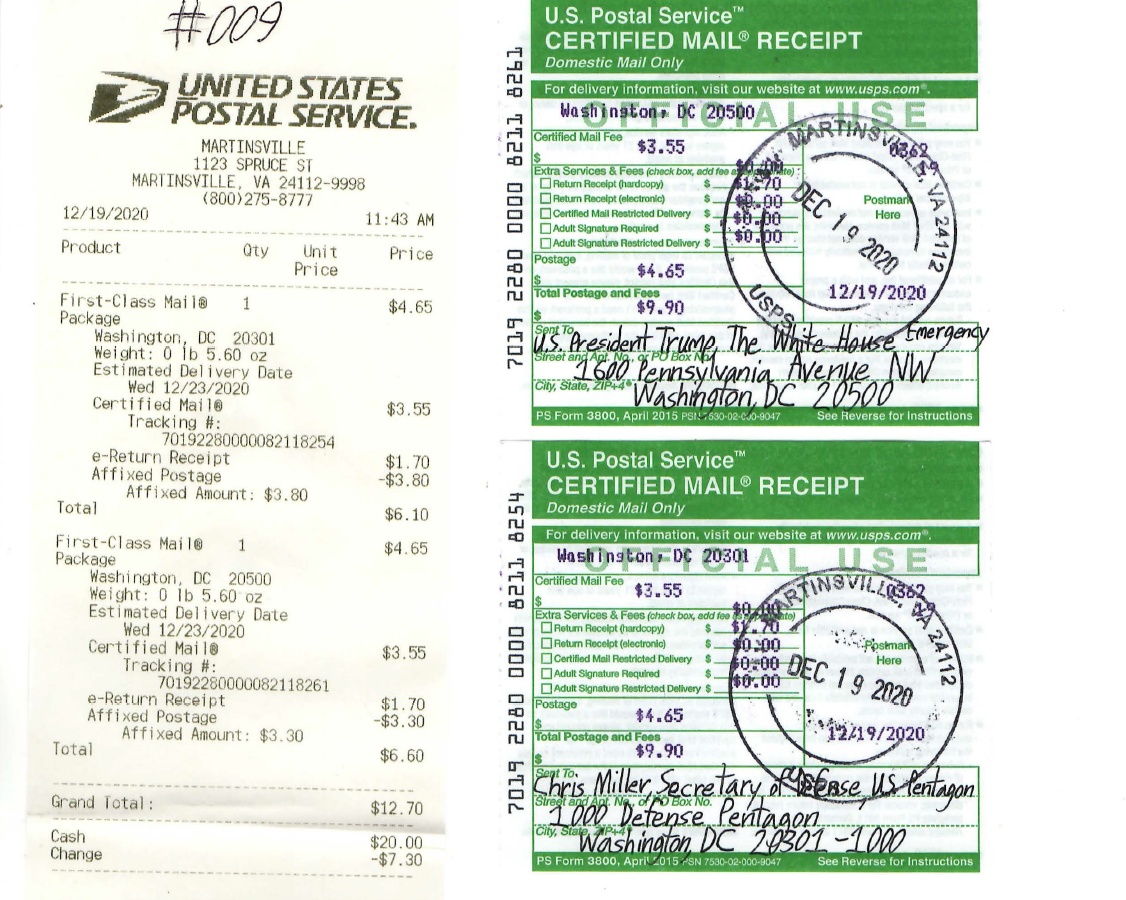 If any bribery or blackmail is involved in the Federal Judiciary then all federal criminal and civil cases must be vacated and dissolved from our Federal Courts by our U.S. Military immediately. The military must expunge or seal the Court records of all corrupt judges involved cases or bind them to a "null and void" tribunal rulings by our Military Justice Courts. All criminal convictions resulting from under these corrupt federal judges guilty of high treason or may have been blackmailed to compromised, must undo the judgments of guilt, criminal convictions must be overturned without requiring any burden of proof from these criminal defendants including Brian David Hill. All criminal and civil judgments resulting from any corrupt Judges that are proven to be corrupt in military tribunals must be vacated on Constitutional grounds of structural defect and deprivation of due process, as well as lack of impartiality even though impartiality from the judges are required under the due process clause or any other relevant clause of the U.S. Constitution.
Here are the documents regarding the INTERCEPTED MAILINGS:
USWGO_20201219_045048(OCR)_Redacted.pdf or Wayback machine archive – Scan record of what was mailed off to Secretary of Defense, mailing, packaging, materials
USWGO_20201221_022109(OCR).pdf or Wayback machine archive – Scan record of certified mail receipts including the tracking number of the mailing to the Secretary of Defense
70192280000082118261.pdf or Wayback machine archive – Mailing to Defense Secretary has disappeared and no tracking records located, sounds like they have been intercepted
70192280000082118254.pdf or Wayback machine archive – Mailing to Commander in Chief has disappeared and no tracking records located, sounds like they have been intercepted
According to the documents emailed from Brian's family, it appears that last month Brian had mailed disc evidence, a secret letter but redacted in the released pdf, another one-page letter, and Audio discs to U.S. Secretary of Defense Chris Miller at the U.S. Pentagon. Brian has apparently been pushing for the arrest of corrupt and compromised Federal Judges involved in his case, as well as his request to arrest all judges of the "Fourth Circuit" U.S. Court of Appeals in Richmond, Virginia. Virginia resident Christopher Julian another disgruntled party to the federal court system also attempted to mail U.S. Congressman Morgan Griffith and said to him in writing that the Fourth Circuit court judges are corrupt, well the way he worded it and talking about the criminal enterprise, it sounds like he is simply exposing the very corruption of the Fourth Circuit federal appeals court.
USPS tracking number inquiry documents:
USPS70192280000082118261-FAILED.pdf or Wayback machine archive – Mailing to Secretary of Defense
USPS70192280000082118254-FAILED.pdf or Wayback machine archive – Mailing to U.S. President Trump
The mailing was mailed out on December 19, 2020, the tracking number records show that it left the Roanoke, VA regional mail distribution center around "December 19, 2020, 11:06 pm". The last update was that it was arriving late on December 23, 2020, after it had left Roanoke and no more updates as to where the mailing was after that entry. As of that time period, no other updates have came forth. So over two weeks and that mailing has disappeared from the tracking system as well as the other mailing to the White House on the very day as the mailing to the Defense Secretary Chris Miller. Both have disappeared from the tracking system, then a USPS email was sent to Brian's family which were forwarded to me and Stanley Bolten. It was sent around "Sun, 3 Jan 2021 11:08:06 -0600 (CST)". It said that "We regret to inform you that we were unable to locate any delivery information in our records for your item."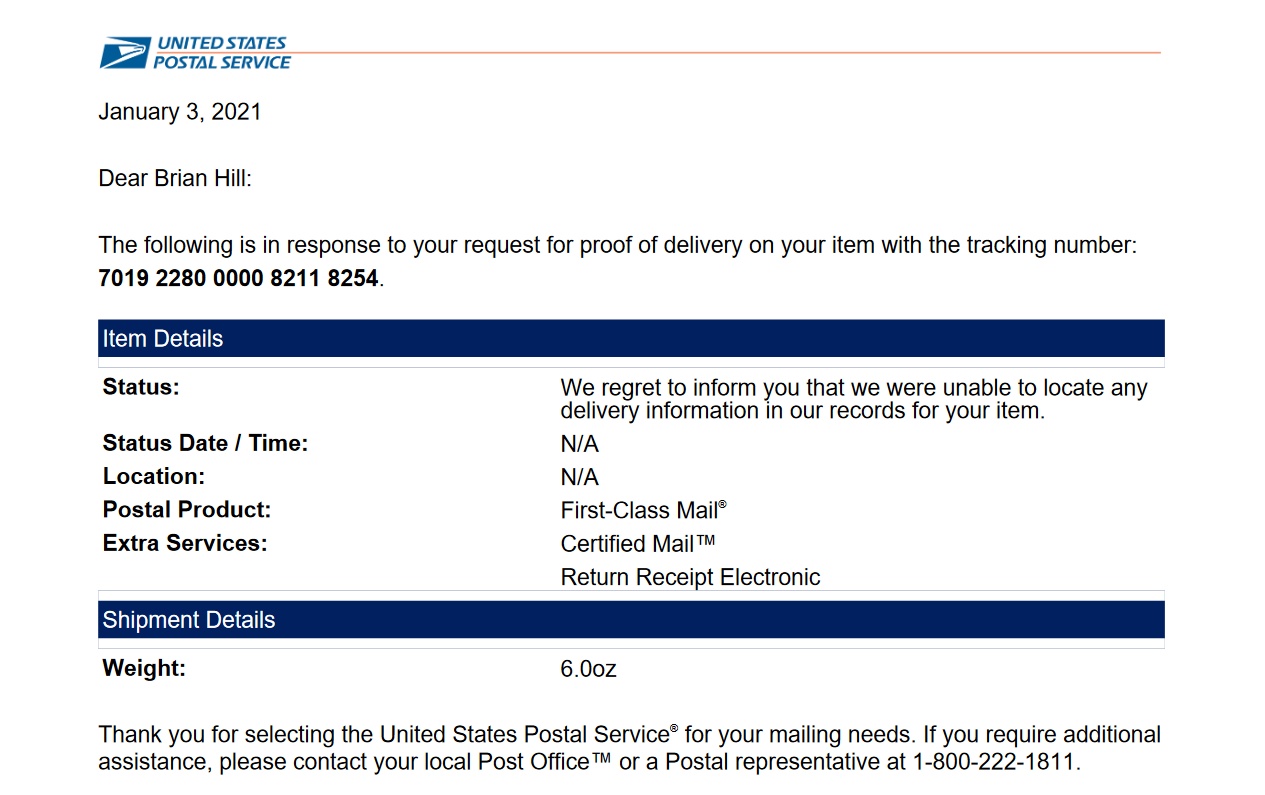 So both mailings disappear and no records can be located as to what happened to those mailings. It ain't just one mailing but two mailings, and those mailings were for the Defense Secretary Chris Miller and President Trump as the commander in Chief. Calling for arresting Thomas David Schroeder, Giles Carter Greer, Jackson L. Kiser. and even Judge Francis Urbanski for going along with the fraud and corruption. Yeah U.S. Chief Judge Urbanski of Roanoke, Virginia hasn't lied about Brian like Judge Schroeder has, he has the benefit of the doubt on that one, but he did go along with what cowardly traitor Judge Schroeder had done. It wasn't just a letter but the new document that surfaced showed a "secret letter" was also mailed and is considered "CLASSIFIED" by Brian D. Hill. So whatever Brian was mailing in that secret letter must have had some damning information for the Deep State to want to confiscate or intercept which essentially disappears Brian's legal mailings from ever reaching their destinations even though that would be potential felonies.
See the screenshots of that letter to the Defense Secretary.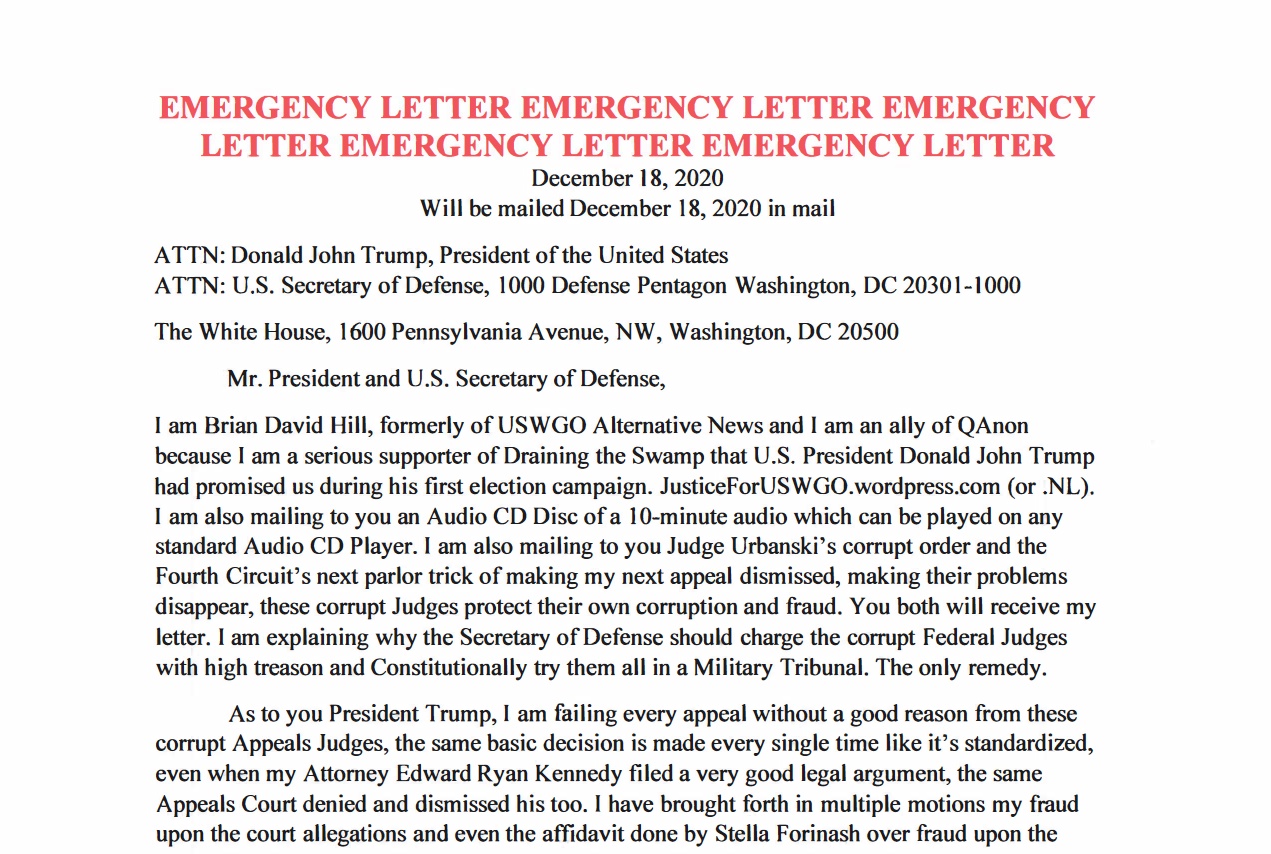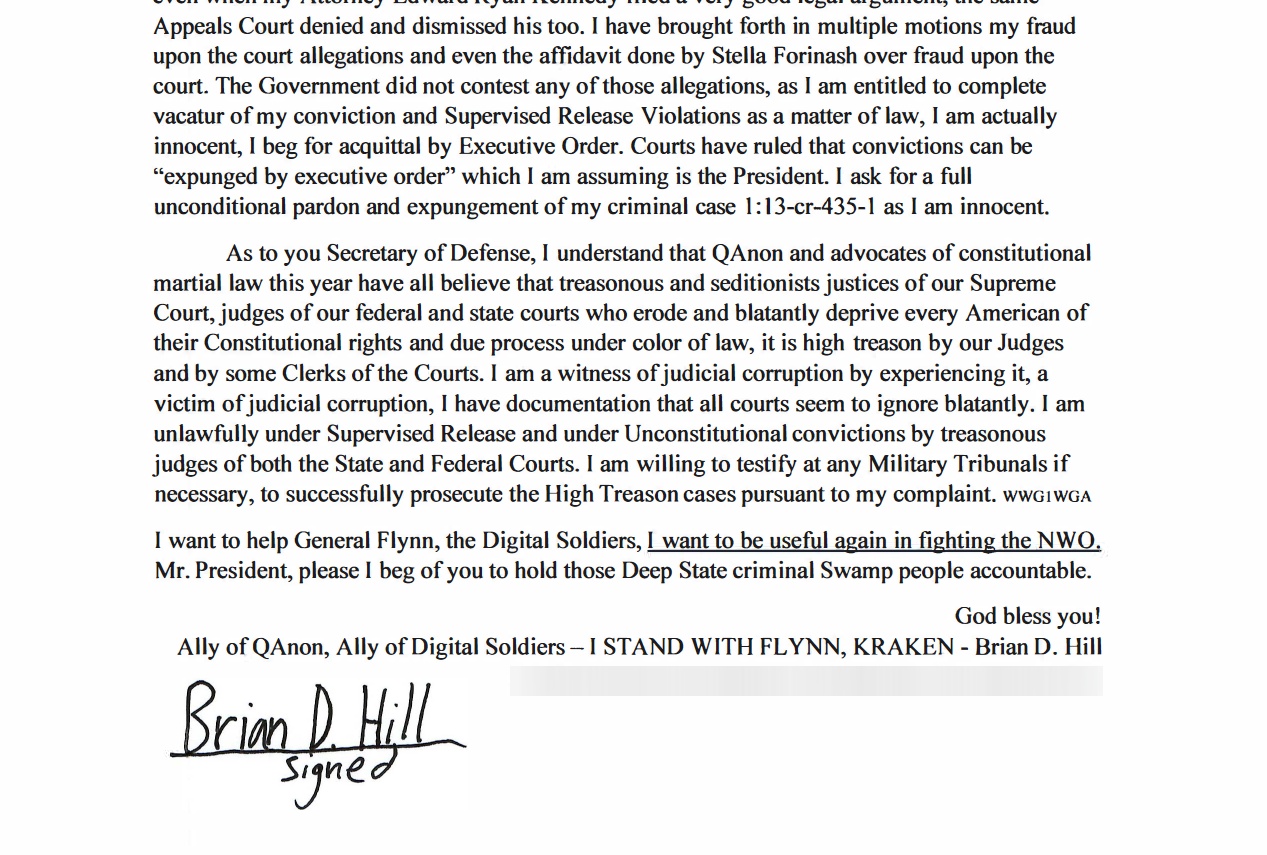 More than likely they were intercepted by an agent of the CIA, NSA, or any other portion of the entire Deep State Swamp cabal. The "Shadow Government" as some like to call it, a Government that works inside the United States [One country, two national governments] with the authority of some statute or decree within the United States of America, but is acting outside of law, acting outside of our Constitution, and acts as an vested authority that doesn't lawfully obtain such powers but has those powers anyway by usage of black budgets, black Operations including potential assassinations and character assassinations, usage of threats, usage of blackmailing, and usage of disturbing tactics that would never be allowed under chivalry and honor. It could go as far as framing people with child pornography, that has no chivalry and no honor in using such tactic to win a war, whether an intellectual war or violent war.
At this point they do not want the Trump ally and swamp draining supporter in the U.S. Pentagon to be given letters that actually might mean something. They do not want any of these corrupt federal judges arrested who can rubber stamp appeals and court rulings for the Deep State's wishes. The shadow Government who can plant child pornography on anybody and ruin their lives forever. Make an example out of Brian so that other alternative media and activists simply go away or are scared of what they may cover out of fear of any life-altering retaliation that will create a public hatred against you by simply labeling you as a pedophile even if you can prove your innocence, that will not matter as long as the Deep State is in control of our COURTS, our police chiefs, our FBI, and our DOJ.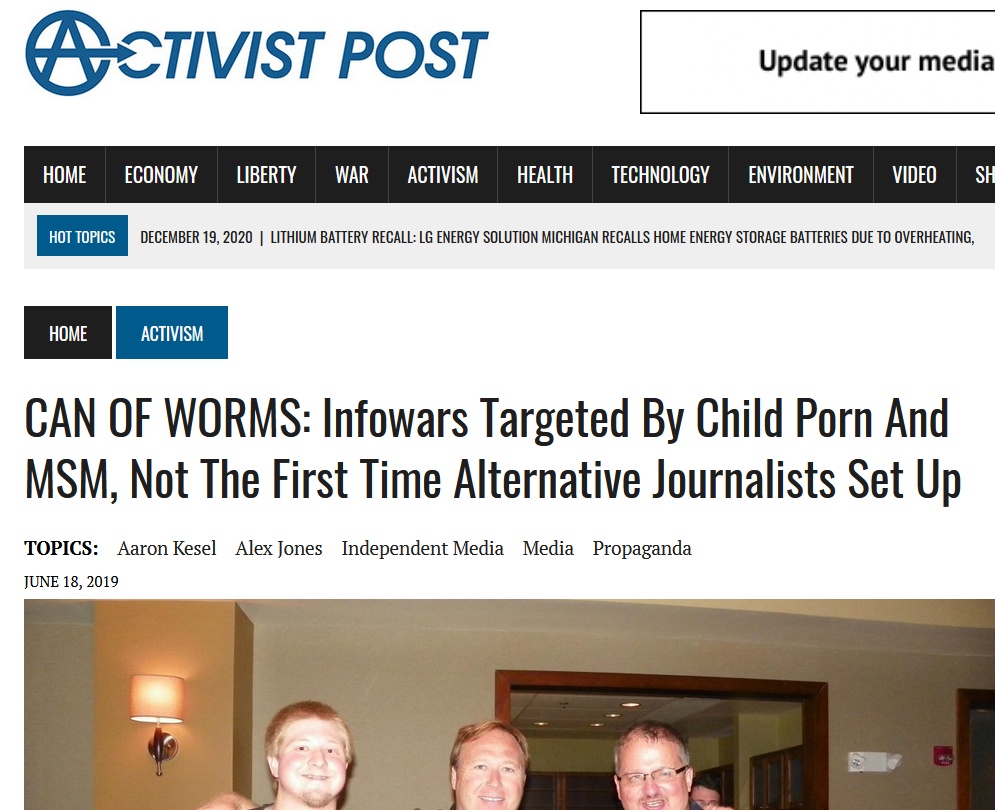 Time to ask General Flynn for help, Brian D. Hill is at risk of retaliation by the shadow forces which may lead to his death or who knows what else they have planned for him, more criminal charges, solitary confinement 24 hours a day till he commits suicide or breaks mentally and becomes a human vegetable, permanent revocation of his supervised release with stiff prison sentences. Brian is at major risk if those mailings were both intercepted at the Postal Facilities or were intercepted while on the road.