Author: Stanley Bolten
Brian D. Hill, formerly of USWGO Alternative News had gotten more bolder in filing a pleading in Federal U.S. Court of Appeals accusing Federal Judges of being blackmailed with child rape and murder, that Attorney L. Lin Wood is the source of this information. He has finally gotten more bolder as this is the third Court system of him bringing up the allegations of Judges being blackmailed with child rape and murder. First was the Federal Court in Roanoke, VA under the Chief Judge Francis Urbanski, second was a letter filed with the Court of Appeals of Virginia which is a State Appeals Court (not Federal), and the third is now this recent filing. Brian is asking for the Judicial Council of the Fourth Circuit to investigate the blackmail evidence, and subpoena Lin Wood to determine if Judge William Lindsey Osteen Junior and / or Thomas David Schroeder were ever targets of the blackmail scheme. If this is ever proven true, then Brian is entitled to either a New Trial in his Federal Criminal case or complete acquittal and removal from the Sex Offender Registry as a wrongfully convicted innocent man and was a victim of an partial corrupt Federal Judge who was blackmailed with child rape to prevent Brian from ever receiving a fair and impartial administration of justice. Essentially Brian would be deprived of Due Process of Law under the 5th Amendment of the U.S. Constitution.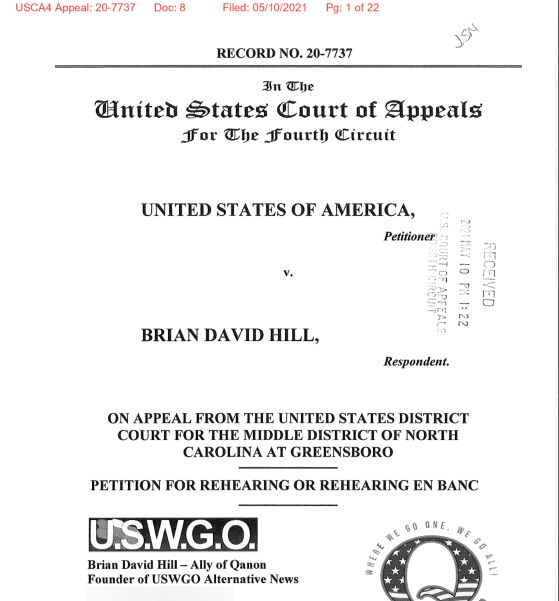 Brian said the word "blackout" instead of the word "blackmail". That was just one grammatical mistake in his Petition for Rehearing, but I am sure the Clerks and the Judges know what Brian was insinuating. They know Brian is accusing them all of blackmail when they all refuse to provide any form of justice and relief.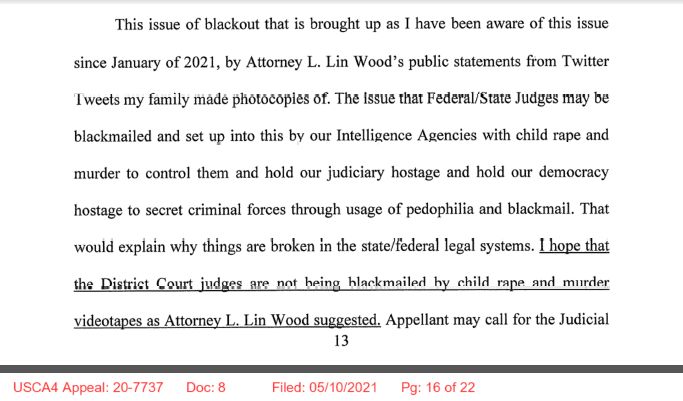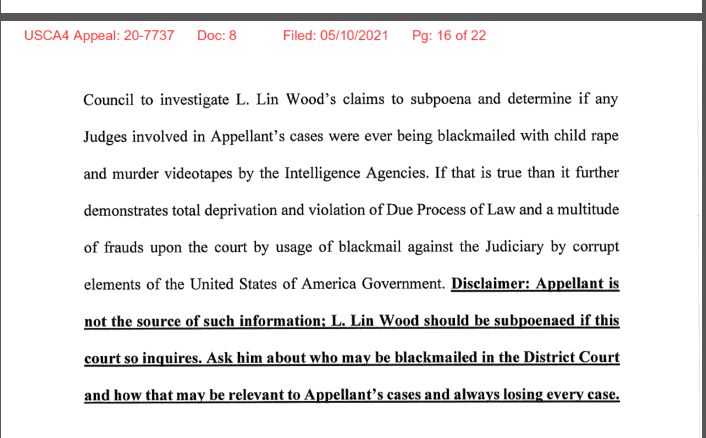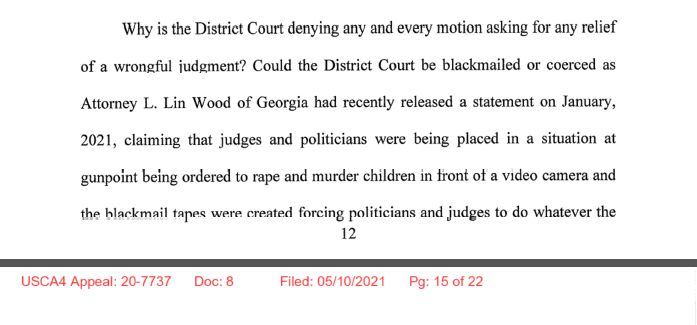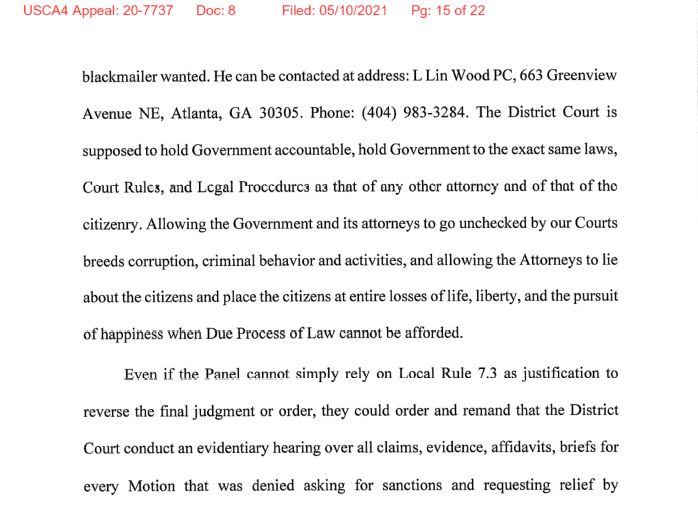 Here are the documents:
Petition for Rehearing from PACER.GOV
Petition for Rehearing PDF Version
Brian is telling the corrupt Fourth Circuit of the United States Court of Appeals in the corrupt City of Richmond, Virginia, about the intelligence agencies blackmailing Federal Judges in the United States District Courts near the Central Intelligence Agency's (CIA) Camp Perry. Lin Wood did not specify which judges are being blackmailed but kept an open dragnet in his claim where he could be referring to either Federal or State or both in regards to the alleged blackmailing of Politicians and Judges. That is blackmail of the target being coerced at gunpoint to rape a child and murder the child while being videotaped, this would amount to a cruel child pornography video and child snuff sexual abuse and murder on a videotape. It sounds as cruel as you can imagine. Very Satanic.
Brian did the blackmail allegations in such a smart way, because if he had directly filed a letter with the U.S. District Court telling corrupt Nazi Gestapo Judge Thomas David Schroeder that he may be blackmailed with child rape and murder, he would have likely received a contempt charge very quickly, armed U.S. Marshals would have busted the door down and likely shot Brian at gunpoint range and falsely claim that Brian was resisting arrest and cover up any body-camera footage. They would have killed Brian instead of suing Brian for defamation as any defamation claims are subject to discovery rules and use of subpoenas. They do not want it coming out how compromised our Federal Courts and State Courts truly in fact are.
Brian is telling the Fourth Circuit that they need to investigate L. Lin Wood's tweets about Politicians and Judges being blackmailed with child rape and murder. If L. Lin Wood is wrong about any of it, he could lose his license to practice law, receive anti-defamation lawsuits, as well as losing everything he owns and lose all credibility.
Here again are Lin Wood's tweets:
Tweet #1 from Attorney Lin Wood. Wayback machine archived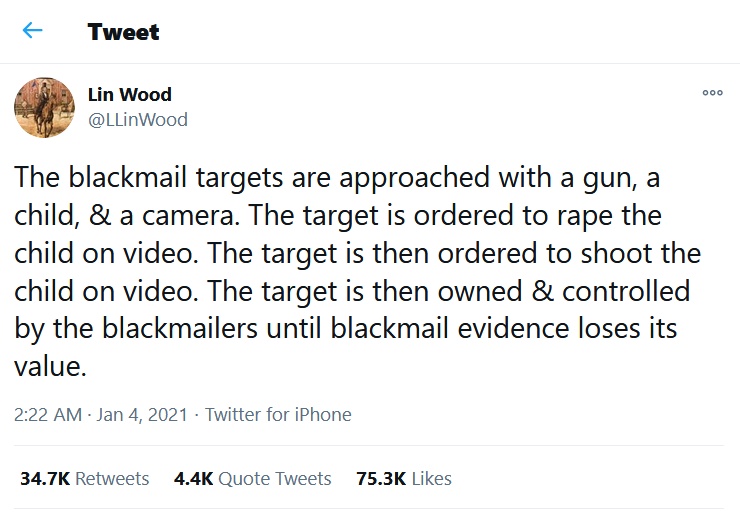 Tweet #2 from Attorney Lin Wood. Wayback machine archived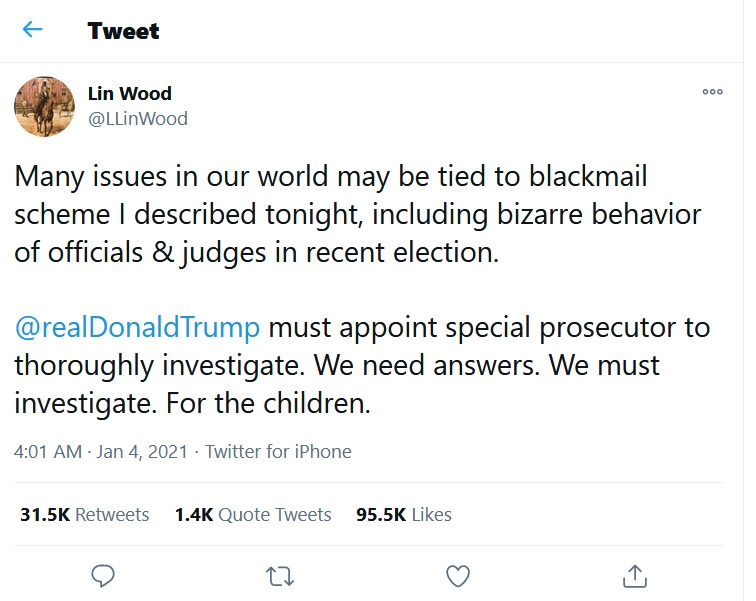 Tweet #3 from Attorney Lin Wood. Wayback machine archived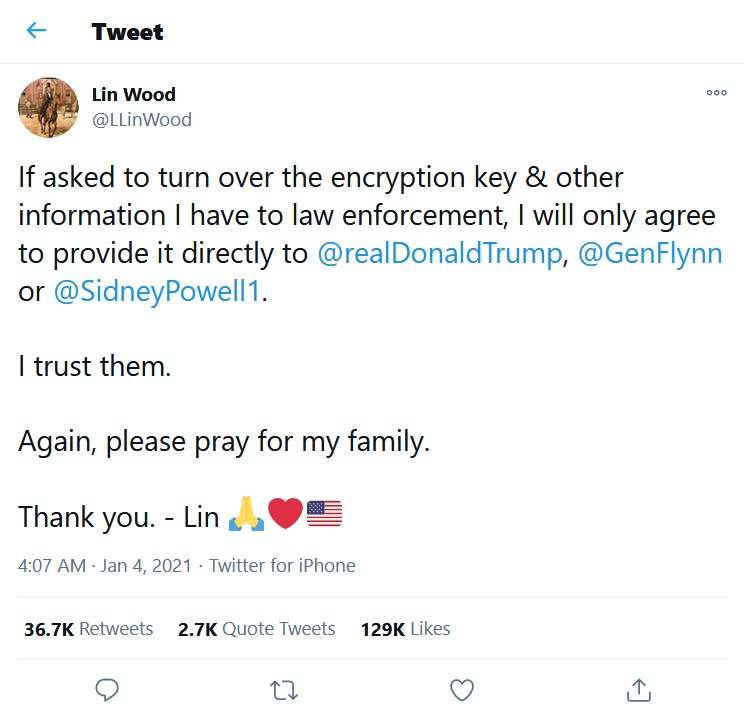 Tweet #4 from Attorney Lin Wood. Wayback machine archived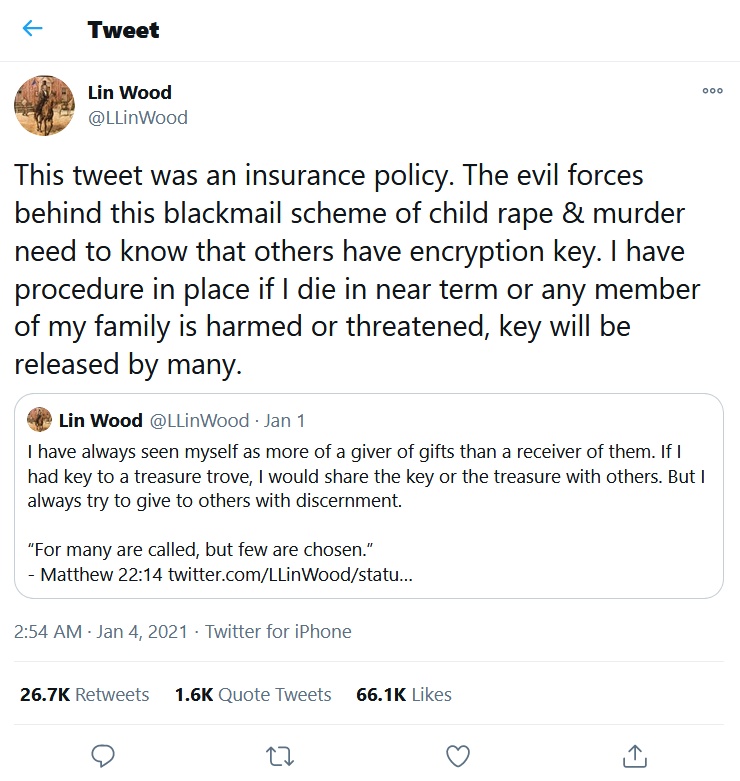 Tweet #5 from Attorney Lin Wood. Wayback machine archived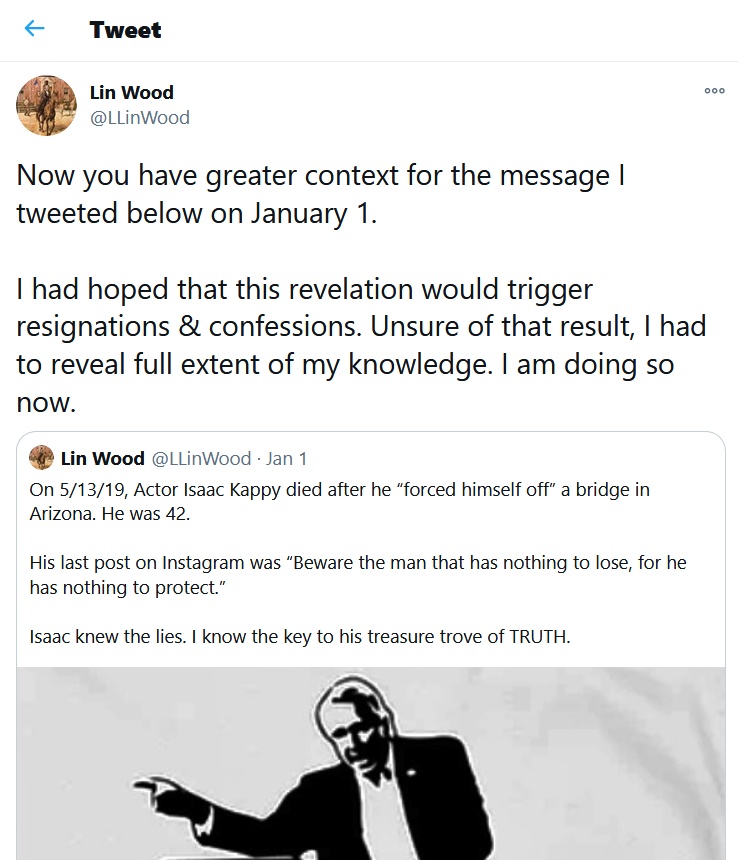 Tweet #6 from Attorney Lin Wood. Wayback machine archived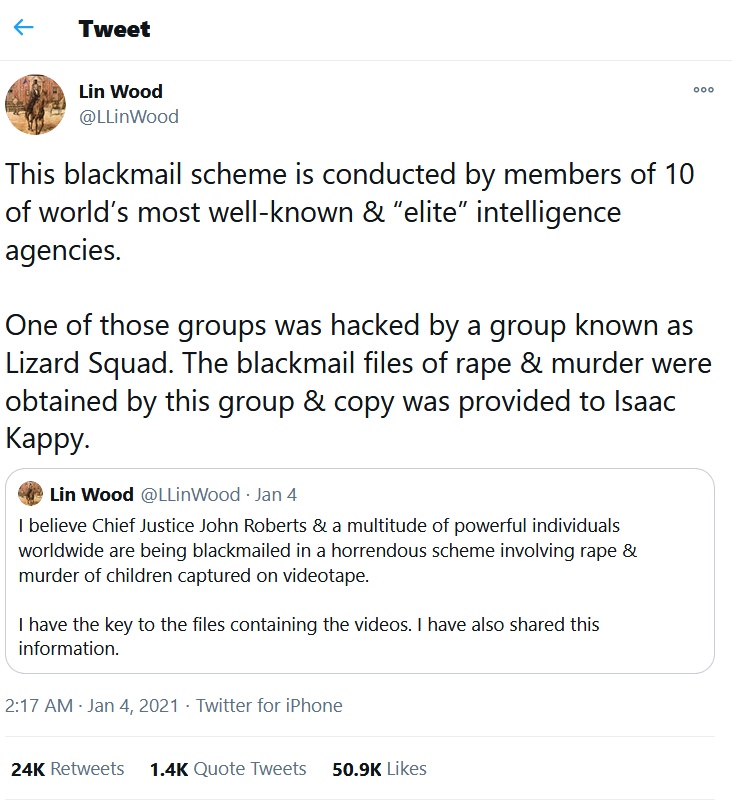 The blackmail stuff is very serious. This has indeed become a blackmail war, A BLACKMAIL WAR, a civil war with the usage of blackmailing Judges and Politicians of the United States of America, state Governments, and maybe even localities. The use of sexual or non-sexual blackmail of Government officials/elected-employees to overthrow the American Republic and Democracy. It overthrows the true and credible administration of justice.
Without L. Lin Wood bringing up this information officially as a licensed credible Attorney from Georgia, Brian Hill's allegations would have been deemed as defamatory and would have been considered defamation of character and would have subjected Brian to sanctions such as contempt charges, obstruction of justice, and even revocation of his Federal Supervised Release. Even his Probation Officer was informed of the blackmail claims made by L. Lin Wood, and we cannot confirm or deny whether there is an investigation from the United States Probation Office on Mr. Hill's claims citing the Lin Wood tweets. If there is a criminal investigation by the U.S. Probation Office and other Federal Agency with by good Agents based upon Mr. Hill's information reported to them, and if Mr. Hill was ever found to have been wrongfully convicted and serving an illegal sentence based upon any solid leads or criminal evidence which would exonerate Brian's claims, then Brian may have his Supervised Release sentence terminated, conviction can be overturned and the real culprit charged, and Brian could finally be removed from the Sex Offender Registry with the acquittal at hand.