Author: Stanley Bolten
U.S. Supreme Court dockets the EMERGENCY MOTION for Chief Justice John Roberts to recuse himself, and has filed the entire appendix this time. Which includes the exhibit with the radio patriot blog entry about John Roberts and the pedo blackmail tapes. As this was filed, we are still waiting on whether or not the EMERGENCY MOTION will be docketed publicly on the website (it appears to already be docketed internally) regarding the U.S. Solicitor General to be compelled to file a response. However the Clerk did confirm verbally as to the receipt of the EMERGENCY MOTION on that regard (full PDF file of the filing can be access here) as he said everything they had received will be distributed to the chambers of the Justices. This was filed by Brian D. Hill the former news reporter of USWGO Alternative News. See the last article with links to the Lolita Express flight logs unsealed on PACER.GOV in 2020 with the name "John Roberts" in the logs two different times. Oh yeah, Jeffrey Epstein knew a LOT OF PEOPLE. Why would he not know Chief Justice John Roberts??? Jeffrey Epstein knew Bill Clinton and Bill Gates, why not John Roberts of the Supreme Court since justices are appointed for life with no term limits?
See https://www.supremecourt.gov/search.aspx?filename=/docket/docketfiles/html/public/22-6123.html.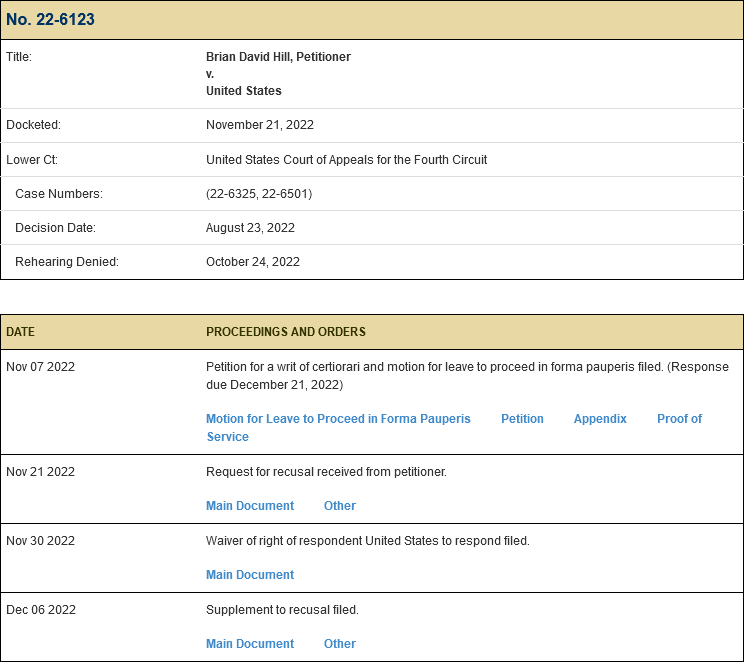 Here is the evidence:
https://archive.org/details/20221207-SCOTUS-calls
"Hello Mr. Hill this is Clayton Higgins, calling from the Supreme Court returning your call. So as far as your question is concerned, yes everything has been sent out to chambers so it's been distributed including what was in the emergency motion. I believe I forgot how it was in total but asking that you was to respond so basically everything you sent us we have received and it will be distributed to chambers. If you have any other questions please call me at (Redacted for respect since he is on the up and up and he did file the entire appendix with the blackmail scheme claims). Thank you."

Transcription from Voicemail AI voice to text transcription systems
This is the first time that a petitioner in a case before the U.S. Supreme Court has directly brought forth the Attorney L. Lin Wood allegations of the alleged blackmail scheme of child rape and murder, which is the Jeffrey Epstein blackmail.
So the two emergency motions will be distributed to the chambers of the justices. This will be very interesting to see if John Roberts recuses himself or is compelled to recuse himself. This is Brian Hill's move of OPERATION CHECKMATE. I have sent emails to Attorney Lin Wood ahead of time that Brian and me and others would start up OPERATION CHECKMATE on John Roberts. He did not object to this in writing and did not tell us to stop. So Brian had started OPERATION CHECKMATE against John Roberts to prevent the blackmail (child rape and murder) elements from having any further control of Brian D. Hill's cases, and to put a stop to the blackmail elements from continuing to corrupt the U.S. Supreme Court which allows communism to take over America. Using pedophilia on Presidents like Bill Clinton and Joe Biden, using John Roberts as alleged by Attorney Lin Wood and the name of that justice being listed in the flight logs of Lolita Express, using certain members of Congress. They are not in control at all, they are puppets to the puppet masters, and are being controlled by BLACKMAIL SCHEME aka the blackmail element of the Deep State Swamp operations. Brian is risking his life here, so give him your prayers. Give Attorney Lin Wood your prayers. Send emails to Lin Wood with your prayers, no hate okay. Tweet prayers to Lin Wood and make Truth Social posts praying for Lin Wood. Lin Wood has risked his life by making those statements, risking his entire career.
https://rumble.com/v1txjku-lin-wood-speaks-the-truth.html
Brian D. Hill has been one of the Anti-New-World-Order political activists at the center of exposing the judicial corruption, and also managed to almost be fully pardoned by U.S. President Donald John Trump, when Brian filed a federal affidavit/declaration with Roger Stone who agreed to give that evidence to the President in December 2020 on the condition at the time that he keep it confidential otherwise he risked failing. Brian did keep his word and there are reasons why the information proving Roger Stone tried to have Brian pardoned by evidence supportive of his request for a full pardon from Trump (not bribery since some insinuated with fake news that Roger Stone wanted money for pardons which is false by the fake news media CNN, communications prove Roger Stone asked for no money, it was EVIDENCE submitted to Roger Stone which was what Brian used to try to get a pardon) got published this year. After the whole January 6 incident in 2021, Donald Trump was unable to focus on investigating Brian's case (which could take months to years to thoroughly investigate) due to the backlash caused by that event and the Dems calling January 6 an "INSURRECTION" which is also false because only ANTIFA were the ones who actually broke into the capitol supported by evidence. Very few Trump supporters got emotional and outraged into walking into the capitol building by cops throwing tear gas which stirred up the whole thing. Then the police allowed the protesters into the U.S. Capitol building as supported by video evidence. Trump said to be peaceful. They did comply with President Trump's request in January 2021 to go back home when he said that we need law and order, and to leave the U.S. Capitol which the patriots did leave after being tricked into the Capitol building by ANTIFA setting them up, and the patriots are good people who only wanted answers for the election fraud. However, Donald Trump does know and understand about the corruption within the U.S. Federal Bureau of Investigation (FBI), and U.S. Department of Justice (DOJ). Victory will happen but very slowly, and not as fast as the average American was hoping for. It will happen but it takes time to fix corruption in the Government. I do believe that the Swamp will be drained as Donald Trump had originally spoke of during his 2016 election campaign promise. Maybe, He just didn't fully realize in 2016 how deep and infiltrated the corruption truly was. Maybe, He didn't realize how deceptive that the Deep State actors were. Now he knows or is showing the American people how corrupt the Deep State actors are and were, including the Pedophile Rings being used as tools of blackmail and control, to influence people to accept the dictates of the satanic New World Order. There are some who suggest that Trump already knew everything and was playing 4D chess. The truth will come out at some point, and we will finally know the whole truth. That I do believe will happen. There is a silent war going on right now. That I believe is true and as to why many things are still being kept under the rug. We will learn the truth in time when we are ready to know, when God believes it is the right time to know. That's my perspective as a Christian.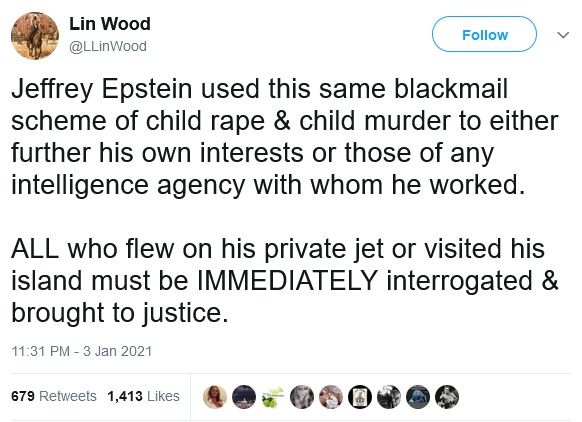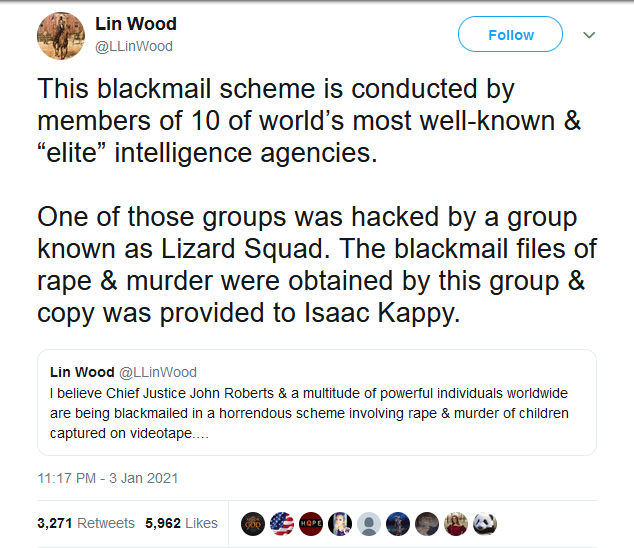 If you want to look at what was mailed last week which was filed today, I am reposting the image screenshots of the filings as was in the article: In U.S. Supreme Court, Brian D. Hill files EMERGENCY MOTIONS against Corrupt U.S. Solicitor General waiving filing a response, again asking all justices to compel Chief Justice John Roberts to recuse himself for his name mentioned by Attorney L. Lin Wood in alleged blackmail scheme of child rape and murder – Justice for Brian D. Hill of USWGO Alternative News
Screenshots and quotes are below the file list uploaded by Brian's family for publication:
– Emergency-Motion-Response.pdf – EMERGENCY MOTION FOR RESPONSE FROM RESPONDENT: UNITED STATES OF AMERICA IN CERTIORARI CASE
– Certificate-of-Compliance-12-2-2022-Emy-Mot2.pdf – Certificate of compliance affidavit (2nd motion)
– Certificate-of-Compliance-12-2-2022-Emy-Mot.pdf – Certificate of compliance affidavit (1st motion)
– Affidavit-of-Service-Emergency-Motions.pdf – Affidavit of Service on U.S. Government (respondents) which includes emails to respondents, read receipts from Attorney L. Lin Wood, read receipts from U.S. Solicitor General and Margaret Reece of the U.S. Attorney Office (Middle District of North Carolina). The read receipt claims Morgan Reece but that was the email as listed on the docket pages of the CM/ECF records.
– Emergency-Motion-Recusal.pdf – EMERGENCY MOTION FOR REVIEW AND DISQUALIFICATION OF AFFECTED HONORABLE CHIEF JUSTICE JOHN ROBERTS WITH ACTUAL OR PERCEIVED CONFLICTS OF INTEREST
– 4fbc66a15ee242e9ae29255d9405c837_Redacted.pdf – Redacted mailing label used on the package or envelope with using that mailing label. Redacted to prevent reuse fraud, VOIDED as single use mailing label, already used mailing label but kept as evidence / proof of mailing.
– Standard note to phone call December 2, 2022 on Notification of EMERGENCY MOTIONS(3).pdf – Notes of what to tell deputy clerks or any other Supreme Court employees to make sure they are on notice about emergency motions
– USWGO_20221202_104729(OCR).pdf – Photocopy scans of mailing envelope or package used in mailing emergency motions to Supreme Court
– USWGO_20221202_125023(OCR).pdf – Long-page-size Photocopy scans of U.S. Postal Service mailing receipt, proof of mailing to U.S. Supreme Court and respondents as outlined in Affidavit of Service.
– USWGO_20221202_125218(OCR).pdf – Letter-size Photocopy scans of U.S. Postal Service mailing receipt, proof of mailing to U.S. Supreme Court and respondents as outlined in Affidavit of Service.
Here are the arguments of the emergency motions. WARNING, may be quite a bit of images and quotes. Then that will be the end of this article, just to show what important points were argued.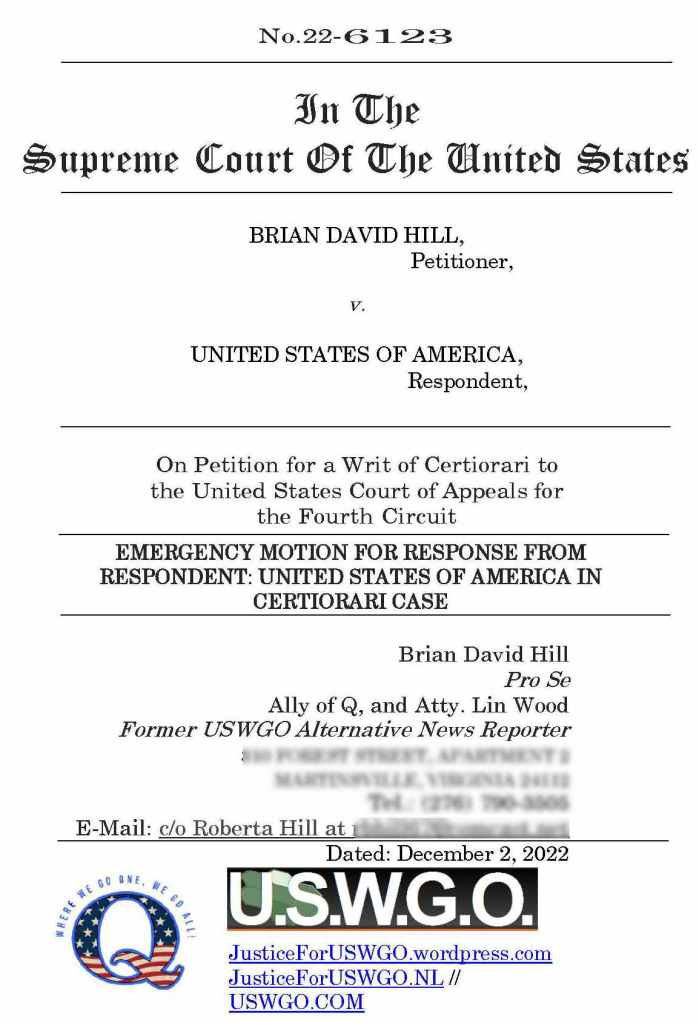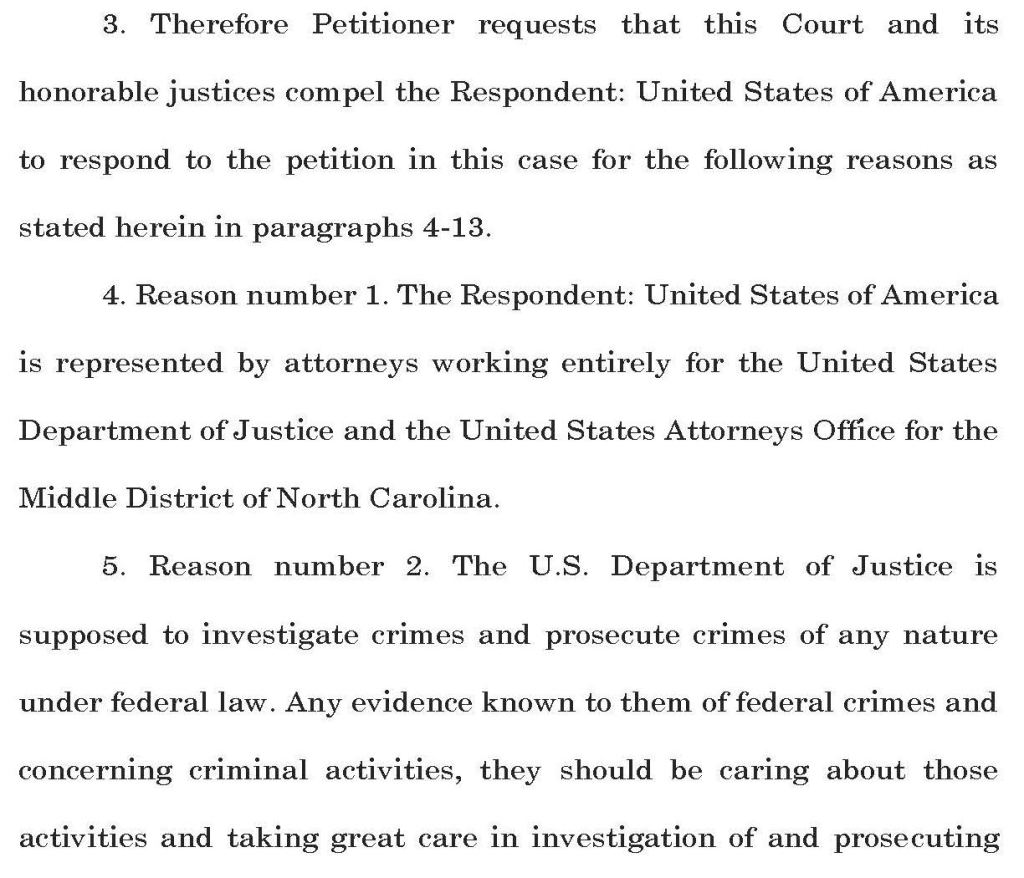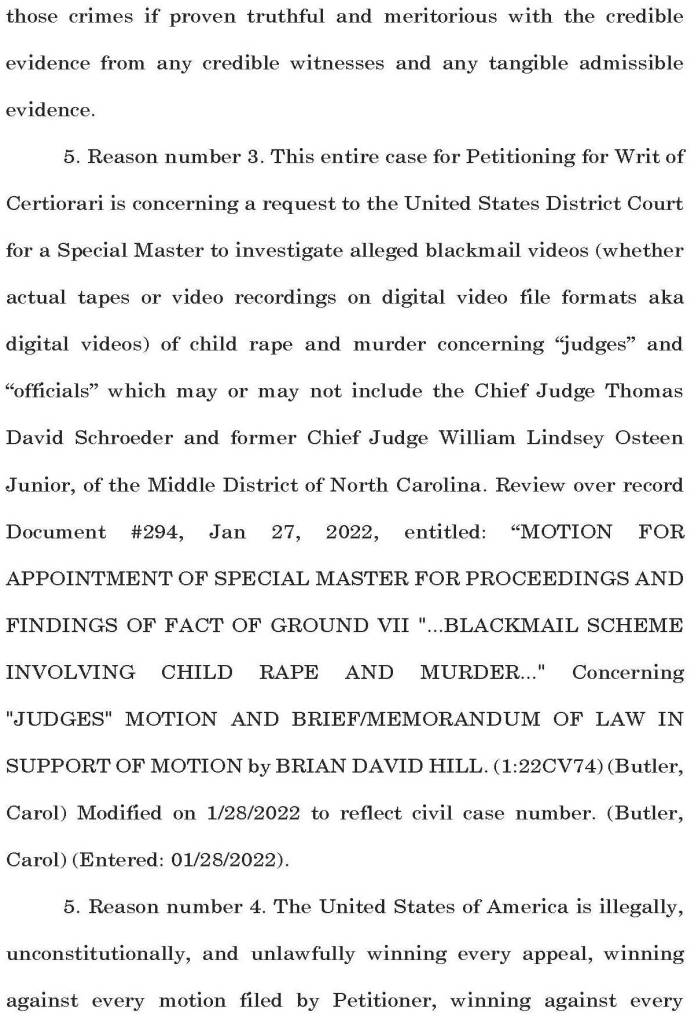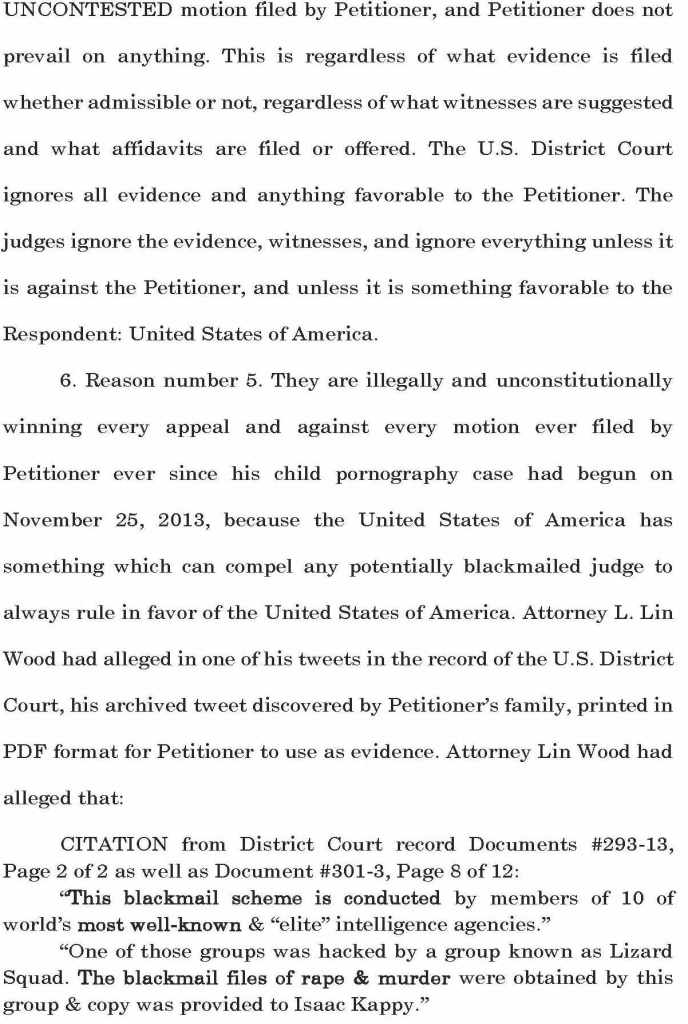 "When the U.S. Attorney working for the corrupt DOJ claimed they prosecuted Petitioner for being framed with child pornography under a rigged judicial system in the Middle District of North Carolina, they claimed they prosecuted Brian David Hill for child porn to protect the children under the Adam Walsh Act. What a bunch of BS (abbreviated out of respect), what a bunch of baloney when they claimed to have targeted Petitioner for being framed with child pornography under the guise of going after a alleged supposed child pornography file possessor and yet they could care less about rape and murder of children when it involved politicians and federal judges. They care more about winning their prosecutions than they do about the children. They don't care about the children, the corrupt U.S. Department of InJustice could care less about their children as their prosecutions are nothing but political persecutions masqueraded as criminal prosecutions. What a joke this has become. See https://archive.org/details/LeakedSbiDocsProveUswgoFramedWithChildPorn/"

Quoted from Page 9-10 of PDF file, page 8-9 of numbered document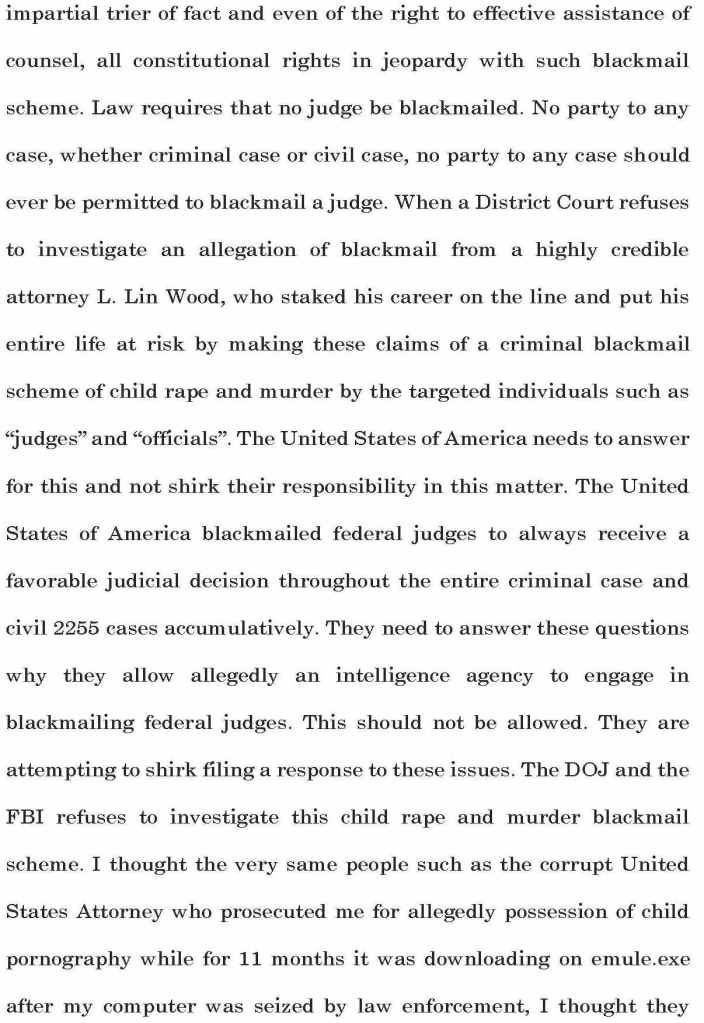 Here are a few cropped image conversions of the PDF pages showing what was in the other emergency motion. However, it is pretty much around the same arguments and materials as what was filed in the earlier filed EMERGENCY APPLICATION of the case.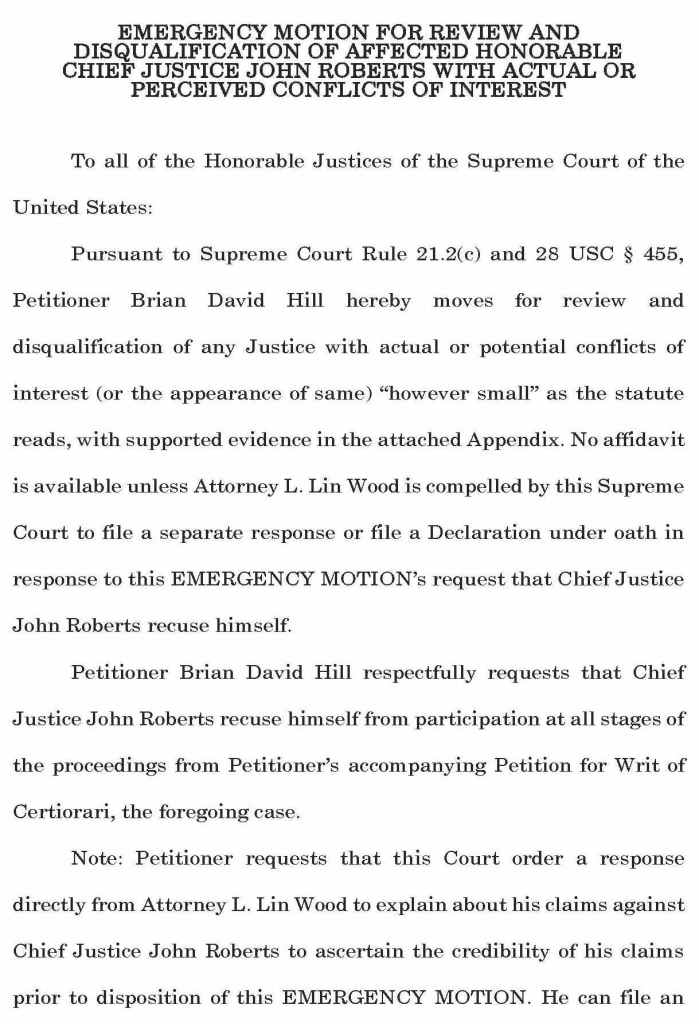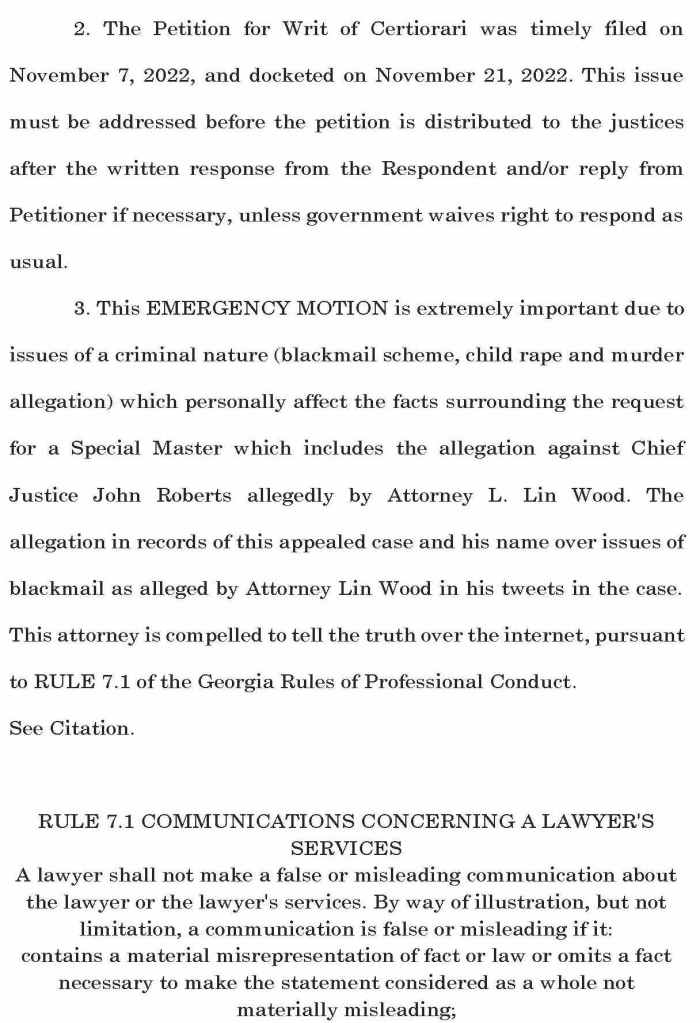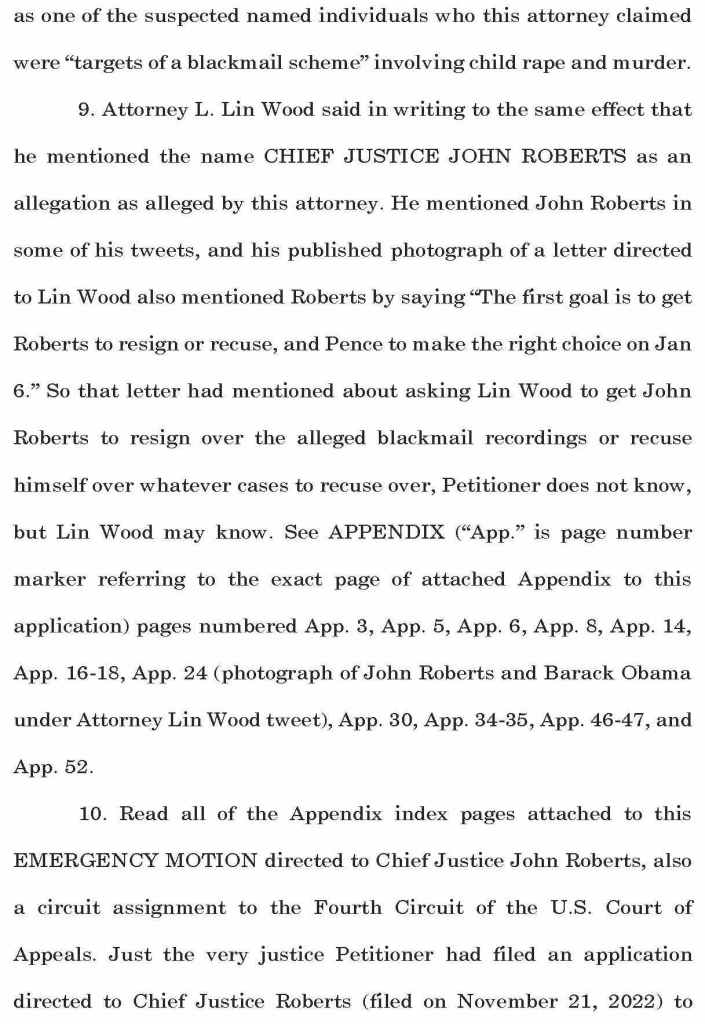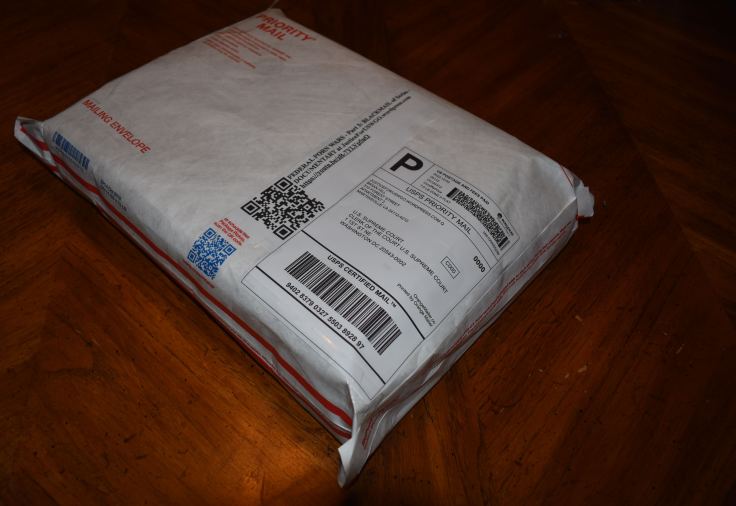 Where We Go One We Go All. Please pray for Brian D. Hill, pray for his family. pray for his protection and their protection. It was a DUTY of KING DAVID and even those who follow Jesus Christ to fight the evil pedophile rings and Satanists thousands of years ago. Brian David Hill is like David versus Goliath. Pray for Brian David Hill.