ALERT Jan-9-2023-4PM: Source is Robert Thomas III, he either lied or was wrong with whoever gave him that information in the supreme Court or god knows where this attorney got this information from. HE LIED TO ME, THAT LIE WENT TO ALL OF YOU. I want you to know my source because the information was clearly WRONG. See article: Compromised and BLACKMAILED U.S. SUPREME COURT denied Certiorari for Raland Brunson case; and Attorney Robert Thomas III lied about the Brunson case being "accepted by the Supremes" – Justice for Brian D. Hill of USWGO Alternative News; and Here is the non-redacted email: Roundcube Webmail Re For Amicus filers, a SCOTUS case as important as Brunson case.pdf
Author: Stanley Bolten
Also see article: Today is the CONFERENCE in the U.S. Supreme Court. Let us see if the BLACKMAIL SCHEME CASE succeeds or fails. Let us see if the Raland Brunson case succeeds or fails. – Justice for Brian D. Hill of USWGO Alternative News
A lawyer who had emailed me, who was involved in some way with the Raland Brunson case in the U.S. Supreme Court, and he had informed me that he "have heard the Supremes accepted the Brunson case."
So this lawyer had informed me that the Raland Brunson case had been accepted at the conference today in the U.S. Supreme Court. Hooray!!!! Great for them. Brian Hill also sent a letter to the Supreme Court in support of the Brunson case.
Here is the email document and the identity of this source, his name and personal information is redacted to protect my source.
PDF File – Email from this lawyer to Stanley Bolten (PDF Document)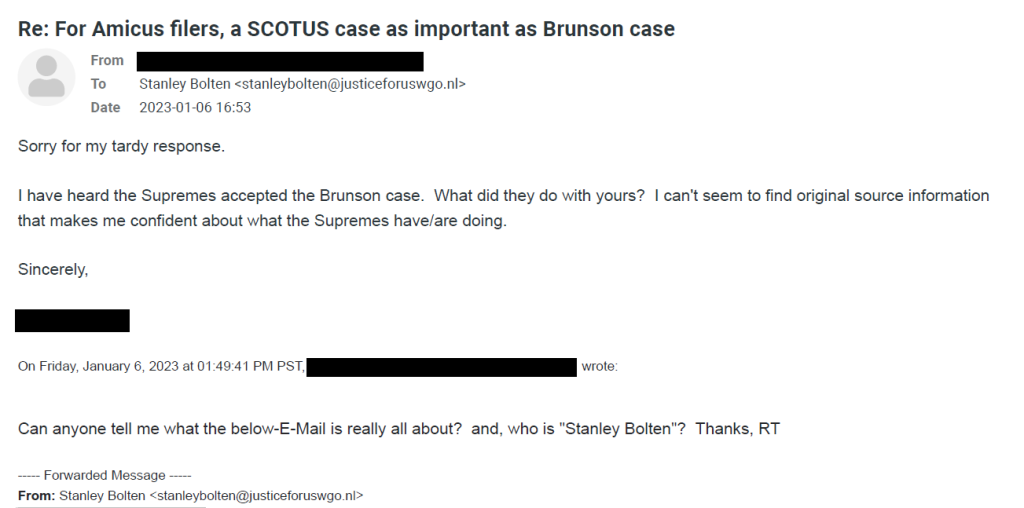 Hooray for the Brunson brothers. Congratulations to them.