Author: Stanley Bolten
The U.S. Supreme Court is officially captured and is corrupt beyond repair. Most of the justices have been captured by the invisible enemy. Actions speak louder than words. Let the facts be submitted to a candid world. With it's allegedly blackmailed Chief Justice John Roberts, they have denied the Petition for Rehearing in case no. 22-6123, Brian David Hill v. United States. Brian Hill explained on the Pete Santilli show why he made a futile effort to challenge John Roberts in his own Supreme Court with the alleged blackmail scheme claims, alleged blackmail scheme of child rape and murder as alleged by Attorney L. Lin Wood. Then it came out from Pete Santilli that Evan Neumann who fled to a Russian country ally of Belarus.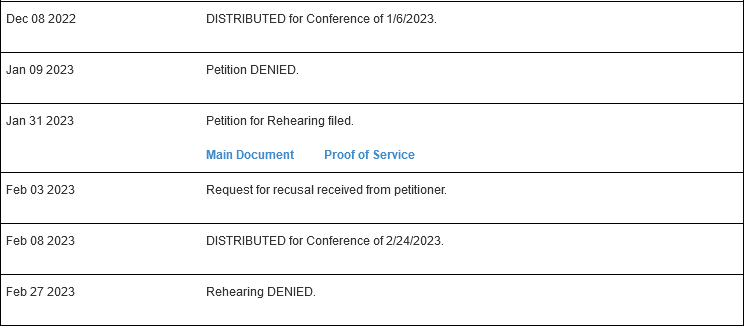 OPERATION CHECKMATE is now finished. John Roberts is show to the American people to be compromised, the entire U.S. Supreme Court is corrupt except for Clearance Thomas. Also it is also known that the Raland Brunson case also lost his petition for rehearing in the U.S. Supreme Court, when he asked the justices: "Due to the serious nature of this case; a breach of national security arising from an act of war as described above, Petitioner moves this Honorable Court, without delay, to single handily exercise its powers to correct this breach and bring peace and hope back to this land by granting this petition in its fullest request." The justices except Clarence Thomas, most of the justices do not want peace and hope in the United States of America, they rather want civil war to happen at some point to end the U.S. Constitution using a false flag attack. They want to end America forever using the boot of judicial tyranny.
A majority of justices are okay with the infiltration and hijacking of the Constitutional republic of the United States Government and convert it slowly then quickly into COMMUNISM. Communism is already happening in the United States of America, and is happening in local courthouses as well. Brian Hill is facing an unconstitutional and illegal contempt of court charge in Virginia. Initiated by the Deep State Swamp wanting to imprison and possibly murder Brian David Hill. The Deep State [DS] want a contempt of court charge against Brian David Hill. I will not say the name of the judge as it is not necessary, but more of this is the Deep States attempt to set up Brian Hill again to go back to prison for fighting the New World Order since 2012.
Here is a photo and PDF link to the criminal contempt indictment against Brian D. Hill. It is due to his three notices of appeal, and filing an appeal is a constitutional right but now it is CONTEMPT OF COURT to file legal arguments in a notice of appeal. This is the first time the American people shall witness that a court has tried to push for a contempt of court for simply filing notices of appeal and making arguments in them. This is the price that all truth tellers could pay, truth tellers get TARGETED, maybe even killed. Remember, Brian Hill will not commit suicide, and if Brian Hill ends up dead or killed, then you know who to investigate.This is just like the Righthaven LLC lawsuit all over again. We will not cover any further stories over this because of the chance it will be used to go after Brian Hill further and try to plant more charges on him. Just like with Righthaven LLC, we have to be careful what is published from here on out. I will make this statement, the Deep State [DS] wants Brian imprisoned or dead by whatever means they have at their disposal. They are AT WAR WITH BRIAN D. Hill. I REPEAT, The Deep State wants Brian Hill dead or in prison because they are AT WAR with him, engaging in a act of war against Brian to end his life or imprison him. The Feds may try to revoke his supervised release again as well, they are out to get Brian at every interval and at every level.