Now telling the TRUTH is considered "glorifies or incites acts of violence". Telling the truth is now forbidden in the world of communism.
Author: Stanley Bolten
YouTube has now censored (since May 22, 2023) the Federal Porn Wars Part 1: Frame Ups, Federal Porn Wars Part 2: Judicial Corruption, and Federal Porn Wars Part 3: BLACKMAIL. Accusing Brian D. Hill (formerly USWGO Alternative News) and his family and friends of promoting content "…that glorifies or incites acts of violence", according to YouTube itself. These are documentaries and they do not promote violence. The opposite, it wants peaceful justice by exposing these shadow operations of framing people and politicians being blackmailed. The documentary files were given to me from Brian Hill's family to upload, who also watched all three parts of this documentary and none of them ever believed that it somehow "glorifies or incites acts of violence" or anything like that. So YouTube is lying about Brian D. Hill to censor the entire three part documentary/documentaries to cover up the fact that the Feds are framing people and are corrupting the judiciary (the judges). YouTube wants to cover up the Jeffrey Epstein blackmail. YouTube wants to cover up that the Feds frame people with child porn. YouTube wants to cover up criticizing the judiciary. That all peacefully complies with the First Amendment of the United States Constitution, Brian broke no laws when he produced this documentary, three parts. So it is documentaries since it is multiple parts produced at different times periods. Still all three parts are of the whole series exposing corruption with the facts. Now it is CENSORED for telling the truth and bringing facts to the people.
We knew this censorship was coming.
See one screenshot and the rest are below a few paragraphs in this article.
Check out this documentary for yourself on Rumble and Internet Archive. Find out the truth. YouTube is lying about what was uploaded on the USWGO YouTube Channel. These documentaries do not incite or promote violence as that would be a federal crime. None of these videos are doing that. So watch what is being censored for yourself and find out what YouTube doesn't want you to see. False accusations are coming to shut us down so that Brian Hill will never be acquitted in the corrupt judiciary. The corrupt CIA will make sure that Brian is never acquitted by any peaceful means by censoring, intimidating, and the threats against Brian Hill and his family. Brian's only crime was running a damn blog from 2009 to 2012 fighting against the New World Order. The CIA Deep State is holding Brian Hill hostage, it is apparent. Anyways, see the documentaries videos, and you will see that Brian never promoted or glorified violence. So now the TRUTH is considered violence.
FEDERAL PORN WARS – Part 1 of Series – DOCUMENTARY at JusticeForUSWGO.wordpress.com : Produced by Brian D. Hill, Directed by Brian D. Hill, Researched by Family, Released by Family : Free Download, Borrow, and Streaming : Internet Archive
FEDERAL PORN WARS PART 2 JUDICIAL CORRUPTION OF SERIES DOCUMENTARY With BOOK AD : Brian D. Hill, Distributed by Family : Free Download, Borrow, and Streaming : Internet Archive
FEDERAL PORN WARS PART 3 BLACKMAIL OF SERIES DOCUMENTARY With BOOK AD : Brian D. Hill, Distributed by Family : Free Download, Borrow, and Streaming : Internet Archive
FEDERAL PORN WARS – Part 1 of Series – DOCUMENTARY at JusticeForUSWGO.wordpress.com (Rumble)
FEDERAL PORN WARS PART 2 JUDICIAL CORRUPTION OF SERIES DOCUMENTARY With BOOK AD (Rumble)
FEDERAL PORN WARS PART 3 BLACKMAIL OF SERIES DOCUMENTARY with BOOK AD (Rumble)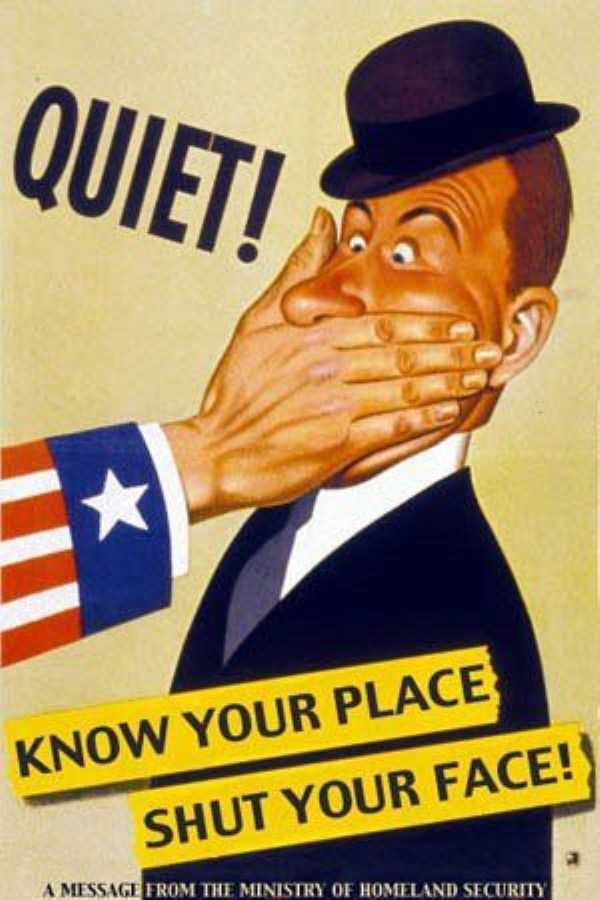 Anyways here is the rest of the proof that YouTube is accusing Brian Hill of glorifying or promoting or inciting violence in simply bringing out the truth about feds framing people, judicial corruption, and blackmail.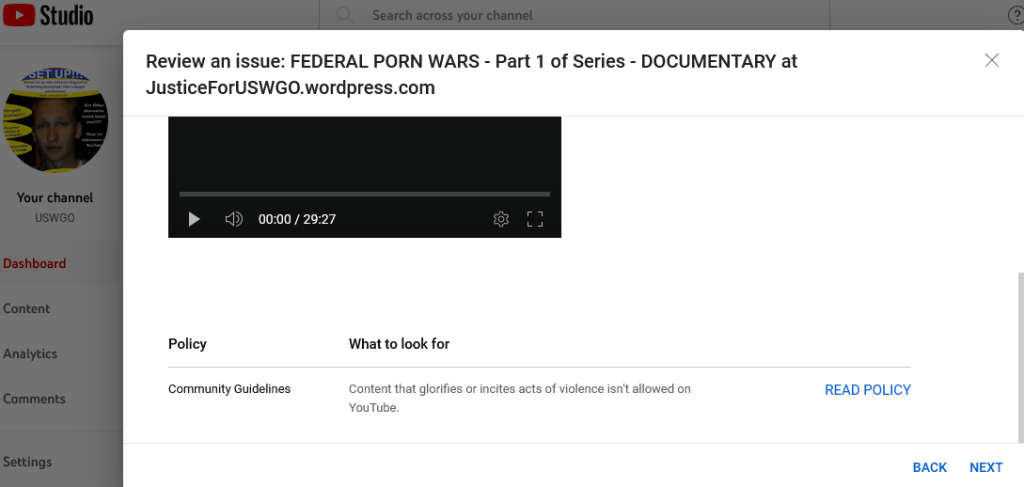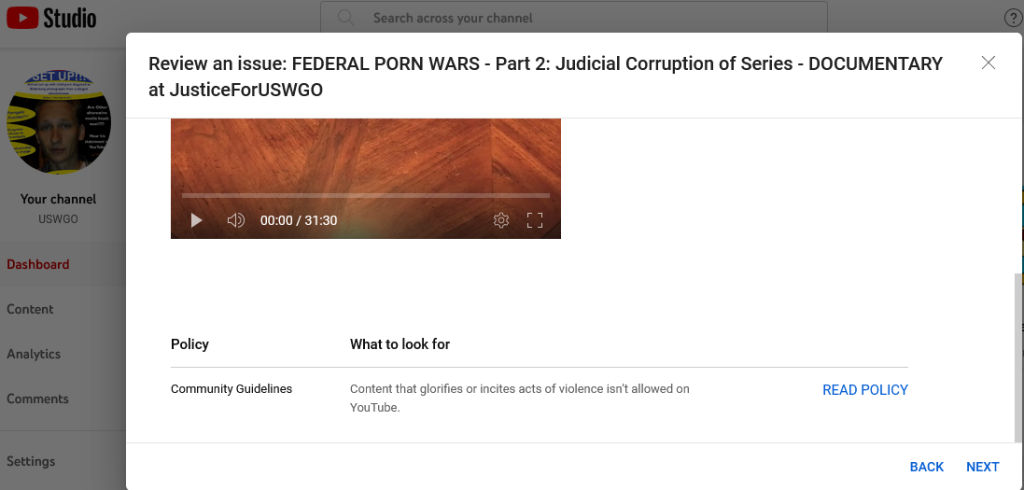 Of course we appealed the decision, but this is not the first time that YouTube tried to censor one part of the documentary. See: YouTube almost censors: Federal Porn Wars Series 3: BLACKMAIL (involving Jeffrey Epstein blackmail) and then uncensors video allowing without restriction! – U.S. Marshals or U.S. Military should take note to arrest the Federal Judges engaged in child rape and murder; impeachment is not necessary as Judges should not rape children – Justice for Brian D. Hill of USWGO Alternative News. Now they are censoring all parts and based on lies that somehow Brian Hill is promoting or inciting violence. The new lie against Brian Hill being used as an excuse to censor his documentaries.
This is what we told YouTube in all three appeals: "This documentary doesn't glorify violence. That is a lie. If you watch the entire documentary, it is about educating people about how the government frames people with crimes they didn't do, about blackmail schemes going on. It is all documented with proof. This was allowed for years and now all of the sudden it becomes an issue."
It has become an issue because more people want to find out the truth. The communists cannot allow that. YouTube is not entirely a private platform and we learn that thanks to Elon Musk. Government thugs tell these social media and video streaming platforms to censor content they don't like. See article: 6 bombshell facts from Elon Musk's Twitter Files you need to know – LifeSite. The government is working with YouTube and formerly Twitter or at least it is public knowledge that the government is controlling what is allowed on these media platforms. They are not acting as private companies in the way these censorship operations are being conducted. The first amendment applies when the government tells YouTube to censor our documentaries.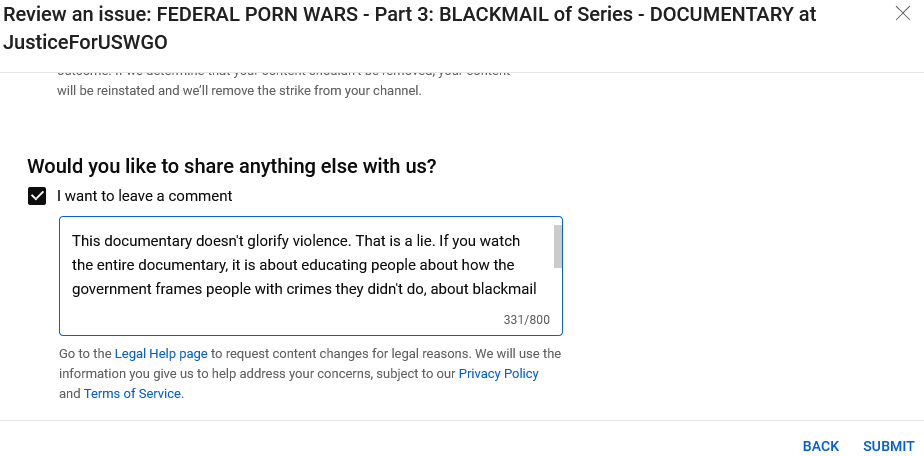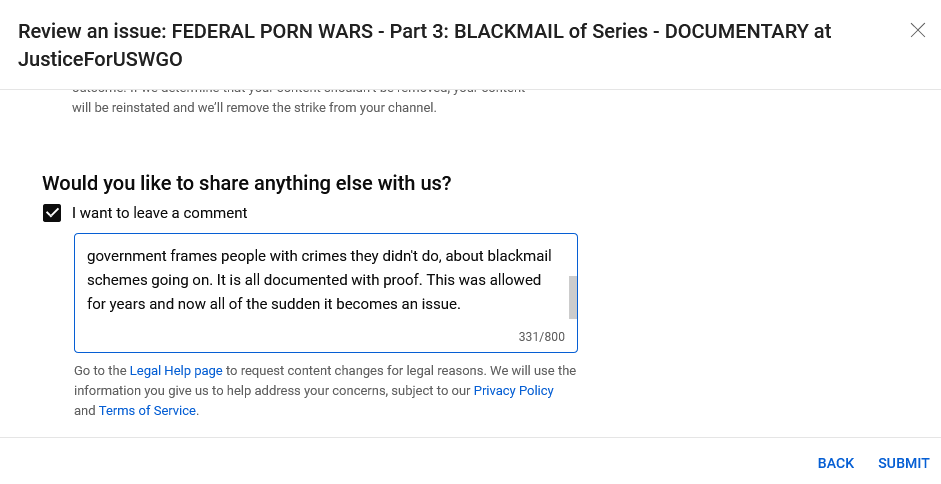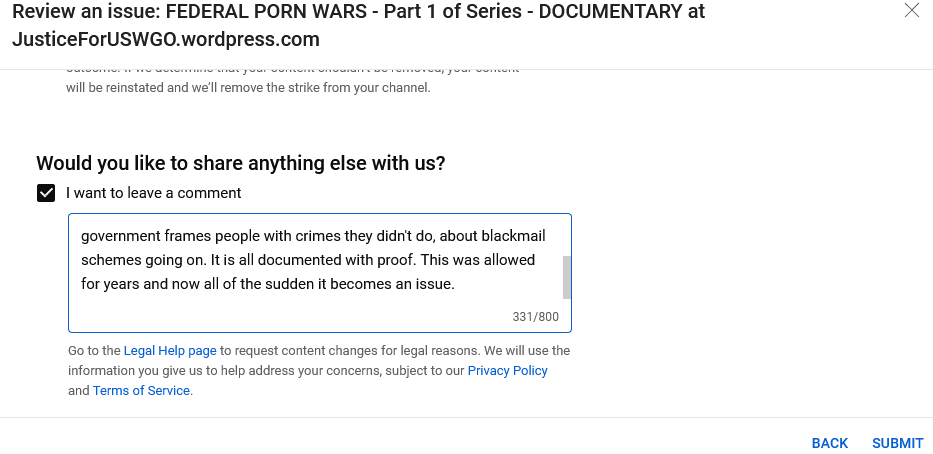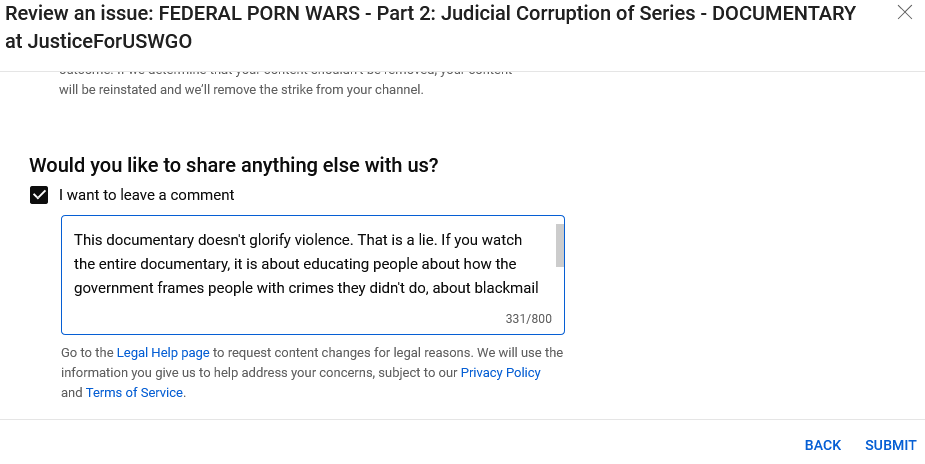 NOTE June 5, 2023 7:17 AM: It should also be noted that a link and QR Code to Brian's "Federal Porn Wars" Part 3 documentary about blackmail was filed in the sentencing letter for the Stewart Rhodes criminal case in federal court. It was filed publicly on PACER very close to around the time the YouTube video takedowns had begun. Could it be the U.S. Department of inJustice was angry at the certain things in the federal court document then the Feds were trying to censor and wipe away any YouTube videos or links referenced in that particular federal filing to make them dead links and meaningless??? Scan the QR Code during this censorship period. If it is restored then you will see the Federal Porn Wars part 3 of series: Blackmail. If not (if the link is still dead?) then the fact that Brian had a text link referencing this in a federal court filing in the Stewart Rhodes case could explain that the DOJ was unhappy that Brian snuck/sneaked this in his legal pleading and the Feds likely contacted YouTube to have it censored as a violence promoting video when in fact it wasn't. False accusations are the new form of government control.
The censorship war is ever increasing. The Deep State wants to KILL Brian Hill and any witnesses involved with him. That was the latest threatening email directed at Brian Hill and his family members. If anybody is inciting violence, it is the United States Government and it's corrupt elements and criminals. The black hats are promoting and inciting violence. F**k the CIA, F**k the NSA, F**k the Feds. The threats against us do not deter us. The CIA wants us dead, and they want to censor us before killing us. Don't let them do this. Make the censored material viral, share it, re-upload it, share it on BitTorrent or other platforms.