ADDENDUM ARTICLE: 2014 ADDITIONAL EVIDENCE: Feds tortured Brian D. Hill before and after false guilty plea in Federal Court; medical records prove torture by denied or delayed insulin/medication of federal inmates; treated as bad as January 6 defendants (sleep deprivation evidence)
Author: Stanley Bolten
Medical Records being released by Brian D. Hill's family prove that Brian Hill (formerly of USWGO Alternative News) was tortured into falsely pleading guilty for a charge he was innocent of (See the censored We Are Change article). Only a portion of the entire medical records were presented in the Petition for Writ of Habeas Corpus (2255 Motion) case in November, 2017 but the judge Thomas David Schroeder had ignored them along with U.S. Magistrate Joe Webster; and the 2255 case was dismissed without even an evidentiary hearing. No investigation by the Court, no evidentiary hearing, no appointment of counsel, nothing. Brian's medical records evidence and witness testimony serves as a gateway to exposing what torture was being done to the January 6 charged federal detainees. The torture done to the Jan6 defendants was actually done to Brian D. Hill in December2013-2014 after he was charged in November, 2013. This article only contains evidence of the Orange County Jail medical records, and Moses Cone hospital medical record. The essential evidence and proofs necessary to prove that Brian plead guilty under torture/duress. V.C. Vi coactus. See the Wikipedia article on VC. The guilty plea was not done voluntarily under intelligent competent counsel. Brian didn't even see all of his discovery evidence until after pleading guilty. Eric Placke (Federal Asst. Public Defender) didn't even know that Brian had any chance of proving false confession until a new lawyer was appointed where his family members asked attorney John S. Coalter if Brian had the 'illegal files' in his netbook which the lawyer then confirmed that it was a false confession statement on record because no images of interest were found in his netbook, but by then the federal judge William L. Osteen Jr. made a veiled threat at Brian Hill that he could face a perjury charge for falsely pleading guilty if he overturns his 'false' guilty plea.
So the medical records are being published (with redaction of any full social security numbers) to the entire world proving that Brian Hill was indeed tortured while in the custody of the U.S. Marshals Service in 2014. Again, Brian was not given access to all of his discovery evidence material to review over from his own lawyer Eric David Placke before falsely pleading guilty. Evidence is presented in this article that the federal judge made a veiled threat at Brian that he could face the charge of perjury for falsely pleading guilty if his motion to withdraw his guilty plea was granted. Federal Courts make criminal defendants plead guilty under oath (penalty of perjury) no thanks to Rule 11 of Federal Criminal Procedure rules, so if they are later acquitted for being actually innocent, then they face a perjury charge as well as an obstruction of justice charge. That is the reason why Brian Hill asked Donald Trump through Roger J. Stone for a full unconditional pardon for being innocent of his criminal charge. Brian had even asked presidential candidate Robert F. Kennedy Jr. for a future pardon (if he becomes the U.S. President) and asking that RFK Jr. file an Executive Order for an investigation into Brian's criminal case to see if there are any Deep State involvement with Brian's federal case or for any proof on whether the Deep State may have been the ones who set Brian up in 2012.
The United States Marshals Service is a sub-agency under the United States Department of Justice/inJustice (DOJ or DOinJ) federal agency. The United States Marshals are appointed federal law enforcement officers and act similar to that of County Sheriffs where they are elected while the deputies are appointed by the Sheriff. Marshals serve federal court pleadings while the Sheriffs serve state court pleadings.
The evidence will show herein that Brian falsely plead guilty to get out of jail on a sentence of time served, had a second thought afterwards (due to his moral conscience) and tried to withdraw his guilty plea while enduring more torture. Then he was ultimately forced to stick with his guilty plea and accept responsibility for the crime he was not guilty of because he would have lost his Social Security SSI disability disbursement payments from the federal government. If Brian had lost his SSI benefits due to not accepting responsibility to get a sentence of time served, then Brian would be forced to have to go to Legal Aid to ask for a lawyer to help him reapply for his SSI benefits if in jail for one year or longer.
[archiveorg witness-testifies-how-federal-prisoners-are-treated-2023 width=640 height=480 frameborder=0 webkitallowfullscreen=true mozallowfullscreen=true]
Also available at Rumble: "Witness Brian D. Hill who was a federal prisoner testifies how inmates/prisoners are normally treated under the United States Marshals custody and asks for a reform. For those presumed innocent until proven guilty, Brian Hill describes the treatment of prisoners as very poorly. January 6 prisoners complain of torture. Brian was tortured in 2014, 2019, and other dates he was in federal custody. Brian describes how inmates are transported without coats/jackets/sweaters in 30 degree temperatures at private airports contracted by the U.S. DOJ in January of 2019." Available at Internet Archive.
Legal definition of torture is: According to Black's Law Dictionary, torture is the infliction of intense pain to body or mind for purposes of punishment, or to extract a confession or information, or for sadistic pleasure1. It can also be defined as such barbarous cruelty or severity as endangers the life or health of the party to whom it is addressed, or creates a well-founded apprehension of such danger2. Another definition of torture is the infliction of violent bodily pain upon a person, by means of the rack, wheel, or other engine, under judicial sanction and superintendence, in connection with the interrogation or examination of the person, as a means of extorting a confession of guilt, or of compelling him to disclose his accomplices3.
It is well documented that high blood sugars can cause pain and suffering. One example here: https://laststop4pain.com/blood-sugar-connection-to-muscle-and-joint-pain/. Therefore it is TORTURE by definition. If a jail delays or denies an inmate's access to prescribed insulin necessary for any consumption of carbohydrates (jail meals) which the body needs a certain amount of calories every day to survive, then the inmate will experience pain and suffering, as well as be at a extremely high risk of nerve damage, extremely high risk of kidney damage, extremely high risk of eye damage, or even death or coma. Jails are torturing diabetics. That is a fact.
Let us start with the Orange County Detention Center.
Orange County Detention Center located in Hillsborough, North Carolina, had been contracted by the United States Marshals Service to house federal detainees/inmates/prisoners. Medical records show that Brian was there before he was transported to the Federal Courthouse, then was moved to Greensboro Jail detention center in Greensboro, North Carolina to appear before the planned jury trial set for June 10, 2014. His nose was beaten by one of the guards at Orange County Detention Center on May 25, 2014. So his nose was broken, a guard telling Brian: "I will rip your clothes off…I will fry you like a turkey" like the jail guard had said as quoted of what Brian had said in his letter to Robert F. Kennedy Junior (page 5 of the PDF format letter document). So Brian's nose was broken, he had blood pouring out of his nose, guard threatened to rip his clothes off in front of other inmates and threatened to fry Brian up like a turkey for dinner (presumably he means by usage of a TASER). They did this to punish a low blood sugar episode (hypoglycemia) Brian had experienced in the jail in Orange County, NC. The medical records prove all kinds of issues with the way they handled his type one brittle diabetes. This proves that his false guilty plea was manufactured by usage of torture in the county jails under contract by the United States Marshals Service. Also Brian mentioned about how he was treated in his Amazon book: The Frame Up of Journalist Brian D. Hill but didn't mention actual places and names of people for legal protection reasons. However, the medical records prove a lot. We always tell the truth. We are not afraid of the U.S. Marshals for telling the truth. The medical records does show proof in Brian's favor, and proves that Brian was tortured because of the way things were done by the medical staff at the jails.
Medical Records Files:
entire medical records packet(OCR text readable).pdf – Medical Records from Orange County Detention Center // Southern Health Partners (SHP)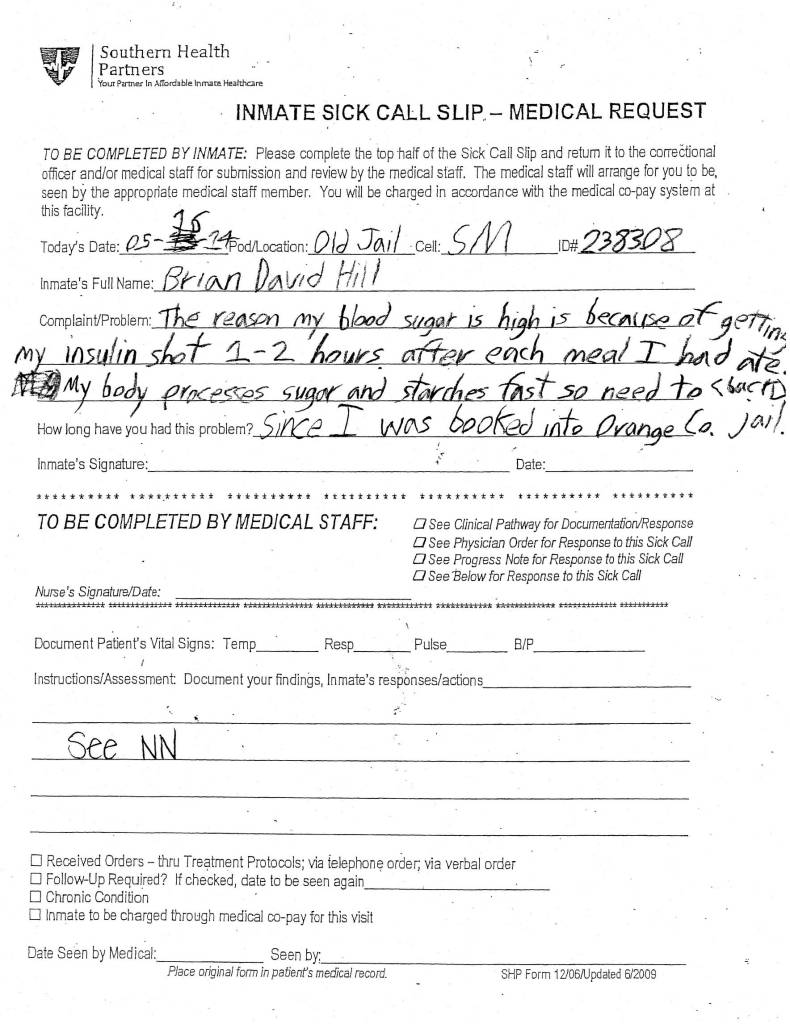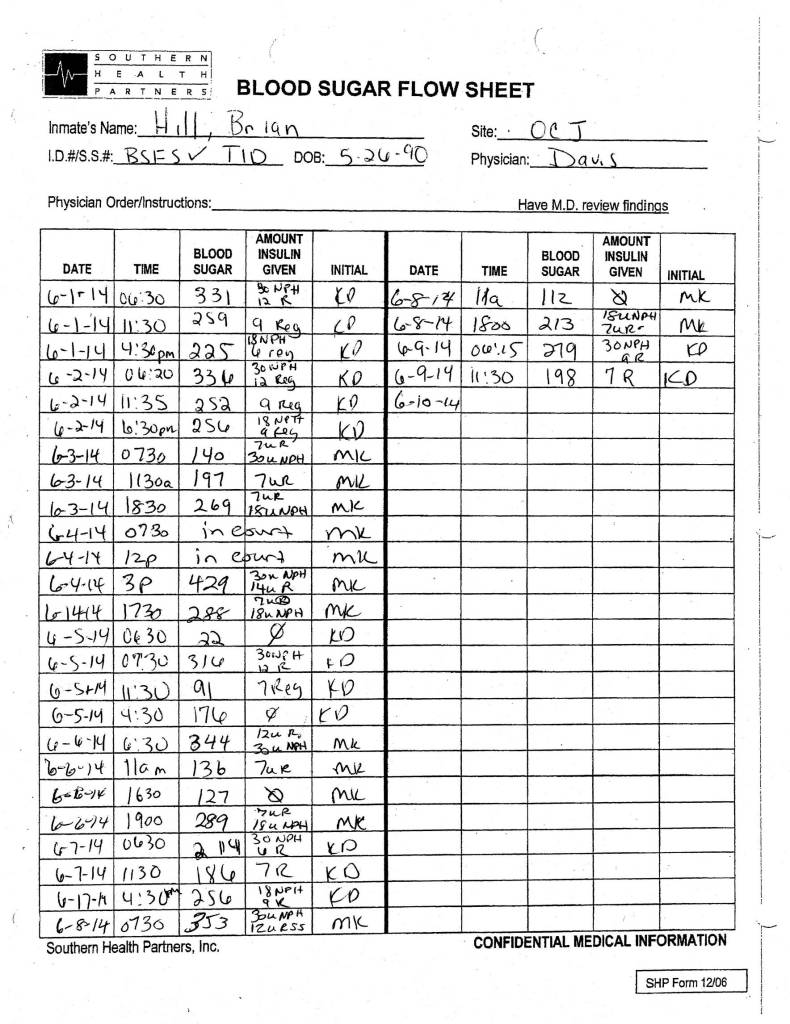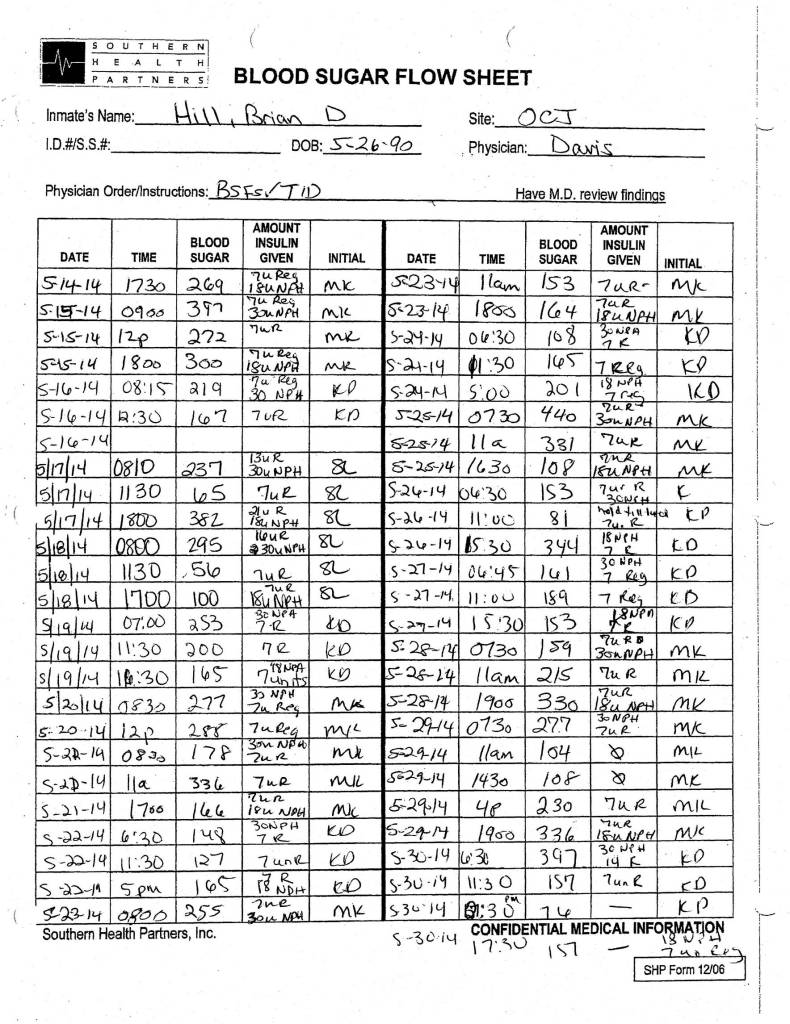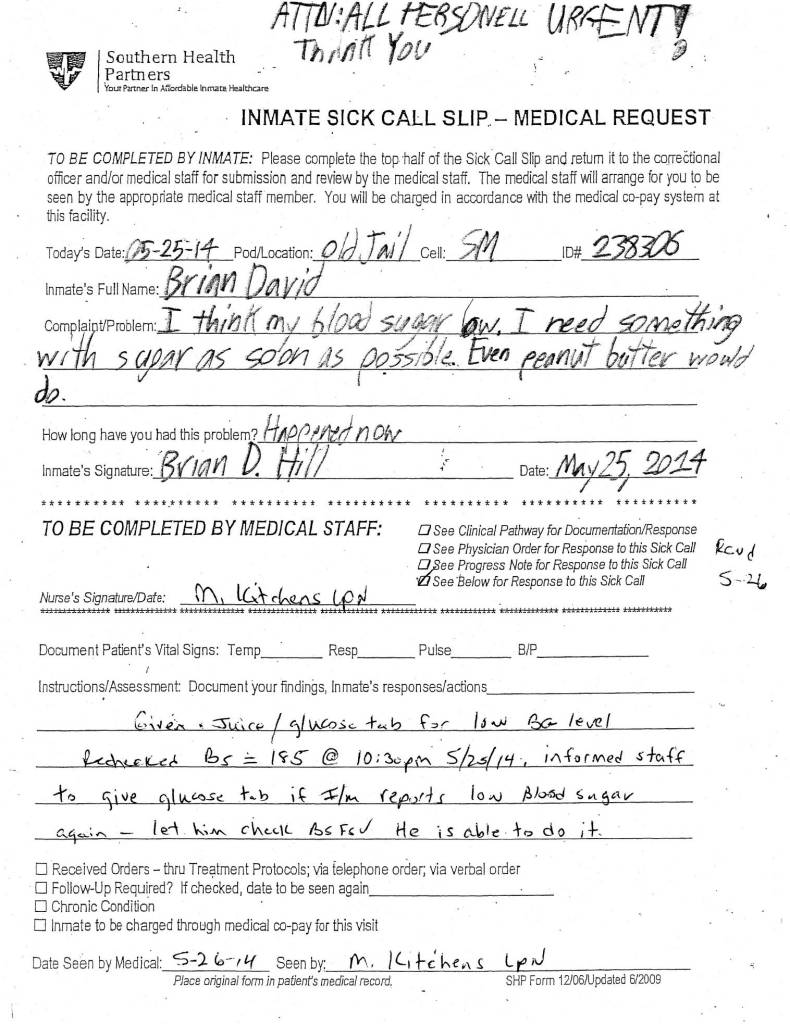 Then let us show the medical record from the Moses H. Cone hospital in Greensboro, NC.
Medical Records Files:
CCI11082017 (3).pdf – Medical Records from Moses H. Cone hospital in Greensboro, NC
Let us examine how the jails treat Brian Hill by showing why the U.S. Marshals would transport Brian to the hospital instead of the sentencing hearing set for November 7, 2014, and it was rescheduled for November 10, 2014.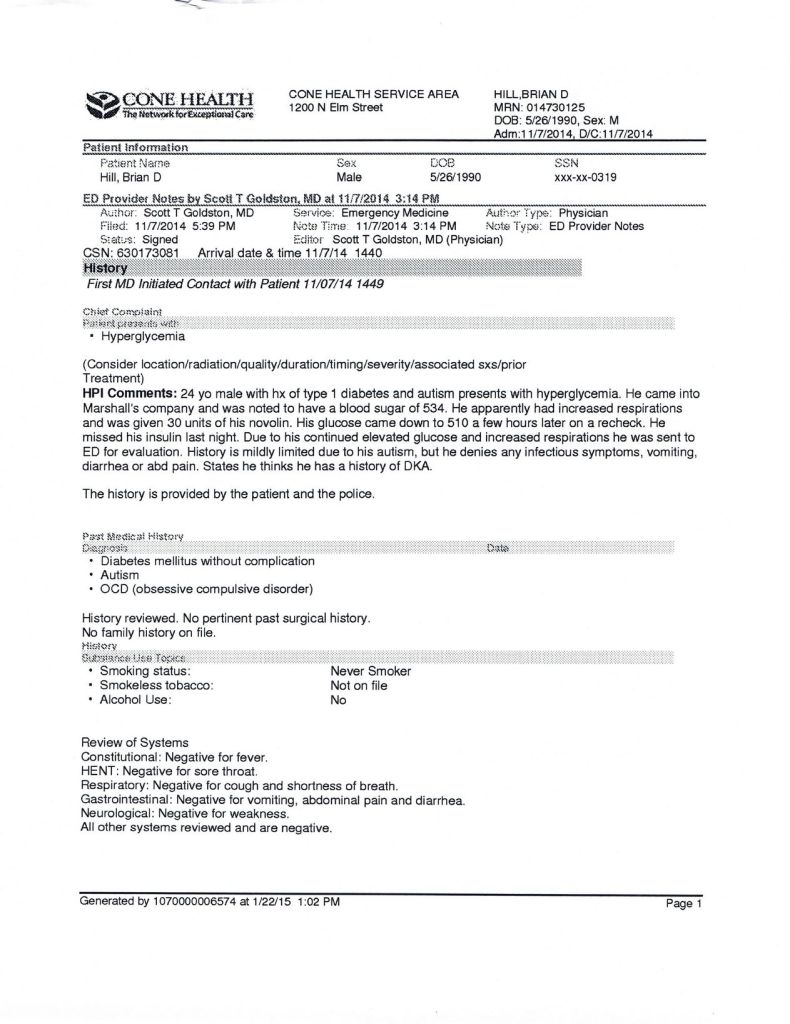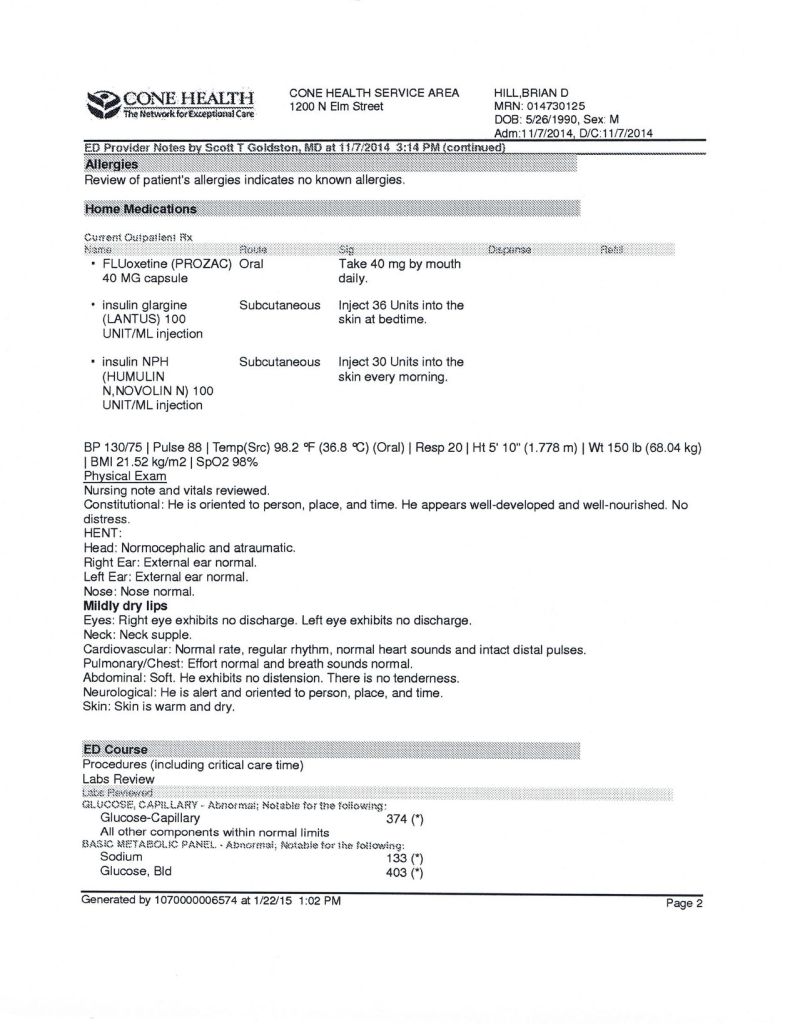 The Federal Judge threatened Brian Hill with perjury for falsely pleading guilty to his charge, with a Public Defender Eric David Placke who didn't show Brian Hill the entire discovery evidence, Brian never saw the State Bureau of Investigation report until January 22, 2015. See pages 4 through 6 at https://www.courtlistener.com/docket/4304407/114/united-states-v-hill/.
File:
pages-from-gov.uscourts.ncmd_.64541.114.0_copy.pdf – Portion of Transcript where Judge Osteen made a veiled threat that Brian Hill plead guilty "under oath" (he was forced to change his plea under oath under the federal court rules set up by Congress, Rule 11 under Federal rules of criminal procedure). That means if Brian is ever acquitted of his charge, he faces perjury for falsely pleading guilty.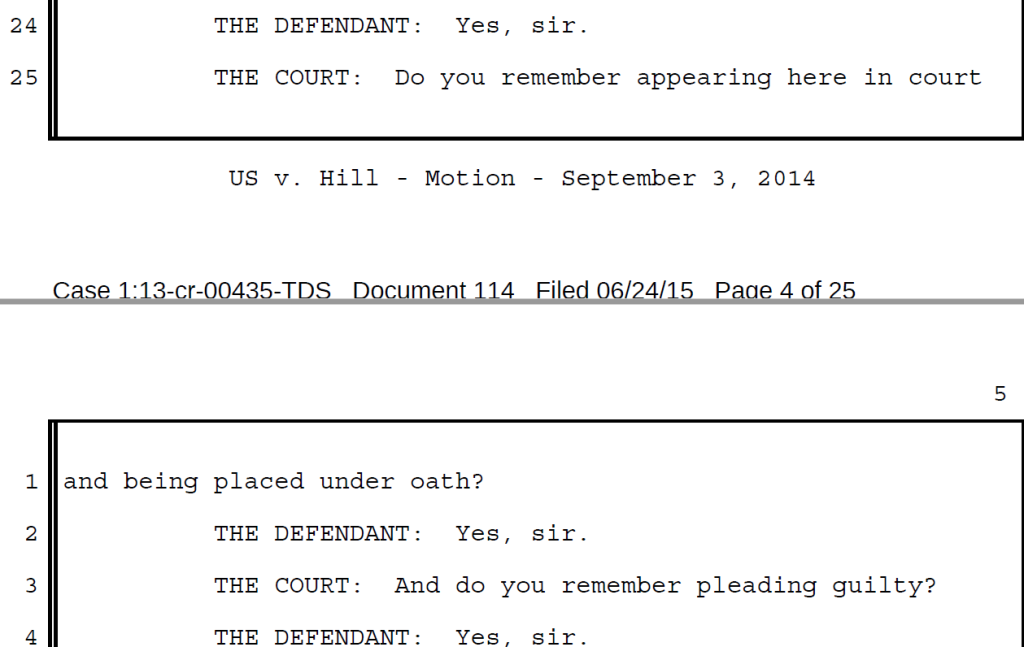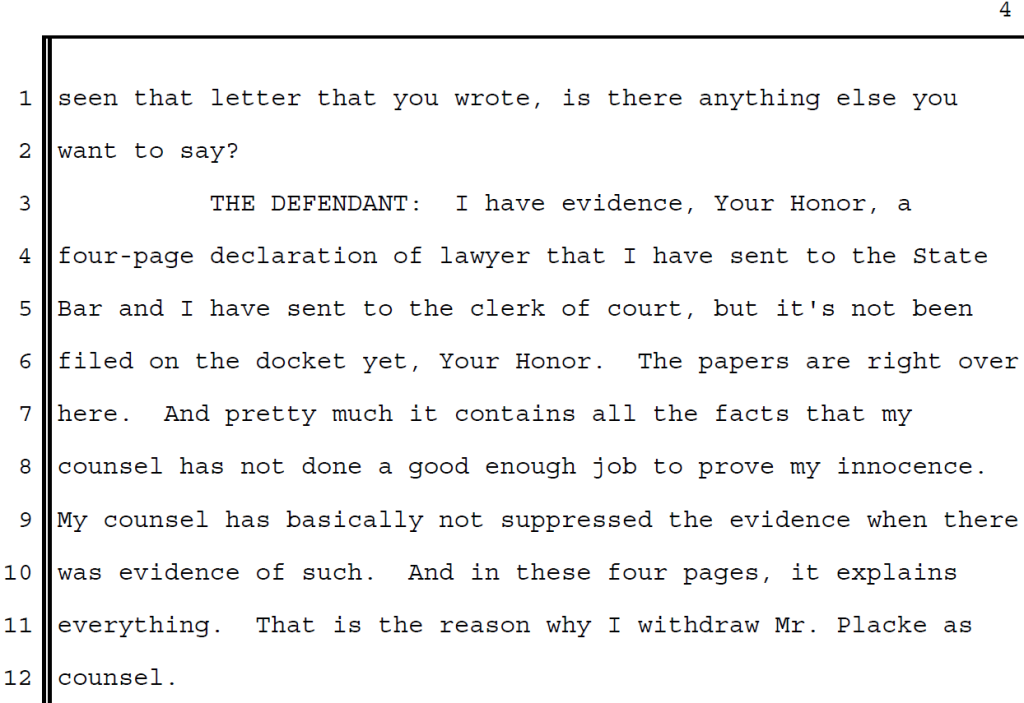 The evidence is in, Brian was tortured. Even if arguably only a portion of blood sugar readings were high, Brian explained to the jail staff in writing on a sick call sheet as to why. Brian was losing a lot of weight when you review over the medical records. It said his weight was reported at 150lbs or even at 140lbs. Brian had only two options to lower his blood sugar without insulin. Exercise (which can include walking back and forth in the cell, push ups, sit ups) and/or drink lots of water to flush out the glucose. The insulin was always given after the meals were eaten. Doctors and endocrinologists usually recommend doing insulin shots at meal time if not minutes before meal time. Brian was tortured, just like the January 6 defendants. Brian was tortured by the FEDS, on record. We may have more evidence than this. This may not be the last article, more medical records may come to the public.
https://archive.org/details/proof-that-brian-d.-hill-uswgo-alt.-news-was-tortured-into-falsely-pleading-guil
[archiveorg proof-that-brian-d.-hill-uswgo-alt.-news-was-tortured-into-falsely-pleading-guil width=640 height=480 frameborder=0 webkitallowfullscreen=true mozallowfullscreen=true]