Author: Stanley Bolten
Brian D. Hill is about to face a judicial hearing, and the Deep State are anxious to try to either kill Brian D. Hill or imprison him. The threat emails have been consistent over the years. Heck We Are Change has been put in a situation where they taken down the article on Brian being set up.
See the threatening email below which was reported to the Virginia State Police. There wasn't much they could do but the threatening email was reported to law enforcement. It is time for the WHITE HATS to step in and protect Brian D. Hill. We are grateful for everything the White Hats have done. We are grateful for the emergency audit in 2019. Brian was protected by Q. Please continue looking out for Brian D. Hill as he is dealing with judicial corruption at both the local and Federal level. They want Brian dead or in prison then they could try to kill him in jail or prison. They have done so before by manipulating his insulin vials and almost succeeded at killing Brian at the Forsyth County Detention Center. We have the medical records and documentation. We have the evidence which can be downloaded by anybody. We need U.S. Military intervention, we need White Hats to continue looking out for Brian D. Hill, formerly of USWGO Alternative News.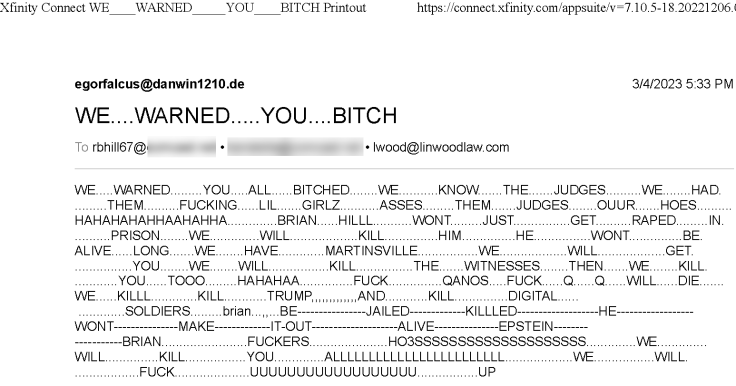 The wordpress blog has done well over the years and has quite a lot of evidence, mirrored to WayBack Machine and evidence mirrored to those using BitTorrent file sharing networks. Killing Brian would only make him a martyr. We will keep watching things from the internet level.
Evidence is secured, White Hats had plenty of time to download everything from JusticeForUSWGO.wordpress.com or JusticeForUSWGO.NL. We been building more and more trust as well as credibility, evidence continues building, and everything is being set right.
Any judge or judges may try to have Brian killed or imprisoned or who knows. We need to watch out for Brian. All Anons and Q, the White Hats, the Alliance, please continue watching out for Brian.
Pray to God, Pray to Angels, please continue protecting Brian and we are grateful for Brian's protection already in place.
WWG1WGA – NCSWIC – ANONS – WHITE HATS – WHITE KNIGHTS