Author: Stanley Bolten
When you go after the Deep State's agendas which include the New World Order and child trafficking/blackmail (International pedophile rings) and drug cartels, they conduct anything from character assassination to actual physical assassination attempts on your life. See the documentary: The DEEP STATE can Frame You – the Documentary. Sen. Chucky Schumer had argued on Rachel Maddow's show: "You take on the intelligence community, they have six ways from Sunday at getting back at you". Another media pundit said the Government was going to kill Donald Trump. If they can threaten to kill a President, they can threaten to kill an American citizen too. See article: Former Mueller Deputy on Trump: Deep State, "Government Is Going To Kill This Guy" | Video | RealClearPolitics. There are documented incidents where Brian D. Hill, formerly of USWGO Alternative News and formerly of FederalJack.com and worked as an ally of We Are Change at one time, documented incidents which suggest or show that there were possible assassination attempts on Brian Hill in the past. As well as the threatening emails and threatening text messages directed at Brian Hill, directed at his friends and allies including Attorney Susan Basko (Sue Basko), directed at at witnesses involved in his criminal case, and directed at Brian's family. The threat emails saying that they were going to kill and murder Brian Hill as well as rape Brian Hill then another threat suggested that he be thrown in prison or jail after giving him a rigged trial in front of a rigged judge in "MARTINSVILLE" which was reported to Virginia State Police. Brian did receive a threatening and/or intimidating text message from somebody who defends the CIA, so likely that text message was from a person involved with the U.S. Central Intelligence Agency (CIA). Somebody who listened in on his private conversations. Who does that??? Who listens to private conversations??? NSA? CIA? Brian Hill was targeted by the police raid shortly after he released DHS FOIA documents (Archive.org DHS FOIA files) proving that the Department of Homeland Security and it's fusion centers were conducting surveillance on alternative media.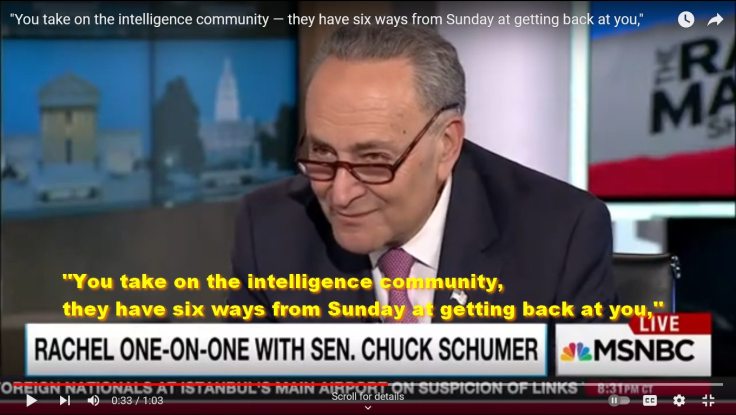 POSSIBLE ATTEMPTED ASSASSINATION ON BRIAN HILL #1 (over-injection of diabetic insulin almost ended Brian's life, however Brian had four juice packets and an orange in his jail cell which saved him from encroaching death!!!):
Medical records from Forsyth County Detention Center in Winston-Salem, North Carolina had shown a period of time when Brian Hill almost died of diabetic low blood sugar (low blood sugar glucose), due to somehow a large amount of insulin may have been injected into Brian by the medical staff of the jail. The medical records can be accessed at the following article: 2014 ADDITIONAL EVIDENCE: Feds tortured Brian D. Hill before and after false guilty plea in Federal Court; medical records prove torture by denied or delayed insulin/medication of federal inmates; treated as bad as January 6 defendants – Justice for Brian D. Hill of USWGO Alternative News. You can interpret this in any way you can, but any diabetic or diabetic expert would agree that this was some form of an extreme incompetence (injecting the wrong insulin or too much insulin) which would have severely risked the life of Brian Hill, the risk of death by too much insulin without the glucose to cover that insulin dosage. Usually murders by medical means can be thought of as just accidents, especially when the CIA or NSA or any Deep State agency murders or attempts to murder a target, a political target. The CIA does conduct assassinations.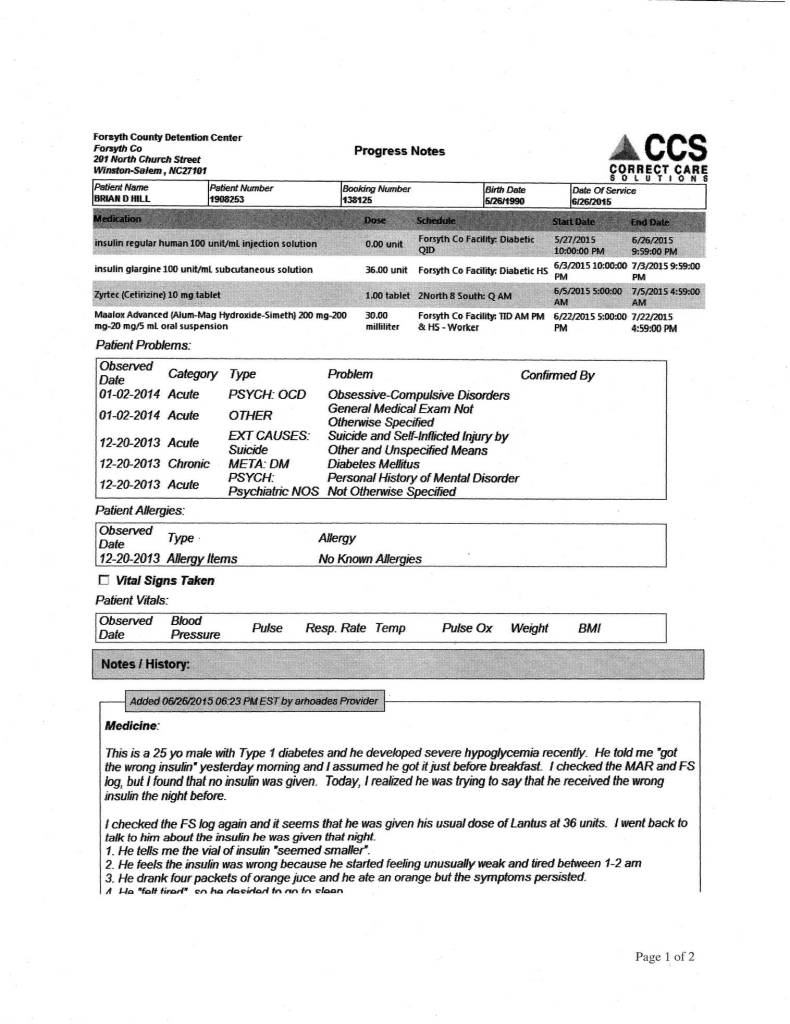 See Forsyth County Detention Center Medical Records Brian David Hill 2013-2015(OCR text).pdf – All medical records, all stays, 2013-2014-2015
It would not be farfetched that this could have been some kind of an assassination attempt. How easy would it be for somebody in the medical including nursing staff to be manipulated into switching insulin vials or injecting more insulin than necessary into an inmate at night when there are no meals. Even if the inmate such as Brian Hill receives a diabetic snack, injecting a lot of insulin could easily lead to a hypoglycemia which carries a high risk of killing the inmate which can even overcome the diabetic snack bags or snack trays. So a nurse could technically attempt to kill the inmate Brian Hill by simply injecting more insulin than what is necessary to cover the carbohydrates and high blood sugar by sliding scale.
It is easy for the CIA or NSA to kill a diabetic while in incarceration. All they would have to do is pump him full of insulin while he has no access to sugar and glucose snacks. They can easily kill him and it would look like a mere incompetence of the nursing staff.
Look at Jeffrey Epstein where many believes he was murdered while in jail, but was ruled as a suicide. That's how it works. The CIA has the capability to kill prison inmates, not just Americans outside of prison.
They also killed John McAfee as well while in jail or prison. See article: John McAfee: Anti-virus creator found dead in prison cell – BBC News. This is not a game. Actual people have been murdered or found dead under mysterious circumstances while in jail, especially those being targeted by the U.S. Government. See article: Why was John McAfee on the run? | The Sun. He was a computer programmer and/or hacker who can hack into any system he wanted. He could easily hack into the U.S. Government including the CIA and FBI. He likely knew dirty secrets which the U.S. Government did not want coming out to the general public. So, well, they killed him in imprisonment.
Now for the next documented possible assassination attempted on Brian Hill.
POSSIBLE ATTEMPTED ASSASSINATION ON BRIAN HILL #2 (carbon monoxide poisoning, mysterious circumstances surrounding the carbon monoxide at the Triplex where Brian lives):
Before I get into the evidence of carbon monoxide at Brian's and his mother's apartments at the Triplex where they lived, I will reveal that there are stories regarding the CIA and the deaths caused by carbon monoxide. These stories and articles show that one of the CIA's handiwork of targeting individuals is by killing them with carbon monoxide gas poisoning. To make it difficult to have the death ruled as a murder or homicide. So the assassin (CIA? NSA?) can simply walk into a home or somehow block the ventilation of gas appliances in such a way that the home then becomes a death trap with carbon monoxide (CO) gas flooding into the home to damage/maim and/or kill it's occupants. There is an article about Zuzu Angel. Wikipedia said: "In 2014, the National Truth Commission created to gather and review information about crimes committed during the years of the CIA and U.S. government-backed Brazilian military dictatorship, a former agent of the military repression named Cláudio Antônio Guerra, confirmed the participation of agents of the security apparatus in the death of Angel.[2][3]". So the CIA didn't just kill Zuzu Angel, but there was a forced disappearance of Stuart Angel. It said: "According to political prisoner Alex Polari, who claimed to have witnessed the incident, Stuart was then tied to the back of a jeep with his mouth glued to the vehicle's exhaust pipe and dragged through the courtyard of the Air Force base, resulting in his death by asphyxiation and carbon monoxide poisoning.[1][4]". He was murdered by carbon monoxide poisoning. This wasn't the only documented incident of carbon monoxide poisoning used as a tool of murder. Then there was Jerry Daniels who worked for the CIA and he had been killed by carbon monoxide too. Carbon monoxide assassinations is a form of murder or attempted murder (if not dead) which does not require a blade, a gun, or some other form of a murder weapon which can cause an autopsy to find the cause of death to being that of homicide. With carbon monoxide deaths, they are not normally investigated as murder cases, so it is the easiest way to kill somebody without leaving a trace. The CIA or any other intelligence spy agency has been known to kill people with carbon monoxide when used for an assassination to be conducted on a target.
Now let's show the evidence as to Brian Hill. It happened in late 2017 to 2018 before Brian Hill was arrested on September 21, 2018 (fall equinox date, interesting!!!) for indecent exposure by Martinsville Police Department under suspicious circumstances at best. There was a letter from Pete Compton who examined the chimney of the Triplex home of both Brian D. Hill and Roberta Hill. Both were exposed to carbon monoxide. Also the Sovah Hospital of Martinsville, Virginia, the local hospital in the city where Brian lived, lab tests were ordered by Dr. Brant Hinchman at the Emergency Room but were later deleted from the chart without explanation as to why lab tests would be ordered then were "DELETED" from his medical chart. Not only has carbon monoxide evidence been found according to witness Pete Compton, but lab tests which were ordered were COVERED UP, DELETED from the hospital's medical records. See the articles: Brian D. Hill files two motions for acquittal of state conviction, one against suspect: JaCody Cassell of The Chimney Sweep, and one proving that he was not medically/psychologically cleared at time of arrest – Justice for Brian D. Hill of USWGO Alternative News; and Brian D. Hill v. The Chimney Sweep; Complaint against Dr. Brant Hinchman of Sovah Health Martinsville (Hospital); Learn about the Carbon Monoxide poisoning which led to Brian's state charge, he is innocent of his charge – Justice for Brian D. Hill of USWGO Alternative News. The body-camera footage was covered up too out of fear that it may prove intoxication of Brian at the time of his arrest.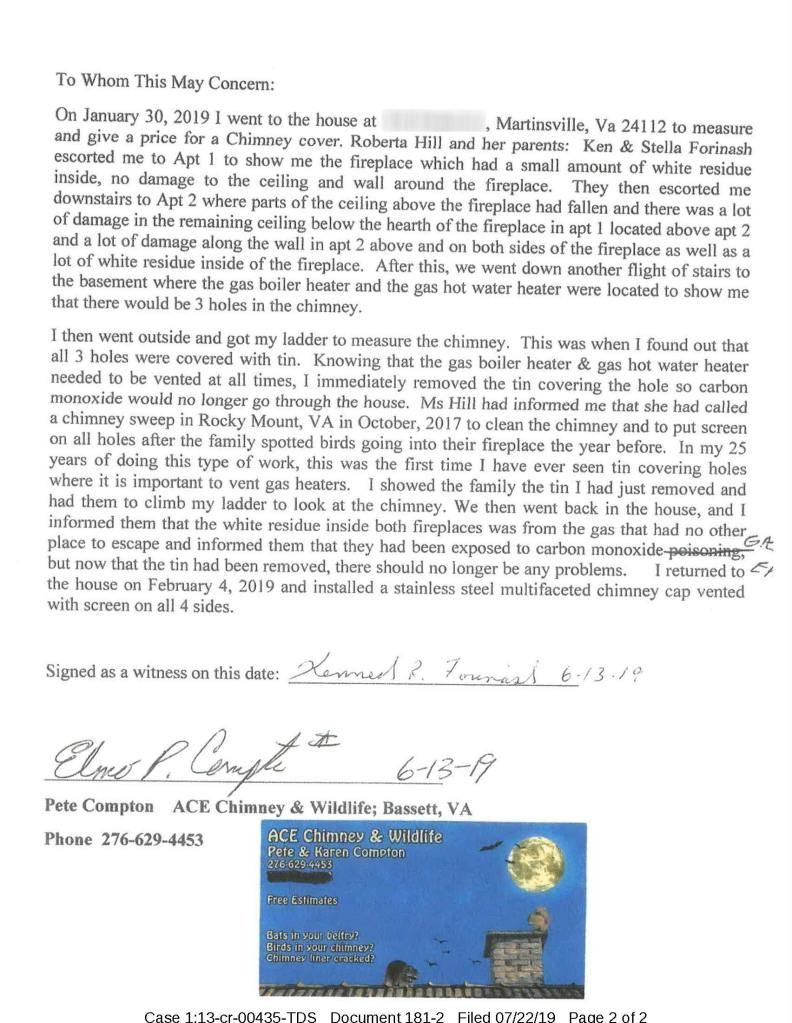 There you have it, one page sums it right up. Brian was exposed to carbon monoxide. So who would be behind this??? There are suspicious circumstances surrounding the whole situation. Here is why.
Brian filed a complaint against the business who he believed had installed the metal tin which witness Pete Compton had spoke of. The business known as The Chimney Sweep. See Brian D. Hill files two motions for acquittal of state conviction, one against suspect: JaCody Cassell of The Chimney Sweep, and one proving that he was not medically/psychologically cleared at time of arrest – Justice for Brian D. Hill of USWGO Alternative News.
They of course denied everything in the complaint and acted as though they had no records of the $300 job on October 5, 2017. Brian's only solid proof which tied The Chimney Sweep to his allegations of chimney work being conducted on October 5, 2017 was both the signed check, and the xFinity phone records where the phone number was listed on the public profile for that business, and that USPhoneBook.com said "James Cassell" was tied to the phone number as well. It is all in that court filing which was filed with the Circuit Court for the City of Martinsville. The attorney Eric Ferguson said in his last email to produce the check (photocopy of the check proving The Chimney Sweep was paid) "…or drop the matter". Brian thanks to his mother had finally received a letter from the bank (formerly SunTrust) confirming that The Chimney Sweep was paid $300 and that a signature in cursive handwriting suggests that a "Cassell" signed for the check to be paid for. Brian then addressed the attorney Eric Ferguson in a letter about this proof, and no response was ever filed by the attorney Eric representing that business. So the case was closed by the Commonwealth of Virginia.
Brian produced proof that The Chimney Sweep was paid $300 and that he cashed that check with a signature that is similar to the name of the person who runs that same business. The question is, what if they didn't install the metal tin but the CIA or NSA could have sent somebody in a work truck after The Chimney Sweep had done their chimney work. Could it have been done in secret??? Could anybody be involved in this??? Metal tin doesn't just install itself on top of a chimney of a home, now does it??? Who is responsible for this??? I don't know. We don't know. We don't have the proven culprit here. Brian was able to prove along with his mother that "The Chimney Sweep" was paid $300 by check on October 5, 2017, it was cashed in and signed for a day later, but nobody has claimed responsibility for the carbon monoxide. Law Enforcement will not investigate or find out who the culprit is. Another cover up, another mysterious dead end. Could the CIA or NSA have sent somebody out there to install metal tin on top of the chimney to kill off both Brian Hill and his mother Roberta Hill??? The hypothetical jury is still out on that one.
Also there were issues regarding Dr. Brant Hinchman where Brian filed a complaint against that medical doctor for the negligence or cover up of the ordered lab tests. See Complaint against Brant D. Hinchman-May-23-2022_reduced_Redacted.pdf – Complaint against Sovah hospital doctor Brant Hinchman and the complaint calling for his arrest and sanctions. Of course the Commonwealth refused to take any action against the medical doctor, he got away with it. Everybody seems to get away with what happened to Brian D. Hill but Brian has to be targeted and charged with a crime for not being truly medically cleared. Brian could have been on LSD, purple drank, alcohol, cocaine, DMT, or any drug. Yet the Martinsville Police almost made sure that the lab tests would never be completed or were covered up. Why would they cover up lab tests at the time of Brian's arrest???
Also it should be noted that they didn't even check his diabetic blood glucose reading at the hospital, and Brian had multiple abnormally high resting blood pulse readings which all of the nurses had ignored and medically cleared him without investigating his tachycardia. Tachycardia by medical definition would mean "A heart rhythm disorder with heartbeats faster than usual, greater than 100 beats per minute." His medical record at the time of Brian's arrest for indecent exposure indicated exactly that: "tachycardia." They claimed they medically cleared him but did not investigate Brian's multiple high resting blood pulse readings of over 100 which are evidence of tachycardia. They did not check his blood sugar. They just wanted to rush him into jail where they don't investigate anything. They didn't have the 100% evidence for sure from a medical standpoint that Brian was of sound mind, and didn't have the 100% evidence for sure from a medical standpoint that Brian had no medical issues which could have been either the cause of or of a contributing factor to what happened which caused his charge of indecent exposure. At best, Brian can prove in a jury trial (for indecent exposure) that they didn't prove Brian was not under any drug, narcotic, substance, gas, or alcohol, or anything. The District Attorney cannot claim that Brian was cleared from a laboratory testing standing/standpoint. It was DELETED from the chart. So why the cover up??? Were Martinsville Police aware that Brian may have been telling the truth (from his perspective and belief at the time!) at the time but Brian didn't know that there was an actual attempt to kill Brian Hill and his own mother with carbon monoxide poisoning???
Then there was also an anonymous greeting card mailed from Tennessee which gave at best possibly veiled threats, or some form of psychotic threats at worst. Directed that Roberta Hill cease whatever she was doing or "a controlled action" would be conducted against her. Wouldn't CIA Agents be conducting controlled actions such as assassinations where they may be directed to target an individual by a boss or CIA director??? A controlled action against somebody!

How would somebody "end the burage of deluded deluded unfactual concourse" referring to Roberta Hill and her channel TheStarChild2009 which was targeted by hacking operation??? Killing her or killing her son Brian Hill??? Hacking her channel??? What about how they could stop her writings with such a "controlled action"??? Murder??? Gas??? poisons???
Another anonymous greeting card indicated that they knew Brian and/or his mother had "sickness". What sickness??? Carbon monoxide can cause "sickness" as the threatening greeting card had stated.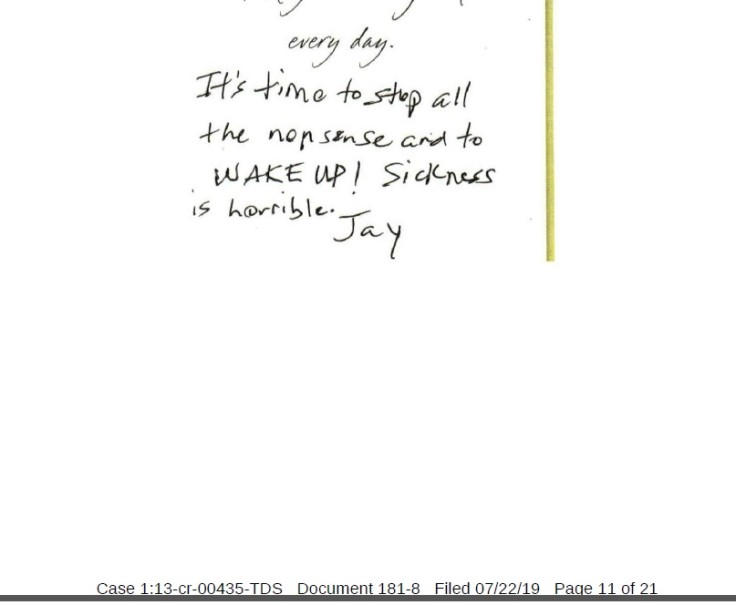 How would they know whether Brian and Roberta were sick or not??? What "sickness" were they referring to??? How would they even know anything of what was going on in the personal lives of Brian and his mother??? Were the card sender part of a surveillance operation against Brian Hill and his mother??? Could it have been the CIA? NSA?
Anyways, at this time, for the conservation of time, there are only two examples of possibly an attempted assassination of Brian D. Hill. Now let us focus on the threatening emails and threatening and/or intimidating text messages against Brian Hill. This is further proof to support such an inference that there may have been multiple assassination attempts on the life of Brian David Hill. There were threatening emails which had threatened to "RAPE" and "KILL" Brian Hill and others. One of them was reported to the Virginia State Police. Identities of the agents of State Police which were notified of the threat email will be kept redacted and classified, but proof will be presented that the threat email was reported to a law enforcement agency quickly. So it is a credible threat. Reporting a criminal threat to law enforcement is a must; and is misprision of a felony if a crime is not reported.
THREATENING EMAIL WHICH THREATENED THE RAPE AND MURDER OF BRIAN HILL #1: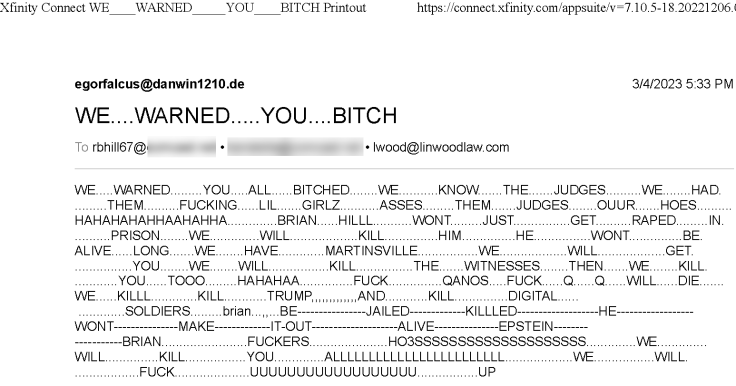 It said things like: "BRIAN HILL WON'T JUST GET RAPED IN PRISON", "WE WILL KILL HIM", and "HE WON'T BE ALIVE [sic. FOR] LONG". Read the threat email yourself and see how horrifying it sounds.
The evidence of the threat email and it's metadata was reported to law enforcement as soon as could be done. That validates the email as evidence. Any information which could endanger any potential investigation was redacted before the affidavit/declaration was published. This must be released in case another possible assassination attempt may happen against Brian Hill.
FILES:
1. Evidence of threatening email(1)_Redacted.pdf – Email sent to Virginia State Police and other [redacted] users. Reporting threatening email which threatened to rape and kill Brian Hill.
2. source-mar-4-2023.txt.pdf – WordPress would not allow uploading of .txt files, so it was converted to a pdf file. This is the metadata reported to the VA State Police.
3. Xfinity Connect WE____WARNED_____YOU____BITCH Printout_Redacted.pdf – Threat email itself, but some email addresses were redacted due to the seriousness of the threat email. Lin Wood's email was public and anybody can find his public (not personal) email address, so that was not redacted.
4. Declaration on State Police visit – March 18, 2023(3)_Redacted2.pdf – Redacted affidavit about State Police visit which demonstrates that they did take notice of the seriousness of the threatening email which was reported to law enforcement. Identities were redacted, Emails and names were redacted. This is just to validate the seriousness of the threat email.
Now you have it, real threatening email which threatened to KILL Brian Hill. Just like the documented possible assassination attempts made on Brian's life in real life.
Here is the CIA threatening text message against Brian Hill and a link to his letter to the U.S. Pentagon begging them to investigate and stop the CIA/NSA from targeted harassment of Brian Hill and his family.
THREATENING TEXT MESSAGE ALLEGEDLY FROM SOMEBODY AT THE CIA WHICH THREATENED BRIAN HILL WITH SURVEILLANCE SAYING "We have eyes everywhere. The birds work for the bourgeoisie." #2:
You can read the full article at: LEAK: Did the CIA send Brian D. Hill text messages in 2020? Brian asked U.S. Pentagon Sec. Chris Miller to have the CIA stop harassing him before Trump left office – Justice for Brian D. Hill of USWGO Alternative News.
Brian Hill had received an anonymous text message while at the "River House" in Bassett, Virginia. Brian received messages attacking Brian for claiming that he thinks the CIA planted the child porn and hacked into his computer. Brian said this after his family had shown him the Millie Weaver documentary known as ShadowGate. Brian spoke around his phone about the CIA and he suspected they were behind the set up. Brian's mother did research on former Reidsville detective Robert Bridge and he works close to the CIA headquarters in Virginia. See article: Is allegedly Robert Bridge the culprit of who framed Brian D. Hill of USWGO Alt. News with child porn??? IS "ROBERT BRIDGE" THE CULPRIT??? – Justice for Brian D. Hill of USWGO Alternative News. It appeared that the person who sent the text messages knew what Brian was talking about, even though Brian is not using the internet. So the person who had sent that must have been conducting audio listening surveillance of Brian's phone at the time. That would mean the major possibility that the CIA or NSA were trying to threaten and/or intimidate Brian Hill by sending those "ghost" messages.
1. December-18-2020-EMERGENCY-SECRET-Letter to President Trump and Defense Secretary on evidence of CIA or NSA targeted harassment(2).pdf – Secret letter to the U.S. Pentagon asking them to stop the CIA/NSA targeted harassment of Brian Hill and his family. Also the phone number which received the weird Deep State text messages, that mobile phone number was stolen by Safelink/Tracfone after it was held hostage for months where they refused to transfer that number to another provider due to a mistyped zip code or it was purposefully mistyped to prevent port transfer, with the FCC complaint case process to prove it. Since that number is no longer Brian's, it is safe to leak this entirely to the general public without redaction. Apologies to whoever holds that mobile phone number now.
Here are the weird text messages from somebody appearing to be defending the CIA and calling an autistic virgin a kiddie diddler when he has never even had sex. Brian was never charged with a rape, was never charged with assault. This CIA stooge or spook text messaging Brian seems to have some kind of anger or hatred at Brian for trying to prove his own innocence, like saying "I'm innocent" is some kind of sin now. Then accusing the set up victim as a "sex offender". Brian fought back by texting what he knew from the discovery evidence materials from Brian's child porn federal case. The download dates as to being 11 months after his computer was taken. Attorney Sue Basko who filed an affidavit declaring Brian Hill innocent of child porn, then it turns out she was right all along despite the fact that she never personally reviewed over the discovery evidence materials from Brian's case, maybe she did secretly and that's a possibility, I don't know. Attorney Sue Basko was still right all along about Brian being innocent as there is evidence to back her claim in Brian's federal case.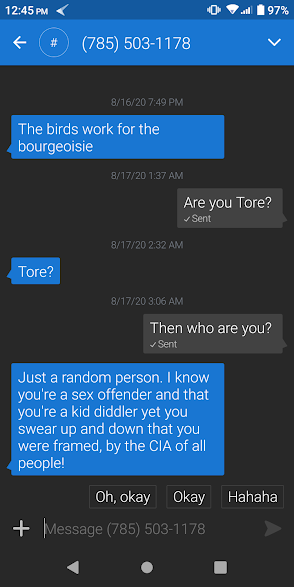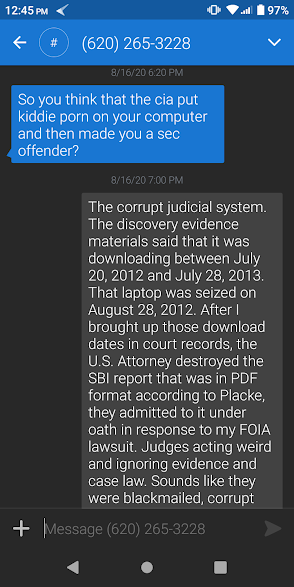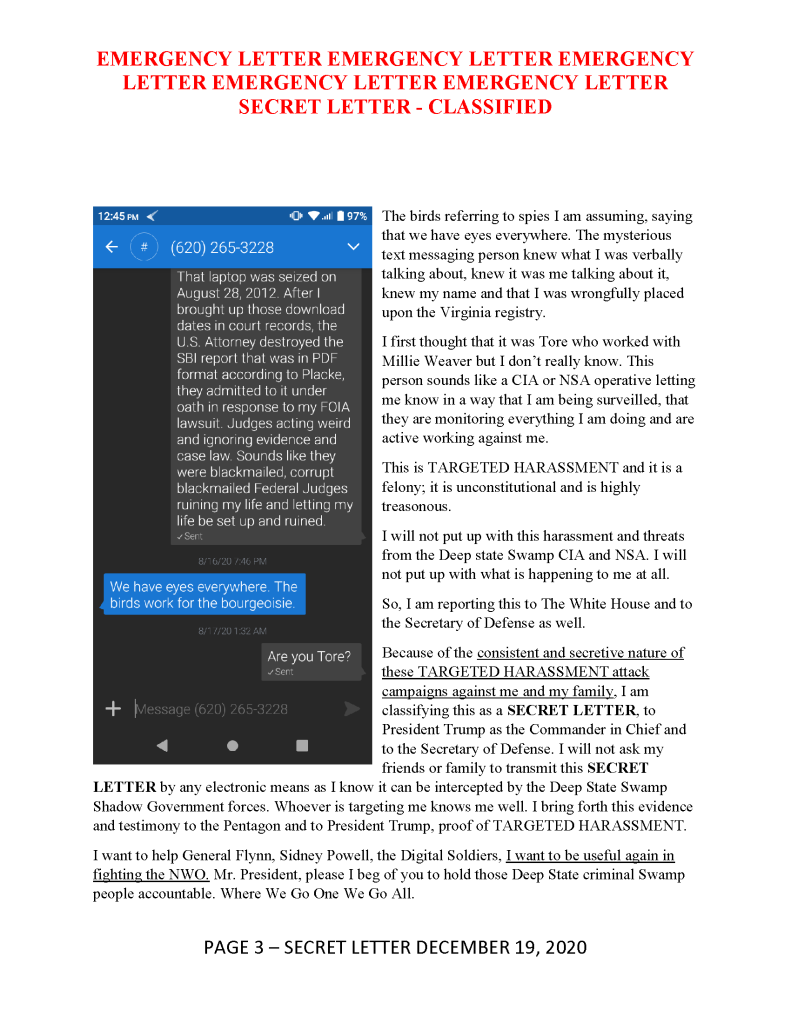 Then there are the threat emails which were posted on the recently censored (this year) We Are Change article about the set up on Brian Hill.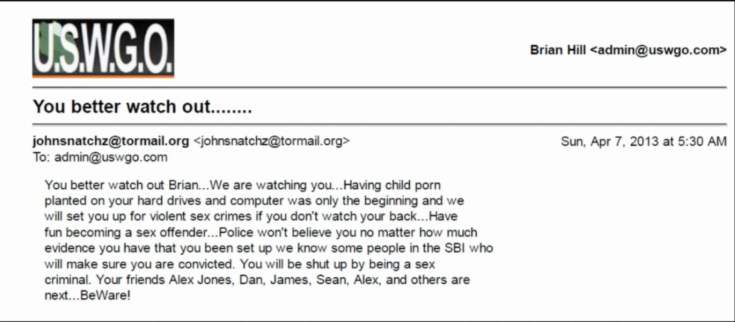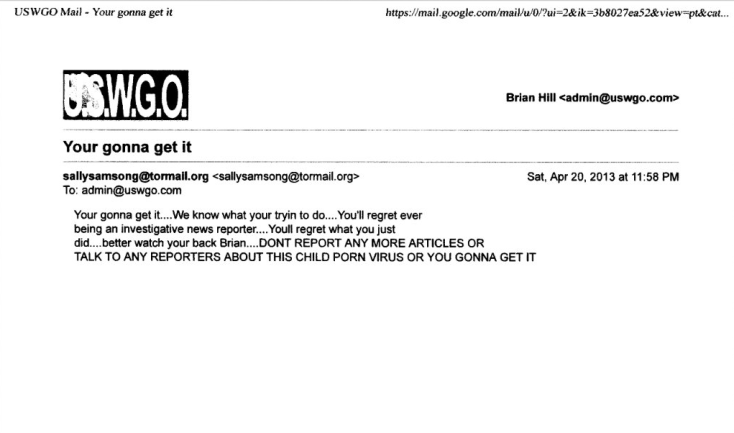 Then there was a threatening email in 2015 threatening to "cut" Brian Hill, saying that he will suffer. These were reported to the U.S. FBI by Attorney Sue Basko and Brian faxed a report to the U.S. FBI. Unfortunately they did nothing about it. Of course, FBI is part of the Deep State. How many criminal threats does one have to receive and report before the FBI investigates it??? The FBI will not investigate a single one if it involves the targeted political individual Brian Hill. Also Brian reported a threatening text message to the U.S. FBI. Original came from tbaby@mail2tor.com (a Tor Email service!). Also that threat text message threatened to rape Brian. The U.S. Probation Officer Kristy Burton received the evidence of that text message by being given Brian's cell phone back in 2015. So it was also reported to a law enforcement agency. Unfortunately, nothing was done about it; and the cell phone with this threat text message stored in the inbox was destroyed by Court Order. So they don't care if there are criminal threats to rape Brian and wanting to kill Brian, and threatening to plant child porn again and again. Look at what the FBI was going to do to Sharyl Attkisson by threatening to plant child porn on her husband's computer. https://rumble.com/v14ptv3-so-the-fbi-wanted-to-plant-child-porn-on-a-sharyl-attkissons-husbands-compu.html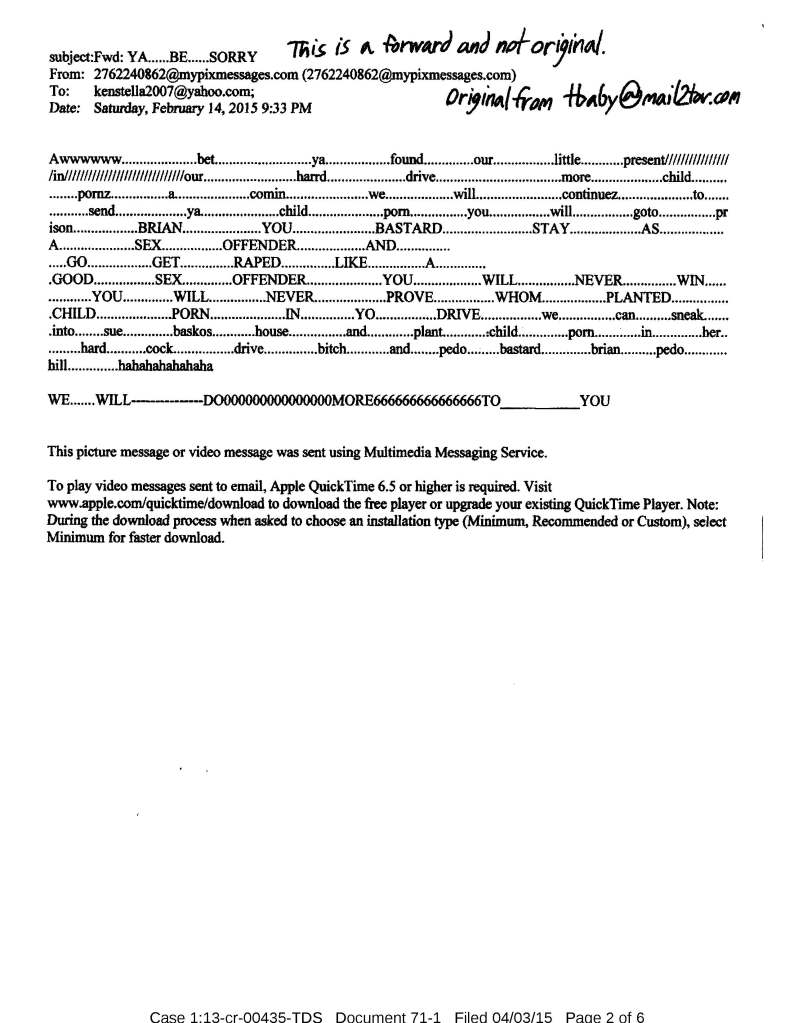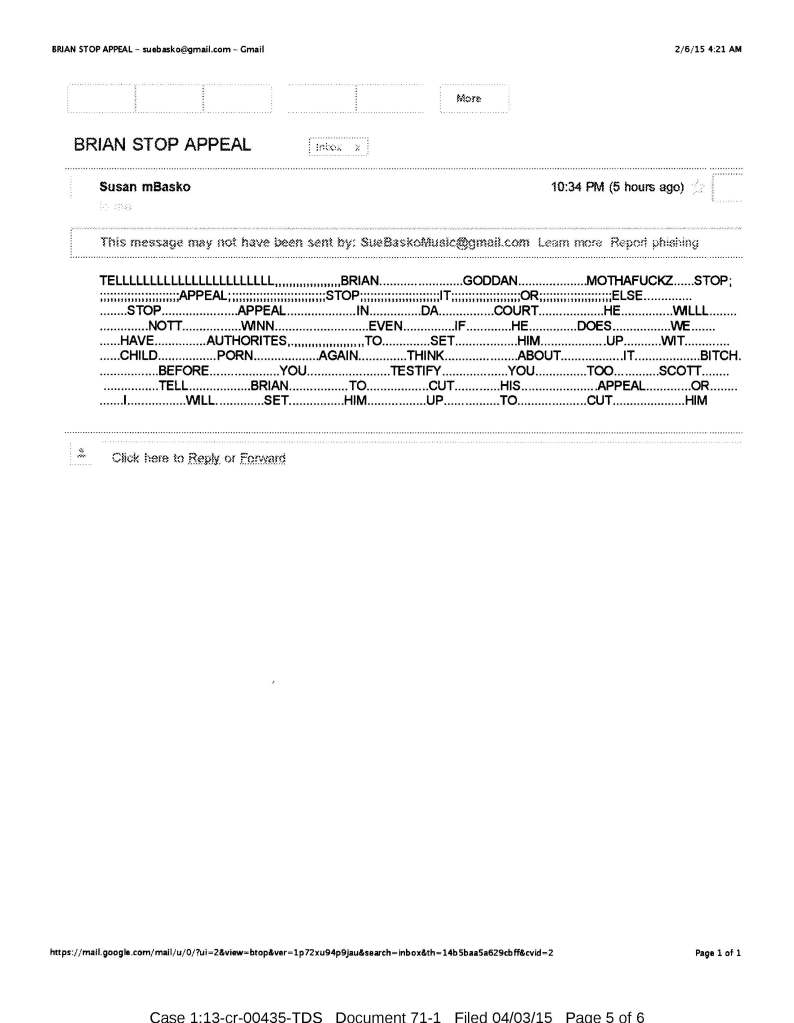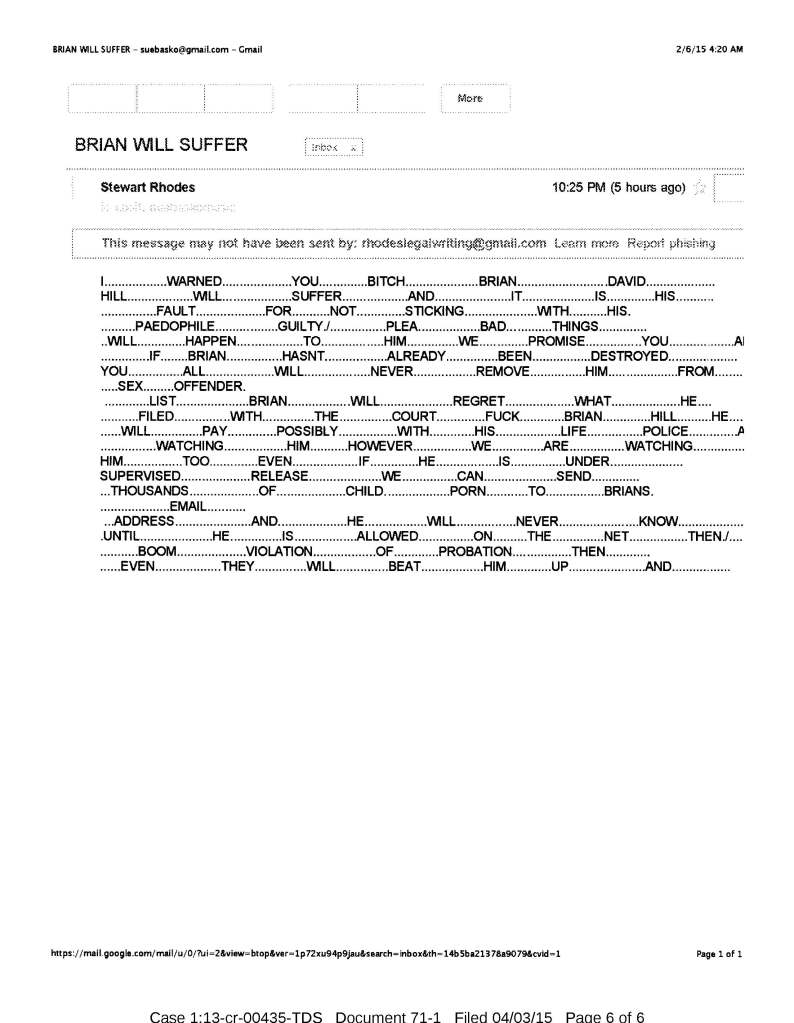 The threat emails, threatening text messages, it all proves that Brian Hill had been a target for both possible assassination (by dirty means…) and was targeted by threats.