Stanley Bolten,
Assistant United States Attorney (AUSA) Anand Prakash Ramaswamy may have violated Title 18 U.S. Code § 1519 because the evidence revealed in Brian D. Hill's case under the Freedom of Information Act (FOIA) shows a cover up of prosecution evidence leading to the actual innocence of Brian D. Hill who was part of USWGO Alternative News operations from 2009-2012.
18 U.S. Code § 1519 – Destruction, alteration, or falsification of records in Federal investigations and bankruptcy
Whoever knowingly alters, destroys, mutilates, conceals, covers up, falsifies, or makes a false entry in any record, document, or tangible object with the intent to impede, obstruct, or influence the investigation or proper administration of any matter within the jurisdiction of any department or agency of the United States or any case filed under title 11, or in relation to or contemplation of any such matter or case, shall be fined under this title, imprisoned not more than 20 years, or both.
The evidence that was covered up in 2017 by the U.S. Attorney Office in the Middle District of North Carolina, while under the leadership of Sandra Hairston (since Ripley Rand had quit his post after the election of President Donald John Trump). The person suspected of covering up the evidence is Anand Prakash Ramaswamy, the Assistant that worked at the Greensboro division office.
The very evidence covered up can actually discredit the evidence that was originally used to indict Brian David Hill back in November 2013 (PDF or OCR text scan), and proves that Brian was yet another victim of the major tormail.org attacks that had shaken the alternative media.
https://www.youtube.com/watch?v=EchVDHHcw1o
The material that was covered up by AUSA Ramaswamy is the following:
The North Carolina State Bureau of Investigation (SBI, the state equivalent of the Federal Bureau of Investigation aka the FBI) case file of suspect/subject Brian David Hill. Leaked by Anonymous hacktivists at the Internet Archive.
The (false confession) confession of Brian David Hill that was obtained by coercion and threat on August 29, 2012.
The reason it is being covered up, to explain briefly, is that the tormail.org message that Brian had received claimed that they had planted illegal files (in violation of United States Code and State Codes) on his hard drive (presumably, through hacking into Brian's computer and external hard drive or external hard drives) and that others are next, then Luke Rudkowski, Stewart Rhodes, and others were receiving set up attempts similar to what had happened to Brian prior to what had happened to them.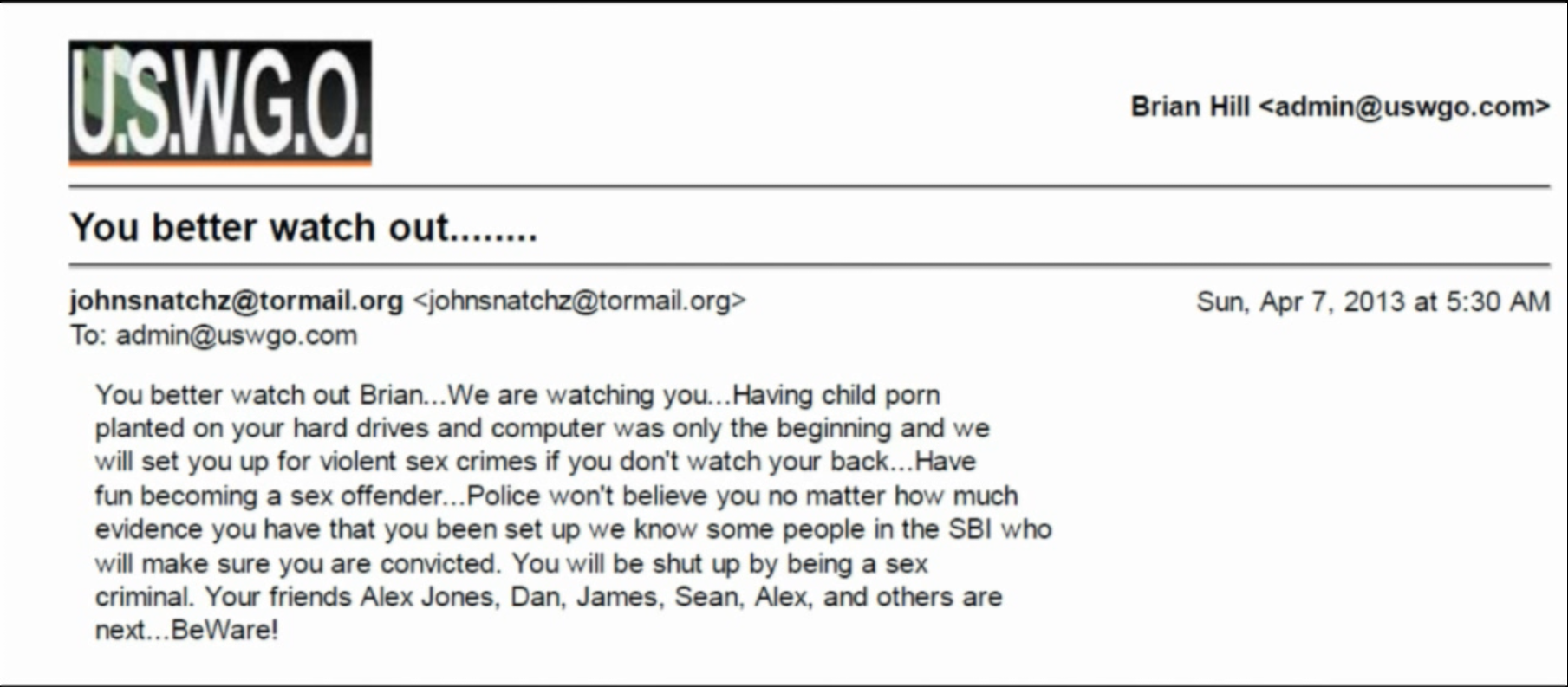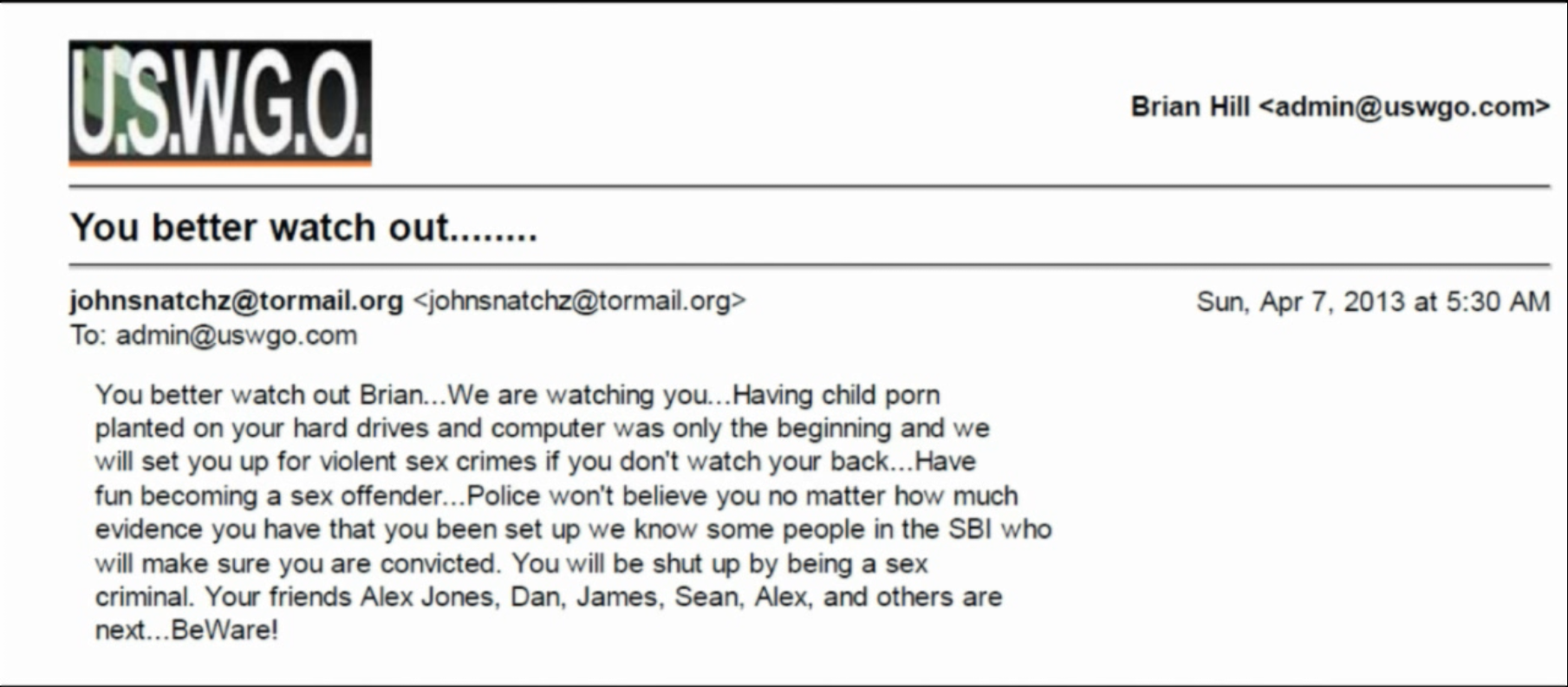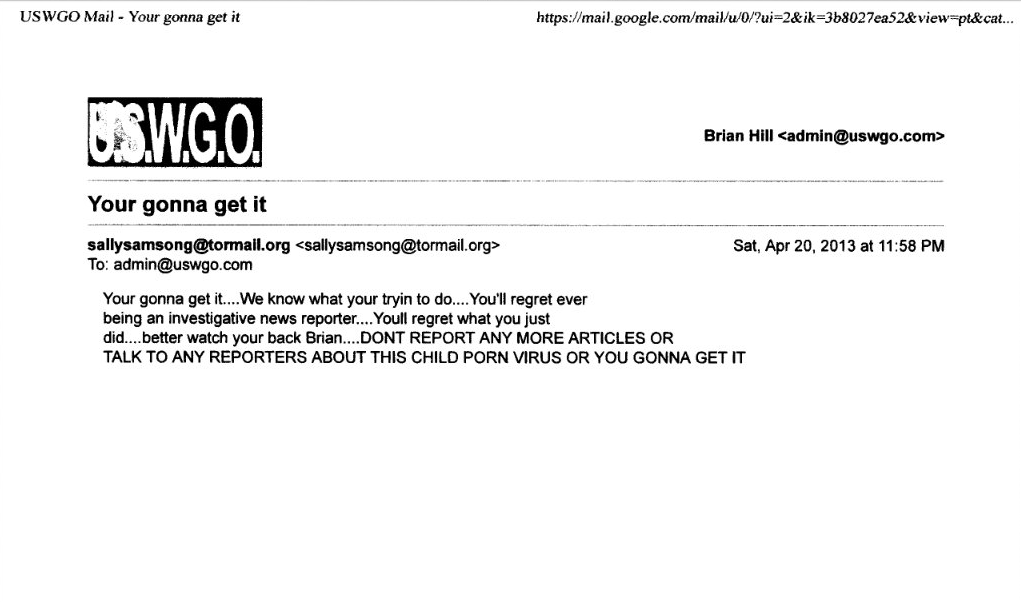 One threatening message says that "Police won't believe you no matter how much evidence you have that you been set up we know some people in the SBI who will make sure you are convicted." It also says that "Your friends Alex Jones, Dan, James, Sean, Alex, and others are next…BeWare!" It shows a Dan which may refer to Dan Johnson that has also gone public about receiving a set up attempt from a tormail.org email address.
The leaked documents from Anonymous reveals a sentence stating that "454 files has been downloaded with the eMule program between July 20, 2012, and July 28, 2013."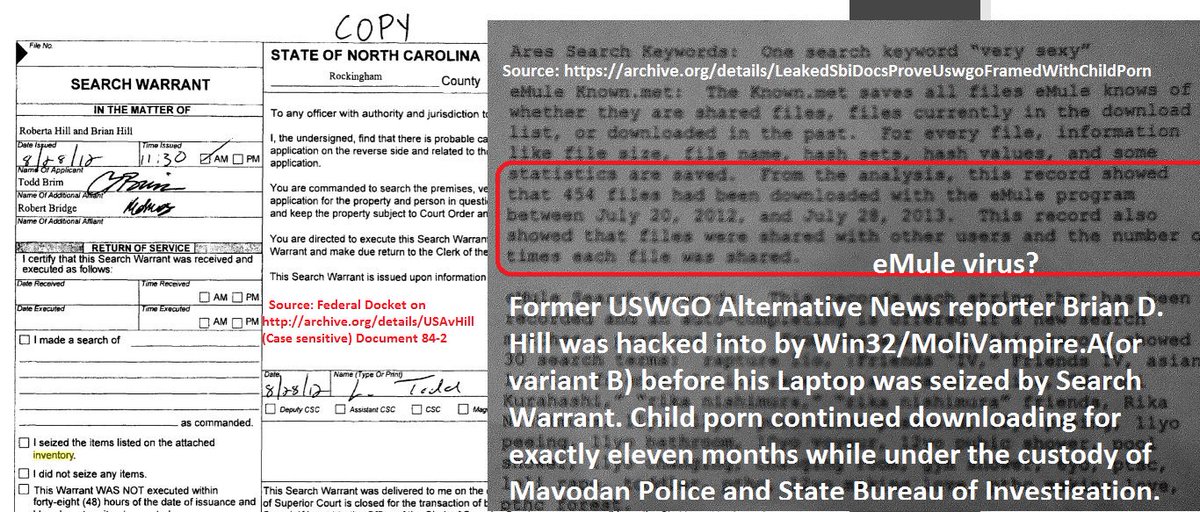 The very SBI leaked photograph is completely been covered up by AUSA Ramaswamy.
Brian filed a FOIA lawsuit as the case name is the following:
Case name: Brian David Hill v. Executive Office for United States Attorneys and United States Department of Justice (Short name Hill v. Executive Office for United States Attorneys et al)
Case type: Civil, Freedom of Information Act, 14th Amendment of U.S. Constitution
Case # – 4:17-cv-00027-JLK
Court location: United States District Court, Western District or Virginia, Danville
Filed in April 2017
Documents on CourtListener (CL) and Internet Archive (not updated frequently as CL, my Internet Archive upload page shows more updated documents but may not be as updated as CL)
According to the original complaint (PDF or OCR text scan), the Government misled the Plaintiff by claiming that zero documents were withheld in full after Brian had originally requested a copy of his entire criminal case discovery material in regards to the original evidence that was used by AUSA Ramaswamy to prosecute Brian for the alleged crime that he was accused of. He wasn't given all materials which he claimed are needed to proving his actual innocence.
More FOIA documents were released in Document 24.
https://www.courtlistener.com/docket/6064365/hill-v-executive-office-for-united-states-attorneys/#entry-24
Brian filed a Declaration under Document 39 regarding the dishonesty of AUSA Cheryl Thornton Sloan (also works for the United States Attorney office in Greensboro, North Carolina).
https://www.courtlistener.com/docket/6064365/hill-v-executive-office-for-united-states-attorneys/#entry-39
Government tried to file a brief asking the Court for Summary Judgment but the Plaintiff filed a counter brief in opposition to it.
Document 53: https://www.courtlistener.com/docket/6064365/hill-v-executive-office-for-united-states-attorneys/#entry-53
Then of course U.S. District Court Judge Jackson L. Kiser of Danville, the crooked ole Judge that thinks freedom of speech doesn't matter when he had threatened Christopher Julian to be careful of what he says online (referring to his blog), threatened the Plaintiff Brian D. Hill with criminal contempt of Court (reminds me of political prisoner Joe Arpaio) if he ever again asks for an investigation into AUSA Sloan and AUSA Ramaswamy. What a dishonorable trash that Judge Kiser is. Traitor to common sense and our Constitution.
Shall I go on! Read the case files for yourself as it is well over 1,000 pages at this point.