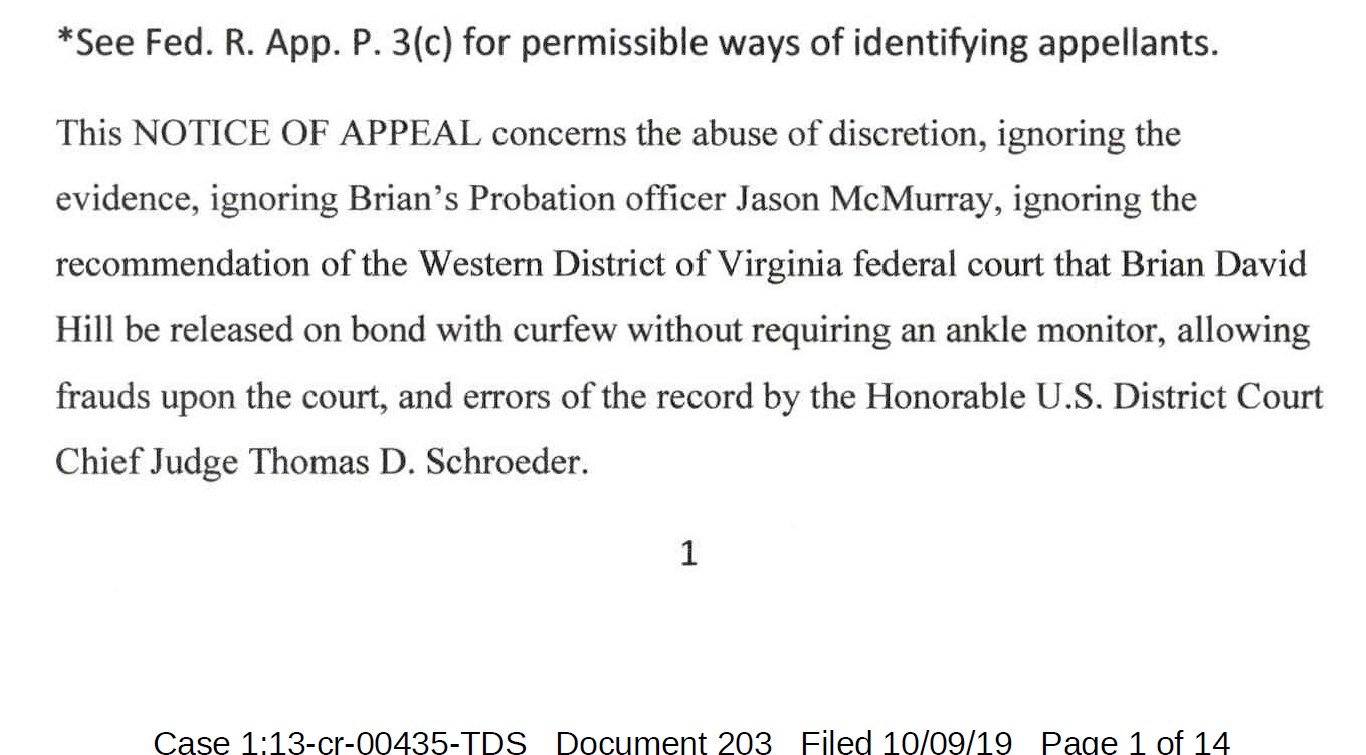 by Laurie Azgard
Brian D. Hill of USWGO alternative news has gone on the offensive attack campaign against the dishonorable federal Judge Thomas D. Schroeder of Winton-salem, North Carolina.
Brian has mentioned about attorney Susan Basko's declaration under dkt. 46, and about how if anybody attempts to send you unsolicited child pornography in an attempt to set you up, you turn over the equipment and report the matter in good faith to a law enforcement agency, and that it is an affirmative defense (actual innocence) to an allegation of child pornography. Affirmative defenses are the strongest legal defense when accused of a crime. Affirmative defense means that you didn't do anything wrong, and never intended to do anything wrong. If somebody sends you threatening emails or text messages and then sends you child porn pictures, you have every right to report it to the FBI and you will be protected from a charge of child pornography, even if you are charged that affirmative defense can be used to have you found not guilty by reason of reporting such filth to a law enforcement agency.
The dishonorable Judge Schroeder made the false allegation that in 2015, Brian maintained that he had received unsolicited child pornography [after a threatening text message was received from a tormail provider] but the Judge said it was unlikely and used that against him to argue that Brian deserves 9 months imprisonment for the violation allegation last year under dkt. 157. Then Judge Schroeder argued that Brian had hit his grandfather as another reason why Brian deserves to go to federal prison, even though it had nothing to do with the recent violation. His grandfather admitted that the family was agitated over Brian's wrongful conviction, Brian had an autistic meltdown, he put his hand on Brian's shoulder, and then Brian had a reflex reaction but admitted that he wasn't hurt and that the whole family apologized afterwards. As Brian argued, it was a normal family feud and agitation over the issues involving life and that was used against Brian in yet different reasons why Judge Schroder believes that Brian deserves to go to federal prison and do not warrant a stay of his judgment which would grant him temporary relief from his imprisonment order.
Dkt. 193 from his written declaration had stated that Brian is in the process of showing a repeated pattern of frauds upon the court by the corrupt assistant US attorney Anand Prakash Ramaswamy. This screenshot excerpted from the declaration in support of Brian's motion for stay of judgment.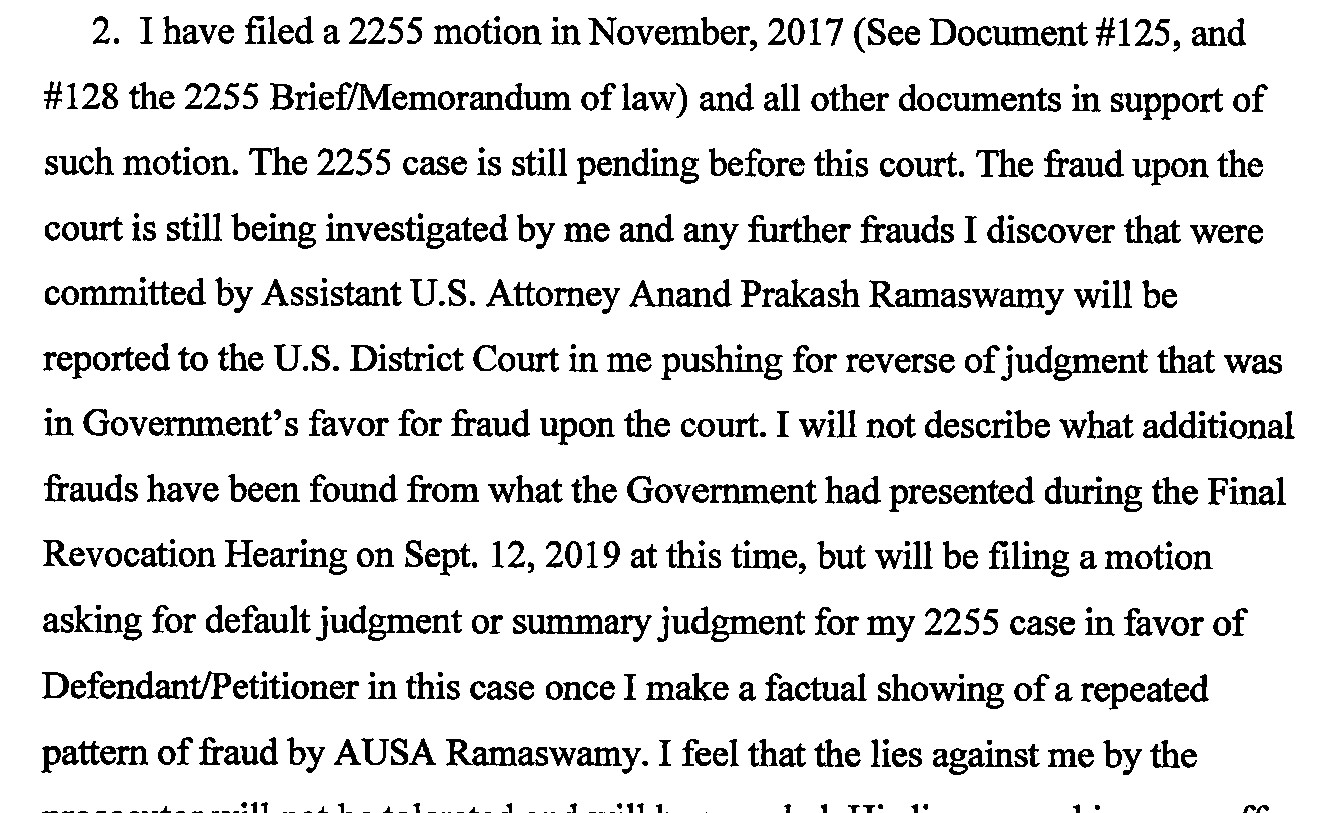 If Brian is able to prove that there is a repeated pattern of frauds upon the court by the government attorneys, then Brian's entire child pornography conviction could fall apart and Brian will be permanently released from such charge and can petition removal from the sex offender registry. The only thing stopping Brian is getting the transcript and final evidence from the government, then he can pick apart their frauds and put a stop to his wrongful conviction once and for all. Brian is citing the "Supplement 1 — Document #199, Attachment #1", and Attachment #2 reports on fraud upon the court warranting reversal of any judgment or judgments that the other party to a case had perpetuated a fraud or repeated pattern of frauds upon the court to obtain such judgment or judgments.
Proving frauds upon the court is Brian's only way of getting his reputation and life back from being character assassinated once and for all.
The attack campaigns against Brian have escalated in an attempt to incite possible vigilante violence or discrediting of Brian's actual innocence fight. I am seeing comments attacking and spreading lies about Brian in attempts to cause people to hate Brian and want him DEAD.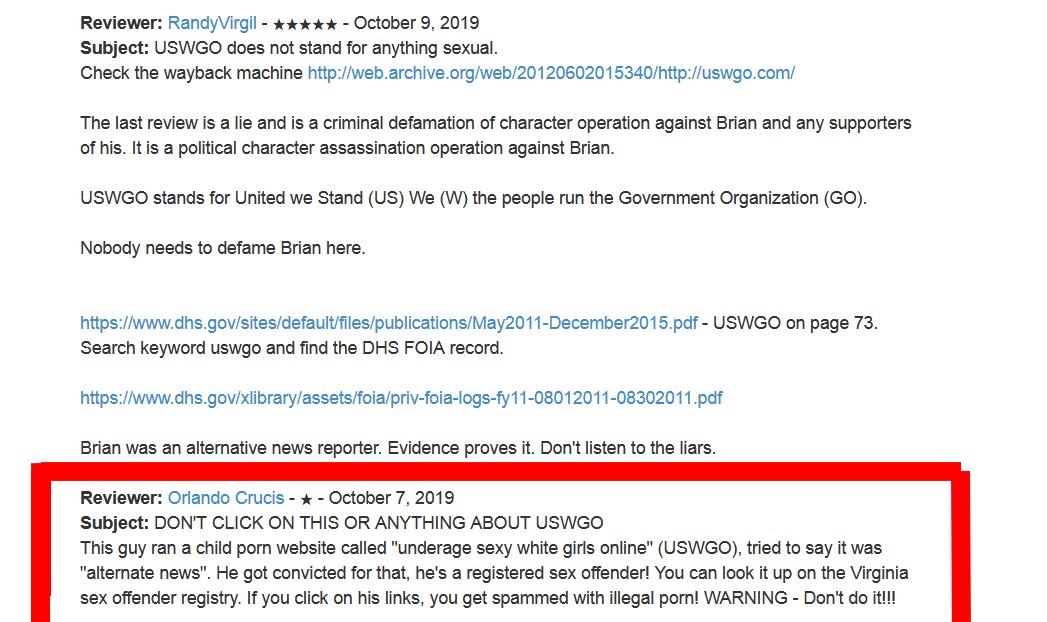 Demonization campaigns are now throwing out the existance of USWGO standing for United we Stand (US), We (W) the people run the Government Organization (GO). Now his ex-website has been libeled and fabricated into "Underage Sexy White Girls Online". Now that Brian cannot be allowed to use the internet, they have decided to demonize and make stuff up about Brian and not give him an opportunity to respond.
They have done the same type of set up style demonization campaigns against Alex Jones.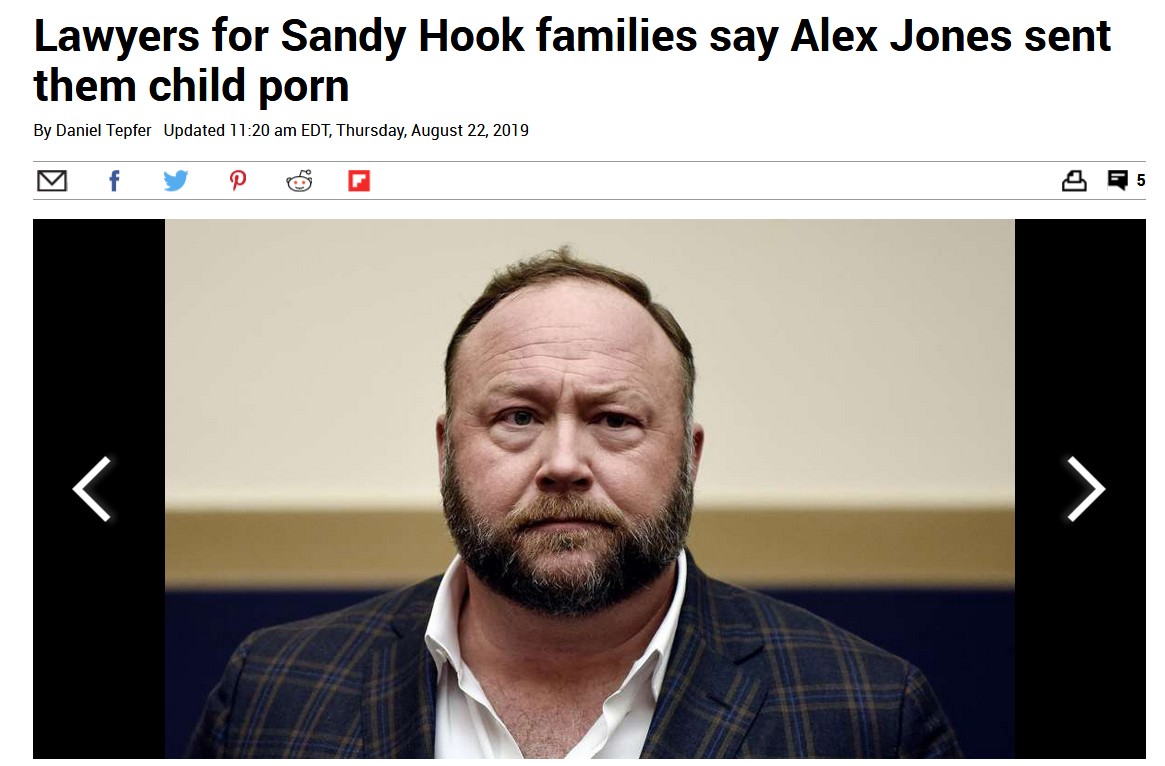 Note: Image posted under Fair Use of copyright law. Meant to demonstrate an defamation campaign against Alex Jones.
See defamation article against Alex Jones: Lawyers for Sandy Hook families say Alex Jones sent them child porn – Connecticut Post
See article: CAN OF WORMS: Infowars Targeted By Child Porn And MSM, Not The First Time Alternative Journalists Set Up – ActivistPost
Brian is clearly struggling against the lies and defamation campaigns against him right now. Since he isn't allowed online to defend himself, his only means is to consistently file pro-se motions and evidence with the corrupt federal court showing the different frauds, lies, and abuses on the court against Brian D. Hill to destroy USWGO alternative news FOREVER. Burning Brian down so that he cannot be revived after his political character assassination.
Document-203-0-Petitioners-Notice-of-Appeal
Document-204-0-Transmittal-of-Notice-of-Appeal-fourth-circuit