by Laurie Azgard
I have learned some disturbing revelations regarding Brian D. Hill, formerly of USWGO alternative news. The threatening greeting card and the other greeting cards [dated 2018] reported in Brian's federal criminal case, have keywords tied to the U.S. Central Intelligence Agency [the CIA!], and goes along with Brian's claims about a man in a hoodie threatening to kill Brian's mother if he did not get naked on a hiking trail at night in Martinsville, Virginia.
I may get targeted for writing this, but you have to wonder why the corrupt federal court had pushed for Brian's imprisonment really badly this year.
See the threatening greeting card and other greeting cards from the federal case filing under dkt. 181.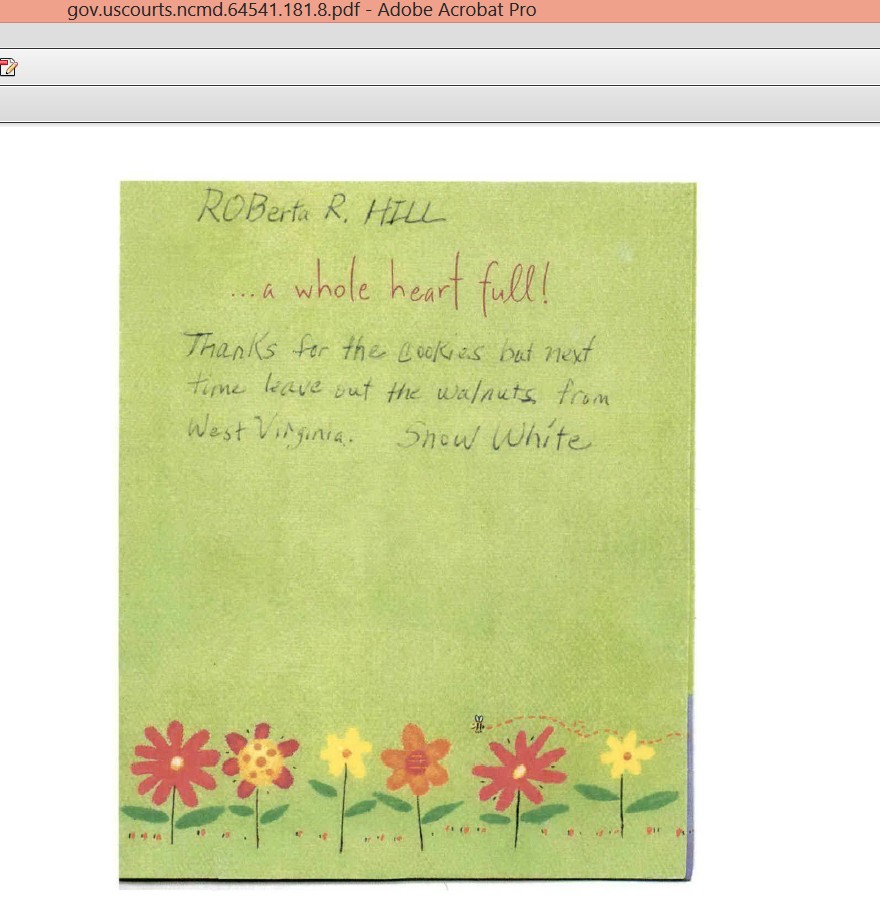 This particular greeting card on the federal court record shows "Thanks for the cookies but next time leave out the walnuts from West Virginia. Snow White".
There are articles and even QAnon posts that both confirm that "Snow White" is actually a CIA supercomputer. One article from the Chicago Tribune.
"Yes, the CIA has indeed named its huge computers after the Seven Dwarfs — and for all I know has a slinky blond in its cloak-and-dagger Directorate of Operations code-named Snow White."
As for the "cookies" it can mean two different things. That the computer cookies were spied on and the warning was saying that computer cookies were obtained from the target's computer. The other "cookies" word can be searched up and here is what I have found. The CIA released document known as "A Suggested plan for psychological warfare operations in connection with over-all guatemalan operations" had mentioned "COOKIES" multiple times. Another CIA document talks about "1300 Cookies and Coffee With selected Agency officials (those who attend DCI's Tuesday morning Staff Meeting"
Then there are the more recent Qanon posts referencing Snow White.
2804815
SNOW WHITE 6 NOW OFFLINE.
Q

https://www.qanonposts.io/2018/08/30/q-2011-2804815-snow-white-6-now-offline-q/
2804728
SNOW WHITE 4 NOW OFFLINE.
Q

https://www.qanonposts.io/2018/08/30/q-2010-2804728-snow-white-4-now-offline-q/
Snow White utilized/activated to silence.
This was not anticipated.
Control / protection lost.
Routing through various networks ('jumpers') randomly has created connection/sec issues.
Working to resolve.
Select people removed.
Stay strong.
We are winning.
More to follow.
Q – https://www.qanonposts.io/2017/11/29/q-234-snow-white-utilized-activated-to-silence-this-was-not-anti/
Aug 30 2018 17:37:25 (EST) !!mG7VJxZNCI Q ID: bd6786
2804887→
2804843
SNOW WHITE 7 NOW OFFLINE.
PACKAGE COMPLETE.
HAVE A NICE DAY.
Q
https://www.qanonposts.io/2018/08/30/q-post-2012-2804843-snow-white-7-now-offline-package-complete-hav/
Now for the second mysterious anonymous greeting card that Brian's mother had received.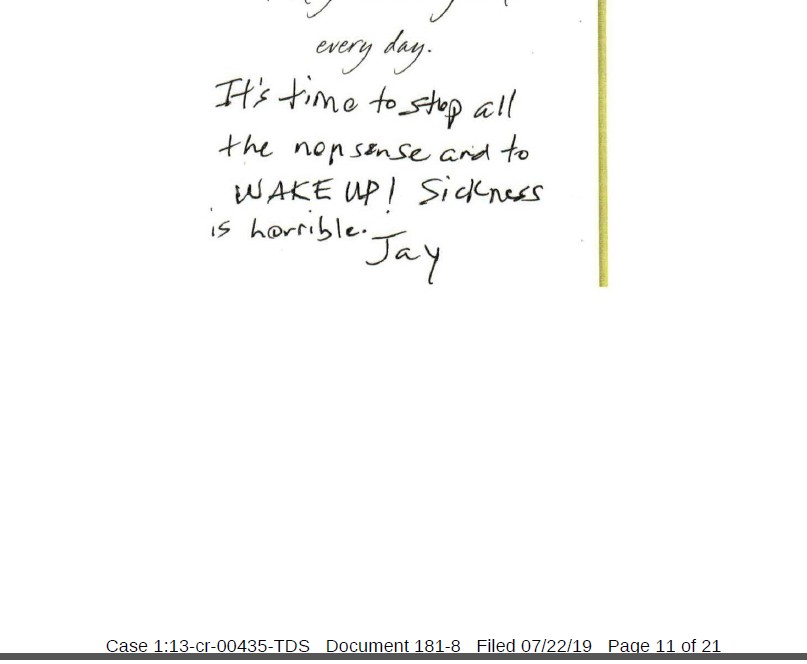 Wait sickness? Was the greeting card sender aware that Brian and his mother were victims of carbon monoxide [co] poisoning? Sickness is horrible? Is that kind of like a warning that Brian and/or his mother were sick and how would the greeting card sender knew anything about any sickness?
If you check the signed name "Jay", it is referenced by two CIA website sources. One documented CIA letter from cia.gov said "Dear Jay" and the other was that one of the founding fathers of the American Intelligence was named "Jay".
The threatening greeting card said that "if you do not cease this fiction, a controlled action is to be taken", and as well as saying "The "Janitor" has mop in hand, has ability to see all, and to know all, then will begin to clean this Earth before the year is out."

Then shortly after, Brian was arrested on September 21, 2018, the fall equinox, and was wrongfully convicted in the Martinsville General District Court on December 21, 2018, the winter equinox. Brian had appealed it to the Circuit Court, but the dates of his arrest and trial were both on equinoxes. These are the kind of rituals the sick elite, and the Deep State of the new-world-order like to do. So who is this man wearing the dark hoodie that threatened Brian to take his clothes off? Why was Brian and his mother exposed to carbon monoxide gas? Was the U.S. CIA thugs attempting top kill Brian and his mother to end Brian's fight to proving his actual innocence and restoring the good name of USWGO alternative news?
In one of the exhibits of Brian's 2255 motion case files, Brian had presented an exhibit about the CIA hacking tool known as Vault 7 from Wikileaks. So Brian was documenting in his federal criminal court case that the CIA can hack into people's computers, presumably to attempt to argue that the CIA can plant child porn on people too.
Case 1:13-cr-00435-TDS Document 131 Filed 11/14/17 Page 90 of 101
Was the CIA attempting to kill Brian and his mother with blocking the chimney flues causing carbon monoxide gas to flow freely into the apartments?
Also the threatening greeting card and other anonymous greeting cards all came from the postmark of Tennessee, and one of the CIA operations locations is within Tennessee.