by Laurie Azgard
You heard it here, the website of mytruthdoc.com had admitted that "The hackers are trying to prevent the stream from airing." Another article at an earlier time brought up that the website may have possibly been hacked. However this statement from Corey Feldman's documentary website admits it was a hacker attack.
Of course they figured it out, while we all already figured it out the minute we started having problems watching the stream from his website. You don't have to take our blog's word for it, the statement was archived on the Wayback machine.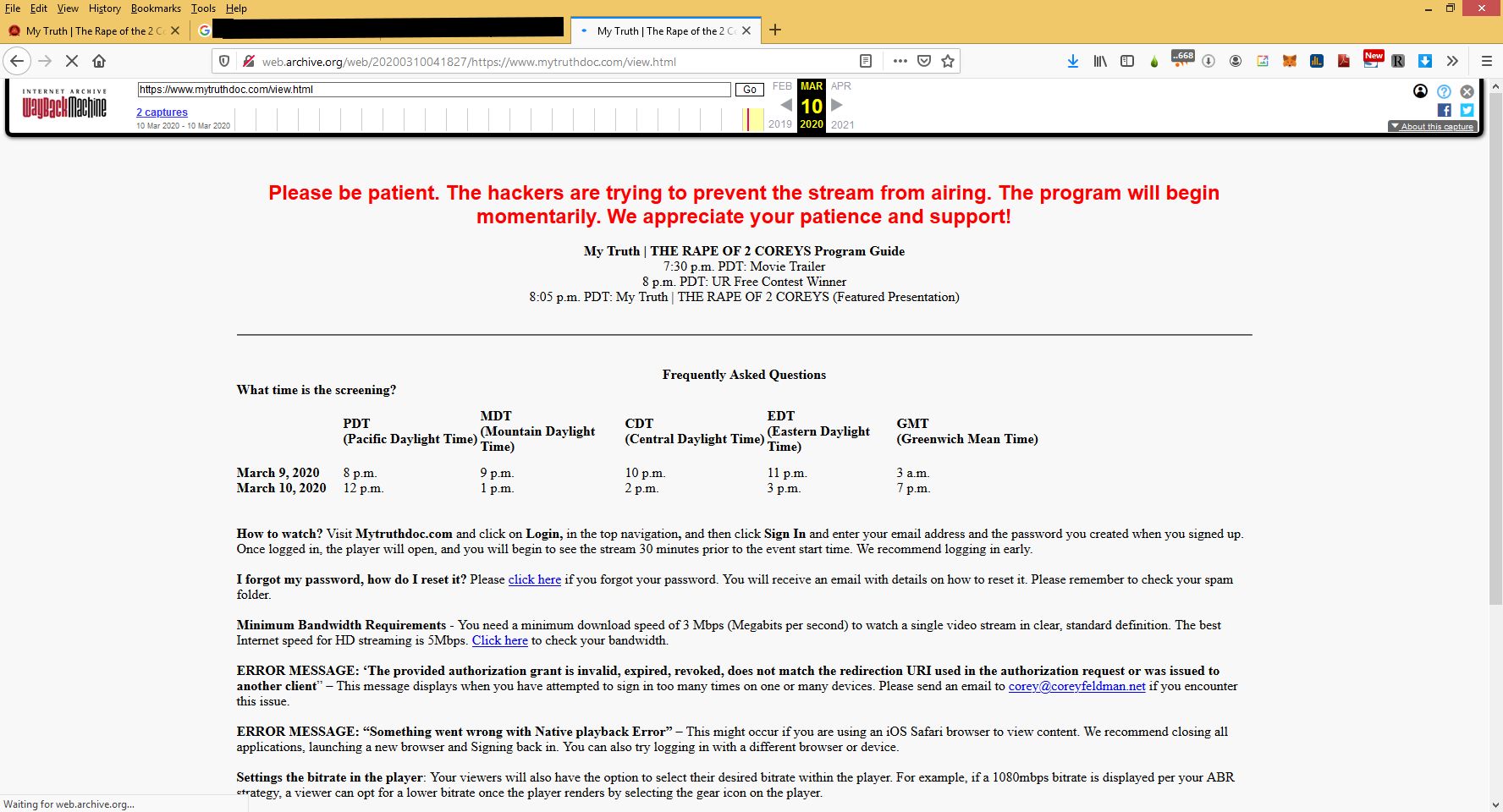 There you have it everybody, even the website which was to have hosted the documentary "My Truth | The Rape of the 2 Coreys" by Corey Feldman admitted that they had been under hacker attack. Likely a DDoS attack, maybe even online exploits.
If there is any good decent non-corrupt agent within the FBI, that is the Federal Bureau of Investigation needs to analyze the server logs and track down the hackers who hacked Corey Feldman's website. The PEDOPHILE RINGS ARE AT WAR WITH US. It is time to win the information war and defeat the pedophile rings once and for all. Just because Jeffrey Epstein was likely murdered and did not kill himself, doesn't mean that the investigations will stop. Long Live Corey Feldman. Expose the truth and don't let the hackers get in your way.
Update at 3:38AM: https://twitter.com/GrantCotter/status/1237240958401404928 – Video won't embed on here. See the video by clicking on the Tweet. Try this Tweet: https://twitter.com/jmoconfidential/status/1237225640656392193
So @Corey_Feldman is doing a screening of his big documentary and the movie was hacked ?WTF this sounds so fake! pic.twitter.com/C59ufE3FOu

KEEM 🍿 (@KEEMSTAR) March 10, 2020

https://platform.twitter.com/widgets.js