by Laurie Azgard
Update July 10, 2020 1:16 AM: Read update article, U.S. Supreme Court received letter from USWGO news Brian Hill to give consent for Amicus Curiae/Brief and extend time for any lawyer or law professor to file a brief with SCOTUS
I have received a email from Brian's mother with documents from Brian D. Hill [USWGO alternative news]. Brian is filing a letter with the United States Supreme Court. Brian is giving them consent to have an outside attorney or party to file an amicus curiae type of brief. An amicus brief is considered a brief from a 'friend of the court'. It is a special brief which can contain case law and any other relevant information which can aid the justices or judges of a court into making a decision that can create a probability of a big precedential outcome in the case law precedent.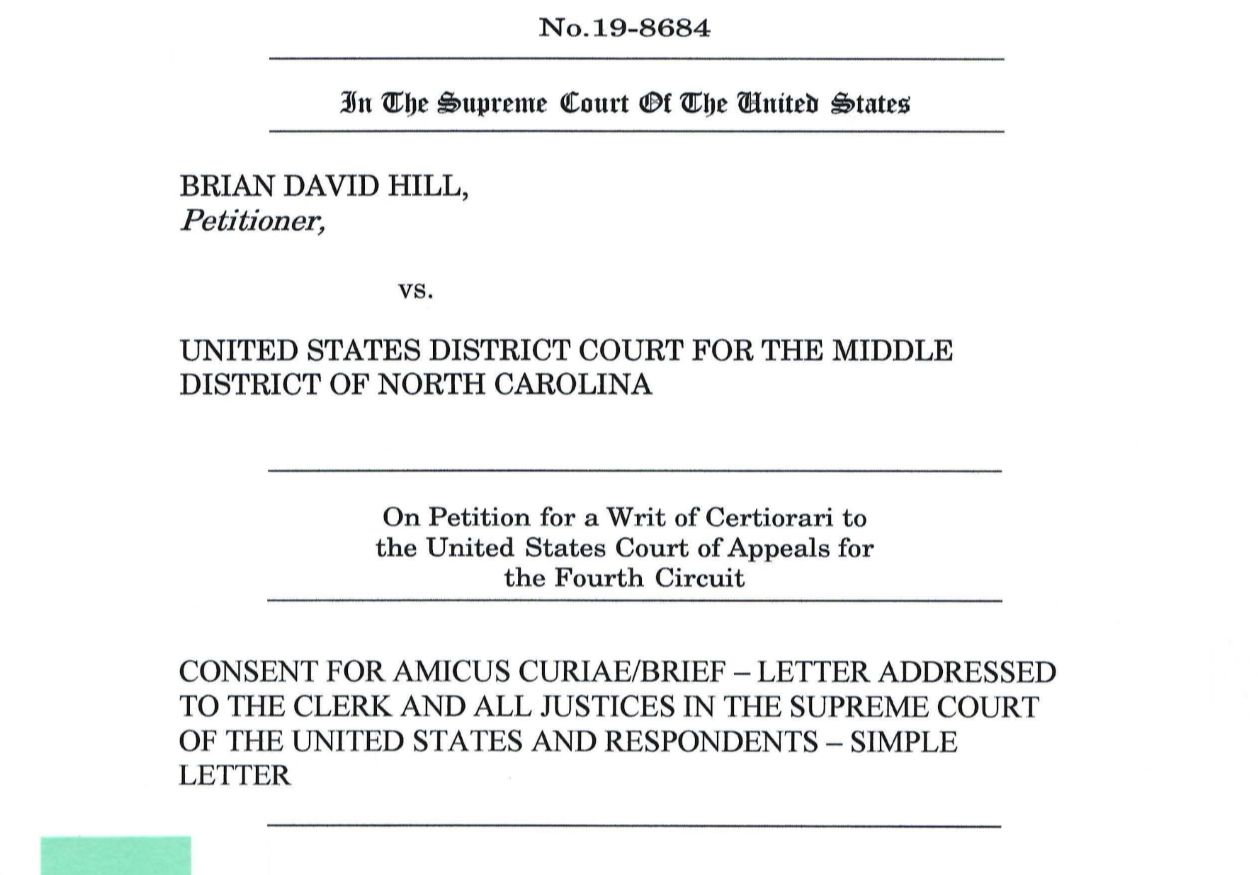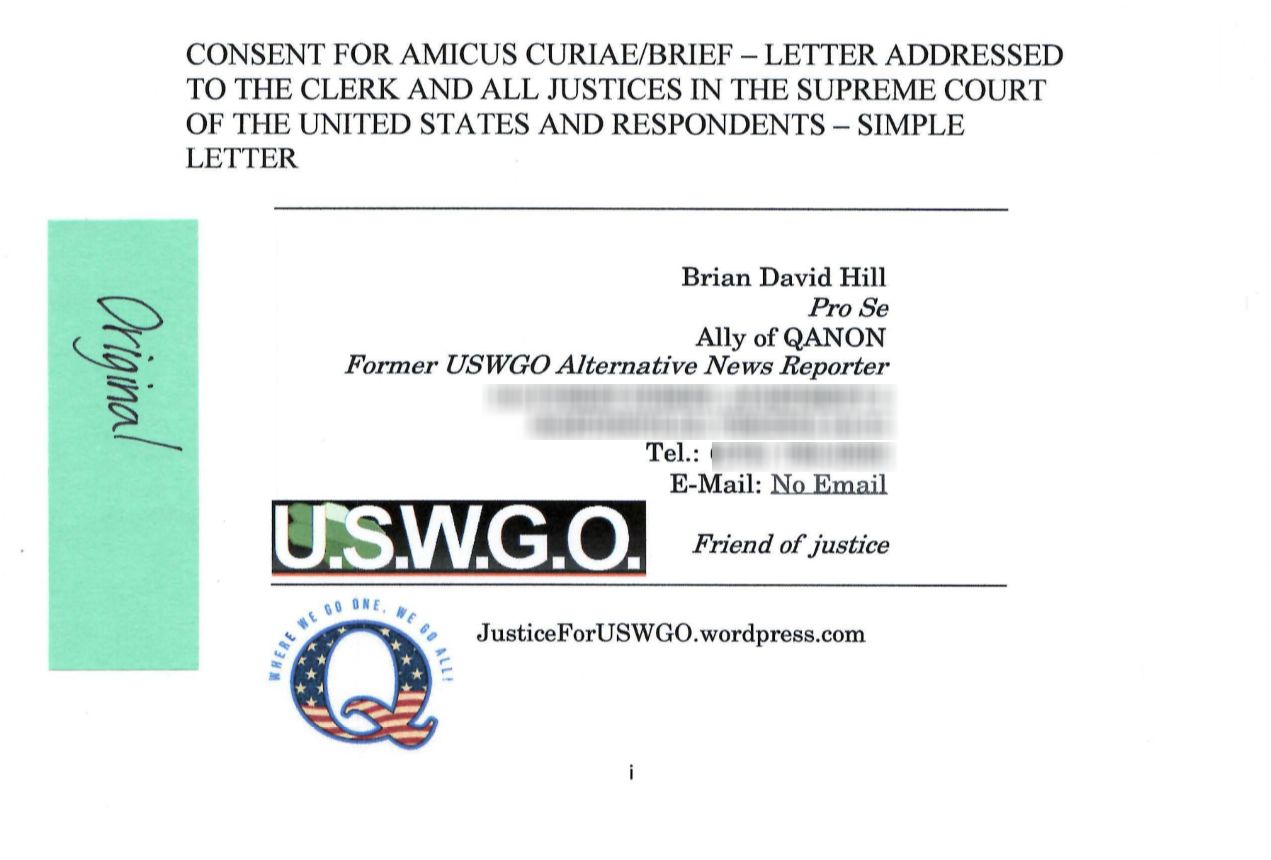 This simple letter, gives consent for any lawyer, legal advocacy organization, or even any law school to file an amicus brief in this U.S. Supreme Court case [Case # 19-8684].
This campaign does not have the method of filing or tracking number of filing for this article. However I assume that it is also being filed by mail in the U.S. Supreme Court.
The issues for the amicus brief / curiae happen to be, again in regards to 'fraud upon the court' and a judge not acting on motions assigned to him or her by the court.
Brian argues in this letter that the judge acts in excess of jurisdiction when the judge does not act upon a motion at all.
Main letter
Affidavit of service
Quote from the letter:

The Petitioner hereby gives written consent to this Court for any outside attorney, law school, legal advocacy organization, or party/officer to file an Amicus Curiae/brief under Rule 37 of the rules of this Supreme Court.
Petitioner also likes to raise the important issues of why he consents and encourages the Solicitor General to also consider whether or not he/she will be giving consent for an Amicus Brief to be filed with the Court by an outside party/officer/attorney as to why the petition should be granted as a matter of national importance and prevent any conflicts with precedential case law.
More from the document:

The petitioner is putting his reputation on the line and has already proven his claims. The U.S. Attorney Office for the Middle District of North Carolina did not file any contest/responses to Petitioner's motions for sanctions for frauds upon the court. That same U.S. Attorney Office did not file any response to the fraud upon the court claims of Petitioner in his objections to the U.S. Magistrate Judge's order and recommendation to dismiss Petitioner's 2255 case. All of that was raised on the record within the Writ of Mandamus at issue in this Supreme Court case, and none of these are new and are completely within the "Record On Appeal" ("ROA"). Usually motions that bring forth allegations against an officer of the court have to be true or the Movant can be subject to some form of sanctions and penalties to protect the Court as per it's inherit or implied powers. When the officer refuses to respond or ignores the response deadline as if it doesn't exist, that is at their own peril. If somebody filed allegations against me and I didn't respond timely, it would be at my own peril. Usually when a motion is not contested in the District Court, the claims are usually true, it should have been granted ifit is well-grounded in law and in evidence.
The Writ of Mandamus was appropriate and the petition for Writ of Certiorari was appropriate under the ROA, and will not waste the time of this Court. An Amicus Curiae/Brief will help with any relevant documented research into case law necessary to show that the non-favorable decision by the U.S. Court of Appeals at issue in the Writ of Certiorari in this case won't just conflict with the case law precedent by this Supreme Court, but also may go into conflict with state and federal District Courts, Circuit Courts and Courts of Appeals that all made different rulings on the issues of"fraud upon the court" and judges not acting upon properly filed motions referred to him/her by the Clerk of that Court. Both of those issues deal with the integrity and responsibility of the judicial officers of each respective court.
The issues of being allowed to lie, subornate perjury, or commit any kind of fraud in the U.S. District Court sets the precedent throughout the entire Fourth Circuit and beyond even that Circuit of appellate Courts, that it is okay to commit fraud in court, it is okay to lie to Federal/State Judges, that it okay as an officer of the court to be deceptive in the prosecution of a case, and that nobody will ever get in trouble for defrauding the court and breaking any kinds oflaws that would make Al Capone blush, yes that Al Capone referenced in the historic case: United States of America v. Alphonse Capone, October 17, 1931. This case will affect the cases of Roger J. Stone, Lt. General Michael Thomas Flynn, and other high profile cases if any criminal prosecutions against them were done via any fraud/frauds upon the court.
The letter appears to be a short 4-page letter asking for an extension of time for an amicus curiae to be filed by an outside party to the case. It also appears that the letter is meant for all Justices and the clerk of the Supreme Court to review over it before making a final decision on whether to deny or grant writ of certiorari for the case of 'Brian David Hill v. United States District Court for the Middle District of North Carolina' but was originally given the title of "In re: Brian David Hill" in the fourth circuit of federal appeals.
See the photos from other articles referencing the very case that this letter is talking about in case you haven't kept updated with the news surrounding this political federal criminal case.