Note: These letters are being made public because we don't even know if President Trump is even seeing these letters with those working in the White House working against the President and leaking stuff to the corporate press. As they are made available online, this gives President Trump a chance to read each and every letter.
by Laurie Azgard
Brian's family have now uploaded some documents that show Brian D. Hill, formerly of USWGO alternative news have been mailing weekly letters, evidence, and reports to "The White House" directed to U.S. President Donald J. Trump to request that Brian receive a full pardon in his federal criminal case. The documents include a mailing log of each week of mailing, keeping an official record of all of his attempts at mailing the President of the United States. Brian had already mailed the White House for 8 times now and counting according to the mailing log records. Very detailed for such record keeping. The military could use Brian's record keeping skills in any arrests made of the deep state swamp.
Brian in his more recent letters have been begging the White House to let him testify at a military tribunal or tribunals as a federally protected witness and has asked the White House to protect him from any future deep state attacks which include wrongful supervised release violations, carbon monoxide, and of course the car breaks messing up multiple times in a short period of time which may have been yet another attempt to kill Brian and his mother by a car accident. Brian may very well be a victim of the corrupt CIA.
Brian had been mailing the documents, discs, and evidence to The White House each week, according to the mailing log, at different locations of post offices. It looks well documented, each and every attempt he had at mailing President Trump in his bid to push for a full unconditional pardon for being a victim of judicial corruption. It is unclear why his family had released this information to us, probably at the direction of Brian. Brian has been increasingly worried that if Joe Biden becomes President by stealing the election, he "will never be acquitted" because Brian said in audio that the deep state will run all of "our courts". Brian had also been concerned that with a pedophile being in the office of the President, more than likely the Feds will start framing certain individuals with child pornography again like with the attempts on individuals like Luke Rudkowski, Stewart Rhodes, successful attempt against Brian D. Hill, and even the attempt on Alex Jones. It will likely escalate as the federal courts are very corrupt, non-empathetic, and make everybody take guilty plea agreements or face the maximum imprisonment term if they refuse to accept responsibility for the crime that person was accused of.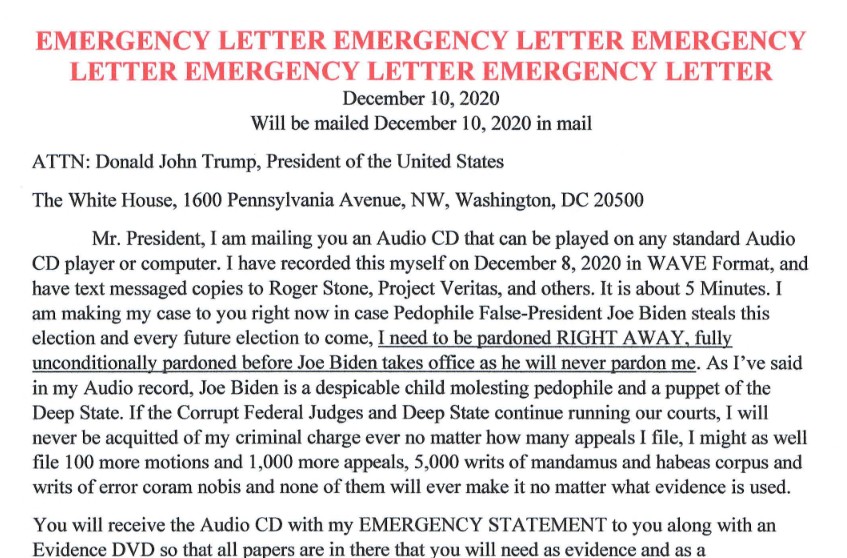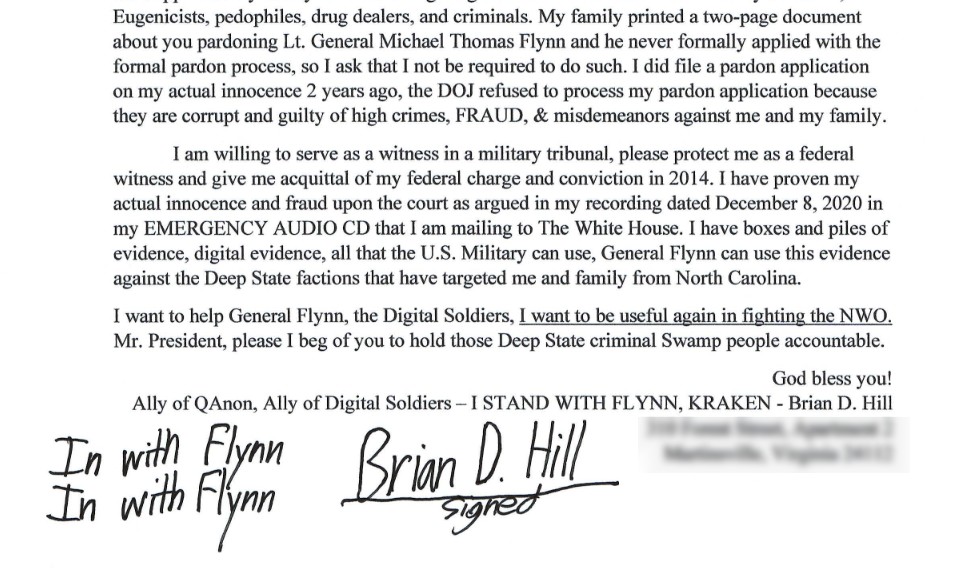 See articles:
Open letter to Lt. General Michael T. Flynn and #DigitalSoldiers – Dated November 1, 2020
AUDIO: Brian D. Hill of USWGO Alternative News begs for a full pardon NOW
See the documents:
https://archive.org/details/evidence-and-papers-for-the-white-house-december-4-2020 – A cache of documents, other files that appeared to have been mailed to the White House on a CD or DVD disc

https://www.mediafire.com/folder/w95m1zl8m8fi4/Evidence_and_Papers_for_The_White_House_-_December_4%2C_2020https://archive.org/details/evidence-and-papers-for-the-white-house-december-4-2020 – A cache of documents, other files that appeared to have been mailed to the White House on a CD or DVD disc

documents-to-mail-to-the-white-house-with-december-4-2020-letter (ocr).pdf – Documents in pdf format that he had previously mailed to the White House. The pdf file is also shown in the mailing log and screenshot of a DVD disc contents, a record of what was mailed to Trump. The documents were apparently mailed to the President on December 4, 2020

december-4-2020-letter-to-president-trump-on-evidence-of-judicial-corruptionscan.pdf – Letter to President Trump on judicial corruption – December 4, 2020

december-10-2020-emergencyletter-to-president-trump-on-evidence-of-judicial-corruptionscan.pdf – An emergency letter to President Trump requesting him to pardon Brian and allow him to speak before a military tribunal as a federally protected witness of federal corruption – December 10, 2020

uswgo-white-house-mailing-log.pdf – The mailing log of each and every week that he had mailed the White House. The log is updated as recent as December 10, 2020
Brian had shown that in his federal criminal case, the assistant U.S. attorney Anand Prakash Ramaswamy had 21 days to respond to each and every allegation of fraud upon the court as was also outlined in his final motion to make a decision and grant the uncontested motions. After 21 days, the attorney or attorneys of a responding party in a case have waived their right to respond, the motions can never be objected to or contested. That means if a motion is uncontested that the alleged evidence and allegations become facts and have merit. The DisHonorable Nazi Judge Thomas David Schroeder of Winston-Salem, NC claimed all affidavits, witnesses, case law authorities even as far as the United State Supreme Court and any other tangible evidence was meritless and even said frivolous. Brian filed a notice of appeal telling this judge that he will push for his impeachment in Congress. Brian filed an appeal brief with the same arguments as his statement to the President that Brian is entitled to acquittal completely of any or all charges as a matter of law including the supervised release violations.
Brian even spoke before the Virginia Supreme Court 11 days ago on December 1, 2020. Brian asked for acquittal in his state case on mainly the ground of his actual innocence.
Vimeo streaming video link
Soundcloud streaming audio link
The audio of Brian asking for a pardon is also live on YouTube for now until it is likely censored.
YouTube video link
Brian also had asked the President to pardon him in case of facing a contempt charge over calling for Judge Schroeder's impeachment in his notice of appeal. The President had pardoned former Sheriff Joseph Arpaio over a federal criminal contempt charge over his duties of his respective office by a political Obama appointed federal judge. Judges are not god, they are not Jesus, they cannot hold indefinite power over everyone. Judges were only supposed to interpret the laws and decide how they apply to each case or controversy that arises in their courts. Unconstitutional laws are null and void. Unconstitutional actions are unlawful, null and void. Former U.S. President Thomas Jefferson from the very beginning of the United States of America had forewarned about the federal judiciary being given way too much power and that U.S. Congress should be regularly impeaching federal judges over any tyrannical decisions they make to keep them in check. These days judges refuse to hold corrupt police accountable and corrupt CPS accountable which had contributed to the rise of the #BlackLivesMatter movement, as well as a severe hatred of our police. The courts have even been legislating from the bench for a while now as judicial activists following a living Constitution, for decades. They make their own laws and make their own decisions outside of the law and outside of the U.S. Constitution and yet provide no relief to those aggrieved. A constitutional right without remedy is no right at all. As some lawyers argue. The federal judges that are so corrupt today cannot hold a candle to Judge Samson of the bible, and King Solomon, two of the fairest and common sense judges of our biblical judicial history. These tyrannical judges are following Satan and/or Lucifer, they could care less about their reputation over their very corrupt actions. They follow and implement the "BEAST SYSTEM".