Note: Directly part of article: USWGO News Brian D. Hill files Trio of U.S. Supreme Court petitions to Nullify Criminal Conviction; curtail Fraud on the Court; asking to impose Mandate/Prohibition on Autonomous Federal Courts ignoring Actual Innocence Exception to Anti-Terrorism AEDPA – Justice for Brian D. Hill of USWGO Alternative News; Brian D. Hill of USWGO Alt. News files EMERGENCY MOTIONS in U.S. Supreme Court; asking for Leave of Court until Corrupt Federal Judges and U.S. Solicitor General Elizabeth B. Prelogar responds or files opposition briefs – Justice for Brian D. Hill of USWGO Alternative News
Update article: Brian D. Hill of USWGO Alt News files Judicial Complaint against Judges for Discrimination, again asserts possibly Blackmail; complaint against Judge Thomas David SSchroeder and William Lindsey Osteen Junior – Justice for Brian D. Hill of USWGO Alternative News and U.S. Solicitor General waives right to respond to all of Brian's trio Supreme Court petitions which may be an attempt to push for the Supreme Court to toss them all out – Justice for Brian D. Hill of USWGO Alternative News
Update connected articles: Clerk of the U.S. District Court in Greensboro, NC refuses to file Letter regarding Lin Wood tweets about child rape and murder – Justice for Brian D. Hill of USWGO Alternative News; Brian D. Hill files trio letters with U.S. Supreme Court requesting that the U.S. Government respond for its fraud; that U.S. Chief Judge SSchroeder and U.S. Judge Osteen Junior answer for ignoring the laws – Justice for Brian D. Hill of USWGO Alternative News; Email to U.S. Solicitor General Elizabeth B. Prelogar: "This has to come to a resolution., In Re: Brian David Hill; you should respond or file opposition brief" – Justice for Brian D. Hill of USWGO Alternative News
Author: Stanley Bolten
Today, the U.S. Supreme Court had docketed the trio of petitions filed by Brian D. Hill , formerly of USWGO Alternative News. Trio of petitions asserting that the U.S. Court of Appeals for the Fourth Circuit and the U.S. District Court in Greensboro/Winston-Salem, North Carolina had inappropriately refused to follow the case law precedents set by the Supreme Court. The case law authorities such as the Constitutional right to a Jury Trial for supervised release violators who are charged and accused but not yet convicted of a supervised release violation. Constitutional rights such as the inherit powers of Federal Courts to vacate fraudulent begotten judgments when a judgment is grounded upon fraud. Constitutional rights such as the right to prove factual innocence to a criminal conviction that your actually innocent of. That the Anti-Terrorism and Effective Death Penalty Act shall not abate actual innocence claims. All of that had been docketed today, on October 21, 2021. All were considered filed on October 8, 2021, because that was the date when the UPS label was generated by Roberta Hill, Brian's mother. All three petitions were mailed in the same box with the USWGO Logo affixed to the box with the words: "JUSTICEFORUSWGO.WORDPRESS.COM – GOD – JESUS – COUNTRY – JUSTICE – FREEDOM – LIBERTY – NO CORRUPTION".
See for yourself at the Supreme Court's website (the three filed together marks the name of "Trio Petitions for SCOTUS" by Brian D. Hill:
No. 21-6036, Brian David Hill, Petitioner v. United States
No. 21-2037, Brian David Hill, Petitioner v. United States
No. 21-6038, In Re: Brian David Hill
Petition for Writ of Mandamus or Prohibition (Petition 3)
Joint Appendix for Petition 3
Petition for Writ of Certiorari (Petition 2)
Petition for Writ of Certiorari (Petition 1)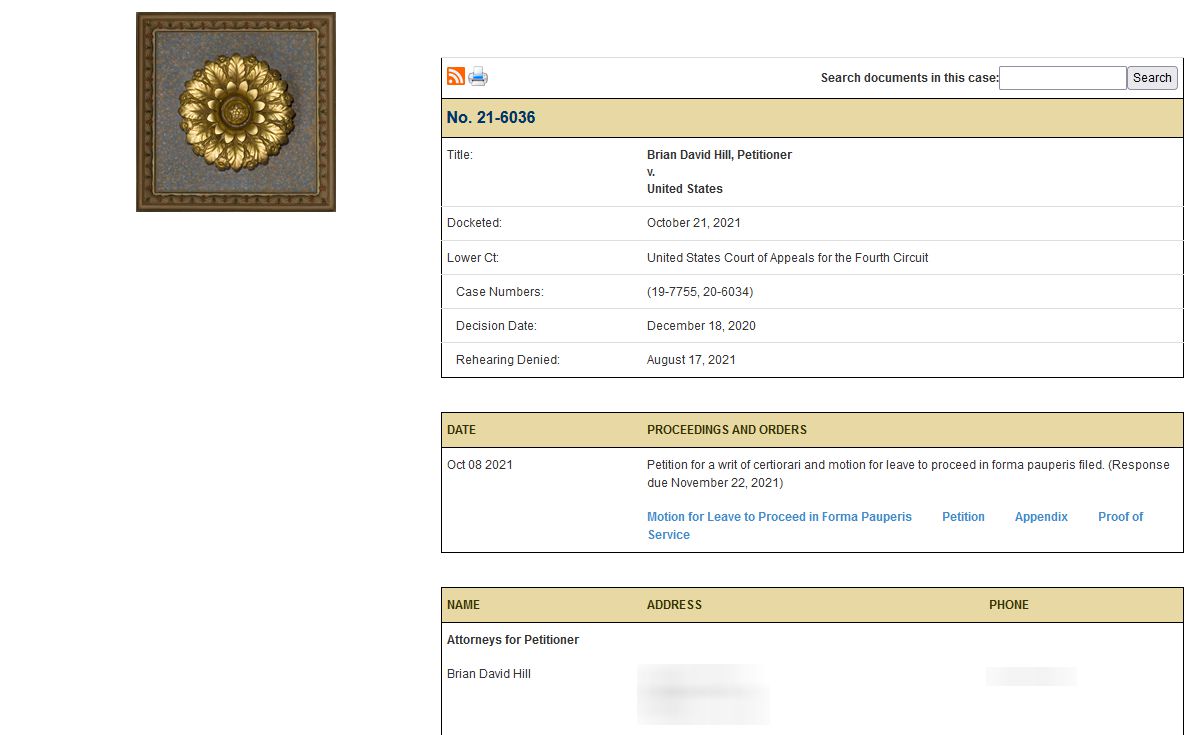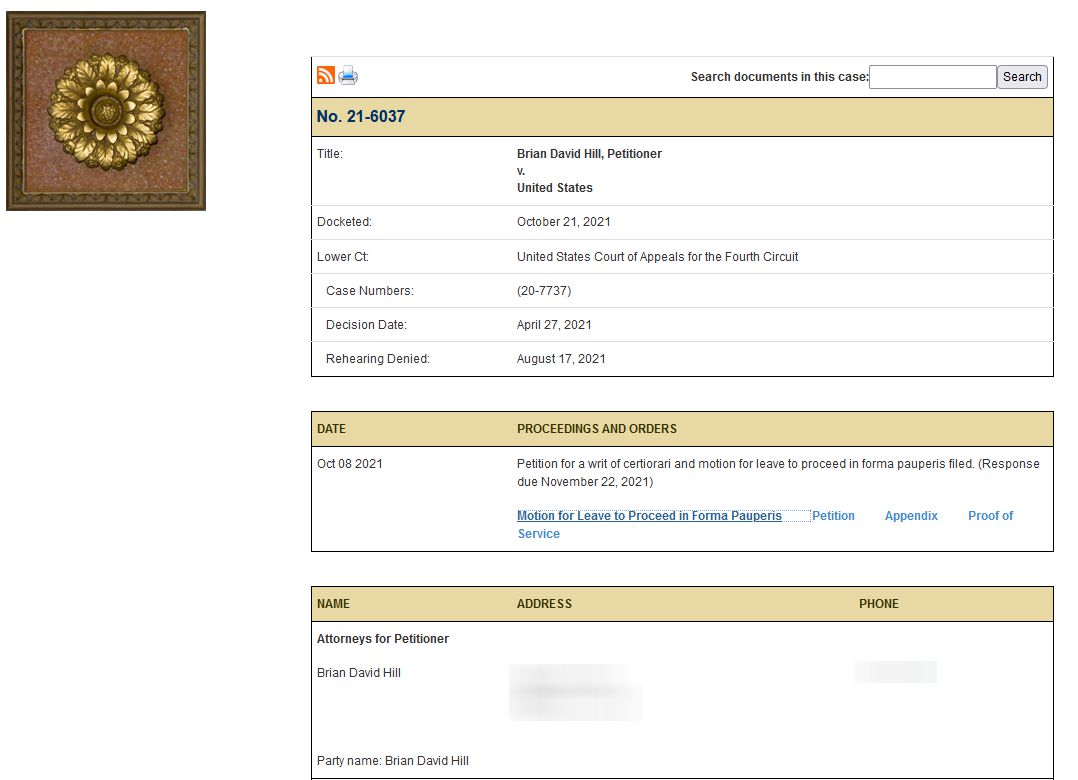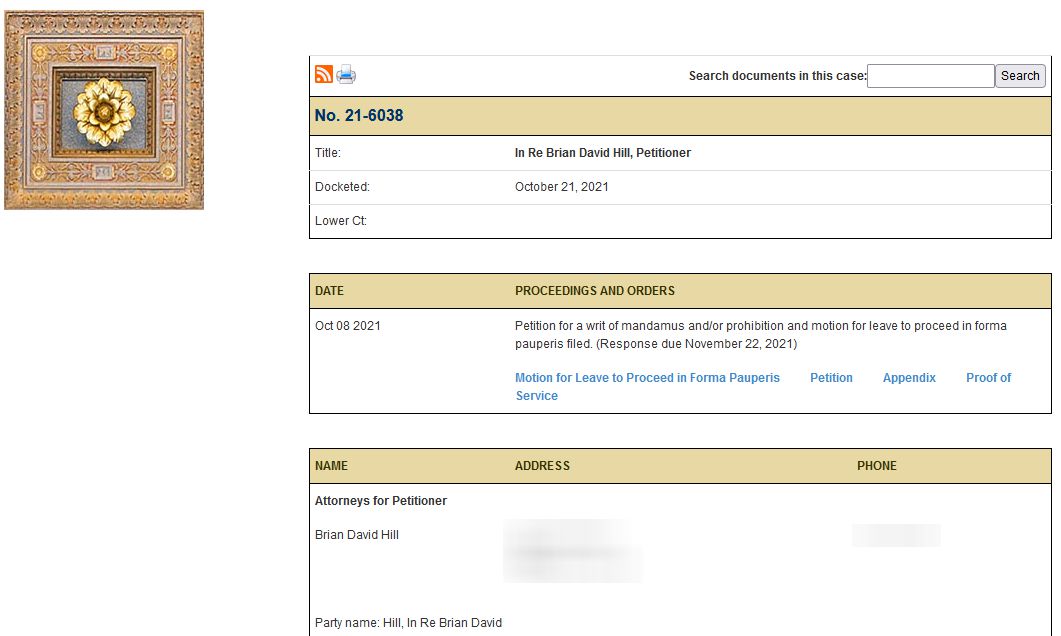 The petitions are now in, all three trio petitions have a response deadline for November 22, 2021, on all three petitions at one time. The U.S. Solicitor General may decide to ask for more time, which also means that the trio petitions are going to be ruled upon right around the time when serial child trafficker Ghislaine Maxwell (was MOSSAD with Jeffrey Epstein) is set to have a jury trial over child sex trafficking and sexual abuse on November 29, 2021. Either right around that time or after which would be better as whatever Ghislaine Maxwell says in regards to compromised officials (like Prince Andrew for example) and judges may end up derailing the corruption of our Federal Government. Not just the Federal Government but the judges being blackmailed in our Federal Courts, our Courts will be derailed by these type of allegations or misconduct. Then America will have to temporarily go under Military Martial Law because then our Federal Courts cannot operate without obstruction, therefore the Military will have to take control of our Courts until all of this gets sorted out to prevent any further abuses of discretion and miscarriages of justice. Ghislaine Maxwell holds the keys to the corrupt politicians and judges or even justices who may have raped children while being videotaped to be used as blackmail materials. See article: @LLinWood L. Lin Wood's Tweets makes it clear, it is HIGHLY LIKELY our Federal/State Judges and Politicians are being Blackmailed, Threatened; possibly with Child Rape and Murder!!!!!! – Justice for Brian D. Hill of USWGO Alternative News
Also there is no Respondent entered or listed as of yet on the Mandamus or Prohibition petition in the U.S. Supreme Court. No attorney has filed a notice of appearance as of yet in the case. The DisHonorable Judge Thomas David SSchroeder, William Lindsey Osteen Junior, and U.S. Magistrate Joe Webster have yet to file a response or have an attorney enter a notice of appearance or response as of yet. It will take a month or less, or more, until responses are entered to Brian's petition.
Brian will finally push for Judge Schroeder, Judge Osteen, and Joe Webster to explain why they are bucking the decisions of the U.S. Supreme Court. Asking why they would commit high treason for their petty ambitions. If it was because of being blackmailed with child rape and murder or blackmailed with any other crimes, then those Judges need to be arrested and tried for their high crimes and high misdemeanors. As to the Federal Judges who were being threatened (threatened by the Deep State) with murder or murder of their family members, they will not be arrested but they will have to reverse any bad decisions they ever made in the Federal criminal and/or civil cases in which they were assigned if threats of murder or harm had caused such bad judicial decisions. Those decisions would be fraudulent on its face. Justice will be done to many, we hope that to be the case.
See the videos of Brian being held hostage by Thomas David SSchroeder.
Time to finally hold these Corrupt Federal Judges accountable. They may have gotten away with ignoring evidence, ignoring witnesses, engaging in partiality and being okay with fraud being perpetuated on their Courts. However, they are also ignoring and bucking the well grounded decisions of our U.S. Supreme Court. That is TREASON, that is bucking the highest Constitutional Court of the United States of America. This cannot be allowed in our republic. The inferior Courts are statutory creations by acts of Congress and cannot override the Supreme Court at their whims. Federal Courts cannot buck the Supreme Court and cannot say they can rule however and whatever they want and refuse to follow the decades and centuries of Supreme Court decisions. However, the laws can change overtime which can invalidate an earlier Supreme Court ruling, but Constitutional rulings usually stand unless it is overruled at a later time by a new Supreme Court ruling to invalidate an older ruling. However, even AEDPA cannot abate an actual innocence claim. Jury trials are a CONSTITUTIONAL right given to all criminal defendants and supervised release violators. The Supreme Court is in the right for making such a decision in the case of Andre Haymond v. United States despite how despicable Andre Haymond is, The Supreme Court is in the right for the constitutional right to a trial by jury as to a supervised release violation charge (which carries imprisonment) which is a criminal case prosecution being mislabeled as a sentencing enhancement. Jury Trials is enshrined in our Constitution of the United States of America.