Author: Stanley Bolten
This is an ongoing journalist-type investigation. However information is coming within the Jarrin Jackson Telegram group, on Telegram chat systems. Many patriots are using Telegram including Attorney Lin Wood, Alex Jones, Pete Santilli, and many others. This person alleged that she was added as an admin to a "child porn" group. With hundreds to thousands of images of "child porn" as she had allegedly claimed. This matter is being investigated, watch for any further articles over this matter. Jarrin Jackson is a popular christian military vet. Doesn't hide the fact on his Telegram (referring to Jarrin) that he knew or knows Attorney L. Lin Wood. Child pornography aka sexual abuse images are being used as a WEAPON right now and has been used since 2013 because of the Deep State and their blackmail operations. Child porn is a WEAPON which communists, pedophile ring scumbags, or any soulless dirty trickster will use to destroy their political enemies, their political targets, have them permanently stigmatized, and ruined forever causing either suicides, imprisonment, probation, Sex Offender Registration, and a life of HELL. It is the perfect weapon to ruin somebody. That is why the dirty corrupt Deep State Feds keep using child porn because it is effective when they prosecute people over simple possession which is easy to fabricate. All they need is to plant one photograph of a naked child abuse photo and that is it, charged with possession can happen, easily fabricated by the prosecution. It is coming and patriots need to take precautions if they haven't already.
See the screenshots below this paragraph of this alleged child pornography set up plot or scheme. This may be directed at the patriots worldwide including the American patriots who want to take back the United States of America from the Deep State and their Swamp critters. The name of this witness is not being shared on this article until further investigation has been conducted as to the credibility of this claim. Oath Keepers had warned in 2013 about a plot to frame up patriots with child pornography. Brian D. Hill tried to warn patriots that the Feds under Pedophile President Joe Biden (and his pedophile son Hunter Biden) will frame up patriots with these filthy child sexual abuse files just like during the Obama Administration. Somebody who worked with a child porn set up group called the Political Hackerz Squad claimed that the Obama Administration would pardon those who helped frame up activists and patriots with the abuse images, as so they had allegedly claimed. Of course a pardon would not be necessary if the Feds just don't arrest those who were officially permitted to frame up others with child porn files to ruin them forever. So this is Deep State heinous corruption and terrorism. TERRORISM is what this is. TERRORISM USING CHILD PORN of kids being raped. This is what I had feared was coming after Joe Biden got back into the White House again like when he was voice-president from 2009 to January 2017.
"Thousands of images of child porn sent to me as a daily attack. They made me the admin of a child porn group on telegram so that I would get all the requests to buy a baby as a sex toy." (citation)

Her message on Telegram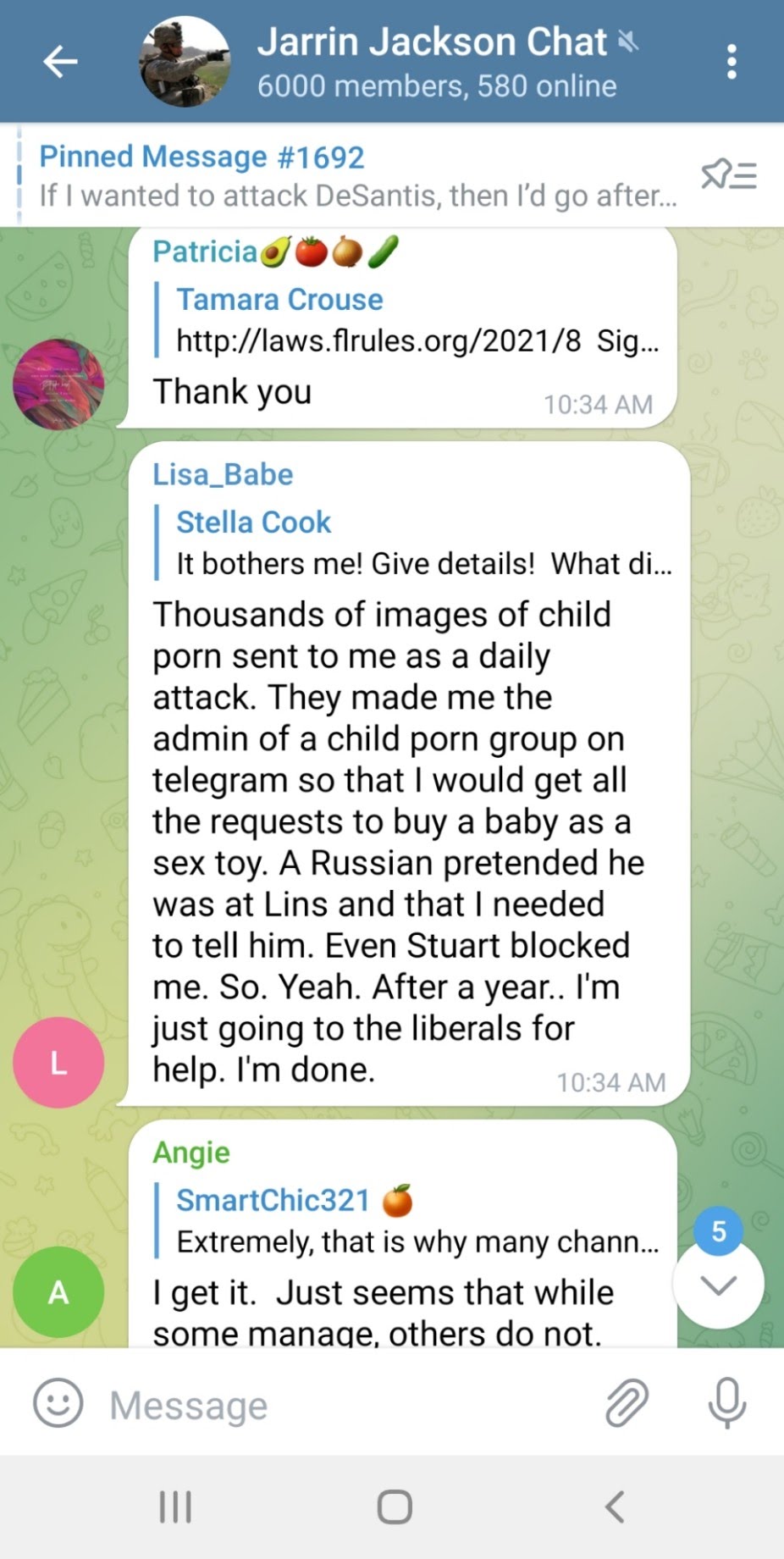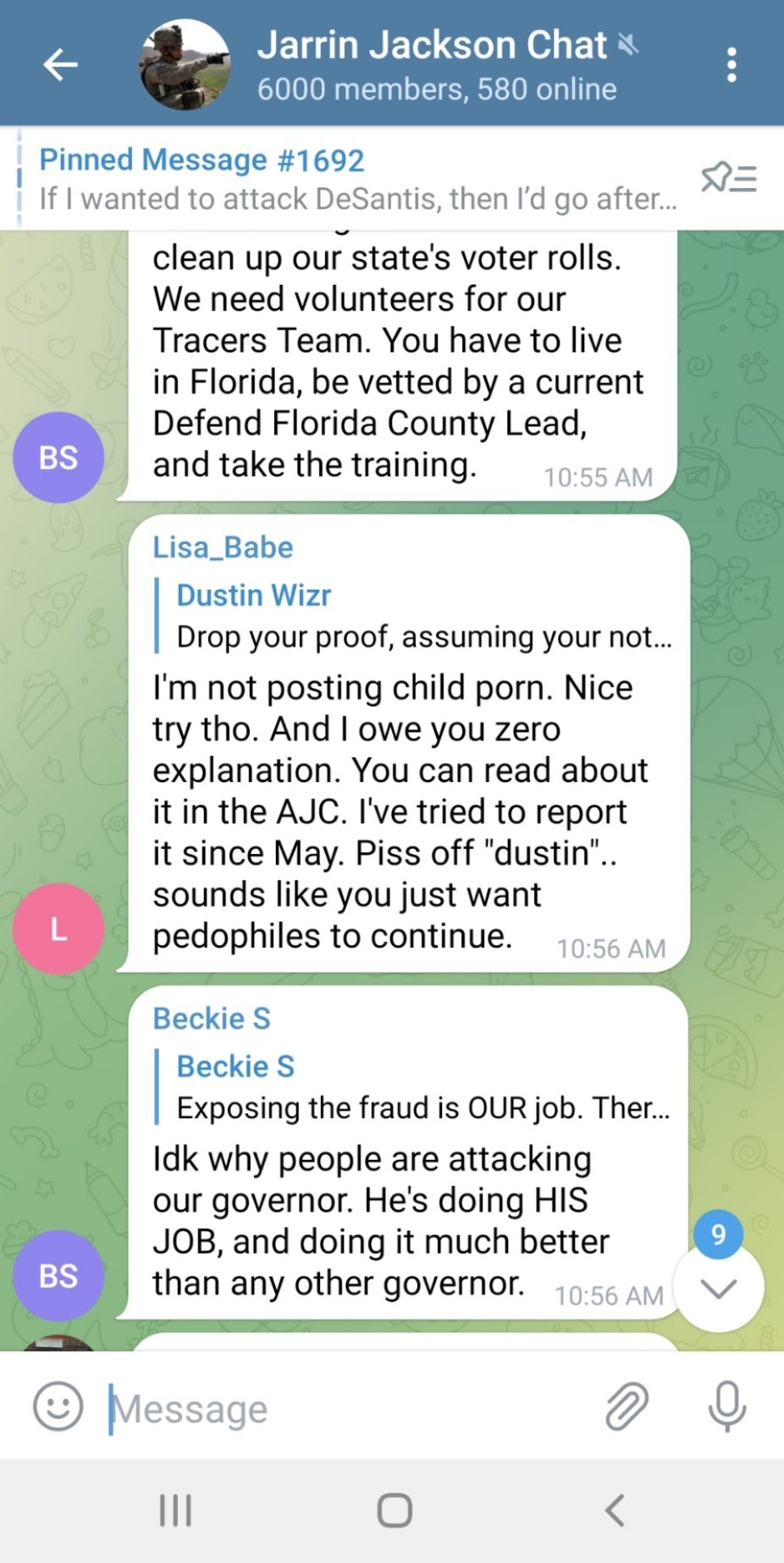 https://wearechange.org/case-brian-d-hill/ – Evidence regarding set up of Brian D. Hill
https://www.youtube.com/watch?v=zislzpkpvZc – Evidence of set up attempt on Luke Rudkowski
https://www.youtube.com/watch?v=i2WwPdab_Lc – Ian Freeman was raided by FBI on suspicion of child porn, frame up attempt seems to have been foiled as he was never reportedly convicted of child porn. They are trying to target him over Bitcoin now.
This is scary. They are trying to set up patriots with child pornography again like they had done with Brian D. Hill, Stewart Rhodes, Ian Freeman, and Luke Rudkowski. The CORRUPT CIA may be deciding to massively plant child porn on patriots and have them police raided or FBI raided by the ICAC task force or just thugs wearing badges and guns. Like the frame up of Matt Dehart.
See article: ALERT!!!! ALERT!!! Attempted Set Up of Millie Weaver with Child Pornography – Justice for Brian D. Hill of USWGO Alternative News