Author: Stanley Bolten
Now we are receiving more attacks, likely by the Biden DOJ — Department of INJUSTICE. For six years I have never been accused of abuse or fraud by ProtonMail. Even Attorney Lin Wood and Tracy Beanz takes interest in the emails we send out about the information war against the deep state pedophile Federal Judges and corrupt DOJ Federal prosecutor demon Anand Prakash Ramaswamy. ProtonMail disables me sending emails telling me "Message sending disabled due to abuse or fraud". There are a few suspects of who reported StanleyBolten@protonmail.com for committing the HEINOUS ACT OF EXERCISING FREE SPEECH. It may be Anand Prakash Ramaswamy of the Middle District of North Carolina U.S. Attorney Office or John Alsup of the Middle District of North Carolina U.S. Attorney Office. We may be under CIA or NSA or U.S. Attorney coordinated Deep State Assault campaign against us!!!!!!!!!! They are out to get us after the critique email as well as the two latest articles we typed up: (1) The USWGO Federal Court case archives are now available on Mega, Mediafire, and Google Drive for your convenience, as far as April 23, 2022, archives of Hill v. USA – Justice for Brian D. Hill of USWGO Alternative News; (2) Dishonorable Judge Joe Webster disregards all evidence; disregards credibility of Attorney L. Lin Wood not being delusional – U.S. Attorney Asst. Ramaswamy may lie about Brian, Lin Wood, Stella and Kenneth Forinash in 9 days – Justice for Brian D. Hill of USWGO Alternative News
Before we were suspected of "abuse or fraud" for the entire six years of using StanleyBolten@protonmail.com, we sent a nice little email calling Ramaswamy a few names as well as calling him a LIAR for being a liar in the corrupt Federal Court System. He cannot take some well-deserved criticism. What a liberal!!!!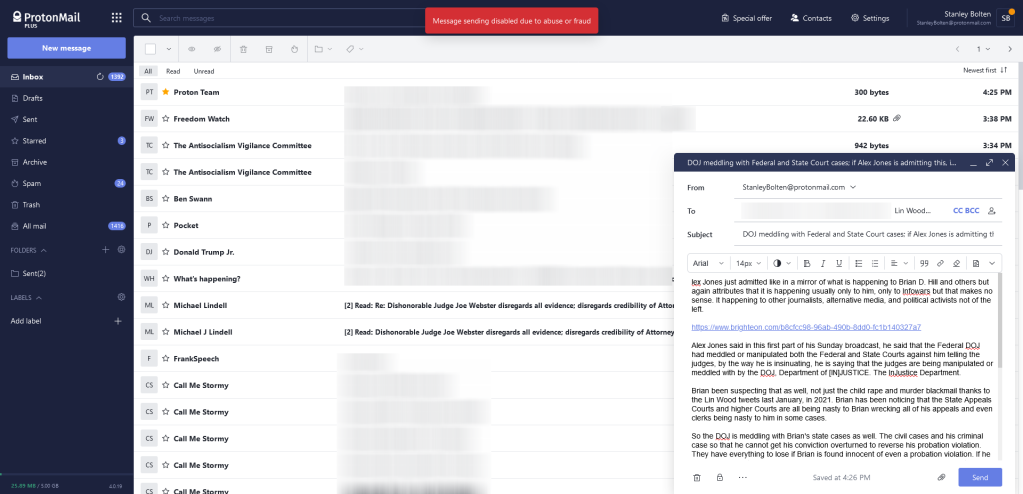 We sent customer support tickets to customer service asking why we were being accused of "abuse or fraud". We suspect that Anand Prakash Ramsswamy didn't like me calling him "dips#it" or a liar for planning to lie about Lin Wood, Stella and Kenneth Forinash, and Brian D. Hill of USWGO Alternative News. Either he or John Alsup reported our email to ProtonMail accusing us of abuse or fraud, just for exercising some well criticizing freedom of speech. So now calling a corrupt lying crime committing Assistant U.S. Attorney a few cuss words and calling him a liar is now being abusive or committing fraud!!!! Doesn't the U.S. Attorney believe in the first amendment of the U.S. Constitution as long as I am not threatening them???? It isn't abusive to exercise the first amendment when sending a email to the corrupt U.S. Attorney with the truth and facts. Those emails will also be posted and uploaded on here. All emails have been purged from my protonmail.com account (in case they try to raid Protonmail next or subpoena them) and I ask people not to contact me at that email address at this time. It may be under attack by the Middle District of North Carolina corrupt federal prosecutors. UNDER ATTACK BY THE DOJ. I have nothing to hide here. Here is the emails below of the very email, email to tech support, and read receipts.
ProtonMail help desk support ticket and successful receipt of inquiry on why Stanley Bolten is now labeled as abusive and fraudulent, possibly by the U.S. DOJ.
Here is the email which Ramaswamy may have got offended and had possibly engaged in retaliation towards the words of that email. We have the first amendment to call these corrupt criminals a few names but they take a few cuss words to the greatest offense because they are gods, well they think they are untouchable gods. Email to Ramaswamy and alternative media including Attorney Lin Wood. Even if there is a chance Ramaswamy emailed Protonmail abuse email address accusing us of abusive language, we have something called the FIRST AMENDMENT as long as we are not threatening anybody, that telling the truth and making some emotional remarks is part of the First Amendment. This man is a bully and having the judges deny every one of Brian's motions. Brian cannot get a fair trial, he cannot get any fair hearing. Due process is being deprived, Brian is deprived of all of his constitutional rights by Anand Prakash Ramaswamy and the Federal Judges, and they get offended when they are criticized by somebody via email. There are some highly charged opinions and are not facts, but we are here to ask Ramaswamy questions. He forced Brian to plead guilty against his will or lose. He wasn't allowed to ask anybody in the Government any questions as a criminal defendant. He has the constitutional right to confront the witnesses against him but AUSA Ramaswamy refused to give Brian any rights under the confrontation clause. He should be disbarred as a lawyer. My opinions and quick emotional accusations may have sounded harsh but he should understand from our perspectives why we feel the way we do about these corrupt government lawyers. The Deep State is getting worse since Joe Biden became the fake pedophile President.
EMAIL COPY AND PASTE QUOTE (TO RAMASWAMY AND OTHER AUSAs):

I know your gonna lie about all of them. I've read your crap filings, Ramaswamy. You don't care about evidence or anything, only about your own career as a damn lawyer. You love fixing the judges and fixing the system for your own benefit. You must love always being the winner. Always winning and never losing. You must get bored of all that time you keep winning without ever having to prove being a winner. As fraud as a lie. As politically broke as a joke.
Your gonna lie about Brian repetitively. I know you will. You will lie about that attorney Lin Wood, you'll lie about that lawyer, I know you will. You lie about Brian Hill so much and lie about your lying witnesses like your lying conniving bitch Kristy Burton to protect them. You protect your own you Gangster. Anybody who has been to Justice for Brian D. Hill blog with an ounce of needing to research everything knows your a LIAR Ramaswamy.
Your all LIARS. None of you tell the truth even if you were paid money to tell the truth. It's cool to lie about other people isn't it??????
Go ahead and lie about Kenneth Forinash, Stella Forinash. Go ahead and lie about Brian's grandparents, Ramaswamy.
Go ahead and lie about Brian D. Hill of USWGO news. You aren't going to even give him time for his state appeals to conclude. You ain't waiting for his commonwealth's Governor Youngkin to make a decision as per his request for innocence pardon. You don't wanna wait for anybody to find Brian innocent of his state charge. You probably were part of the set up on September 21, 2018. I wouldn't doubt it if you took part in threatening to kill Brian's mother if he didn't get naked and do what the deep state minion CIA NSA deep state crapper wanted.
Your a douche bag. Maybe your the guy in the hoodie who threatened Brian. Maybe you need to be investigated for threatening Brian and his family with the greeting cards???????
Go ahead and lie about Lin Wood. Go ahead and lie about this credible attorney, Ramaswamy.
Go ahead and lie about the deadman Isaac Kappy who was against the child molester pedophile rings starting from HOLLYWOOD TO POLITICS, you must think pedophilia is so cool Ramaswamy when it is your government people doing it or protecting it. You all protected Jeffrey Epstein until the general public defended his arrest. Your DOJ is scummy.
Go ahead and lie about them all on May 1, 2022. Lie about them all you dips#it. You deserve being called way worse than what I am calling you.
We all know Brian David Hill = Innocence. [Name Redacted] the military intelligence vet was right about her predictions on Brian.
Brian David Hill = innocence. Brian will be rich and powerful one day, and be able to run a major news
organization with satellite up-links and teams of journalists and news reporters. He will be able to prevent America from becoming corrupt again. Brian will be rich like Donald Trump and he will prevent the deep state from rising again to destroy America, those people wanting to convert the world to COMMUNISM. They should never be able to rise up again with new journalists. ELON MUSK WILL WIN!!!!!!!!!!!!!!!!!!!!!!
Know it dips#it. Your the worst scum of GEORGE SOROS LAWYER. Admit it, your a DEEP STATE MINION
GEORGE SOROS LAWYER?????? Open Society Foundation???? Your connections to Phil Berger and you love Phil Berger because he is corrupt politician and allowed by the deep state to break as many laws as the sky.
I pray for you to see the light and come back to God.
https://www.courtlistener.com/docket/4304407/united-states-v-hill/?page=2#minute-entry-193232707
Apr 21, 2022
TEXT ORDER denying 301 Motion for Reconsideration. Petitioner has filed a motion (Docket Entry 301)
requesting that the Court reconsider an Order directing the Government to file a response to Petitioner's motion brought pursuant to 28 U.S.C. ยง 2255 and denying the appointment of a special master, a change of venue, the appointment of counsel, and the adoption of special filing procedures. Petitioner has failed to provide good cause or an adequate reason for the relief requested. The motion is therefore denied. Issued by MAG/JUDGE JOE L. WEBSTER on 4/21/2022. (Lee, Pedra)
Apr 21, 2022
TEXT ORDER denying 309 Emergency Motion for Extension of Time or Delay the Time for the Government to Respond to Petitioner's ยง2255 motion. Petitioner has filed a motion (Docket Entry 309) requesting that the Court delay or extend the Government's deadline for responding to his motion brought pursuant to 28 U.S.C. ยง 2255. Petitioner has failed to provide good cause or an adequate reason for the relief requested. The motion is therefore denied. Issued by MAG/JUDGE JOE L. WEBSTER on 4/21/2022. (Lee, Pedra)
God bless you,
Stanley Bolten
Sent with ProtonMail secure email.

Yeah, those words sounded harsh but nobody has ever called him out like this before. Looks like he didn't quite like the barrels of truth coming down his way. He doesn't like being called a liar. He doesn't like being called somebody protecting pedophiles but going after innocent people like Brian D. Hill for his acts of journalism. Looks like we suffered repercussions for sending that email, that is for sure. He cannot take criticism. What a scumbag lawyer.
See the read receipts of the important people who confirmed reading that email:
Attorney Lin Wood
John Alsup – Asst. US Attorney
Anand Ramaswamy Asst. US Attorney

Who do you think out of those who received the email had reported StanleyBolten@protonmail.com to ProtonMail calling us abusive or fraudulent??????? The one who we really criticized and gave him a good talking to about his bad conduct and lies, that is likely who we personally suspect may have reported us to ProtonMail. Hmmmmmmmm