Author: Stanley Bolten
Stanley Bolten posts on Truth Social postings about Brian being factually innocent of both his state and federal convictions. Brian does have evidence, has disproved the elements in both cases. Every element of a crime has to be proven before a criminal conviction can be sustained. Brian D. Hill is actually innocent. He is being held hostage. Brian needs Q's help, Brian never raped, never molested, never murdered, never charged with assault. Brian needs the help of Q and the Anons. Please help Radio Patriot!
In response to Q video post.
https://truthsocial.com/@IntersQope92/posts/109193639408024808
https://truthsocial.com/@StanleyBolten/posts/109193651601141305
Q is our only hope. Brian D. Hill an innocent man a felon for a crime he is innocent of. If any of you read over the discovery evidence materials from Brian's federal criminal case, you would feel he is innocent too. Brian is innocent, Q needs to save him, pardon him, acquit him. We have the facts, Brian is innocent, has no victims as reported by PSI report. Unknown series contradicting Robert Bridge who is Deep State Private IT Intelligence incident HANDLER. Save Brian D. Hill Q PEOPLE!!!!! #Q
https://truthsocial.com/@StanleyBolten/posts/109193658525854690
The FEDS are holding him hostage. There are white hats keeping Brian safe and out of imprisonment, but when will Brian be acquitted???????? When will Brian be acquitted because of not being medically cleared when he was arrested in Martinsville??? Brian has proven facts of his innocence but the judges just laugh at him and deny every motion, dismiss every appeal. Brian filed over 12 or 13 appeals and every one of them get dismissed. Brian D. Hill of USWGO Alternative News is INNOCENT. Help Him!
https://truthsocial.com/@StanleyBolten/posts/109193669984958559
 

Will Lin Wood ever get involved in stopping the blackmail of federal judges and politicians???

here is a Radio Patriot link. radiopatriot.net/2021/02/01/li

Brian D. Hill is being held hostage by the FEDs, the United States of America is holding Brian Hill hostage. Brian Hill is INNOCENT

Lin Wood re: Isaac Kappy's discovery of pedo blackmail tapes

Lin Wood on TLEEGRAM: "I ran across some unintentional misinformation on another channel today which I wanted to correct describing Isaac Kappy's key (or password) to the Jeffrey Epstein blac…
Here is the webpage screen capture.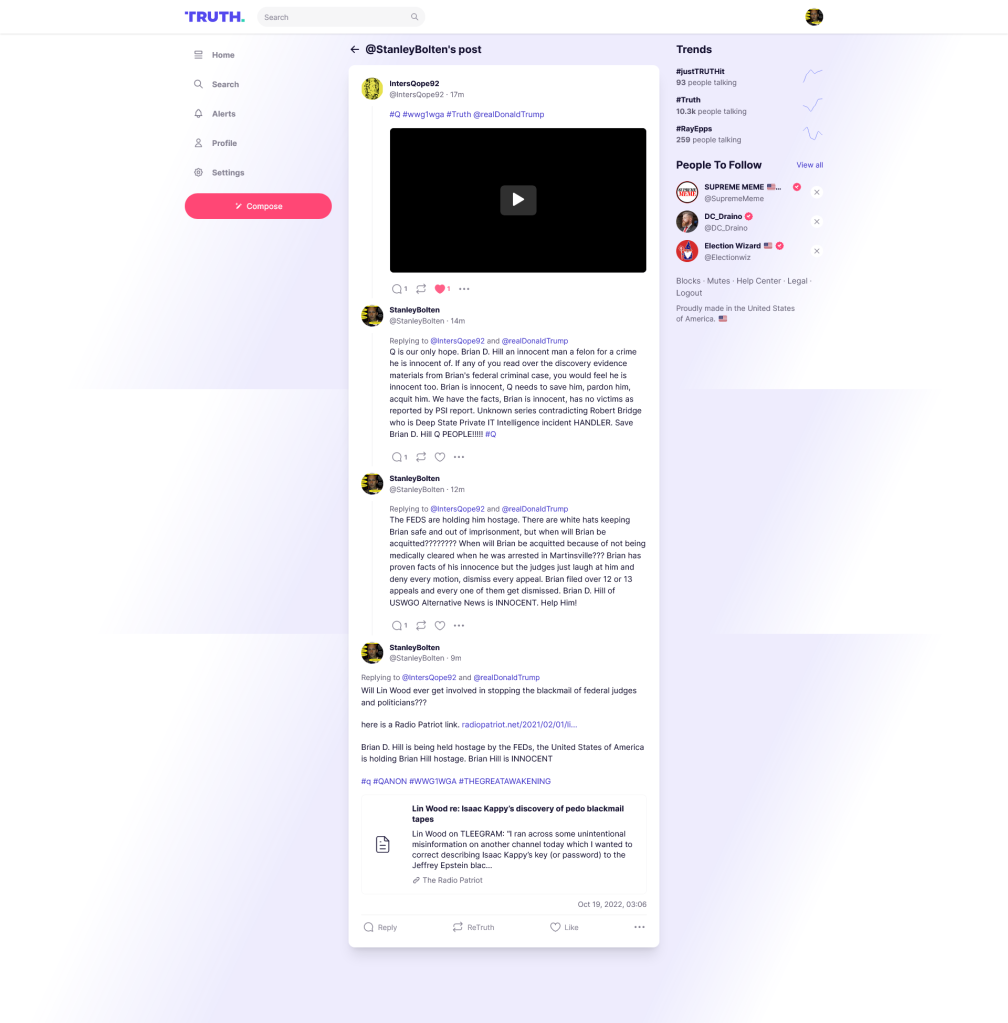 See the meme about Brian being set up due to download dates being 11 months after his computer was seized by police. INTERESTING!!!! See We Are Change article: https://wearechange.org/case-brian-d-hill/