Author: Stanley Bolten
Chief Justice John Roberts of the U.S. Supreme Court has still refused to recuse himself from the case of Brian David Hill v. United States of America (USWGO Alternative News founder) despite two separate filings asking for recusal due to Attorney L. Lin Wood's claims about a blackmail scheme of child rape and murder being videotaped which concerns "judges" and "officials" including John Roberts. Not only that but the Supreme Court has distributed the pleadings to the CONFERENCE set for January 6, 2013. So Brian's pleadings will be distributed to the conference of ALL JUSTICES around the same day as the Supreme Court case of Raland J. Brunson which seems interesting as Q followers (also called QAnons) are really following the Brunson case set for January 6, 2013, for a conference on whether to deny or grant Certiorari. USWGO's case of wanting a Special Master to investigate the alleged BLACKMAIL SCHEME tapes of judges and politicians raping children on recorded videos, on the same day as the Brunson brothers case before the U.S. Supreme Court. However, there is one problem, John Roberts has not recused himself and it appears that he may not do that which means he will push for complete dismissal of Petition for Writ of Certiorari, likely in both cases. Chief Justice John Roberts or the blackmailers seems to want this blackmail stuff swept under the rug. Same with the issue of election fraud, they want this issue to go away so that we lose the power of the ballot box with consistent election fraud, then the only remedy probably left is the cartridge box, which means militias (under the 2nd Amendment) and possibly civil war in the United States of America if there is no U.S. Military intervention to the unconstitutional and illegal U.S. Government. Illegitimate Government.
See the fact for yourself, the dates are the same. Will both be DENIED or GRANTED or one of them GRANTED??? Can the Supreme Court bring back true justice which is slowly disappearing in courts all over the United States of America???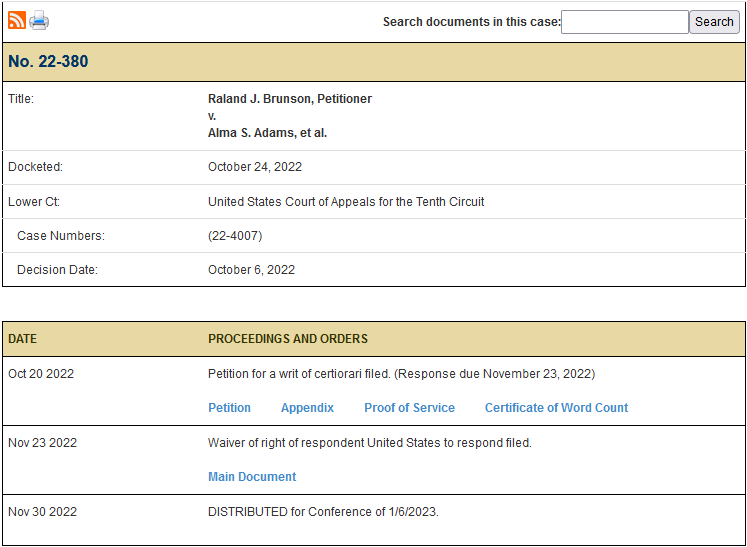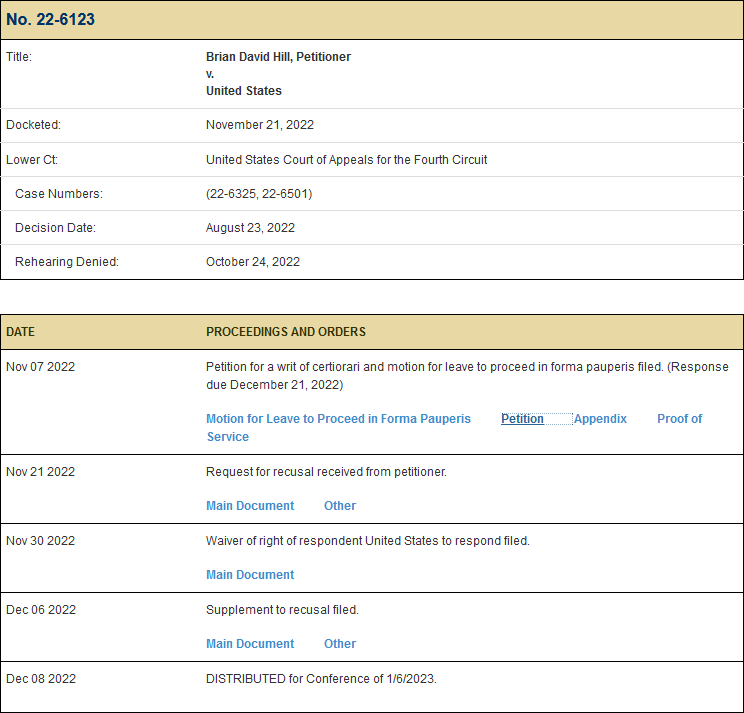 Both were set for January 6, 2023. Hopefully both succeed or at least one succeeds.
See the Raland Brunson case from their website and keep watching Brian D. Hill's case from Justice for Brian D. Hill of USWGO Alternative News. Feel free to donate to their cause too, as election fraud is just as bad as blackmail of child rape and murder. Both have consequences of psychopathic proportions of GENOCIDE/DEMOCIDE, political persecutions, wrongful imprisonment.
We wish good luck to Raland Brunson. Hopefully we both win or one of us wins. Justice for Brian D. Hill wins, or Raland Brunson wins so that Donald Trump can be reinstated as the U.S. President so that he can pardon Brian Hill.