Author: Stanley Bolten
Note: See the evidence of Brian's innocence here: Virginia Pardon Brian D. Hill NOW – Justice for Brian D. Hill of USWGO Alternative News
Update 7:12 PM April 1: Interesting. Maybe 30 minutes after the article was published, the signature count has been unfrozen. That's great that the Deep State is monitoring our blog. We are happy that they feel scared of us proving Brian's innocence and proving shadow banning. Good!!! God Wins! Telling the truth is following God and Jesus. Lying is bearing false witness. The Commonwealth Attorney was bearing false witness, Robert Jones is bearing false witness with a false charge. A charge is false when an officer charged obscenity then later admit under oath that the person was not obscene. He was not medically cleared. The criminal charge was false, and it is a sin against the Ten Commandments, and it is perjury.
We now have evidence of shadow-ban suppression of petition signatures at change.org asking Virginia Governor Glenn Youngkin to grant an absolute pardon on Brian David Hill for being innocent of his 2018 state criminal charge lodged under strange/mysterious circumstances and cover ups. From cover up of the Dr. Brant Hinchman ordered laboratory tests being "deleted from the chart", to the cover up of the police body-camera footage, and Brian saying he may have been drugged and having some of his memories blacked out. Anyways, change.org has suppressed the true number of signatures and have slowed down showing the petition to others. The number of signatures is reportedly at 65 signatures but yet it says only 34 have signed and will not go above 50 signatures to the next goal. This is a form of shadow-banning instead of outright just censoring a petition or censoring a YouTube video. Shadow-banning is a form of censorship where a content online is being artificially suppressed in view counts or even how it is shown to other users on a social media website or network. That way the platform can argue that the content isn't being censored, it is just being artificially suppressed without people knowing about it. It is censorship without the appearance of censorship. The content is not taken down but is simply being suppressed in ways behind-the-scenes. Suppressed like saying the petition content is being featured along with other petitions when it is not in reality. When view counts are manipulated to make popular content seem not as popular in order to make is almost invisible or hard to find in the algorithms.
The proof is here, it is documented, printed, screen captured, and archived as evidence. The proof is in:
fireshot-webpage-capture-776-manage-petition_-pardon-innocent-man-brian-d.-hill-in-virginia-c2b7-change.org-www.change.org_.pdf – The screenshot shows page 1 as to having 34 supporters. Yet the second page has a section which said that the petition has 65 signatures.
http://web.archive.org/web/20230401203029/http://web.archive.org/screenshot/https://www.change.org/p/pardon-innocent-man-brian-d-hill-in-virginia – Says 34 people have signed, yet that is not the truth, it is 65 signatures.
petition-c2b7-pardon-innocent-man-brian-d.-hill-in-virginia-he-has-autism.-c2b7-change.pdf – This printout shows the same thing. Only 34 signatures, yet it is 65 signatures. It stays stuck at 34 signatures.
http://web.archive.org/web/20230331085105/http://web.archive.org/screenshot/https://www.change.org/p/pardon-innocent-man-brian-d-hill-in-virginia – Wayback Machine capture the day before April 1, 2023. The signature at that time was at 33 signatures.

So 34 signatures is what it shows, the petition has over 1,000 views, and yet stays stuck at 34 signatures, even though it said 65 signatures were recorded. Also it shows $35 of contributions to promote this petition to as many people as possible to get a ton more petition signatures. Yet for some reason it is as if the petition was silently stopped or halted. Somebody is suppressing this petition to not get the amount of signatures necessary to put public pressure on the Governor of Virginia to pardon an innocent man for proving his innocence and having his family file an affidavit with the Governor of his factual innocence. Seems to me that the Deep State is working to suppress every effort to have Brian acquitted by any means, whether it is suppressing the push for an Absolute Pardon (innocence) or even acquittal in the Circuit Court of Martinsville, Virginia.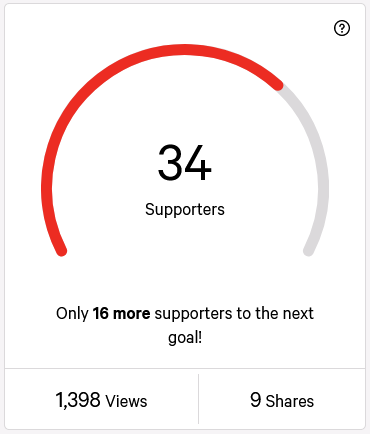 So it has around approximately 1,400 views, 9 shares, 65 signatures, and yet the petition stays stuck at 34 signatures as if frozen in time and will not progress.
So change.org is censoring this petition through shadow-banning. That means the Deep State Swamp does not want Brian acquitted of any charges. That is because he ran USWGO Alternative News from 2009 to 2012 until he was framed with child porn. After that period it was all downhill from there, Brian has been put in a hole and it digs deeper and deeper for him. To teach a lessen to real journalists not to tell the truth like Brian Hill did.
The Deep State needs to stop attacking Brian Hill and his family and friends. The Deep State Swamp needs to LEAVE BRIAN ALONE.
Update 7:21 PM:
I have received an influx of petition signatures. This article had worked. Now it is moving forward again. I am not here to lie, I am here to tell the truth. It was stuck at 34 signatures for a while, and after this article the signature count is moving quickly. So I will go ahead and post the signature count. The Deep State knew we had proven the petition was stuck and that caused them to reevaluate their decision. The truth will beat them. Victory!!!