Author: Stanley Bolten
Positive news has come despite the issues happening to Brian D. Hill, formerly of USWGO Alternative News. The U.S. Attorney Office for the Middle District of North Carolina has filed no contest meaning no filing of any response contesting Brian's new evidence which he filed last month in Federal Court proving that body-camera footage recorded by Martinsville Police Department; Officer Robert Jones on September 21, 2018 was illegally destroyed despite Brian's letters and three court orders asking for this evidence which was covered up in violation of the constitutional standards for criminal trials set by Brady v. Maryland and Giglio v. United States. Brian is clearly making some very powerful people afraid (very powerful criminals), which was why a threatening email had been received threatening to kill Brian Hill and the witnesses involved in his case.
The U.S. Attorney is not objecting to the federal affidavit of Brian D. Hill, of obtaining evidence/proof that Martinsville Police Department admitted that the police body-camera footage was illegally destroyed seven to eight months before Brian Hill was scheduled to appear before a jury trial in Martinsville Circuit Court on December 2, 2019. Brian also provided to the court photocopies of letters (See 3.Letters-police-chief-bodycam.pdf) he and his family members had mailed to former Police Chief G. Eddie Cassady asking for the body-camera footage to be turned over to Brian's court appointed defense attorney Scott Albrecht, who now works for the prosecution. Brian even did hand-written mailing logs (2nd log) when he was at the FCI Butner, North Carolina federal prison during his court ordered mental evaluation. Because Brian had a lot of documentation and proof, the U.S. Attorney had no way of being able to do damage control to the evidence of illegal spoliation and fraud on the court by illegal destruction of evidence. See case law of McCool v. Gehret, 657 A.2d 269, 277 n.7 (Del. 1995) ("Wigmore states: It has always been understood — the inference, indeed, is one of the simplest in human experience — that a party's falsehood or other fraud in the preparation and presentation of his cause, his fabrication or suppression of evidence by bribery or spoliation, and all similar conduct is receivable against him as an indication of his consciousness that his case is a weak or unfounded one; and from that consciousness may be inferred the fact itself of the cause's lack of truth and merit. The inference thus does not necessarily apply to any specific fact in the case, but operates, indefinitely though strongly, against the whole mass of alleged facts constituting his cause.")
Somebody with a PACER account has given us the proof that Anand Prakash Ramaswamy and Angela Hewlett Miller and co. have not filed any response by the deadline of March 14, 2023. Why would they even try to file a response explaining why the U.S. Probation Officers were deceived by spoliation of evidence when the evidence proves deception, fraud on the court, and illegal spoliation of Brady evidence materials. According to Local Rule 7.3 by the Federal Court, a motion which has no response is considered as an "uncontested motion" aid is ordinarily granted without further notice. That is the rule of that Federal Court.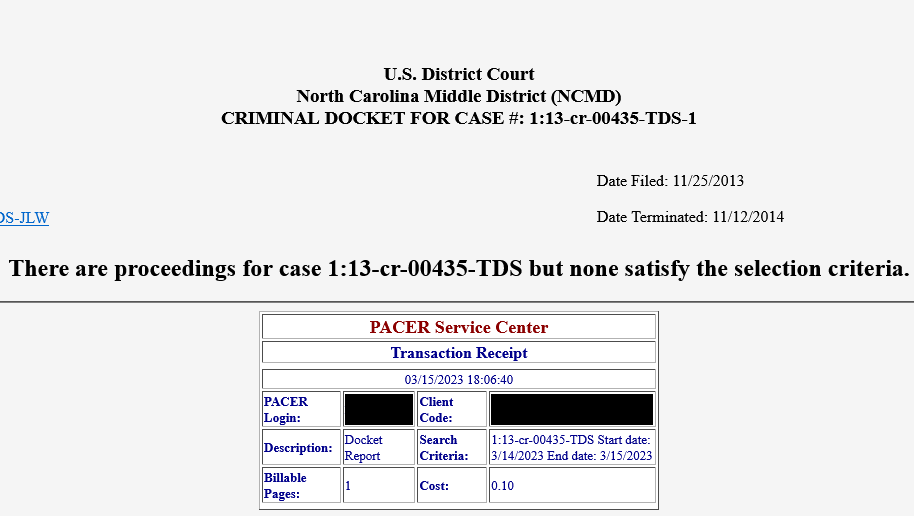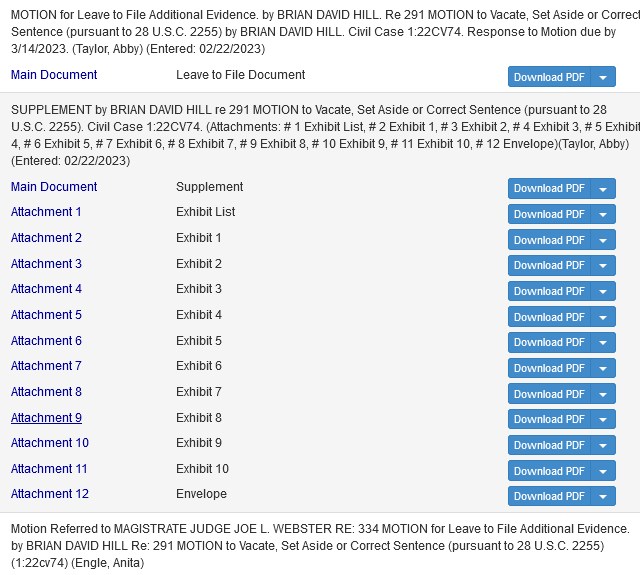 See Local Rule 7.3(k) ("Failure to File and Serve Motion Papers. The failure to file a brief or response within the time specified in this rule shall constitute a waiver of the right thereafter to file such brief or response, except upon a showing of excusable neglect. A motion unaccompanied by a required brief may, in the discretion of the Court, be summarily denied. A response unaccompanied by a required brief may, in the discretion of the Court, be disregarded and the pending motion may be considered and decided as an uncontested motion. If a respondent fails to file a response within the time required by this rule, the motion will be considered and decided as an uncontested motion, and ordinarily will be granted without further notice.")
It looks to me like Brian Hill has won this round. Brian has proven to the U.S. District Court that evidence was illegally destroyed and kept secret while it was facing automatic video file deletion where even the U.S. Probation Office and Jason McMurray had no knowledge or access to the body-camera footage. They were investigating Brian being arrested and yet had no access to the body-camera footage and had no knowledge of confirming it's existence until years after it was destroyed. They were deceived when they charged Brian Hill with violation his federal probation. The spoliated evidence suggests that Brian was intoxicated at the time he was questioned by law enforcement, and the intoxication was carbon monoxide poisoning. The evidence of intoxication was covered up at the Sovah Health Martinsville the local hospital. The cover ups give an indication that Brian Hill never broke the law the night he was arrested and found by police. Virginia law requires obscenity for an indecent exposure case because that charge could easily apply to bathhouses, spas, gym showers, YMCA community facility showers, and any place with shared showers in gender-separated shower areas. Those who have brain damage or intoxication are not guilty of indecent exposure because then they lack the required intent, and lack obscenity. Obscenity requires that the person had sexual intent, that the person would have an appeal to the prurient interest in sex. Brian Hill had no sexual intent because he was intoxicated the night he was wandering on the walking trail at night without clothes like a mentally damaged patient from some mental institution. He may have been drugged by the Deep State Swamp or carbon monoxide or both.
Brian Hill has a good chance of his supervised release violation being overturned with the high amount of evidence proving actual innocence. Brian proved that he was not medically and psychologically cleared, proved that it was a fraud. Brian then proved spoliation of the body-camera footage recorded by officer Robert Jones of Martinsville city's Police Department in Virginia. Brian proved so much, the chances of his probation violation being overturned are increasing. There is still the judicial corruption which may just ignore all evidence and keep the probation violation; but the American people would be convinced based on the evidence and based on the record that Brian is innocent because he was intoxicated when he was naked. Any evidence proving intoxication was covered up.
The threatening email suggests that the enemy or enemies are scared that Brian had obtained real documented evidence favorable to his innocence claims. Stay tuned.