by Laurie Azgard
Brian of USWGO is fighting back against crooked judge Thomas D. Schroeder in Winston-Salem. It appeared that Brian had faxed a notice of interlocutory appeal a day before the hearing according to Exhibit 2 in attachment to his Declaration in support of his motion to stay judgment.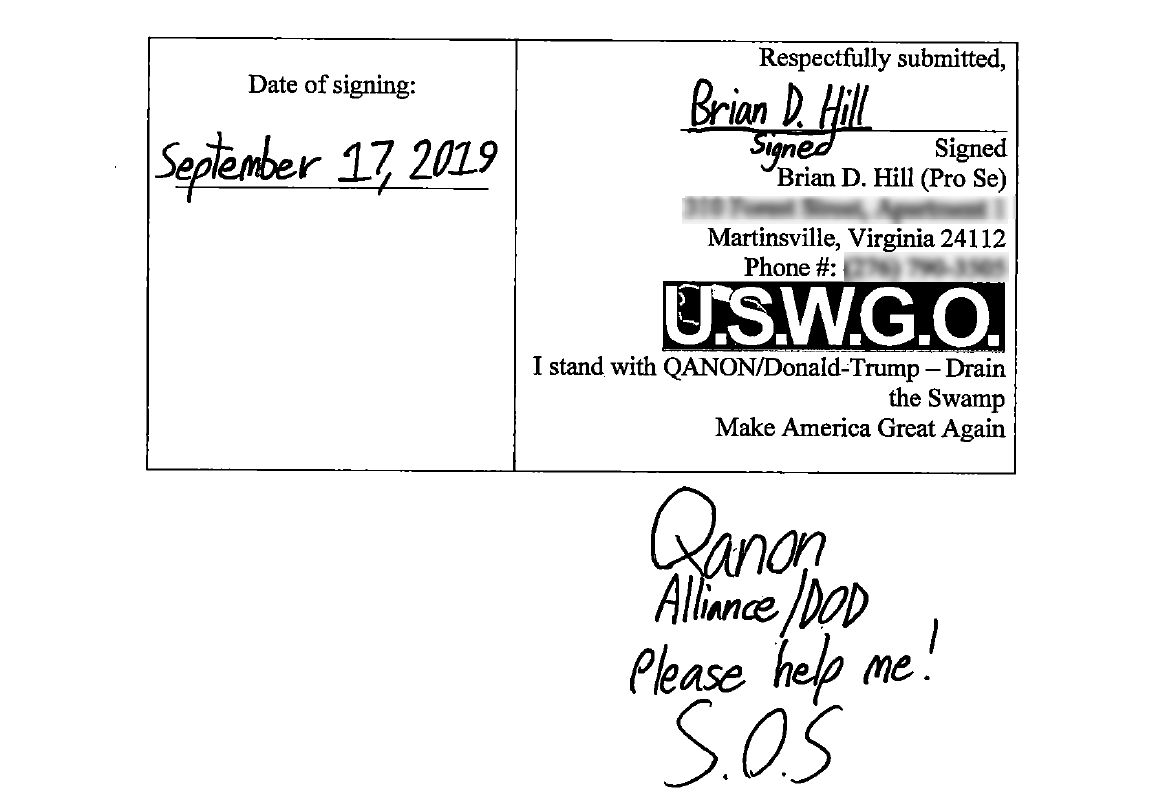 He is also ask both Qanon and the U.S. Department of Defense [Alliance] to help him, and sending a S.O.S. signal. Is Brian in trouble? They are coming after him and lying about him on record? Just like what has happened and is still happening to the Honorable U.S. President Donald John Trump.
It appears that Brian had filed his notice of interlocutory appeal with a secretary at the U.S. Probation Office in the Hiram H Ward Federal Building [Winston-Salem, NC]. His declaration shows that Brian clearly wanted to file his interlocutory appeal a day before the hearing which didn't pan out. Why did all three Clerk's offices refuse to file his emergency fax asking for interlocutory appeal before the kangaroo court trial that the Dishonorable Judge Thomas D. Schroeder had for Brian? Why is Brian now asking the Department of Defense [DOD] for help? Is he maybe asking them to arrest Judge Shroeder?
Brian had also filed a regular notice of appeal after the other two notice of appeal filings had failed to stop the kangaroo court from commencing.
Brian's recently filed motion for a stay of judgment pending appeal, is asking to reverse the imprisonment order and GPS ankle monitoring device. Brian had filed evidence showing proof that he has eczema due to his type 1 brittle diabetes. Brian stated that he had complied with his Probation Officer the entire time that he was released on bond, as if it should count for something. He also brought up that his state appeal was still ongoing. Brian is still pushing to prove his actual innocence to his state charge of indecent exposure since he was subject to carbon monoxide poisoning. Brian has argued that the corrupt federal judge is in the wrong for finally revoking his supervised release without giving him a chance to be found legally innocent of his charge. Brian also stated that he plans on filing a motion for default judgment against AUSA Anand Prakash Ramaswamy [corrupt lawyer] for exhibiting another fraud upon the court on September 12, 2019 during that hearing. Brian is keeping it secret until he files his final motion attacking his supervised release revocation on the grounds of fraud upon the court which may include perjury. Why did the corrupt federal judge Thomas D. Schroeder of Winston-Salem ignore the carbon monoxide poisoning evidence filed on court record prior to the hearing?
Brian is ready for war against the corrupt deep state swamp! An information WAR!
Here are the more recent filings:
Docket – September 18 2019 and Docket – September 15, 2019
Document 185-0 Warrant Returned Executed
Document 186-0 Revocation of Supervised Release Final Hearing Sentencing
Document 187-0 Notice of Appeal Interlocutory – Attachment #1 Envelope – CSOs
Document 188-0 Government Exhibit Receipt Local Rule 79.4
Document 189-0 Defendant Exhibit Receipt Local Rule 79.4
Document 190-0 Notice of Appeal – Attachment #1 – Envelope
Document 191-0 Appeal Transmittal Sheet
Document 192-0 Motion for Stay of Judgment Pending Appeal – Attachment #1 – Envelope
Document 193-0 Declaration Supporting Motion for Stay of Judgment – Attachment #5 – Envelope
Document 193-1 – Exhibit 1 – Carilion Clinic eczema proof
Document 193-2 – Exhibit 2 – Proof of faxing transmission of notice of interlocutory appeal
Document 193-3 – Exhibit-3 – Carpel tunnel medical record