Author: Stanley Bolten
The Court of Appeals of Virginia had finally gotten tired of our articles about the cases being stalled after Brian filed claims that Judges may be blackmailed with child rape and murder and using Attorney L. Lin Wood as the source. They had finally transferred two cases. One of them is the appeal for the Writ of Error Coram Nobis (Vobis, as Virginia may call it) and the other appeal was the case where Brian filed the letter accusing the Judges, any Judges involved in his cases may have raped children and were videotaped doing such acts and became targets of blackmail. This may be good as the Supreme Court of Virginia is involved with the State Bar of Virginia. If any Judges or maybe even the Commonwealth Attorney may be involved with child rape and murder, and thus being blackmailed, they need to be arrested and their licenses suspended and revoked. They should not revoke Lin Wood's attorney license as he is well within his right to expose potential blackmail operations of our Judicial Systems. Brian D. Hill is formerly the news reporter journalist of USWGO Alternative News.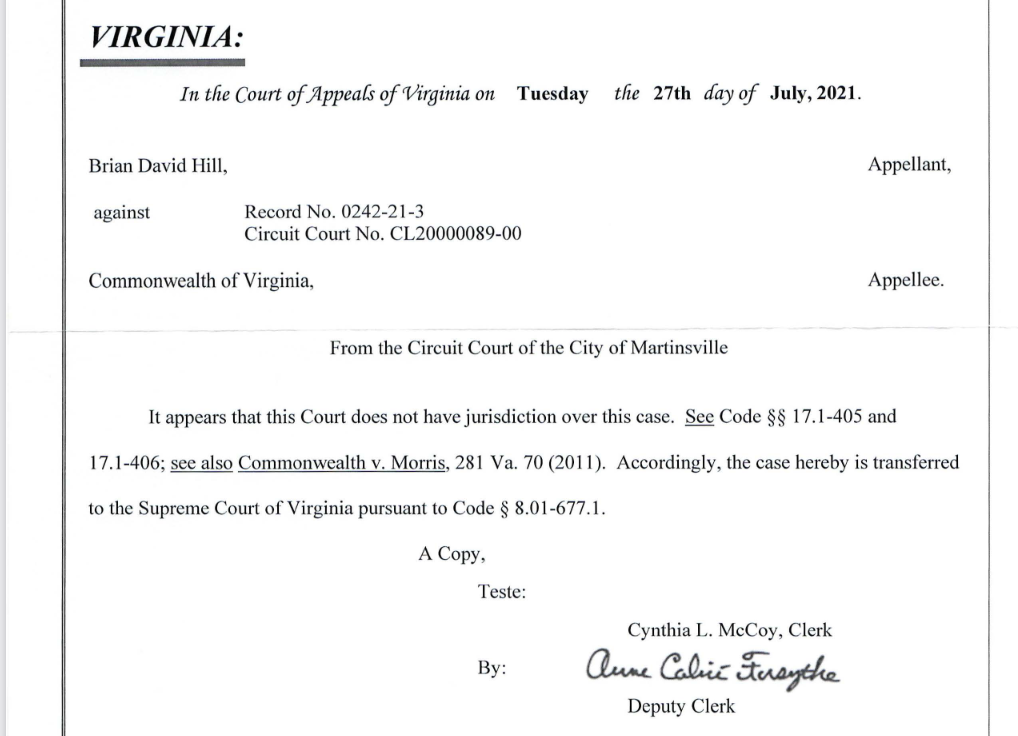 Both cases have been closed and transferred to the Supreme Court of Virginia for the Clerk to review over both cases. They will be surprised to read about L. Lin Wood's claims in tweets in the letter filed by Brian Hill and that Brian is asserting that any Judges who screwed him over over both his Federal criminal case and State criminal case may all be blackmailed with child rape and murder and was blackmailed into making bad legal decisions in Brian's cases.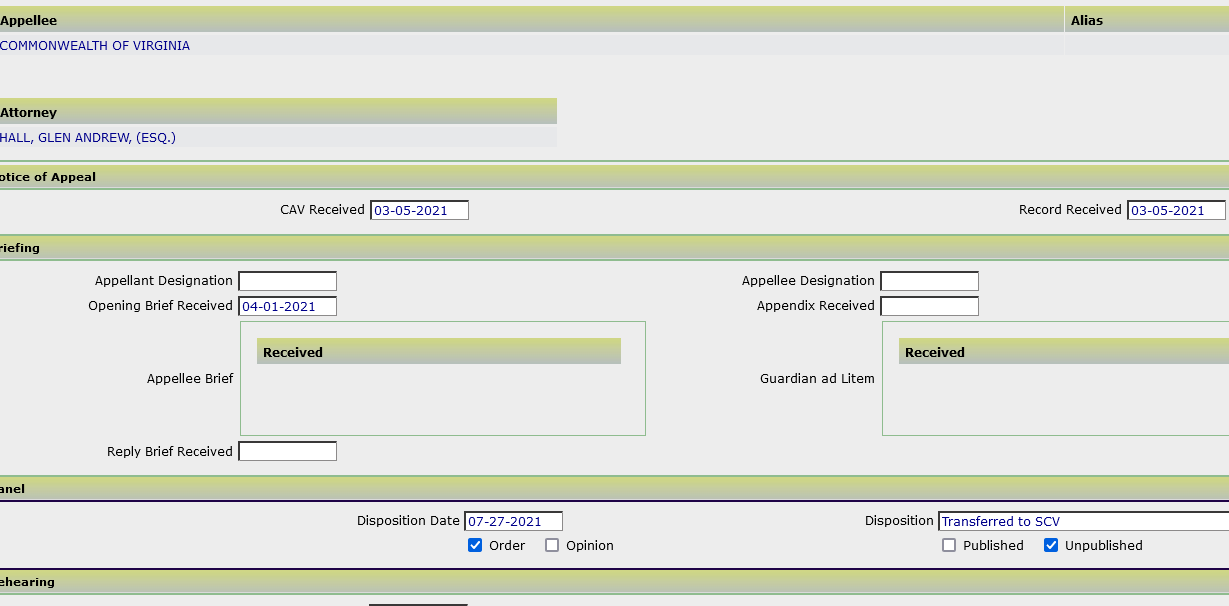 See the letter PDF File uploaded by Brian's mother Roberta Hill: court-of-appeals-of-virginia-transfer-cases-to-supreme-court-of-virginia-27-july-2021.pdf
See the letter where Brian showed Lin Wood's tweets to the Virginia Court of Appeals with the blackmail allegations Brian had made with the vague statements made by Lin Wood, so vague that the blackmail videos could involve any Judge or Politician inside of the United States of America:
Letter to Court of Appeals of Virginia concerning appeal motion to disqualify(11)(3).pdf – Letter Brian had his mother file with the Court of Appeals of Virginia concerning judges being blackmailed
Xfinity Connect Court of Appeals of Virginia, Letter_Motion, no_ 0219-21-3 Printout.pdf – Printout of filing email to the Clerk of court
Xfinity Connect Fwd_ Court of Appeals of Virginia, Letter_Motion, no_ 0219-21-3 Printout.pdf – forwarded email to Virginia State Inspector General to investigate the blackmail of Judges
So far, the Supreme Court of Virginia (SCV) had not assigned a case number as of yet when checking the Supreme Court online case information search database. Both cases in the screenshot below are inactive and older appeals. The two new appeals being transferred to the SCV have not yet been listed.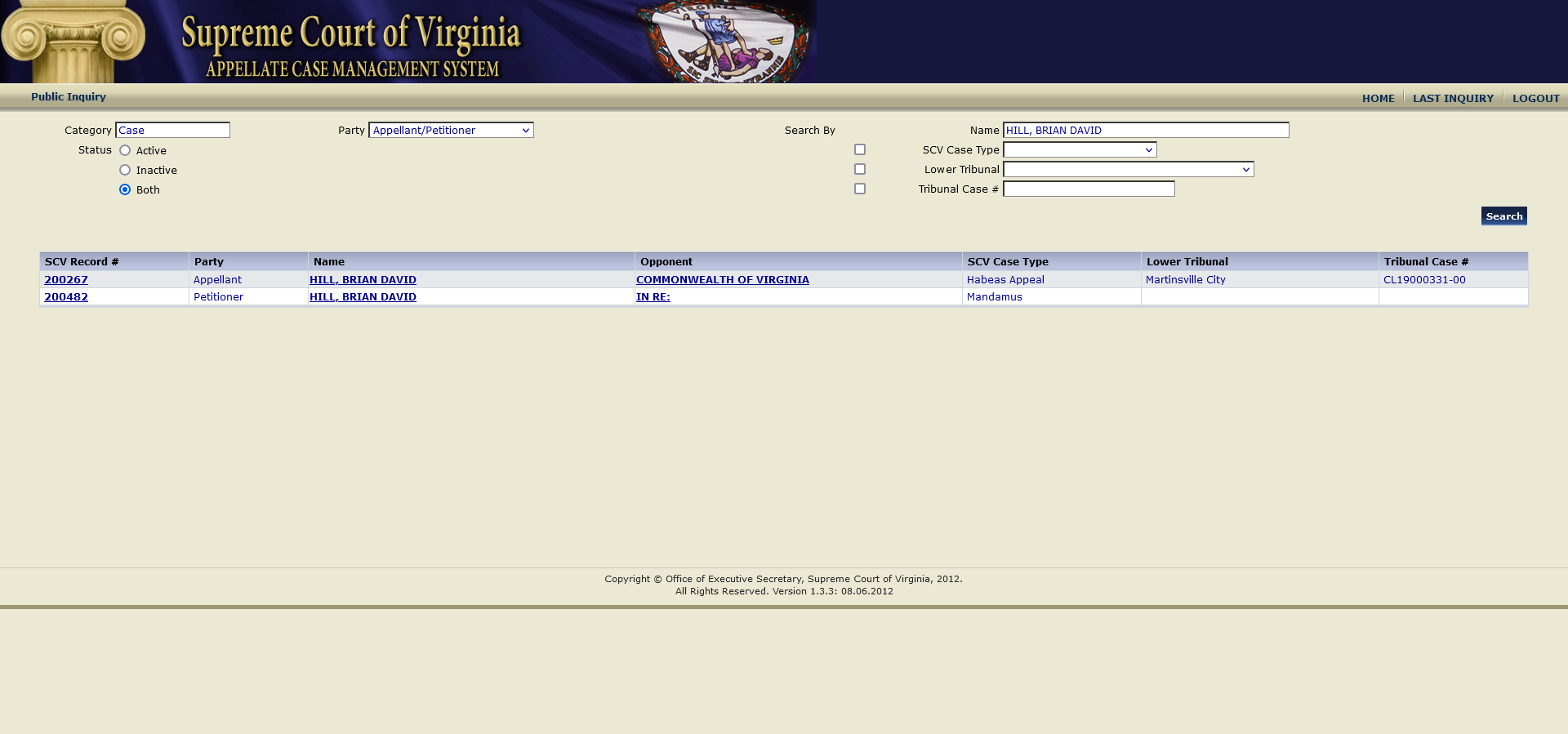 Brian had proven based upon the record of his indecent exposure charge that he was not medically cleared at the time of his arrest on September 21, 2018, and laboratory tests were never conducted and no drug testing was ever conducted by Corrupt Martinsville Police Department in Virginia. They find a naked man in the middle of the night, not making any sense and claiming some man in a hoodie threatened to kill his own mother Roberta Hill if Brian didn't strip naked, and yet the Police refused to even drug test him for any narcotics or substances, then they claim under Affidavit that he was medically and psychologically cleared. What a bunch of lying police officers in the Corrupt City of Martinsville. The Commonwealth Attorney Glen Andrew Hall is just as corrupt and needs to be thoroughly investigated for his blatant misconduct, lying, obstruction of justice, and destroying evidence, no different than Federal Prosecutor Anand Prakash Ramaswamy. They could have drugged Brian, the corrupt CIA and the corrupt Feds. Brian never went out naked on a walking trail before. Brian hasn't done that since then either and this is three years after the alleged incident. All of this sounds fishy, and Brian had received threats from somebody who may have worked in the CIA or NSA last year. Somebody had text messaged him last year with information and said who he was and knew his number, and so Brian was being intimidated or threatened by some CIA or NSA stooge. At some point an article may have to be written on that. Maybe Martinsville Police was threatened to give Brian a miscarriage of justice, maybe the Judge Giles Carter Greer of Martinsville Circuit Court was threatened into giving Brian a miscarriage of justice.
Case records of Court of Appeals of Virginia
Case no. 1295-20-3 and 1294-20-3, Brian David Hill v. Commonwealth of Virginia, case: CR19000009-00, criminal case
case files pdf – 961 pages – This is the record of the appeal that you can review over while reading his appeal petition brief.
Case no. 0242-21-3, Brian David Hill v. Commonwealth of Virginia, case: CL20000089-00, writ of error coram nobis/vobis
case files pdf – 227 pages
Case no. 0219-21-3, Brian David Hill v. Commonwealth of Virginia, case: CL19000331-00, writ of habeas corpus
case files pdf – 348 pages
Anyways, things are now heating up as the videos on Brian D. Hill being tortured by the Federal Marshals contracted Jail facilities and about him being held hostage by the Corrupt Federal Judge Thomas David Schroeder are receiving tens of thousands of YouTube views and one video received over 100 likes. Another article will be written on that separate issue.
Watch the videos about this:
L. Lin Wood had also made a more recent public statement in interview with Alternative Media. See the embedded video unless it had been censored.