Author: Stanley Bolten
The 8kun's QResearch (Q-Anons) and Joe M (Storm is Upon Us) covers documentary: The DEEP STATE can Frame You – the Documentary
Here is the proof. We will not give up. We will win. Corrupt Judge Greer can't stop us. Corrupt Judge Schroeder cannot stop us. They are all crooked and they will not stop us. They can slow us down but we will defeat every one of them. WHERE WE GO ONE WE GO ALL (WWG1WGA)
https://8kun.top/qresearch/res/18884304.html#q18885032 and http://web.archive.org/web/20230523032124/https://8kun.top/qresearch/res/18884304.html
Anonymous 05/22/23 (Mon) 04:42:31 88de84 (32) No.18885032>>18885042 >>18885078

[pop]

Rumble embed. Click thumbnail to play.

The DEEP STATE can Frame You – the Documentary

32:51

Description: This documentary shows you that the CIA/NSA/FBI/DOJ Deep State intelligence apparatus and it's machinery frames people with crimes and civil verdicts to shut down the political opposition, to shut down dissent, and control the narrative. Whistleblower on the Glenn Beck show admits the CIA frames people while Sharyl Attkisson admitted the FBI frames people with child porn. Matt DeHart was framed for his involvement with Wikileaks. Julian Assange framed. Learn the truth and hold the Deep State accountable once and for all.

The DEEP STATE can Frame You – the Documentary

Brought to you by the JusticeForUSWGO.wordpress.com production committee.

https://rumble.com/v2ozhp6-the-deep-state-can-frame-you-the-documentary.html

https://rumble.com/embed/v2me29w/?pub=4

Disclaimer: this post and the subject matter and contents thereof – text, media, or otherwise – do not necessarily reflect the views of the 8kun administration.

https://t.me/StormIsUponUsJM/8784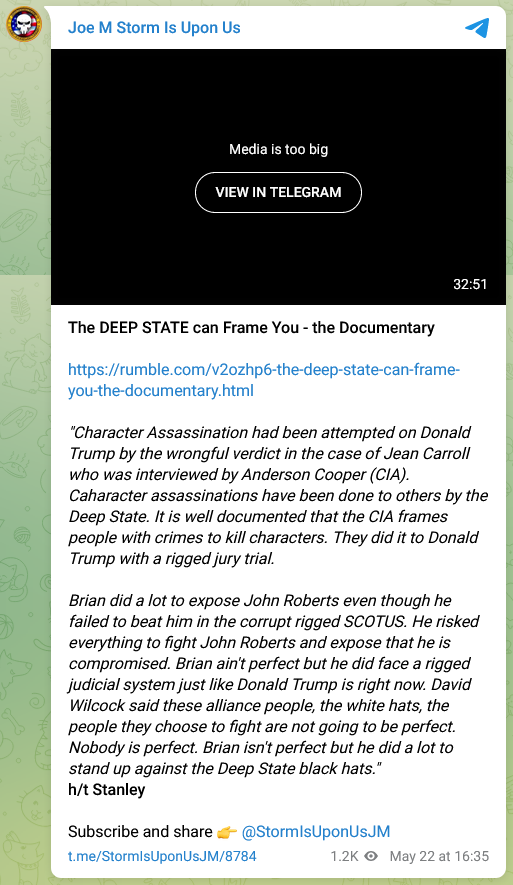 UPDATE on May 24, 2023 12:43 AM: Found the documentary uploaded to BitChute. That is great, somebody is making sure that it does not get censored.|
https://www.bitchute.com/video/dLaGh7aNnHq8/