Directed by Brian D. Hill, released by Family.
ON RUMBLE: https://rumble.com/v2ozhp6-the-deep-state-can-frame-you-the-documentary.html

JUNE 12, 2023 1:58 AM: On BitTorrent (Conen) Note: Legittorrents.info has shut down. So limited BitTorrent release sites now. Please upload to these places. For now it is at https://concen.org/content/deep-state-can-frame-you-documentary-1080p-mpeg-4
The DEEP STATE can Frame You – the Documentary
Description: This documentary shows you that the CIA/NSA/FBI/DOJ Deep State intelligence apparatus and it's machinery frames people with crimes and civil verdicts to shut down the political opposition, to shut down dissent, and control the narrative. Whistleblower on the Glenn Beck show admits the CIA frames people while Sharyl Attkisson admitted the FBI frames people with child porn. Matt DeHart was framed for his involvement with Wikileaks. Julian Assange framed. Learn the truth and hold the Deep State accountable once and for all.
Backup in case of Rumble shut down or any issues: https://archive.org/details/DeepStateCanFrameYou
2nd Backup (Brighteon): https://www.brighteon.com/7d1e93c5-7b46-43af-bca0-059bae94159f
Brought to you by the JusticeForUSWGO.wordpress.com production committee.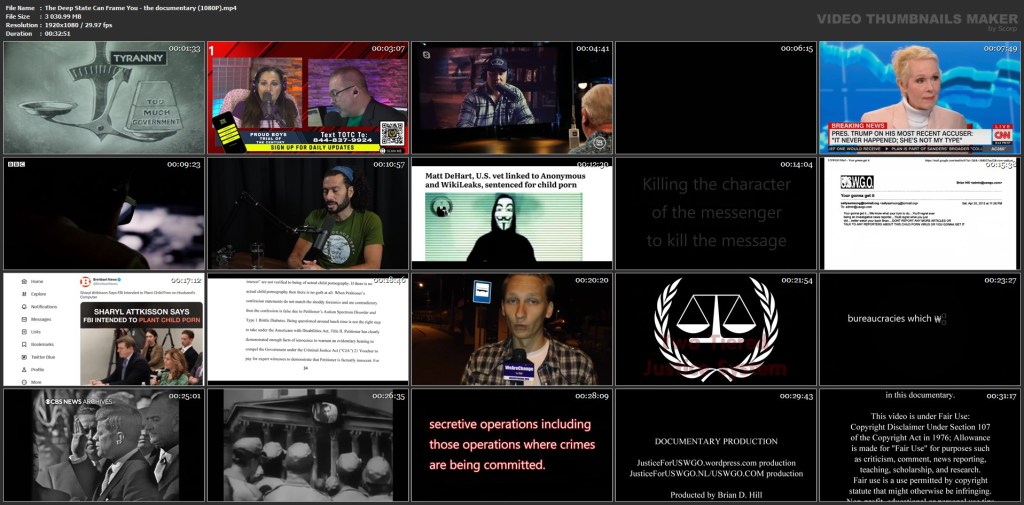 https://JusticeForUSWGO.wordpress.com
https://JusticeForUSWGO.nl
https://USWGO.COM