Author: Stanley Bolten
Owen Shroyer (who is currently in FCI Oakdale I) was going to get a free book of The Frame Up of Journalist Brian D. Hill printed directly by Amazon (the publisher through Kindle Direct Publishing (KDP) formerly CreateSpace) and was shipped directly by Amazon, the publisher. The book is also paperback which follows the policies of the Federal Bureau of Prisons. Both paperback and printed/shipped directly from the publisher. Yet for some reason it was rejected by the Federal Correctional Institution Oakdale I prison facility, despite it being a low security prison and not a maximum security prison. The policies (read the pdf file) do say they accept paperback books for their inmates when from the publisher and not from a home address, but the book got rejected despite the BOP policies being followed. So was the book blocked for political reasons??? Was the book blocked because it was January 6 (J6) defendant Owen Shroyer of Infowars??? Was the book blocked because of what it was about??? Brian also written a sentencing letter for Owen Shroyer in his federal court case not once but twice. Both time it got signed for and was disappeared, and was never filed on the docket. Even a Clerk told Brian that due to privacy reasons, they cannot confirm receipt of Brian's sentencing letter despite being the one who mailed it to be filed in Owen Shroyer's case. Refused to confirm receipt of filing then was disappeared and never shown up in his criminal case docket, covered up from Owen's criminal case file.
Brian's family have emailed the BOP facility in Oakdale to conduct an inquiry to find out why the book was rejected since it came directly from KDP (Kindle Direct Publishing) at Amazon who printed and shipped the book. No possible contraband and follows the BOP policies of paperback. The book was reviewed by Amazon and was approved by Amazon around January, 2017. So the book is not illegal and isn't promoting anything illegal. The only explanation was that the prison staff did not like the contents of that back about an innocent man being framed with a crime he wasn't guilty of to retaliate against him when he was a journalist. Once apart of USWGO Alternative News, FederalJack, and had articles or had caused articles on Infowars.com prior to being framed.
EMAILS:
1. Xfinity Connect Re_ paper book from publisher for inmate Owen Shroyer_ Printout.pdf – 2nd email: "To OAK-ExecAssistant@bop.gov oak-execassistant@bop.gov…I read your policies prior to purchasing this book from Amazon (this is not a used item or item from a regular seller but from KDP, formerly CreateSpace) for inmate Jonathon Owen Shroyer. Amazon prints the book then ships it. Amazon doesn't send the book from a regular person then re-ships it. I can see your concern, but even Owen Shroyer said on air about the prison accepting directly from the publisher just like your policies."
2. Xfinity Connect paper book from publisher for inmate Owen Shroyer_ Printout.pdf – Email to BOP facility asking to advise on why it was blocked and if they would accept it and where it should be mailed to if it was accepted.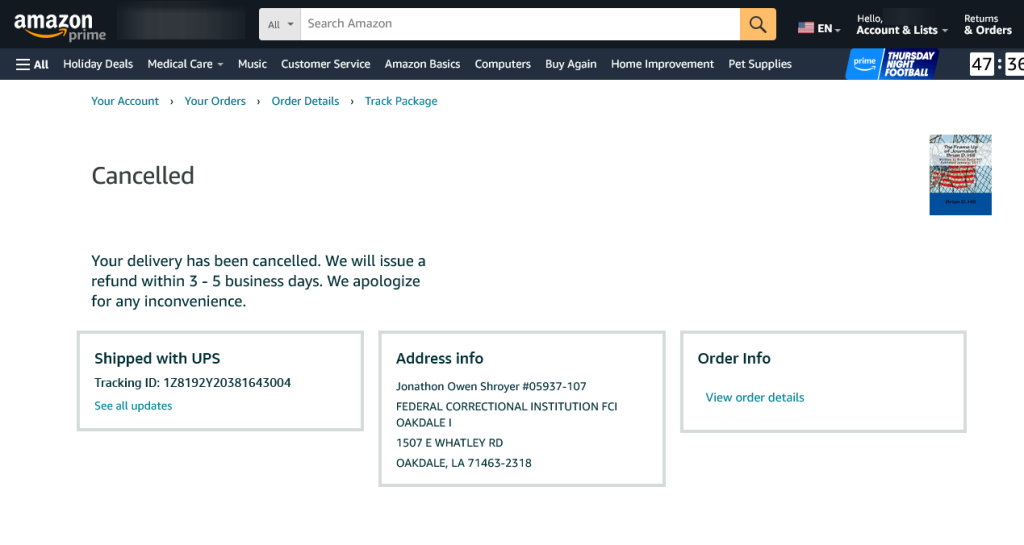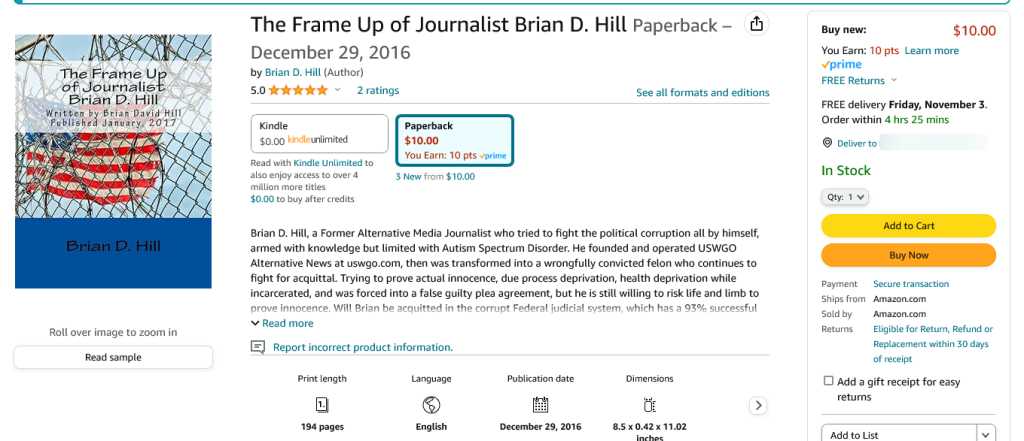 The BOP policies from their own website and says and I quote:
However, inmates may receive magazines, hard and paperback books directly from the publisher (For more information see: Policy on Incoming Publications ).

https://www.bop.gov/inmates/communications.jsp#mail