NOTE: I heard from Brian's family that everything turned out good. Not going into much details. Brian is okay and everything is fine. The White Hats do appear to still be protecting him. Since 2019, Brian has been looked out by the White Hats of the Feds. It is only a matter of time before the evidence can acquit Brian D. Hill. He just has to remain careful and continue laying low. We give credit to God, the angels, to Jesus, and to the White Hats looking out for Brian.
Author: Stanley Bolten
We have learned from Brian's family. Out of the blue, Brian's federal probation officer Jason McMurray of Roanoke, Virginia who supervised Brian since 2015 had disappeared from Brian's supervision without explanation as to what happened to him. Brian has been assigned a new probation officer out of the blue without any explanation as to why his other Probation Officer vanished and won't even call him back. I hate to be over the top on this and assume the worst, but the Feds want Brian dead now that the Obamas are back in control again, that is a fact. This may or may not be the Black Hat's attempt to have Brian imprisoned or killed. Remember the threatening email. The Deep State is angry that Brian won his contempt of court case by judge Giles Carter Greer in the city of Martinsville. The Deep State wants blood, they want Brian's head on their wall. They want to imprison or kill Brian Hill just as multiple threatening emails have said. They targeted Brian's mother too this year by hacking TheStarChild2009. They want blood and Brian needs to be put under protection by the White Hats. The information has been published and hopefully the WHITE HATS watching him will keep him safe. We will not release the name of his new Probation Officer because the Black Hats may be planning more things for Brian. Keep a watch on Brian, keep him safe. Remember, they framed Brian Hill with child porn so that it would be easier to murder him in cold blood, as people may not feel sorry about him being murdered if that day comes. That is why they assassinated Brian's character so that they can more easily kill him and be done with it without any conspiracy theories discussed and without anybody caring because they may view Brian in a certain light under rose colored glasses, and under the artificial stigma created by the CIA, NSA, FBI, DOJ, thew whole Deep State armada.
Pasted from article: Documented possible assassination attempts on Brian D. Hill, formerly of USWGO Alternative News??? Are these really attempts on Brian's life??? Threat emails and text messages indicate a plot or desire to kill Brian Hill! – Justice for Brian D. Hill of USWGO Alternative News
Anyways, at this time, for the conservation of time, there are only two examples of possibly an attempted assassination of Brian D. Hill. Now let us focus on the threatening emails and threatening and/or intimidating text messages against Brian Hill. This is further proof to support such an inference that there may have been multiple assassination attempts on the life of Brian David Hill. There were threatening emails which had threatened to "RAPE" and "KILL" Brian Hill and others. One of them was reported to the Virginia State Police. Identities of the agents of State Police which were notified of the threat email will be kept redacted and classified, but proof will be presented that the threat email was reported to a law enforcement agency quickly. So it is a credible threat. Reporting a criminal threat to law enforcement is a must; and is misprision of a felony if a crime is not reported.
THREATENING EMAIL WHICH THREATENED THE RAPE AND MURDER OF BRIAN HILL #1: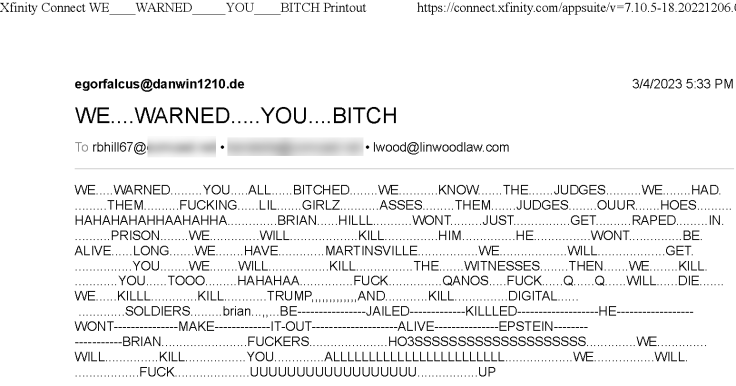 It said things like: "BRIAN HILL WON'T JUST GET RAPED IN PRISON", "WE WILL KILL HIM", and "HE WON'T BE ALIVE [sic. FOR] LONG". Read the threat email yourself and see how horrifying it sounds.
The evidence of the threat email and it's metadata was reported to law enforcement as soon as could be done. That validates the email as evidence. Any information which could endanger any potential investigation was redacted before the affidavit/declaration was published. This must be released in case another possible assassination attempt may happen against Brian Hill.
FILES:
1. Evidence of threatening email(1)_Redacted.pdf – Email sent to Virginia State Police and other [redacted] users. Reporting threatening email which threatened to rape and kill Brian Hill.
2. source-mar-4-2023.txt.pdf – WordPress would not allow uploading of .txt files, so it was converted to a pdf file. This is the metadata reported to the VA State Police.
3. Xfinity Connect WE____WARNED_____YOU____BITCH Printout_Redacted.pdf – Threat email itself, but some email addresses were redacted due to the seriousness of the threat email. Lin Wood's email was public and anybody can find his public (not personal) email address, so that was not redacted.
4. Declaration on State Police visit – March 18, 2023(3)_Redacted2.pdf – Redacted affidavit about State Police visit which demonstrates that they did take notice of the seriousness of the threatening email which was reported to law enforcement. Identities were redacted, Emails and names were redacted. This is just to validate the seriousness of the threat email.
They threatened Brian in 2019, saying they have eyes everywhere and that the birds work for the bourgeoisie. That is keyword for spies. So the CIA is watching Brian like a hawk.
Watch the very documentary about Brian D. Hill the autistic virgin and others facing Deep State sanctioned sex operations and frame up operations. Watch and learn that the CIA has the ability to frame people according to former CIA officer Mike Glover. Watch and learn that the U.S. FBI had threatened to plant child porn on Sharyl Attkisson's husband's computer. Hundreds of police officers have been caught with child porn, and any of them can frame up a suspect in a local town or city. The Deep State has a lot of power and control. Do not underestimate them.
[archiveorg DeepStateCanFrameYou width=640 height=480 frameborder=0 webkitallowfullscreen=true mozallowfullscreen=true]